So I was just taking a few pictures of this pen for a fellow FPNer, and could not stop taking pics... I didnt use the "light tent" for these, so a few didnt turn out like they should, but you can get the
picture
.
Initial Impression: 10/10
Wow, this box is the second largest box I have ever seen. First being the Ancora, hand painted Jules Verne. But this one, in my opinion is much nicer. It has the dark wood finish and looks classy if you want it sitting out. For me, its just too big to have out, but maybe my wife will let it out for a day or two
The pen came brand new un-inked with papers as well, and it also has a little card. With materials its made out of, number and such. I thought this was a nice touch. I have owned 10 different Viscontis, all LEs and only one other I can remember that had something like this... I think the Copernicus had something similar... Maybe Goodguy can help me there... Anyway, even my Ripple which also XX out of 999 did not have this. The pen, just at first glance is amazing! I love sterling silver and the combination of that and overlay gets me excited...
I have taken a few comparison pictures with a MB 149 and Visconti Ripple. This pen is a large pen to say the least...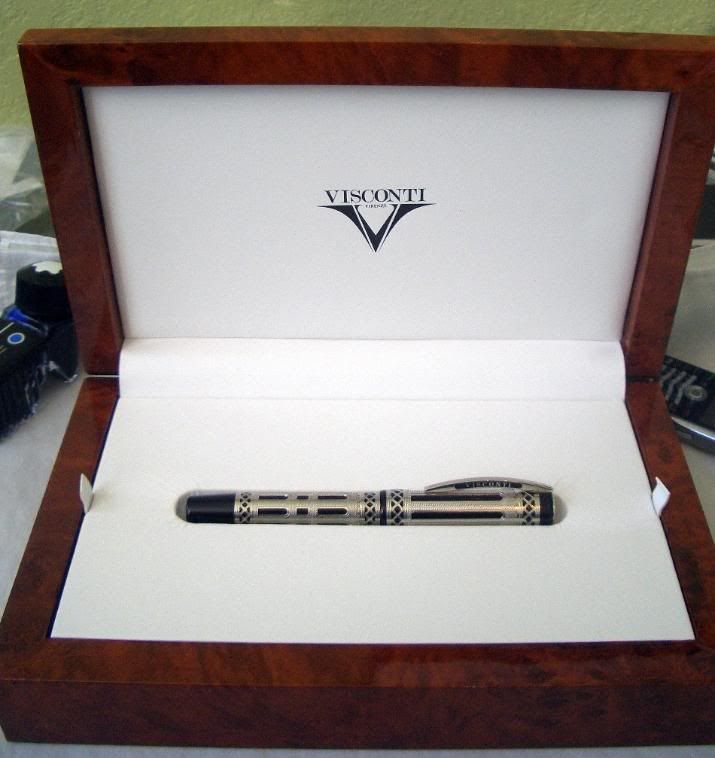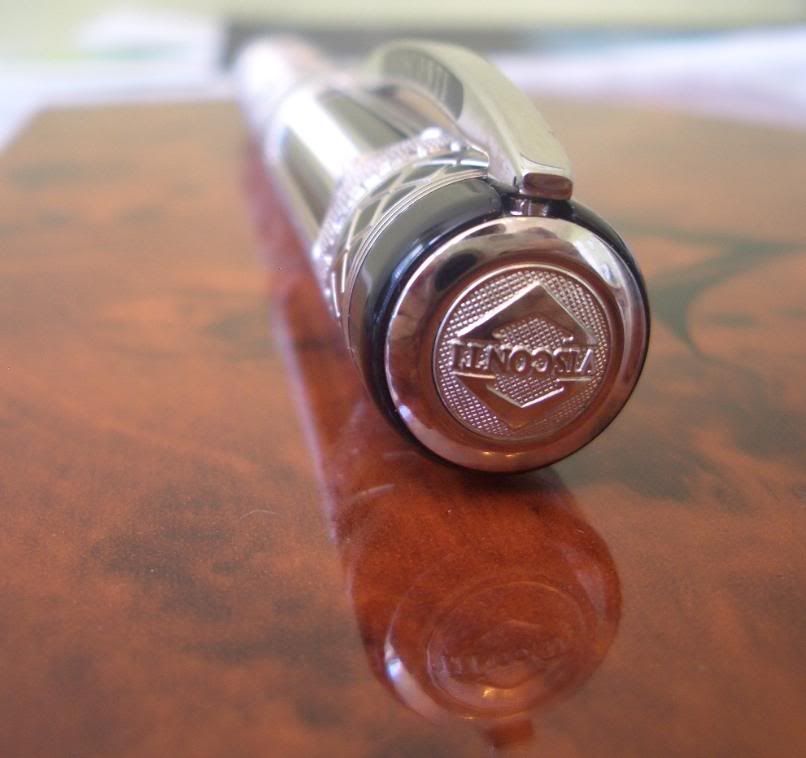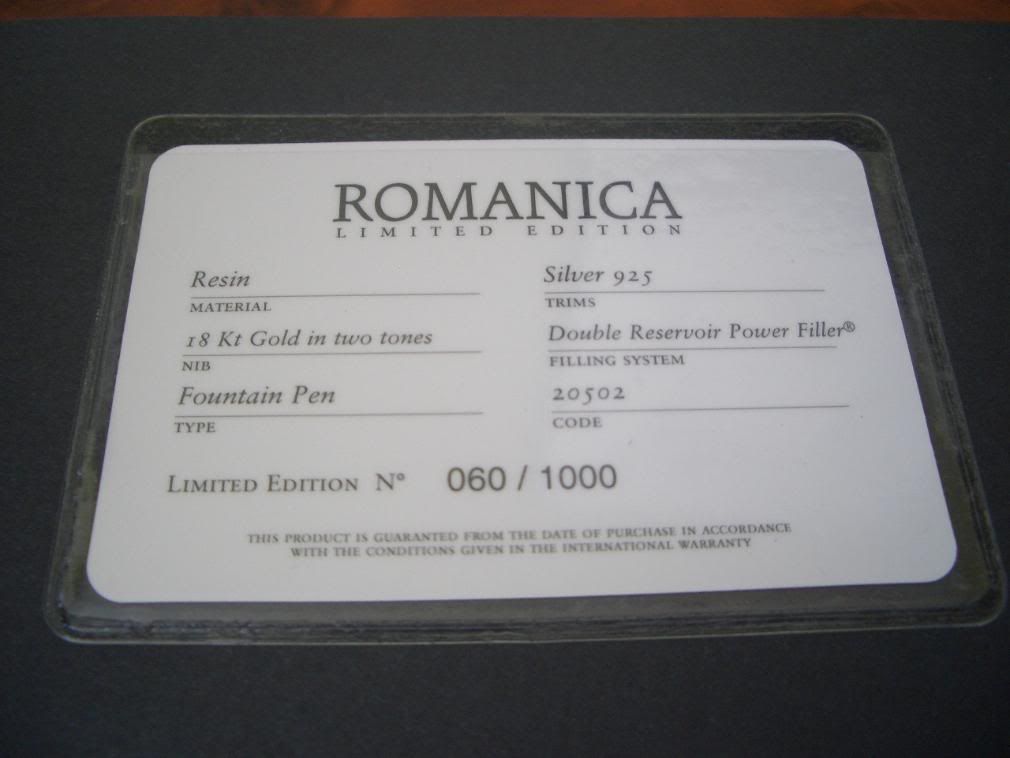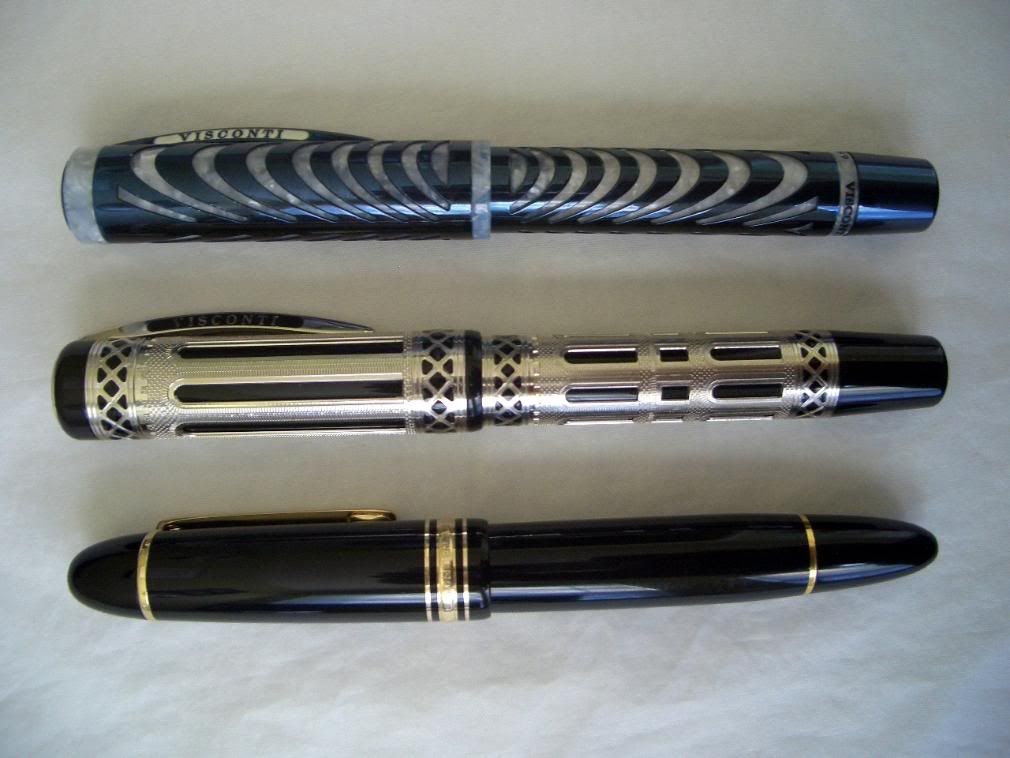 Look/Finish/Hardware: 10/10
This look is obviously amazing. I think it has a lot going on with out being to tacky and gaudy. The feel is amazing as well. A lot of the times, overlay pens have a rough feel to them, but this is very smooth to the touch.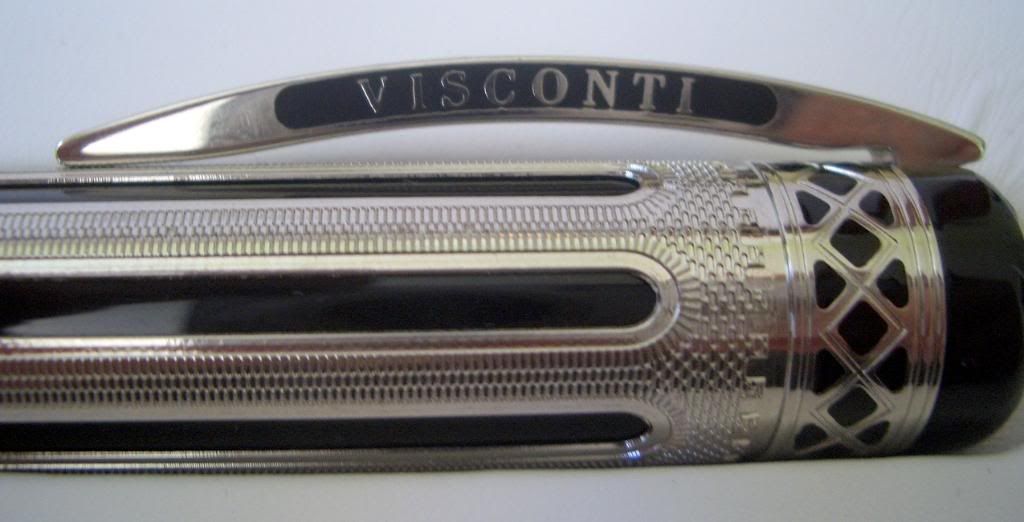 Feel/Balance: 8/10
Its actually heavier than I expected. I thought it would not be as heavy as my Ripple, but I suppose they are both Sterling. It just looks lighter. The jury is still out on posting this pen. If you have read any of my other reviews, you know I like to post. In the pictures of the pamphlet they have the pen posted, but I think it may be too heavy. I will need to write with it for a week or so to know for sure. Now, un-posted it writes great. Its not too heavy and is long enough to be comfortable...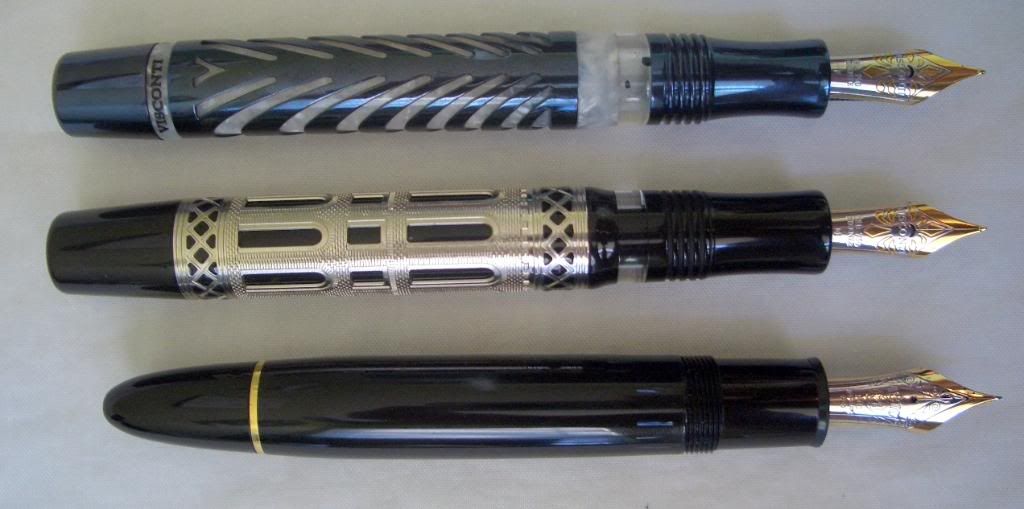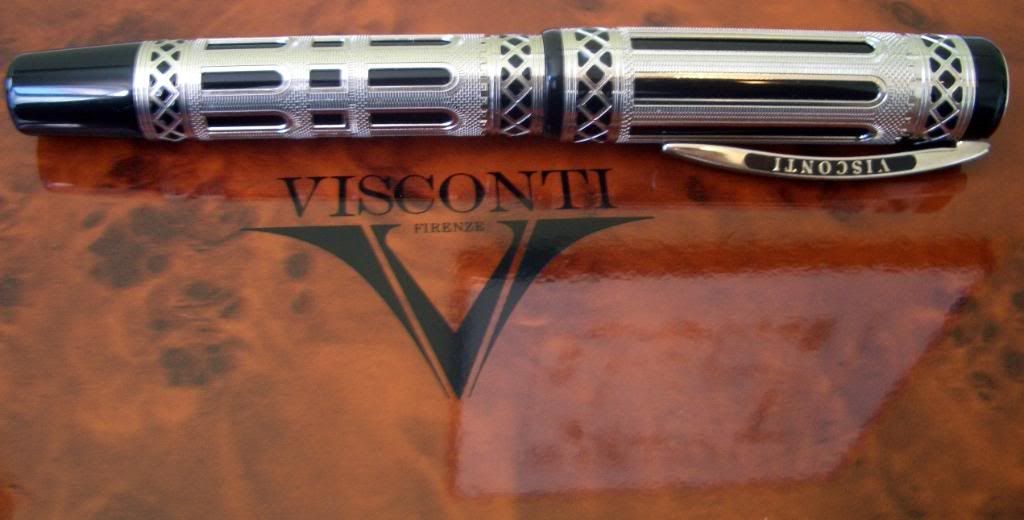 Filling System 10/10 Nib: 10/10
I love the Double Reservoir Piston. Its like having extra ink bottle in your pen. If you have never seen how this works,
click this
and then click view animation. The best part is you can store your pen with ink in the to reservoir, and when you are ready to write, unscrew the blind cap and viola... Ready to write.
The nib is fantastic, and is one of the smoothest Medium points I have ever used. It also has a good amount of give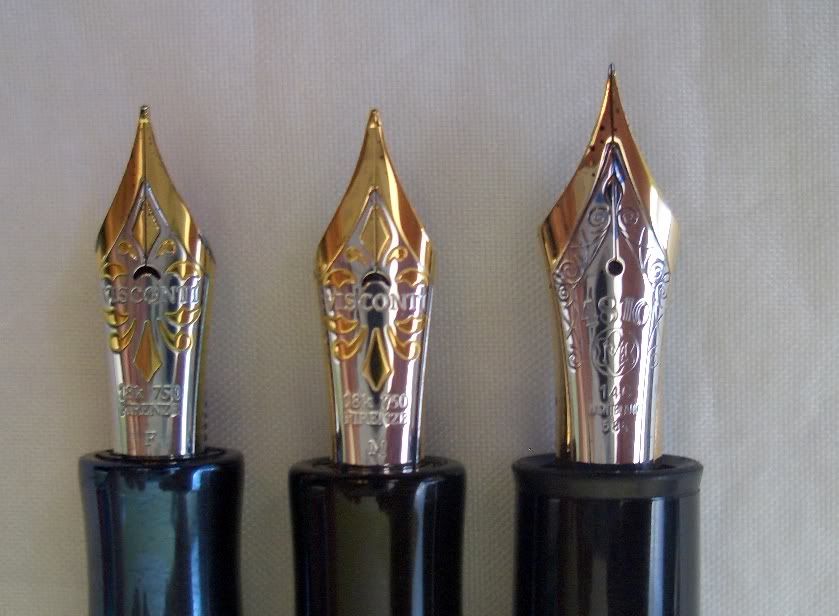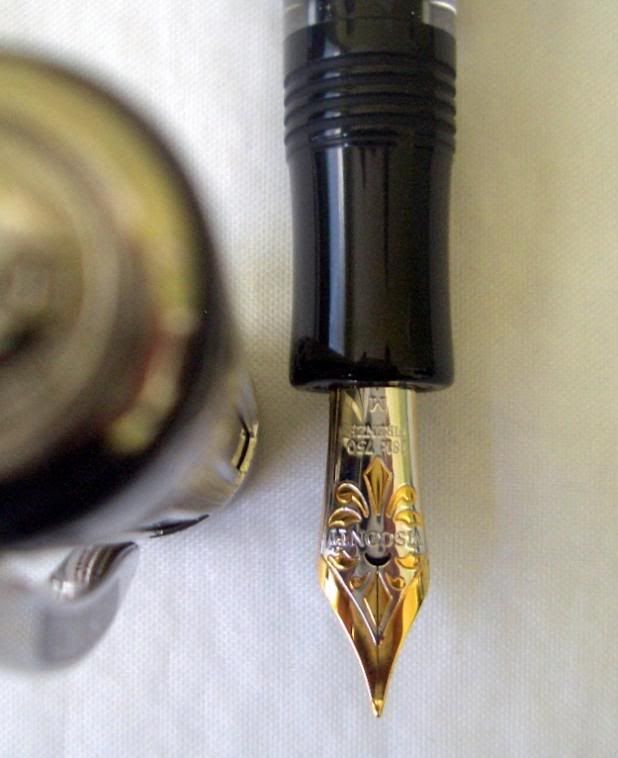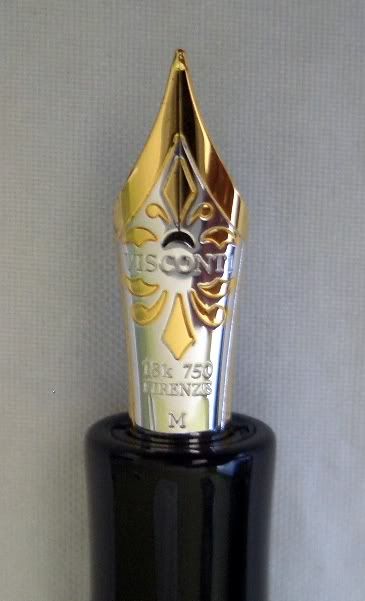 Price/Value: Retail Price 5/10 Price I paid 10/10
So this pen retails for 2400! Not that I don't think this pen is worth that, but thats a lot of money for a Sterling Overlay. When I think this much money, I think hand painted or something else that makes the pen actually worth that. I could never, nor would I ever pay that much for this pen. But, for example Fountain Pen Hospital has it on sale for 1400... Now I would say that this is about the right price. If you can get one around 1k USD now thats well worth this pen. Don't get me wrong, thats still a lot of money, but well worth it in my opinion.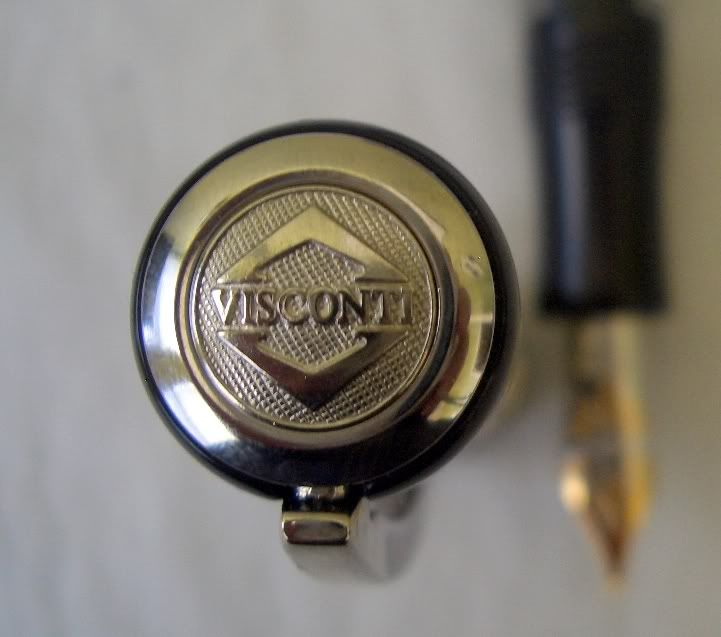 Overall: 9/10
I don't know if I can say this is my favorite Visconti I have owned, but its by far an amazing pen. I think this pen has both a modern and vintage look. I would highly suggest this pen if you are looking for a quality LE with a classic look.