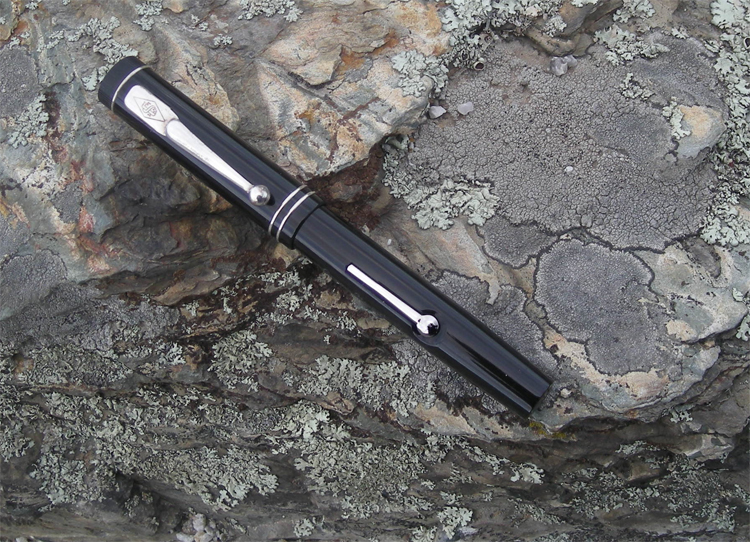 CONWAY STEWART DANDY
Black, Sterling Trim, Lever fill, IF Nib
My Conway Stewart Dandy is the "little black dress" of my fountain pen collection. It epitomises my taste in pens so perfectly,
that I cannot believe I had endured so long without it.
Let me start by saying that I collect vintage CS Dinkies, Dandies and Duros -- of the very early straight-sided flat-top variety,
made of casein. These pens are so spectacular, and display such an unbelievable degree of craftsmanship and attention to
detail, that I was worried the modern version might disappoint. Well, I certainly need not have worried: the modern Dandy is,
let's see: classic, intriguing, spectacular, darling -- absolutely perfect!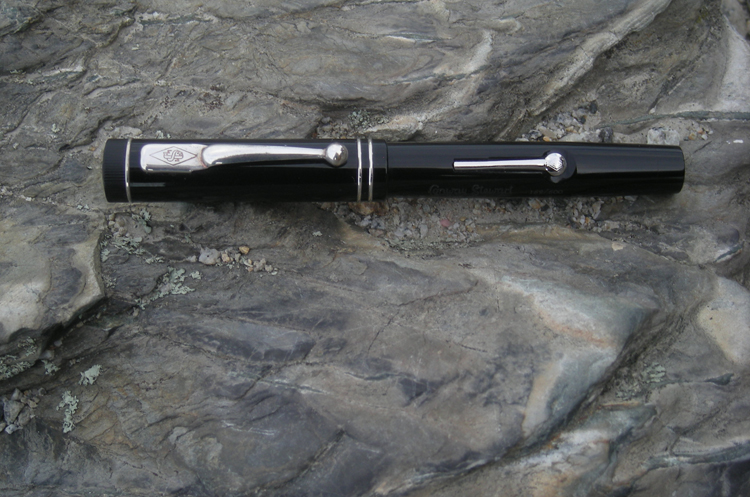 Looks and Design
The CS Dandy is modeled upon the vintage flat-top Dandy, in a way that shows a true grasp of what made the design of
the original pen so special: Everything that is important to me has been faithfully retained -- namely, the form, the
proportions, the "lolly-pop" lever, the knurled endcap, the early-era fixed "stepped" clip, and the curved section. These design
elements are extremely important to me, and I cannot say enough about how happy I am that CS has recreated them so well
and with such fine attention to detail. Even the engraved CS logos on the clip and lever, and the markings on the barrel are
well executed. The double cap-bands are unusual, in that they are rounded and 3-D (like two silver wires), as opposed to
flattened strips against the cap.
While maintaining the form and proportions of the original, CS increased the size of the pen (I can only write with the vintage
Dandy when posted) and provided the option of sterling trim, which was not originally available. The black body harmonises
with the sterling trim beautifully, and the size is just large enough to qualify this small pen as a daily writer.
Of course, the one drawback of the modern Dandy, is that it is not offered in the abundance of colourful caseins that the
original company was known for. But I think that for a modern pen, this is not a fair criticism: Today's pen production simply
does not make this possible. The black resin here is durable and practical. And, ennobled by the silver hardware, it looks
classic and sophisticated.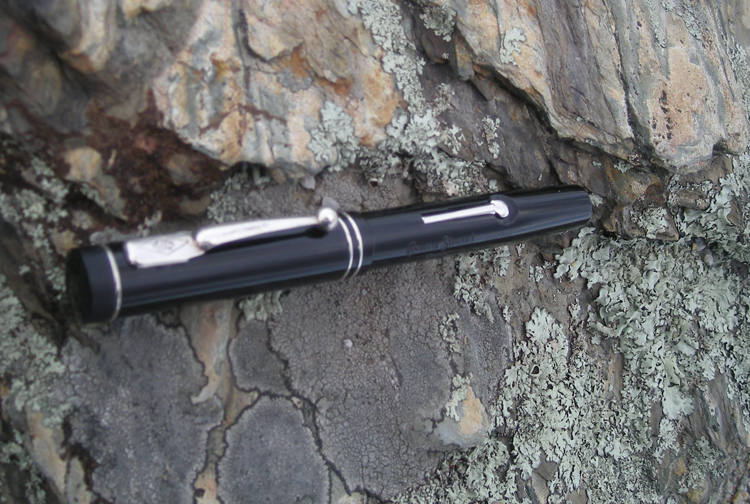 Size, Weight, Comfort
The Dandy is quite a small pen, stopping short of being what I would call a mini. It is about the length of a Sailor Sapporo,
only thicker. It is light (but not too light, due to the sterling trim) and well-balanced both posted and unposted.
Filling System
Lever! I am exceptionally grateful that, unlike most other companies today, Conway Stewart makes internally filling pens.
Levers in particular are almost unheard of nowadays, unless the pen is a very expensive LE. I am very fond of lever-filling
pens, and the lolly-pop styling of the CS lever is especially dear to me. So pretty! The lever has been functioning without
problems through twofillings thus far. It is easy to operate and draws a sufficient amount of ink.
Nib
My CS Dandy came with a two-tone 18K nib. Modern Conway Stewart nibs look a little different from those of other
manufacturers, because they do not have breather holes. I am not too crazy about that, as I like breather holes as a
design element. But otherwise, the nib is beautifully shaped. This is my 3rd CS Italic Fine nib, but unlike the others (which
both write like M stubs), this one has only very subtly stubbish properties. It is, however, exceptionally smooth and perfectly
behaved.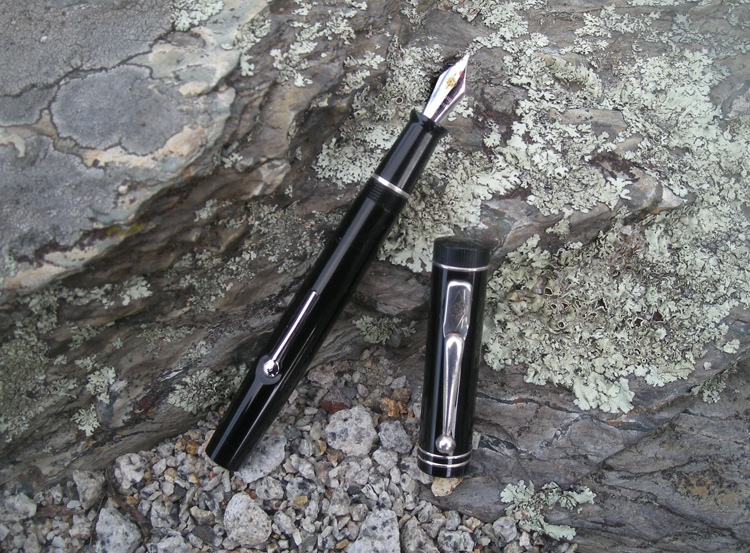 Cost
The CS Dandy must be ordered bespoke (or bought from a shop that has some pre-made ones lying about), and as a
bespoke pen it is not trivially priced. From what I have seen, prices range from the $300s into the high $400s.
Conclusions
I am very pleased to finally own a classic, perfect, modern Dandy. In the beginning, I had agonized about the colour and
arrived at my original instinctive preference for black only after much adventure and ambivalence. Now I am certainly glad
that I did, because this pen, in its exact configuration, clearly belongs at the very core in my collection. If you are into classic
flat-tops, this pen is absolutely for you. Of course the problem, is that one cannot have only one Dandy. I envision a Classic
Green in my future... or an Opal... or a Lapis... Well, we shall wait and see! Either of those colours would be just dandy : )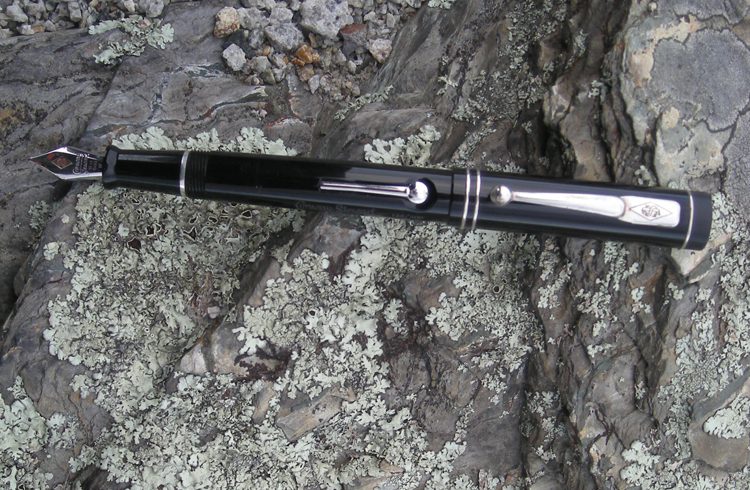 Edited by QM2, 07 May 2009 - 17:25.