SHEAFFER LIFETIME OVERSIZE
an Iconic Flat-top
Sheaffer Lifetime Flat-tops were produced from 1920 into the 1930s in a number of sizes from Oversize to Ringtop.
Mine is a later production pen. It is made of black Radite (celluloid) and features the bent clip design.
There are two groups of fountain pen users to whom I would recommend this pen: The first and the more obvious
group are flat-top lovers. This iconic flat-top is an absolute must-have! The second group, are those who currently
use modern pens and are either looking to transition to vintage, or have already tried, but found vintage pens not
as comfortable as modern pens (yes, this happens). The size, feel and weight of the Sheaffer Lifetime OS, as well
as its nib, bear the closest resemblance to modern pens of all the vintage pens I have tried. More on this later.

Looks and Design
To me, the Sheaffer Lifetime Flat-top is the Little Black Dress (or classic Business Suit, if you will) of fountain pens.
It is: classic, simple, uncluttered, elegant, good for any occasion, impeccable, flattering,
sexy
. If I compare it to
the Parker Duofold Senior -- the other big black flat-top of this era -- I think the Sheaffer Lifetime captures the
essence of the look better: It has cleaner lines than the Duofold; it is ever so slightly more minimalistic.
And, let us not forget what's on the flat surface of the cap: that embedded white dot. I have been obsessed with
the way this looks since the moment I first glimpsed it in photos. Ah!... Lovely.
Size, Weight, Balance and Comfort
The Sheaffer Lifetime Flat-top OS is 5 5/16" capped, 4 3/4" uncapped, and 6 5/8" posted. Diameter at the widest
point of the barrel seems to be 1/2", and diameter of the cap seems to be 9/16".
The pen is light/medium weight and well-balanced in my hand both when posted and when unposted. The gripping
section has a pronounced "lip" at the bottom to keep the fingers from slipping down towards the nib. This design is
particularly useful for me, as I hold my pens very low. In general, the length, thickness, and weight of this pen are
just perfect for my hand; I couldn't be more pleased.
Another aspect I should mention, is that this pen feels very durable and stable. One problem I have found when
using vintage pens, is that even when fully restored, they often feel fragile. This makes me less comfortable writing
with them than with modern pens. I really like to feel that my pen is sturdy, tight and durable during those marathon
writing sessions. With the OS Lifetime Flat-top I do not get that fragile/brittle feeling at all; it feels incredibly tough
and reliable.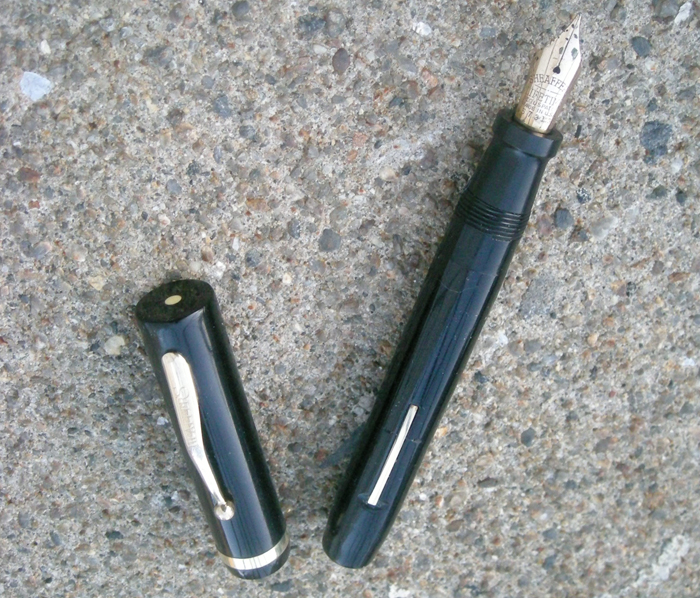 Filling System
The Sheaffer Lifetime is a lever-fill pen, which is one of my preferred filling systems. The lever works well and feels
very sturdy, which I think is the key to enjoying a lever-fill pen. If the lever is wobbly or weak, I am always nervous
filling the pen, worried that it may break off at any moment. No such problems here. My only complaint is that Sheaffer
did not make the most attractive levers: I prefer the "spoon" or "lollypop" design to Sheaffer's "matchstick" design.
Nib
These pens come with the rigid Sheaffer Lifetime Nib. This is my first experiene with a Lifetime Nib and I was
pleasantly surprised. The nib writes smoothly as can be, and compared to other vintage nibs I have tried, I would
describe it as being "much thicker and stronger". Not a very professional description, but I don't know how else to
phrase it. As with vintage bodies, I admit that I have always found vintage nibs to feel somehow thinner and more
fragile than their modern counterparts, which has bothered me. This Sheaffer Lifetime nib feels completely different.
If I had my eyes closed, I would have thought to be writing with a Delta or Visconti nib -- only better.
The nib on my pen is a Fine, which actually makes a true Fine line. My next one (and there definitely will be a next
one!) will be a Medium, so that I can have it reground to an italic. This is my favourite vintage nib by a mile.
Value
I always find the value of vintage pens confusing, especially because the definitions of condition are so variable.
To me, what matters in a vintage pen is that it is clean, has no discolouration, and is free of cracks, bite marks and
initials. Brassing and scratches are fine with me. As I understand it, the typical price range of this pen is $85-175
in the condition I describe, and I bought mine in the $90s including shipping.
Conclusions
I am very happy to finally own this classic pen and my only regret is having waited so long. I now know that I am
most comfortable with oversize flat-tops, and this has certainly helped me prioritise future vintage pen purchases.
If you are a modern pen user and want to ease into vintage, try the Sheaffer Lifetime Oversize (or, if you prefer
torpedo shaped pens, the Oversize Balance). You will feel very comfortable with these pens.
It still amazes me that an 80-year-old piece of history can be so perfect as a daily writer!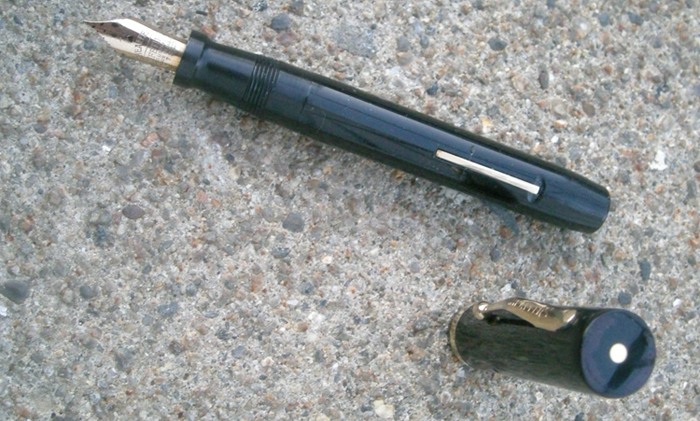 Edited by QM2, 11 November 2008 - 17:03.