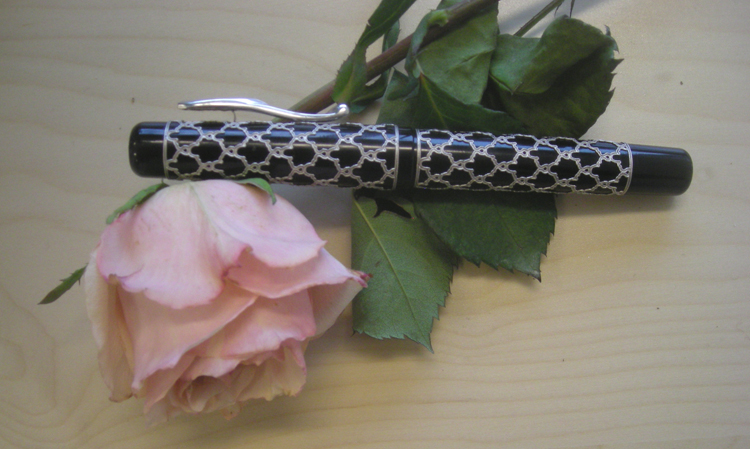 VISCONTI ALHAMBRA
Black lucite with 18K White Gold Overlay
As I
shamelessly posted on the Italian forum last month
, this pen was a gift on the occasion of my 30th(!) Birthday.
Released in 1998, the white gold Alhambra is a rare pen, with only 88 having been made as part of the Limited Edition.
The initial excitement I experienced upon receiving the Alhambra was evident. But now a month has passed and it is time for
a lucid review. Is this pen worth it? Now that I have it, is it everything I had imagined it to be? The short answer is: Yes.
Considering my tastes and preferences, the Alhambra is nearly perfect -- not just in looks, but also in its various attributes,
user-friendliness, and performance. It is my singlemost favourite pen without a doubt. Read on to learn the details, and I
appologise for the cheesy photos -- they looked romantic at the time : )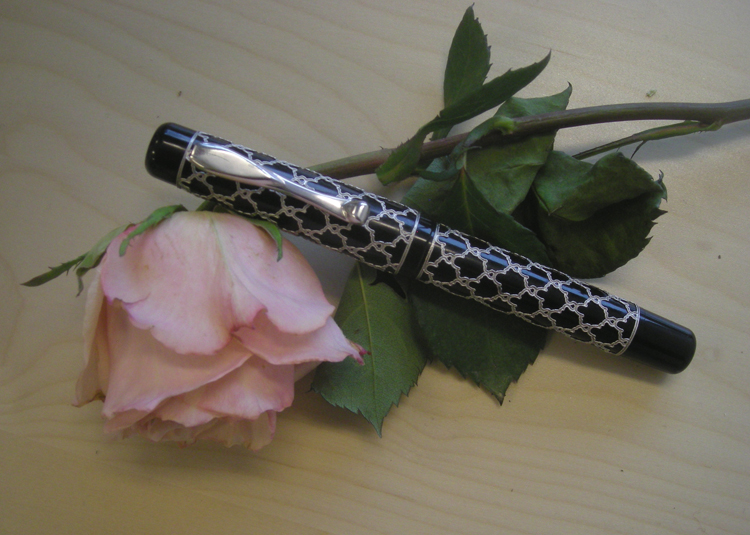 Looks and Design
This Alhambra is made of black lucite and has a classic flat-top form. It is overlaid with solid 18K white gold. The trim (including
the clip) is likewise 18K. Several versions of the Alhambra were released. Here is the complete list of editions:
Alhambra:
- 888 RHR with silver overlay
- 288 RHR with 18K yellow gold overlay
- 88 black lucite with 18K yellow gold overlay
-
88 black lucite with 18K white gold overlay (mine)
Alhambra HRH:
- 38 black lucite with 18K yellow gold overlay and diamonds
- 38 black lucite with 18K white gold overlay and diamonds
In the course of the past year, I had studied the looks of the Visconti Alhambra for many an hour in every online image I was
able to find. But what makes this pen special does not come across well in photographs.

The overlay technique is of course exquisitely executed. But further, it is unique in that it does not just cover the pen, but is
actually embedded into the body at the time of casting. The gold latticework is fused with the lucite, which I imagine was done
similarly to the process used to make Sheaffer inlaid nibs. According to Visconti's literature, the Alhambra is the only pen with
overlay done using this method. This is the second Visconti overlay pen to use a unique technique (the first being the
Taj Mahal
,
in which the overlay is woven using the wire filigree method).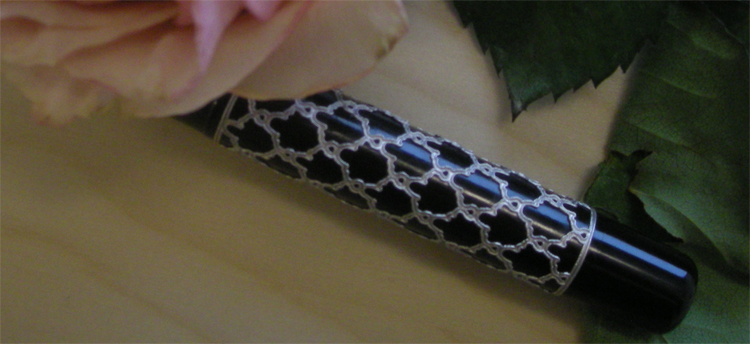 The close-up photos show that the overlay is so intricately etched and raised, that it is distinctly textured, curling up at the edges
like lace. There are no sharp points (the lattice edging is finely finished), but the repeating raised surfaces can create a tactile
overload if you run your finger along the overlay back and forth (which I've compulsively done!).
Being a 1998 release, the Alhambra is fitted with the graceful old-style Visconti clip, cast in solid 18K white gold and hallmarked
as such. I must admit that I have not yet gotten used to a pen with "18K" stamped on the clip. Don't know if I ever will!
The long section of the Alhambra gives it a resemblance to the early overlay eyedroppers. The section is curved at the lip.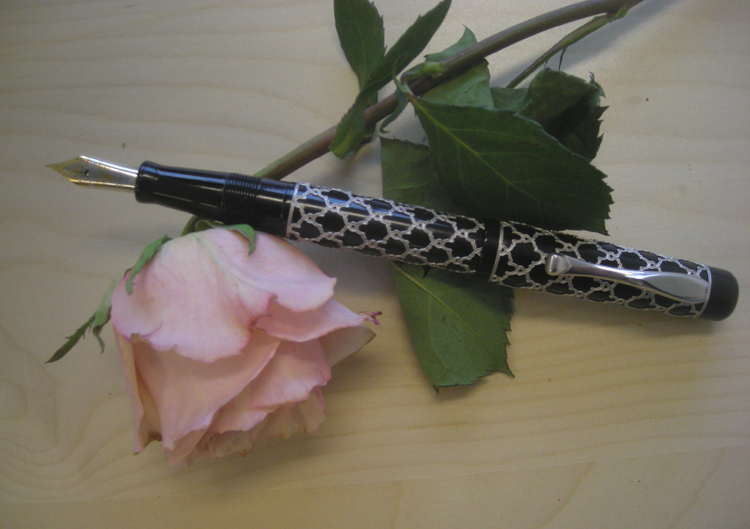 Size, Weight, Comfort
For an LE of its caliber, the Alhambra is a "smallish" pen. That is to say, it is a standard full-size pen, but not a glamazon of
monstrous proportions like, for instance, the
Taj Mahal
. The standard size, combined with the medium weight and perfect balance
created through the pairing of lucite with evenly distributed gold overlay, makes it amazingly comfortable in the hand. The size,
weight, proportions, and the curved lip of the section, create an absolutely ideal writing experience, while the sturdy clip ensures
practicality and ease of transport.
For all these reasons, once I received and used the Alhambra, there was no question of this pen staying home under carefully
guarded conditions. It was clearly designed to be a "daily user," and amazingly, seems to be particularly suited to my preferences.
So yes, I use it daily and carry it around in my pen pouch at all times. It is just too comfortable and convenient not to.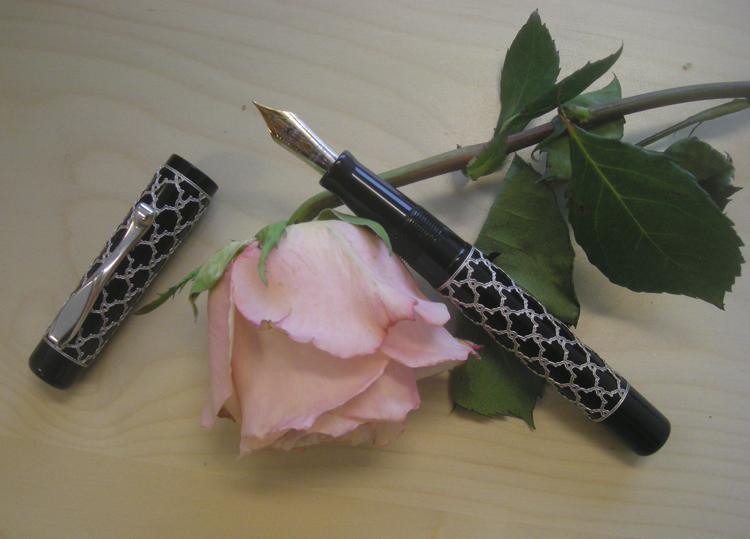 Filling System
The Visconti Alhambra fills via the proprietary "power vac" system. My camera is not good enough at macro to capture this, but
basically, the cap unscrews and a rod is then pulled out which is used to pump ink into the pen from the bottle. The mechanism is
smooth and easy to operate. The ink capacity is quite large, as the ink fills directly into the barrel like in a piston-filling pen.
Nib and Writing Performance
The nib is the large, elegant 2-tone nib that Visconti typically uses on its LE pens. Amazingly, my pen came with an EF nib, which
even more amazingly, felt delightful out of the box. It is a true extra-fine, but is very wet -- I would say 8.5/10. For that reason it
runs a bit wide, but the line is still narrow enough for me to use it as is. I will not be regrinding this one!
The nib is smooth as can be, and oddly, seems to adapt to different papers. It provides just the right amount of "feedback" so as
not to veer out of control on super-smooth paper such as Clairefontaine, but then seems to become smoother when writing on
slightly rougher papers such as Moleskine and Cranes. Don't know how to explain this, but I notice it repeatedly when using the
pen on different papers. Can it be... magical?
There have been no problems at all with flow. I have tried the pen with Noodler's, Private Reserve, Herbin, and Montblanc inks
so far, and it likes them all. Noodler's Squeteague and MB Violet seem to be its favourite colours.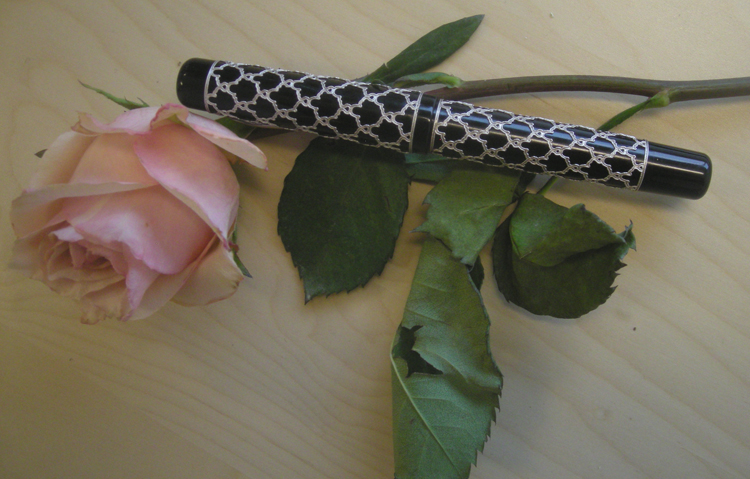 Cost and Value
The Alhambra's retail price is prohibitive, but occasionally deals can be found. Even with the deals, the price is (by my standards)
too high. This is the only pen I own that exceeds my per-pen spending limit, so I would not have bought it for myself. You will
only be comfortable with buying this pen, if you play at the level of Visconti LEs, Montblanc WEs, and maybe even the "cheaper"
POAs. If you do buy pens in this price category, than the Visconti Alhambra is a superb value, due to its abundant precious metal
content, its rarity, and its usability.
Conclusions
I am lucky enough to have many beautiful and special pens, but none that combine all the elements that are important to me so
perfectly. The Visconti Alhambra is a flat-top, with filigree overlay, an internal filling system, and an Extra Fine nib, that feels as if
it were made especially for my hand in form, weight and balance. The special overlay technique, the white gold, and the truly limited
edition number of 88 pens, of course make it extra special. It is safe to say that my 30th birthday gift will be eternally memorable!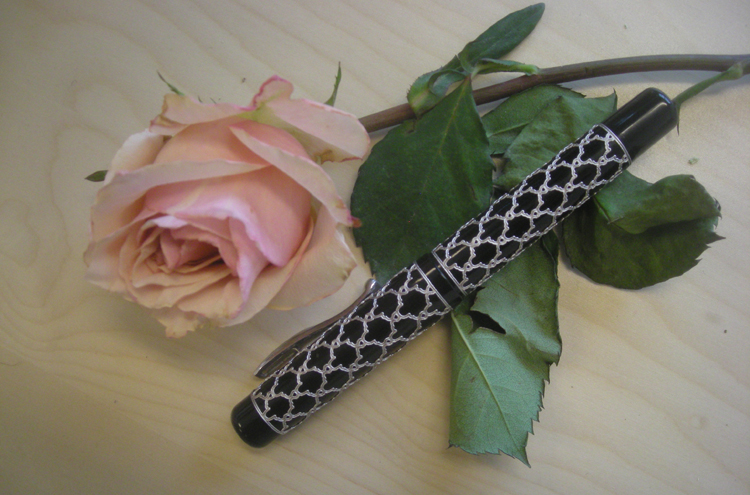 Edited by QM2, 08 March 2009 - 21:16.