Chapter 1 - The Review
Introduction
There was a time not so long ago when Mont Blanc made fountain pens for the rest of us on tighter budgets. I am writing this review about one such Mont Blanc and because after many years of almost daily use it has become time to retire my Mont Blanc 310.
My first fountain pen was an extra fine Sheaffer 304 that was given to me by my then girlfriend who preferred ballpoint pens. I remember how curiously nice it was to write with this pen and it had a small chip midway down the tine split. I still have this pen and do occasionally ink it up and this was the pen that got me started on my life long obsession. As for my girlfriend, well I ended up marrying her and have been hitched to her for thirty-one years, and every time I get a new and more times than not, expensive fountain pen, I blame her for getting me addicted.
My second fountain pen is an extra fine red Pelikan Pelicano. This is a very nice writer and I still have this pen as well. My third fountain, rounding out my college year's fountain pen collection is a fine nib Pilot Vanishing Point that I still use to this day in my rotation. I bought the Pelikan in the Northeastern University bookstore and I purchased the VP for I think under $30.00 at Broomfield Pen in Boston, a wonderful pen store, still in its original location. Since then I have amassed quite a large collection of fountain pens most of which are un-inked.
First Impressions
I purchased my 310 in the mid to late 70's while attending college in Boston. It has been so long that I don't remember how much I paid or from where I purchased it. What I do remember when buying it was how great this pen looked and especially in comparison to the more stogy looking Mont Blanc 14X series pens and that I could afford it. Heck I was young and didn't think much or care about collecting fountain pens and this pen marked the fourth and final fountain pen purchased during my college years. Thus, without realizing it I had a fountain pen collection and had become a fountain collector.
Appearance & Design
A few years back I looked into the pedigree of my first Monty and learned that the 310 was designated as a school pen. The pen body and cap is made from some type of black acrylic (no precious resin here). The cap contains a gold ring at the crown from which the gold plated clip is attached. I have no idea what karat the gold is. At the top of the cap is the Mont Blanc white start trademark that is also at the pen bottom. With the cap removed and just above where the cap attaches is a small section of clear plastic that allows one to view the ink supply. In addition there protrudes small wire loops to which the cap locks to, similar to the way a Lamy 2000 cap attaches. The bottom of the cap also has a gold ring with the words "Mont Blanc Germany" inscribed. Where the cap mates to the body is gold ring and at that point is where the body unscrews from the nib section to allow access to the cartridge ink supply area.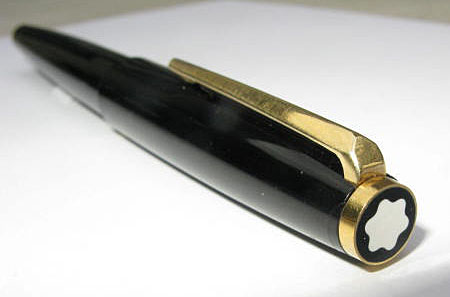 Weight & Dimensions
This pen measures 13.7cm caped and un-caped measures 12.4cm and is very light in weight.
Filling System
The filling system is via Mont Blanc converter or ink cartridge. Way back when, I thought how novel an idea it was the hold two cartridges with one in reserve. I had never even considered a built in plunger type filler mechanism because I had felt they were old fashion. The converters of that day were also the squeeze to fill types that also did not appeal to me and so cartridges were the way to go. I also don't even remember if my Mont Blanc even came with a converter. Besides the mere thought of dipping a pen in a bottle of messy ink to fill it up was repulsive. Nice to be young huh?
Nib & Performance
This was my first medium nib pen. My three previous pens were all x-fine/fine. What a revelation it was to write with a medium nib that put down a deep blue wet line. The nib just begged to be written with and the broadness of the line made the words jump off the page. Although the nib glides with ease over the paper, by comparison to other pens it has a much higher coefficient of friction, meaning that it is not buttery smooth, but nice enough. Through the years the nib has become pitted, which is one of the reasons for it being retired as an everyday writer. I have always used Mont Blanc ink so if the ink is the reason; it is not due to using some off brand ink. The nib is either gold or gold plated for I do not know, but looking into the pitted areas they exhibit the same color as the un-pitted areas on the nib thus; I am guessing that the nib is solid gold. I also do not know what the karat rating is.
Value - Priceless
It is too bad that Mont Blanc no longer makes any moderately priced pens for this pen shows they can and just won't. I guess they just forgot marketing 101, get the young to buy and they will trade up. It worked for me for had I not bought this cheapie I probably would have never bought some of its painfully higher prices brethren. Remember there was no Fountain Pen Network then.
Conclusion
After over thirty years of use I must like this pen a little, you'd think? This pen has been a joy to use, very light weight and always working. I have spent more in buying ink cartridges to keep this thing fed than the cost of the pen itself many times over. I have used it to take notes in class a long time ago, meeting notes over the years at work, signed many a check, written many a letter and yes, I wrote this article with this pen before typing it up. If I knew then what I know now, as the saying goes, I would have bought a few more of these. I can only say that if the opportunity arises to pick one of these pens up at a pen show you will not be disappointed.
Chapter 2 - The Heir Apparent
Ravages of time
Tonight I shall drain and clean this pen for the last time and tuck it away in a pen storage draw in a slot of its own. I have had two pens wear or corrode out since getting my first pen. The first to corrode was my first Pilot VP where the nib assembly corroded through along the sides allowing the ink to leak out. Fortunately the newer nib assemblies fit the older VP's as long as you use Pilot cartridges and this has give new life to this old modern pen.
My Mont Blanc 301 has not been so lucky for at the top of the cap, just below the gold band where the pocket clip is attached has developed a crack. Although the pen shows signs of wear and the nib is heavily pitted I fear that with further use the crack will get to the point where the top of the cap will break off. So it is now time to give my old friend a place to rest and give a newer Mont Blanc the chance to strut its stuff for another thirty year.
A new Beginning
So who is the heir apparent? Should it be the 149, 146 or 145? All never been inked and all calling to me from my current pen collection. How about a Starwalker or Boheme? These two pens live in some Mont Blanc boutique or fine pen shop as of yet to be possessed for a tidy sum. Or should I dare not replace my wonderful Monty 310 in my rotation for fear that I will be disappointed? Help me write the last chapter by helping me choose, and in an other thirty years, as I sit in some elderly home, I shall write the sequel and share it with all of you. Now where did I put that Parker 51?
Edited by Steven, 22 February 2009 - 21:42.