I got myself a nice Pelikan M600 in black with gold trim some time ago. It was a nice pen but for no good reason I sold it again. Actually only to find out this was a very big pity because it is indeed a nice and interesting pen this M600. Ironically the pics in this review are the ones from my sales post! Well, luckily this pen could be replaced pretty easily. Let's not try this joke with my minty minty Parker 51! On the plus side of this Souveran I first and foremost see a very pretty design. The black with gold is traditional yet not over the top. The Pelikan clip is the most pretty clip design of all times IMO. Than there are the other great features: 14 k. M nib.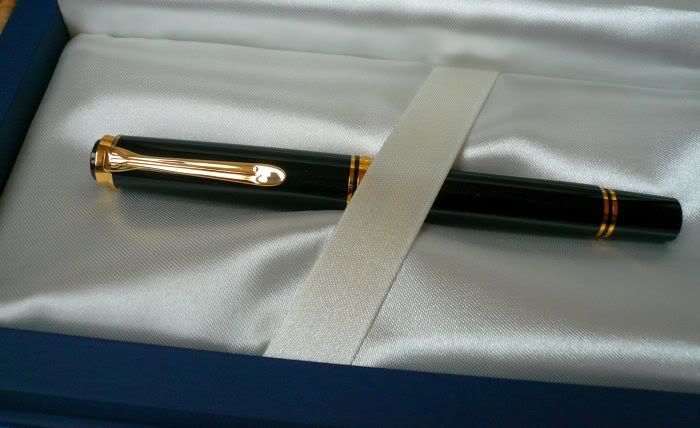 I always use M nibs: My Parker Duofold with F nib I used so long it got an M sized line. So I found out 15 years of Duofold got me from being an F writer to an M. Actually the Duofold is still a top grade pen that looks and feels like it just left the factory. It has a thick wet line and a super smooth slightly flexy nib. It feels like a BMW that had it's first 100.000 km: kind of unimpressed by the challenge untill now, and just getting started.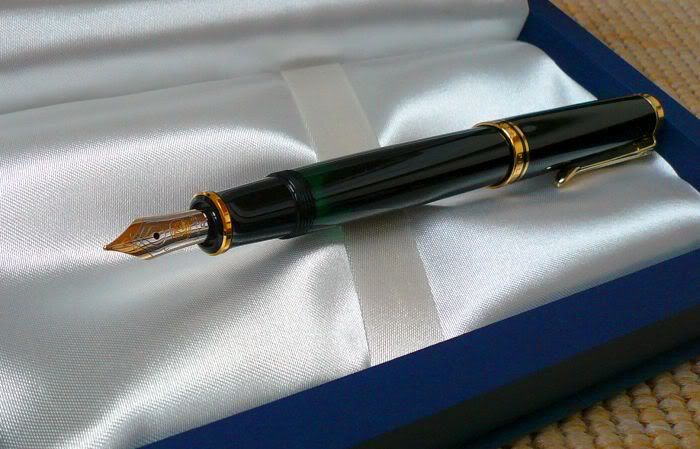 Back to the Pelikan: it has a nice see through reservoir and a large piston filling system. The price is very good actually also for what you get. The sweet spot of this pen is big and tolerates many positions, including a very upright, almost ball point like position without trouble to the ink flow. I filled this one up with Noodlers Eternal Black upon arrival which gives a deep black line. Though this M600 is not as wet as my first sample, the M600 has plenty of ink coming to the nib. Only on putting the pen on paper for a first letter it sometimes skips. Yes I know, many will think it's the Noodlers causing it, but somehow I feel that's not the reason. I rinsed the pen in fresh water to see if it would go away, and it did help a bit indeed. Maybe it has to settle in a little more.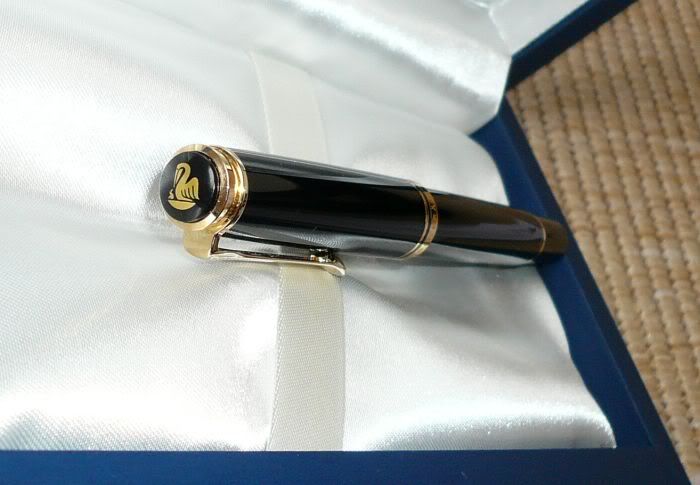 I find this pen so pretty I will also order a K600 matching ball point. A ball point?? Yes, when your ink is finished or someone asks for a pen in a meeting, a ball point can be nice as well. I sometimes write my MBA exams on paper that doesn't seem to tolerate fountain pens, so enough excuses to own one of those nice K600's as well.
Back to one final remark on the M600: In weight this pen is pretty light, one should realize that before getting one. But on the good side it feels well constructed, it is solid enough and it has plenty of attention to detail and great finish.
So, is this pen as good a pen as my 1993 Duofold? Well, in some ways it is: It is well made, a piston filler which the Duofold is not, it has a transparent ink reservoir the Duofold hasn't and in a way it looks more pretty because it is so blackety black AND on top of all that it is a great writer.
On the other hand, the nib of the Duofold is too fenomenal to be beaten by any M600 and the Parker is just this tiny little bit more heavy and even more solid in used materials. So, in the end, can it beat the Duofold? Nope. Is it fair to compare the M600 to a much more expensive pen? Maybe not. Is it fair to compare a pen you have 1 day with a pen you have 15 years? Nope. But this is my review and I don't care ;-) So, let's see what happens and review the Souveran again in some time. Thanks for reading!
M600 PLUS:
+ great design and looks
+ well made, solid product
+ very good writer, smooth not too stiff nib
+ 14 k nib, see through reservoir and piston filler is all features a fountain pen needs
+ nice price level
+ the clip! it is so pretty. The contrast with my Duofold that had the clip broken off for years now makes it look even nicer.
M600 MINUS
- very light weight
- some initial skipping
- in total not as great as a Duofold
Edited by Exupery, 18 February 2009 - 21:27.