Hello friends…
I had written in one of my earlier posts that I had visited this town called Malappuram in Kerala and I had also written about the various models of Chelpark fountain pens that I'd chanced upon there…and the most pleasant surprise was finding a
Camlin Trinity
fountain pen on the first day of my visit itself…
Camlin
is a long-standing pen and ink and other stationery manufacturing company in India and makes inexpensive fountain pens…and for most of us the first fountain pen that we got to use was usually Camlin…and many of us also have lots of memories of their first Camlin FPs…
I had seen a photo of
Trinity
in the Camlin website and from among the fountain pens featured in the website, this was the most good looking and the most expensive (Rs.70/-; around 1½ dollars) (of course, I didn't know that Camlin had already brought out their signature pen called '
SD
' in honour of their founder
Sharad Dandekar
which is Rs.600; check out Hari's intro post on this pen in market watch). I couldn't find this pen in the big pen stores that I usually visit in Hyderabad, and therefore it was a nice surprise to see this pen in Malappuram. It must have been a left over pen or a never-bought pen because of its price considering the size of the town. Anyway, I bought this pen and the pen looked really good for its price. And the cardboard box in which it was housed said, 'FIRST TIME IN INDIA: 3-IN-1 INK FILLING MECHANISM.' Ink can be filled through a convertor (comes along with the pen), or a cartridge can be used or the pen can also be used as an ED FP. This could be the reason why it is called '
Trinity
.'
Looks-wise and considering its cost, the Trinity looks really good with a brushed steel cap and a black plastic body. I would give it 8 out of 10.
Cost-wise, I would grab the pen just as I did as soon as I saw it. The packed date on the sticker on the pack says 4/08. So, it isn't a really old left leftover pen as I had surmised. For its looks the cost is appropriate. No hassles here.
The most interesting part is the clip, which is gold coloured and not very wide. The clip originates from the centre of the upwardly tapering cap and kind of flows down till just above the company and model name engraved at the cap lip…like a tuft of hair flowing down from the top of a shaven head…the name
Camlin
and
TRINITY
are engraved at the cap lip.
Once the pen is uncapped, you see gold coloured trimmings at the neck of the section…and a gold coloured nib…the nib doesn't have a hole, though there is a faint circular indentation at the end of the slit on the nib…the nib itself is smallish and is curved on both sides half embracing the feeder…only half of the feeder can be seen and it has got horizontal fins running around the feeder (this kind of feeder has a technical name, I am sure). A gold coloured ring forms the border between the section and the barrel…this ring is not fixed, and therefore comes loose whenever the barrel is opened.
I filled the convertor with Sheaffer Skrip Black ink. The nib is tipped 'fine' and lays down a fine wet line while writing with a hint of writing whisper. The nib is not 'butter' smooth, but is not scratchy either. The flow is smooth and looks like the feeder is functioning well. I wouldn't take back points for lack of 'butter' smoothness.
Vital statistics:
Triple filler: convertor, cartridge, ED
Snap cap
5 ½ inches capped; close to 6 inches posted; and close to 4 ½ inches uncapped
'fine' tipped nib
Tapered cap and barrel
Here are some pictures…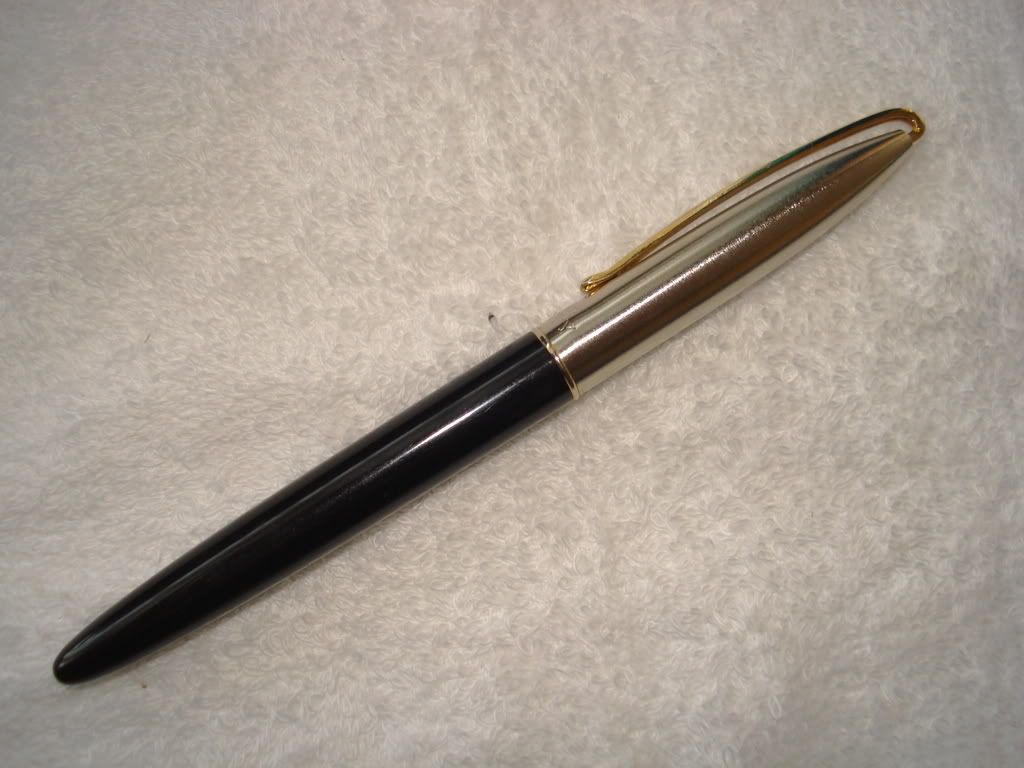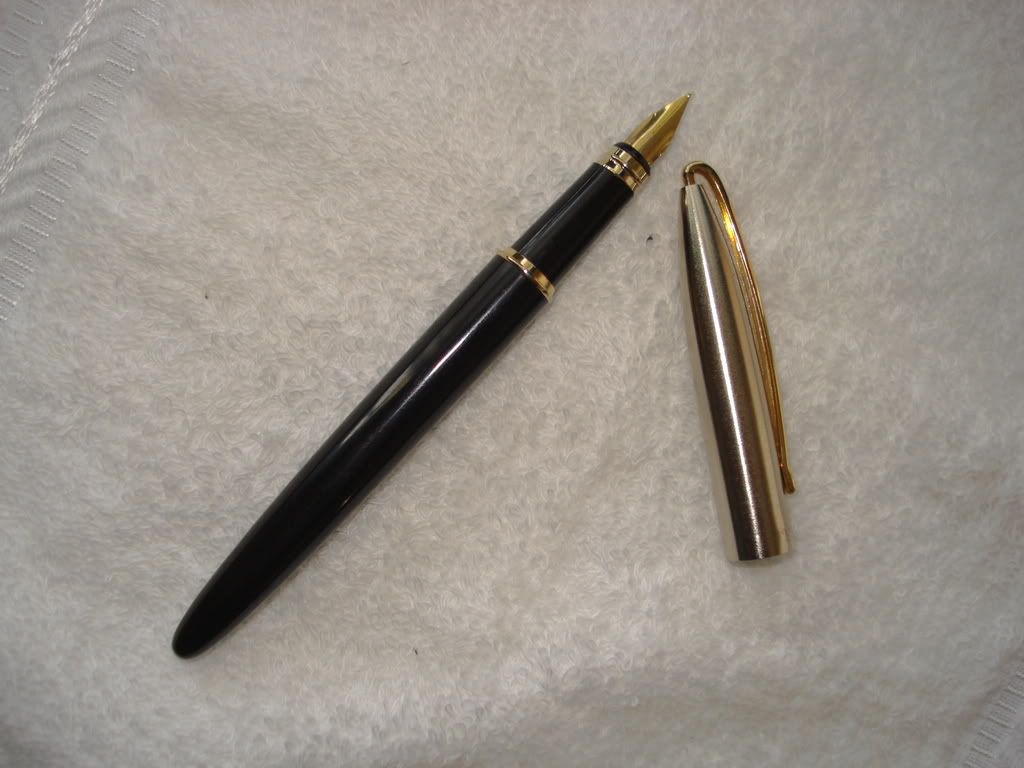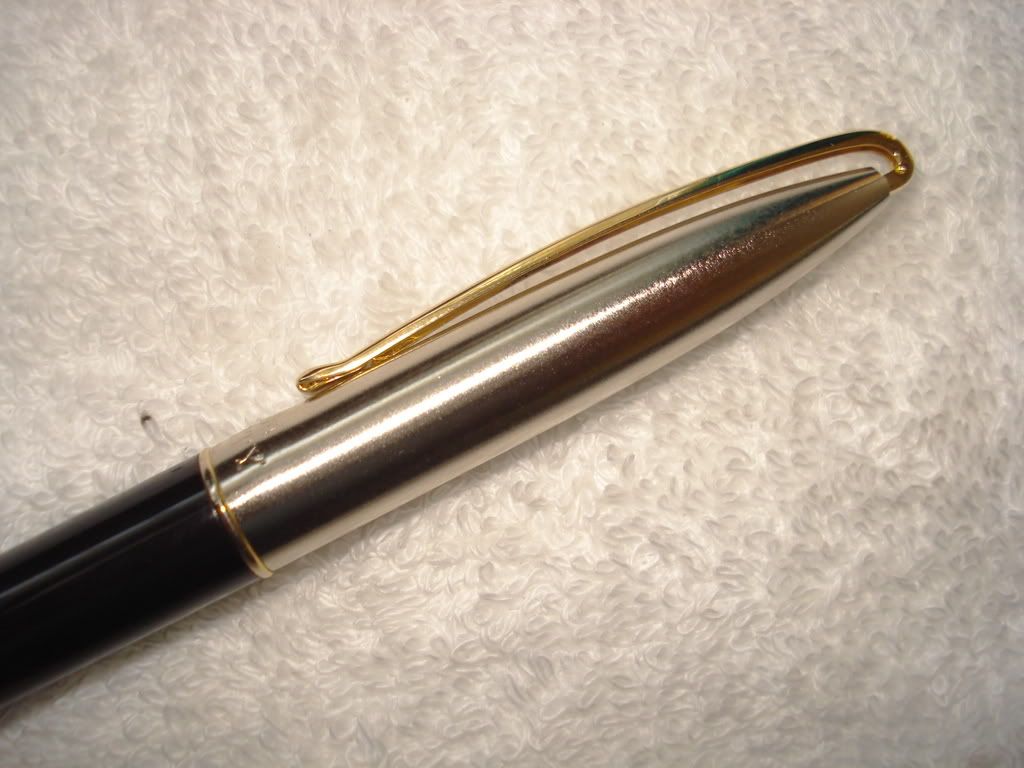 Close up of cap with its brushed steel finish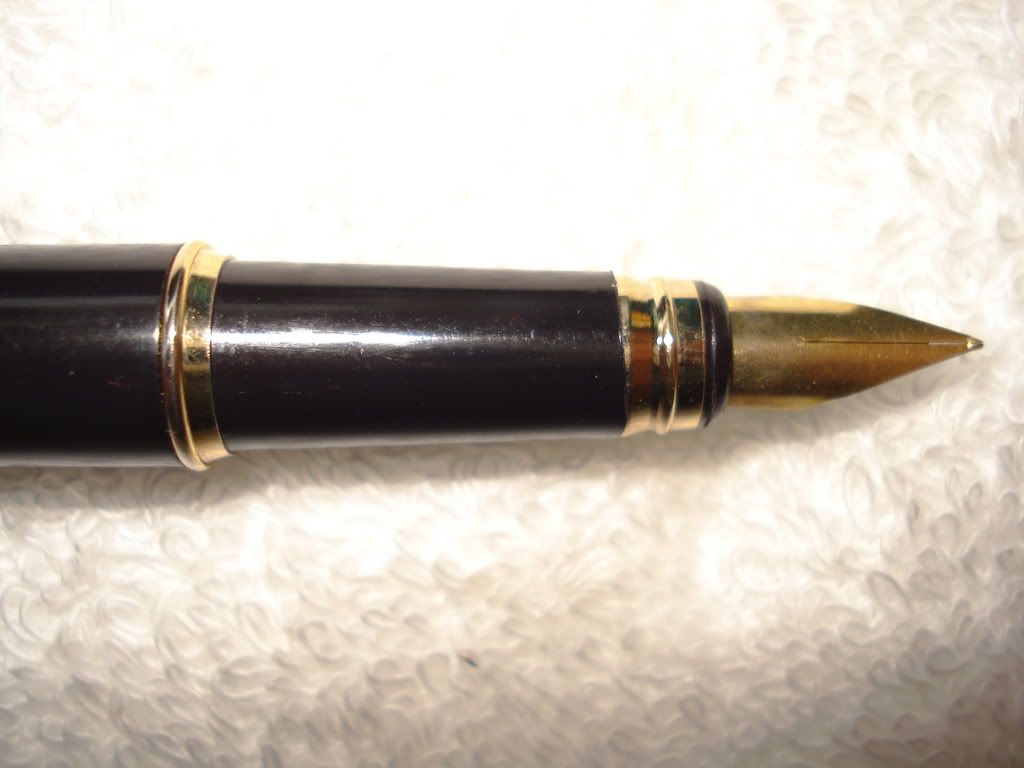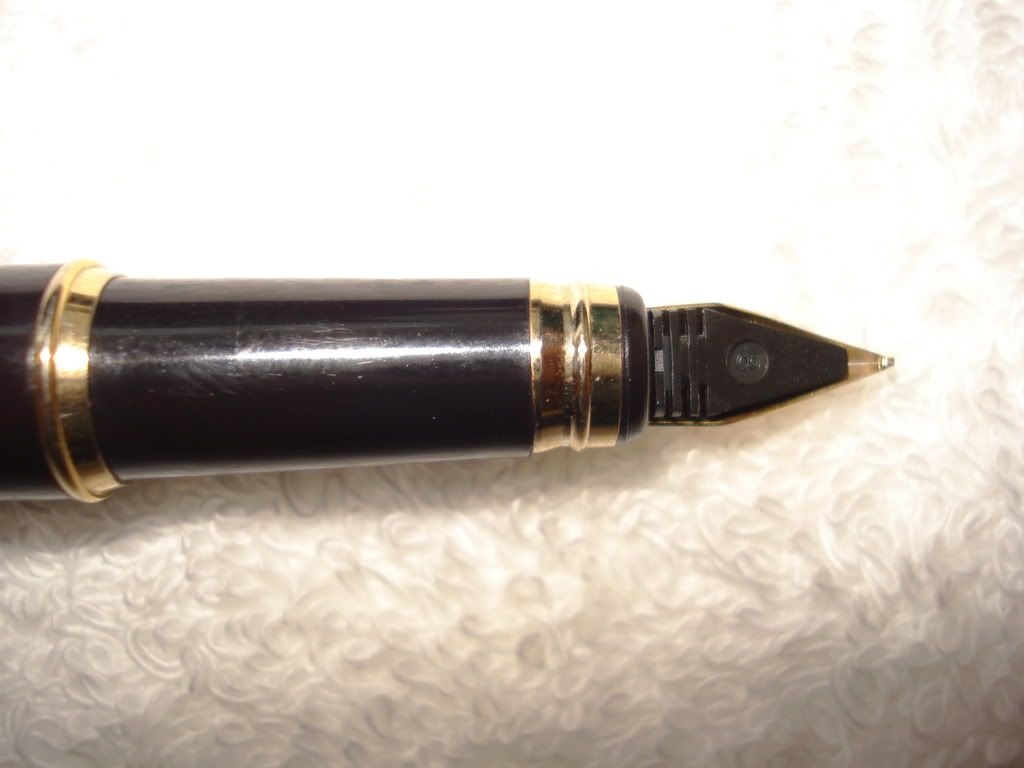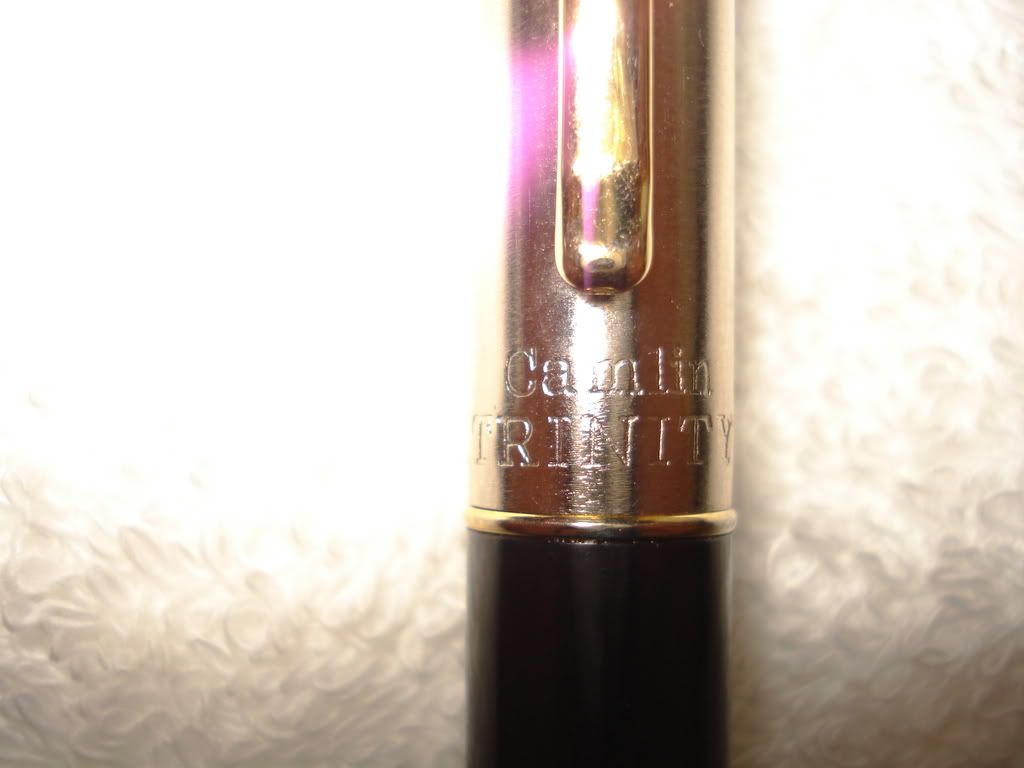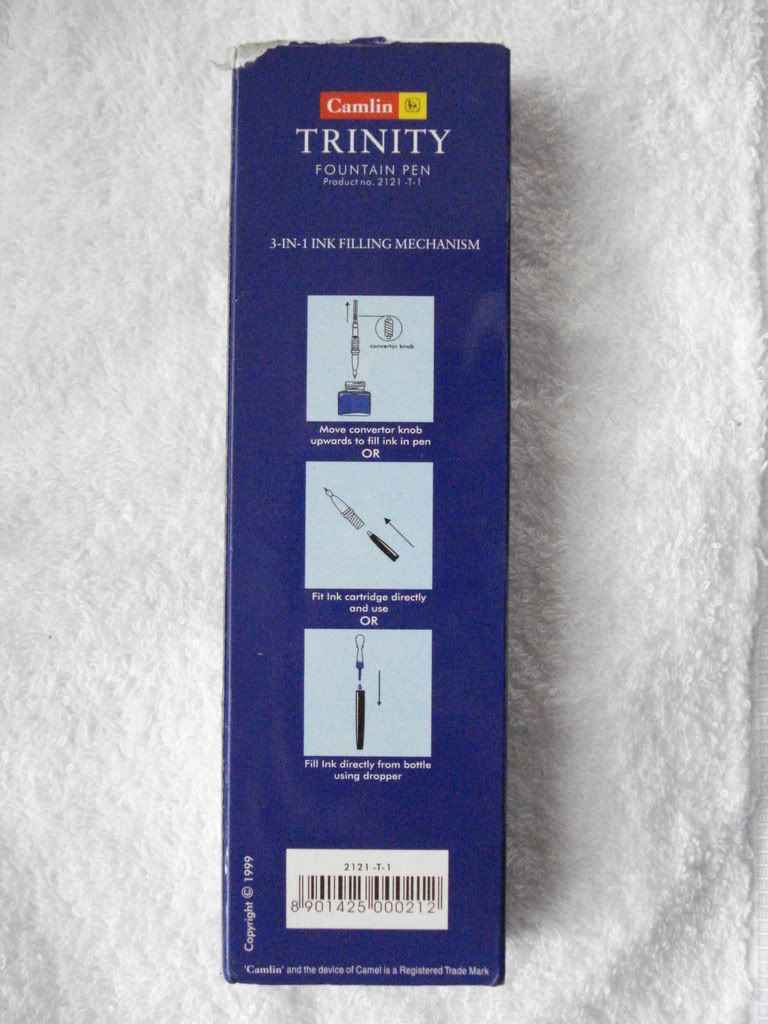 The obverse side of the box which shows the three different ways in which ink can be filled…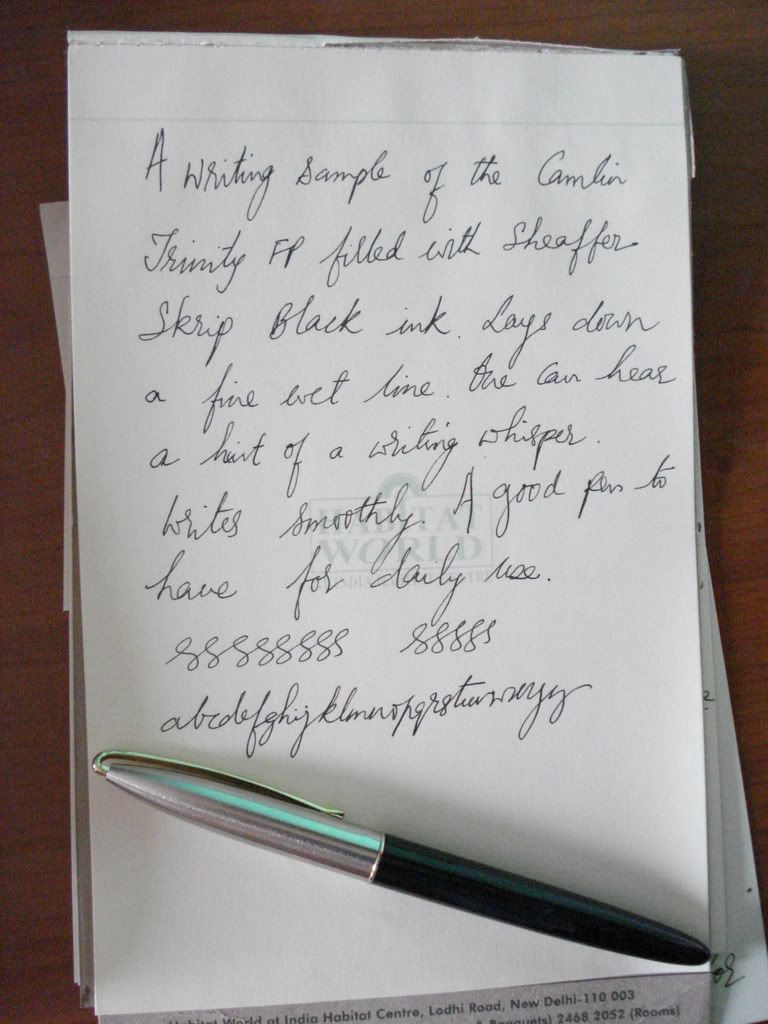 A writing sample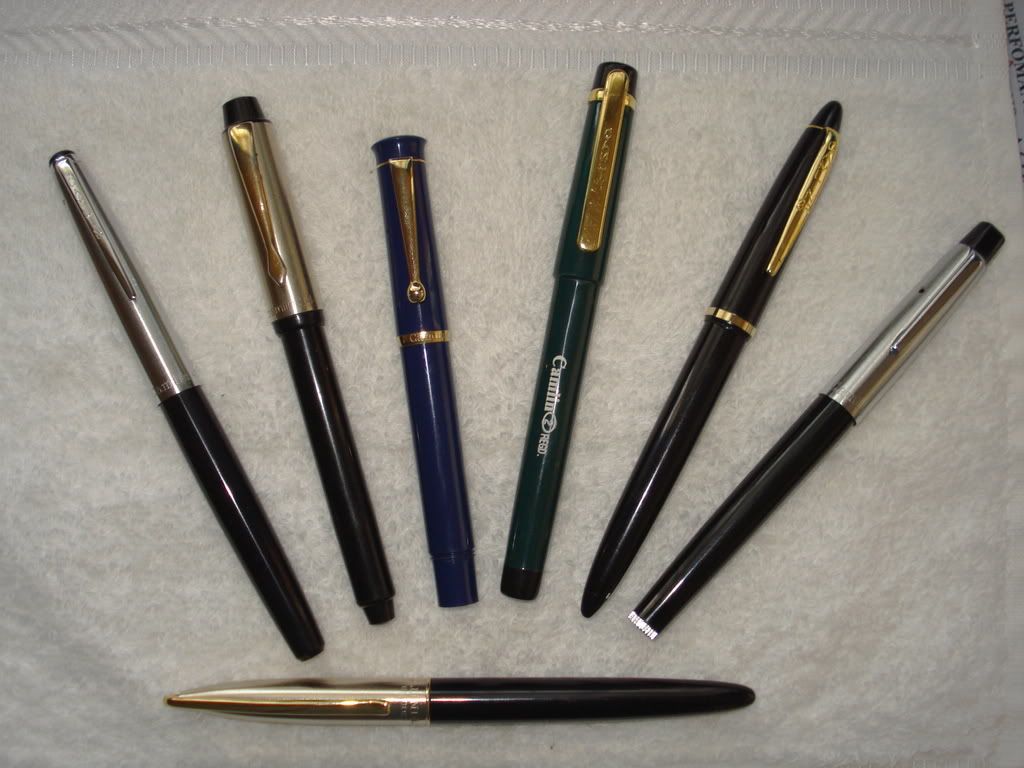 Since I am reviewing a Camlin FP, I thought I might as well display all my Camlin FPs…from left to right…
Camlin 47, 34, Cute, Camlin 2, 3R, and 36
…with Trinity forming the straight line…
I feel this is the most 'academic' post that I've written so far. Comments are welcome.
Regards,
Shrujaya