Hey all,
In accordance with the current influx of Jinhao reviews; I thought I'd contribute with a review of the only Jinhao I own, but one I love; the
Jinaho Zhuge Liang Commemorative.
I love the three kingdoms era of China and the characters and figures involved; and Zhuge Liang is a symbol of learning and wisdom. As a student, the significance of this representation made me want to own and use this pen throughout my studies.
First Impressions:
The pen came packaged in the standard Jinhao Orange outer sleeve; and within this was a nice wooden box filled with papers; and of course, the pen itself. Absolutely amazing presentation considering the price of the pen; excellent value for money. 9/10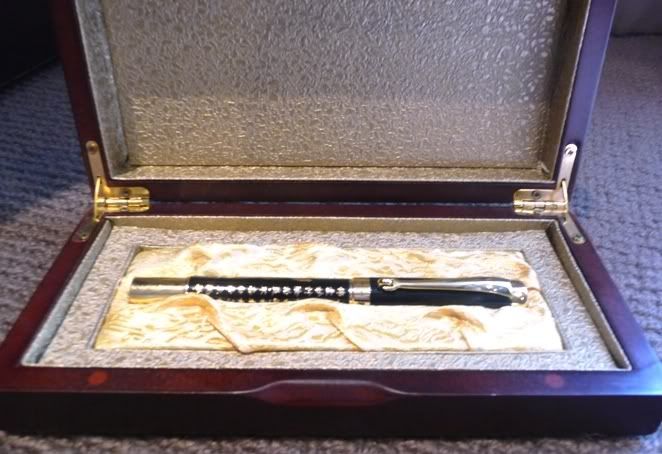 Appearance and Design:
I love chinese characters, and this pen is covered in it. Definitely a plus. The gold plating and embossing/engravings are pretty well done - but there is still an air of 'cheap' about the pen. For the price, however, it is still amazingly done. Zhuge himself is gleaming in gold with his trademark fan and head gear. I also love the 8 trigrams (bagua) on the top of the cap. As a martial artist; the philosophy behind it means a lot to me. 9/10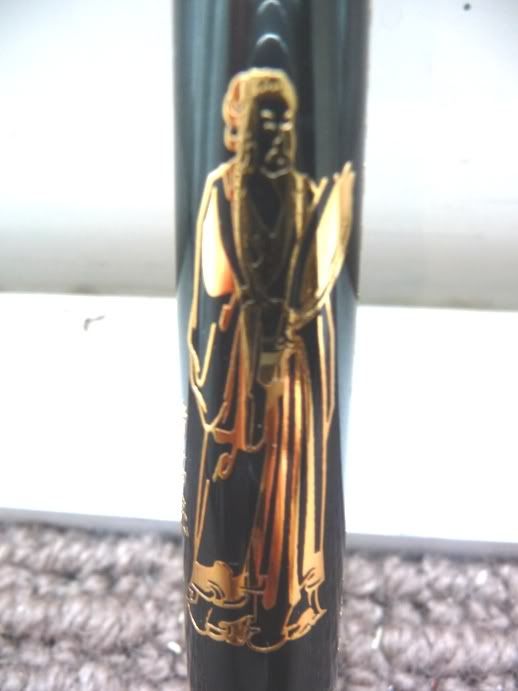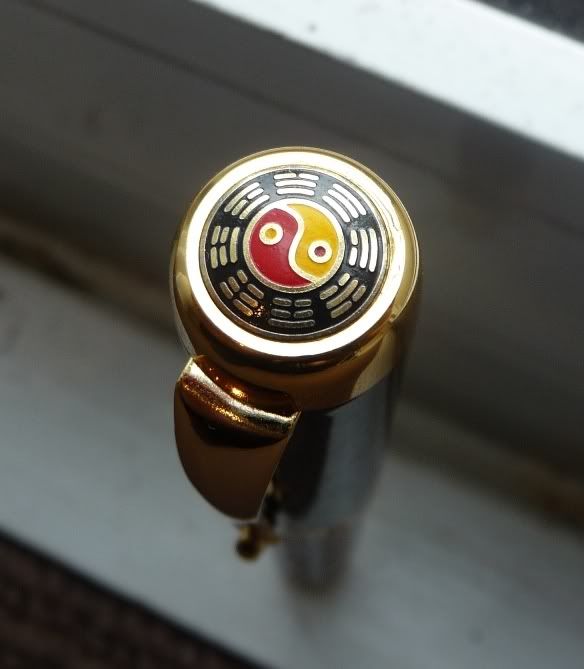 Weight and Dimensions:
This pen is HEAVY. Solid brass construction coupled with its relatively large size has resulted in quite a bit of weight. Excellent value for money though, considering the price to weight ratio. 9/10
Nib/Performance
This is perhaps the best nib for the price I have ever used. It is one of, if not THE smoothest nib I own. Even though it lacks character (it is pretty stiff); the smoothness cannot be overlooked. I is also quite an attractive nib, and is quite large in size. This pen seems to perform well on any paper; cheap or expensive; which is great for me as a student. It writes about a medium, as you can see from the writing comparison below. 9/10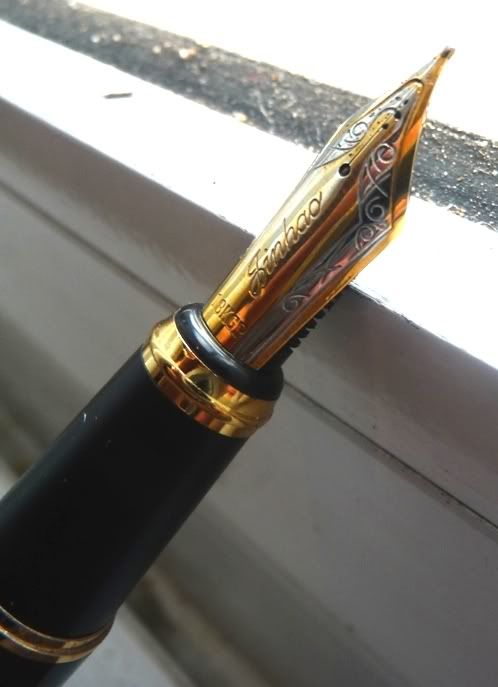 Filling system
The standard cartridge/converter affair. Pen came with the converter; which works well. I prefer piston or other 'fixed' fillers in general; but for the price - the filling system here is more than adequate. 9/10
Cost and Value
Here is where this pen shines brightest. I paid somewhere between $30 - $35 AUD for this pen, and in Australia you can't even buy a Parker Frontier for this price, and it is about the same price as a jotter! Amazing value for money. I bought it from eBay from one of the chinese pen stores. 10/10
Conclusion
If you want a smooth writing, impressive looking and weighty pen with a distinctly chinese flair to it, but don't want to break the bank (at all!) then I'd definitely recommend this Jinhao. A real winner in my book.
55/60
Cheers,
Trent
NB: Below are some size comparisons with come of my favourite daily writers. Left to right - Jinhao Z.L.C, Parker 51, Waterman Expert II, Lamy 2000, Waterman Carene, Lamy Safari, CS 388, CS 75, Parker Victory. Excuse the poor quality pics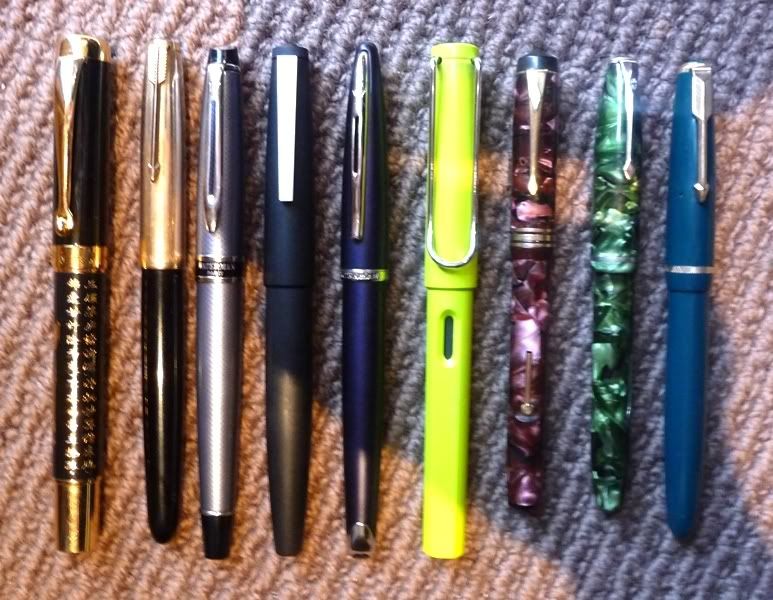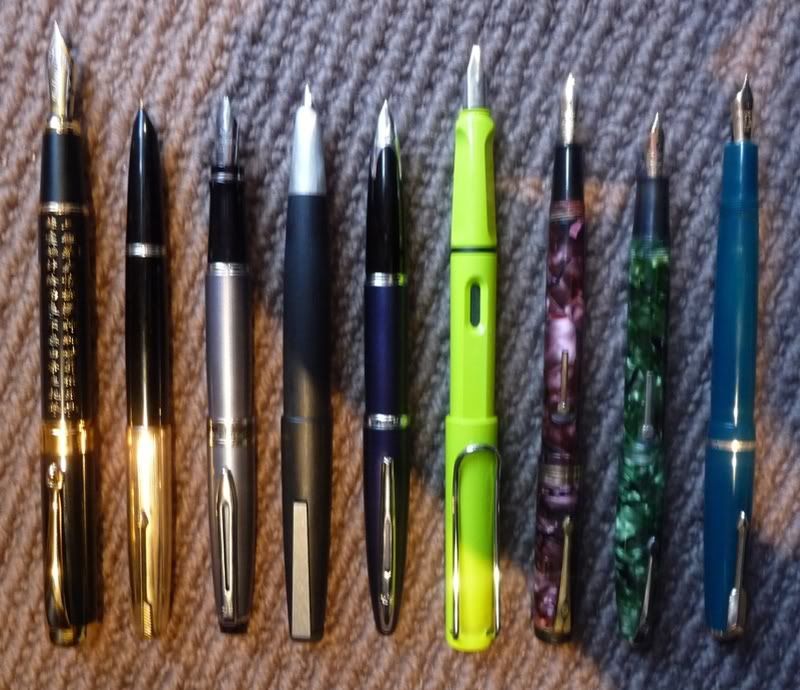 Edited by matthewst1, 28 January 2009 - 06:20.