An English Parker 51 Signet
With a

broad flexible

nib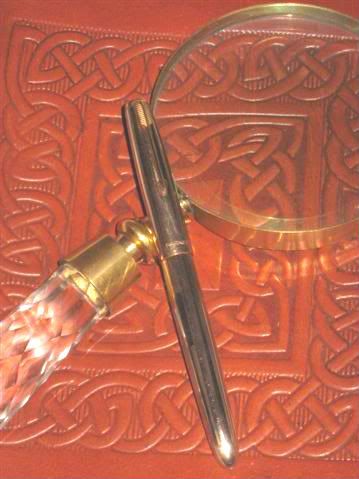 Dear all,

This is a really luxurious pen. It writes as good as it looks, and it looks very well indeed.

The Pen
This is a mid-1950s style English Parker 51 (Aerometric) Signet, with short clip and "press 4 times" sac-guard imprint.
Please compare to various listings at David Isaacson's fabulous (bleep) sales page
here
to get a feel for where it fits into the 51 range.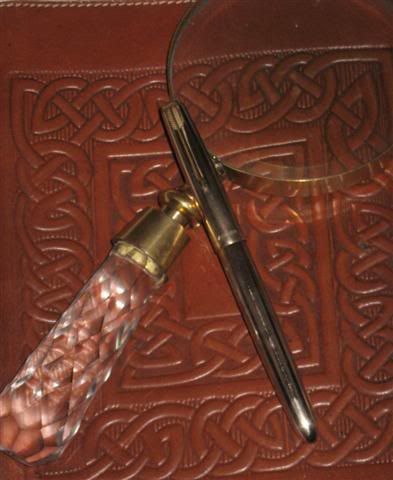 General Condition
- Really very good indeed. In no particular order:
Dings:
Haven't found any!
Surface:
very nice, and I gave it a quick gentle polish to refresh it too.
Brassing:
Nope, not a spot
Jewel:
present and correct
Posting marks?
Nope
Clutch ring:
Gold wash intact and unscuffed
Hood:
no shrinkage, cracks or other problems. A nice pointy tip to it, too.
Cap:
Nice and tight fit, no dings, great imprint including the "R. Gold" designation.
Did I forget anything? If so, ask...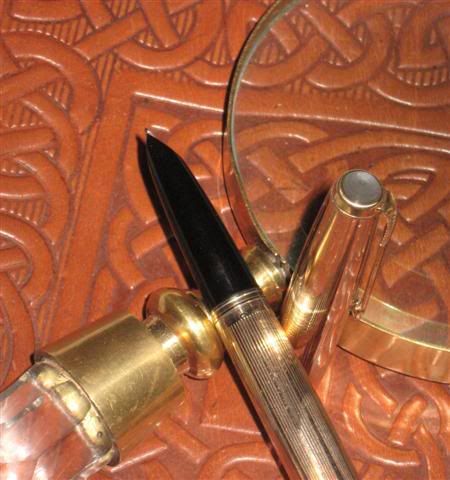 Filling system
- Fully overhauled and cleaned. The sac's replaced for good measure, the tube polished up and cleared, the collector toothbrushed and all the rest. It has been thoroughly tested and performed very satisfactorily.
Nib
It's actually a flexi broad nib. It writes a 0.7mm line when softly applied, flexing to almost a full millimetre. If there wasn't a hood, it'd flex right out to a couple of mm! Take a look at the underside close-up: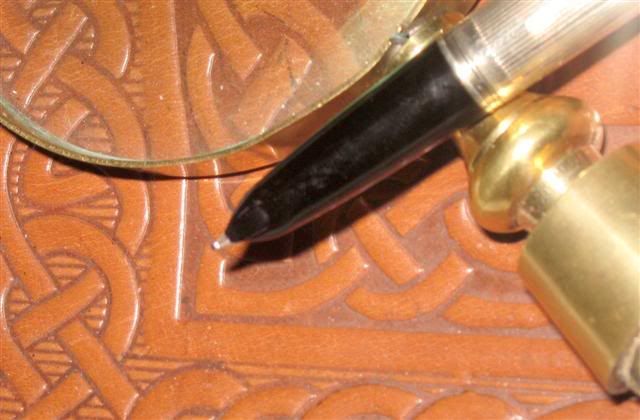 It's smooth, and the flexibility gives it a softness which you don't get on the standard nibs (those made in the USA and Canada, and most of those made in the UK). Check out the writing samples below. It's also nice and wet, and keeps up with speedy writing without skipping. It's so nice!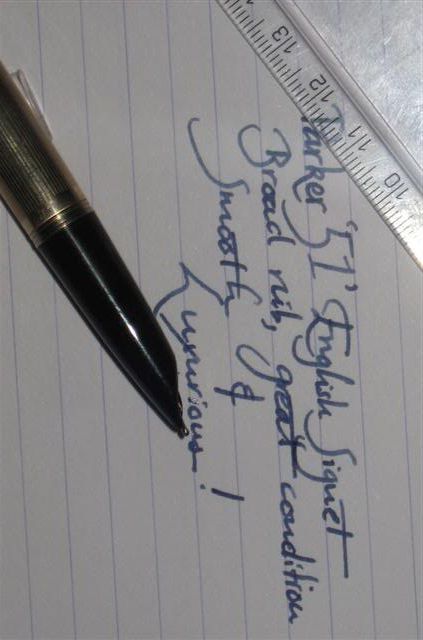 For this, taking into account the model, the condition, and the excellent and uncommon nib, I'm asking
£227 including postage.
I think this is a good price, but I'm always happy to consider offers. I'll deal with you in any country, but for paypal I do need to ask for 3% to assist with their fees (this comes close to splitting the fees halfway). Cheques and bank transfers are very welcome at no charge. Registered domestic postage is included, and packaging will be very thorough to protect it. As always, a definite taker will transcend previous enquiries.
Enjoy!
Edited by vermiculus, 22 January 2009 - 19:49.