So, I've been wanting to write a review of my first fountain pen for a while, but I wanted to include pictures, and I've been far too busy and lazy to take any. Now I've realized that I'm never going to get around to doing that, so I'm just gonna do a review without pictures of then pen or of writing. If you guys are really curious, let me know and I'll post some.
Anyway, yes, the Cross Apogee is my first fountain pen. Some friends had turned me on to the idea of getting a fountain pen, so I started looking around for a good one that wasn't ridiculously priced. I had some specific criteria for how I wanted it to look: it had to be black, and it had to have silver-colored trim. To me, gold looks extremely tacky. I know lots of people disagree with me, and that's fine, but I can't stand gold. Not on jewelery (if I ever get married, my ring will be platinum), not on coat buttons, and not a pen. After looking around at various manufacturers and models, I stumbled across the Apogee and fell in love. So, the review.
Appearance and feel
There are lots of pictures of this pen around, including on the Cross webpage. In general, it's a very sleek pen. Capped, it's got a fairly pronounced taper from end to end, and I really like that. To me, it looks very modern, but not at all boring. In fact, I think it looks very sophisticated and, well, sexy. I love looking at it.
If you take the cap off, you see the rhodium-plated gold nib and a small silver-colored ring. One of the things that I've seen other people say that they don't like about this pen is that the nib is very small relative to the rest of the pen. On the one hand, yes, I think that's accurate. And, if I could redesign the pen, I'd definitely make the nib bigger. Having said that, however, I don't think the nib is comically small or that it's so disproportionate as to detract from the overall aesthetics of the pen. In fact, I think that the nib fits the design of the pen very well.
The nib itself is monochromatic--this is not a two-tone affair. And I like that.
The pen feels solid. The cap snaps on confidently and posts securely.
The Apogee is definitely the heaviest of the fountain pens I've tried. For reference, those are a Parker Sonnet, a Waterman Hemisphere, and a few Pelikans. I like that weight. It makes the pen feel substantial. At the same time, it's not so heavy that it's uncomfortable to write with. I haven't written with it for extended periods of time yet--I haven't used it to take notes during a day-long trial, for example--but I don't think it will present a problem.
In general, the appearance and the feel of this pen are top-notch.
Filling system
The Apogee is a cartridge/converter pen. It came with the converter and two cartridges. I have not used the cartridges because, well, I was excited to try the converter with Noodler's Bulletproof Black (which is awesome, by the way). I have to say that the converter--which screws into place--is great. It feels sturdy and it's easy to use.
I have had some problems with filling it; I made a huge mess on my desk. I attribute that more to my inexperience with the whole converter thing than any flaw with the pen or converter itself.
Overall, I like the system, but I do wish it could hold more ink. I don't know if it holds enough to make it through a day of trial without running out of ink, and that makes me sad.
Nib and writing
I was a little worried that the writing experience with this pen would be underwhelming. Some of the other reviews of the Apogee on here mentioned that the nib was scratchy or that it had poor flow. Also, I really wasn't impressed with the majority of other pens I tried--the nibs on them felt worse than the Pilot G2s I'd been using.
So, when I took out my pen and filled it up, I was a little apprehensive. All of that melted away, though, the second I put pen to paper. Writing with my Apogee is smooth and pleasant. There's no scratchiness at all, although there is feedback. The nib isn't super flexible, but it's got enough give to it so that you can get a good amount of line variation just by applying more or less pressure. One of the things I noticed about some of the other pens I had tried--the Waterman in particular--was that they tended to get caught on the upstrokes. There's no issue with that with this pen. Both of my fountain-pen-owning friends were very jealous of this pen when they wrote with it. In general, this pen is just a dream to write with.
The writing itself is also very nice. The line is broader than I was expecting--I got a medium, but if I had it to do over again, I'd strongly consider a fine. I'm getting used to the medium now, though, so maybe I'd think the fine was too narrow now. I don't know.
Anyway, the line itself is very clean and has a good amount of wetness to it. The pen started right up and does almost always, although there is a little hesitation on start up now and then. It does also skip occasionally, but not enough to be a problem. I'm also finding that it's skipping less as I become more used to writing with it.
The clip
The only substantial issue I have with the pen is the clip. While it looks great, it's somewhat difficult to operate. It's spring loaded and you have to push down on the end of the clip closest to the end of the pen in order to make the clip spring up. This would be fine except that I think you have to push too hard to make the clip come up. Add to that the fact that the round pen is very slippery and it becomes difficult to, for example, clip the pen into your shirt pocket with one hand. That's annoying.
Cost and value
This pen retails for $165 on the Cross site, and I've seen it for that price on some other webpages, including Pen Hero. I looked around, thinking I could get it for much less if I was patient and vigilant. In the end, I ordered it from Amazon on Christmas Eve for about $90 shipped. I was very pleased. I think that it was definitely worth what I paid. If I hadn't gotten the pen for $90, I probably would have ended up paying about retail, and I would have been happy with it, although I'd still have some lingering doubts about whether any pen is worth that much money. If you're someone who doesn't have that hang up, then I'd say that it's definitely worth the MSRP.
Overall, I'm extremely pleased with this pen and would highly recommend it. I'd give it a 9 out of 10, with the one point being taken off for the clip, which annoys me. If not for that, this pen would be perfect.
[Stock image from PenHero]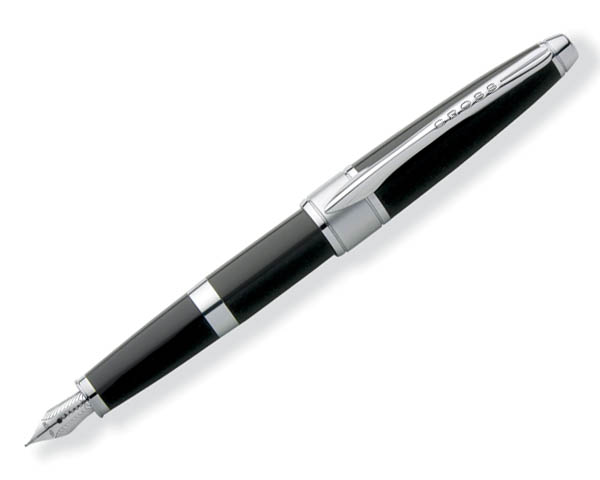 Edited by MYU, 26 January 2009 - 16:07.
added stock image