Conway-Stewart 380
Color:
Marbled Green. Other colors produced include cracked ice, gold and red marble (autumn leaves), marbled burgundy with black veins, black, blue rock, and reversed-cracked ice.
Date of Production:
1935-1942.

Fill mechanism:
Lever-fill with rubber sac.

Dimensions:
Length: 12.4cm closed; cap 5.6 cm; posted 14.8 cm; 9.6 cm barrel without nib+section: 9.9cm. Width: cap 1 cm; barrel 0.8 cm.
Features:
Peaked black top & bottom (chased black hard rubber), gold-filled diamond clip, 2 bands, nib CS 5N (14 karat gold with iridium).

Material:
Resin with chased black hard rubber caps.
Marketing:
Ladies companion pen to the CS 388.
Comparison size:
The CS 380 is a thin pen. As shown in the figures below, when compared with the Sheaffer No-Nosense and the Pilot Vanishing Point, the pen when posted is relatively long, but smaller when capped.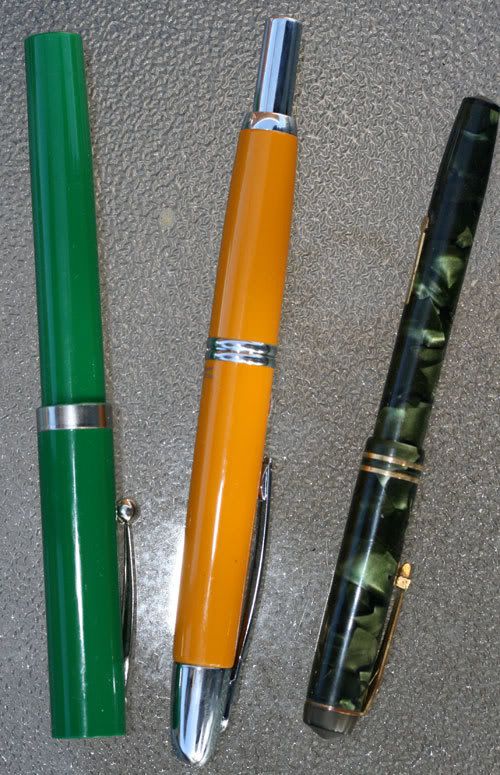 Writing sample:
In the photograph below, the CS 380 with the "5" nib has plenty of flex. I put a lot of pressure on the nib in this case. Fortunately, it's no wet-noodle. This means, it serves well in daily writing allowing me to write quickly for my daily charting, but with a bit of extra flair when I want to show off.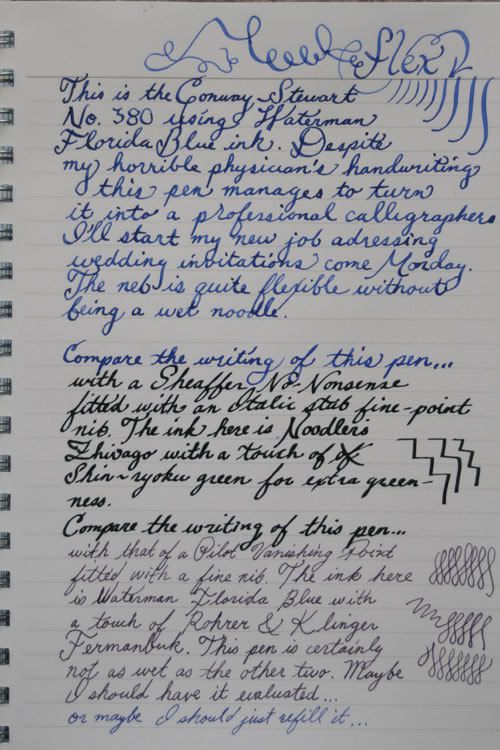 Final impressions:
Despite my
excitement
in acquiring the pen, I'll try to remain objective in its assessment. Overall, I tend to favor the bigger pens. But this is about as perfect a pen as one can get. Sturdy construction with gold accents and an extremely smooth gold nib allows for flourishes of extra flex when needed. I'm definitely on the hunt for this nib in a larger pen.
Source