Kaweco Sport Eyedropper Roller Ball Pen (a.k.a. Ink ball pen)
Introduction.
The Kaweco Sport fountain pen was originally developed in the mid-1920 for ladies, officers and sportsmen. The Sport was suited to sport, service and social dress due to its compact size and the ability to tuck it conveniently in a pocket. The "ink-ball" roller ball pen came more recently. Technically I consider this a fountain pen. It fills like a fountain pen, and it writes like a fountain pen. The only part that is not a fountain pen is the
roller ball
. But unlike most roller-balls, this pen has no disposable parts (compare that to cartridge-filler FP). Furthermore it can write with just about any fountain pen ink available. I was introduced to the Kaweco FP at our local FP club meeting. Several of the members carry the Kaweco Sports FP as their daily writers. However, one member also had this pen. I was so impressed that I decided to purchase it as a Christmas gift for my 16-year-old daughter. As a high-school student, she is taking more notes, writing in spiral-bound notebooks with bold block letters using a standard pencil that she holds like a weapon. I have attempted to introduce her to fountain pens, but her writing-style (image: stabbing an aluminum can) and the flexible tip of the FP unnerves me. And frankly, she--and everyone else in the family--does not seem to share the level of geekiness that I have for fountain pens. Therefore, I thought what better way to introduce her to the wonders of ink without forcing my hobby on her. This pen is available through
Swisher
pens.
To complete the compendium, a review of the Kaweco Sport fountain pen can be found
here.
Figure 1.
Here is the closed pen with optional pear (not included). As you can see the orange-colored cap is large and the pen body is clear. In this photograph, the entire pen body is filled J. Herbin Violette Pensée ink, giving it a dark color.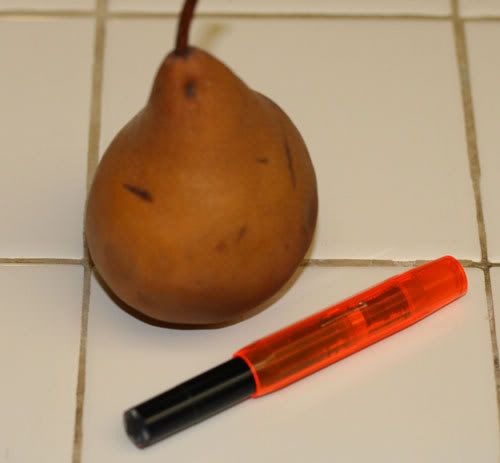 First impressions.
2/10. The $15 pen came packaged from Swisher pens inside a cardboard box with the pen itself enclosed a small Ziploc bag. There is no clip, that's $1.50 extra. It's a cheap plastic pen.
Appearance and Design.
6/10. The hexagonal-shaped pen is made from a thick synthetic plastic resin called Makralon that is quite durable despite outward appearances. The body does not bend.
Weight and Demensions.
6/10. Weight 14 grams. Length capped is 4-1/8" or 10.5 cm. Length posted is 5-5/16" or 13.5 cm. Width at widest point is 9/16" or 1.4 cm; at narrowest, 3/8" or 1 cm.
Figure 2.
Pen posted

Figure 3.
Close-up view of the orange outer-cap and sealing system. The pen is sealed-with two small o-rings (with a third inside the feed assembly) and silicone grease, preventing the pen from leaking.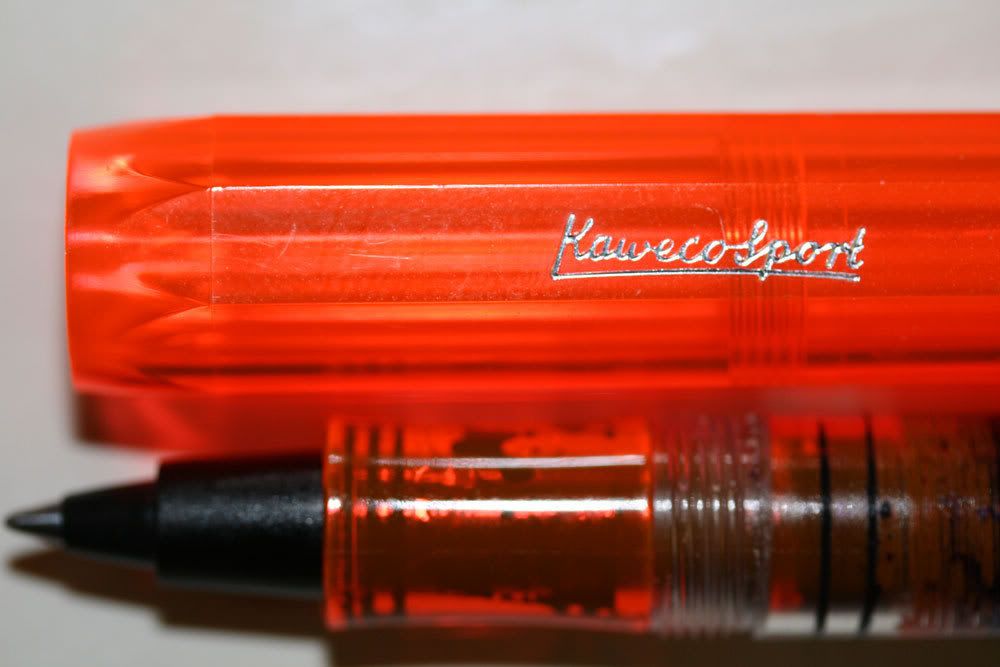 Performance.
8/10. The long cap unscrews and posts onto the body as shown in Figure 2 below. After filling the pen with ink, it takes a few minutes of pen strokes to prime the roller ball. However, once it starts writing, the ink flows very smoothly with a medium-point width (see Figure 5). The ink does not blot or drip out onto the paper no matter how hard the pen is shaken. When changing inks, I would recommend writing for a few minutes with water loaded into the eyedropper to ensure that the roller ball feed is completely flushed of ink. Swisher also recommends lubricating the o-rings with pure silicone lubricant between fillings to prevent them from drying out. There are a total of 3 o-rings, described below. Swisher and Tardif recommend using the Noodler's Eel and the Waterproof Black. So far, I seem to be doing well with the J. Herbin ink.
Filling system.
8/10. Either eyedropper or cartridge filler. Monteverde makes a converter that fits this pen, but it is not included. According to the Swisher website, Nathan Tardif (Noodler's ink) came up with a way to turn the cartridge-fill pen into a eyedropper. To prevent leaks, Tardif added two o-rings to the section where the roller ball assembly connected to the barrel, and an additional small o-ring inside the feed itself. The entire assembly is coated with silicone grease. A small blue-ink cartridge is included with the pen in the event that you want to try cartridge fill for awhile. Unless the pen were to shatter, it is highly unlikely that the pen will leak catastrophically from normal use. There are multiple fail-safe mechanisms inherent in the original design and the additions by Tardif to prevent the pen from staining your pocket while in the capped position. Interestingly, the Swisher web page shows a single o-ring gasket on the body assembly, mine has two.
Cost and value
8/10. It's a great pen for little money.
Figure 4.
Close-up view of the roller ball point.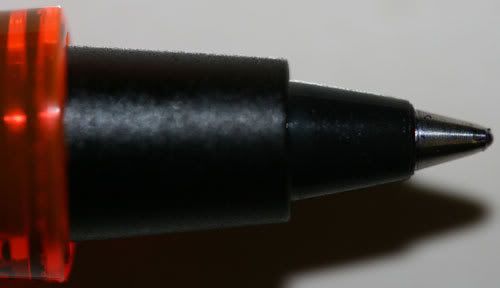 Figure 5.
Writing sample and comparison of the Kaweco Sport (bottom) using J. Herbin Vioette Pensée ink (sorry for the grammar, didn't catch it until after photo was processed); comparing this with the Sheaffer Snorkel pen using my mixture of blue-violet ink (top); and the Esterbrook J 9558 nib using Levenger Pinkly (middle). As you can see, the pen has a medium-point width line with obviously little variation in line-width.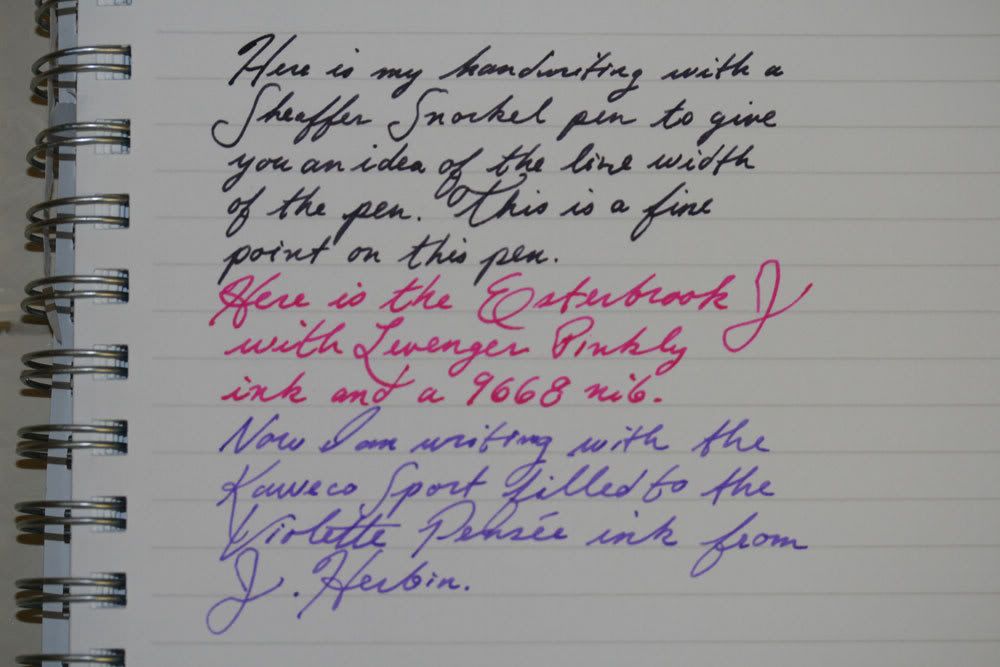 Conclusion
6/10. While the roller ball lacks the character of a flexible or stub nib, I can still enjoy writing with my inks. Like I stated above, this is a substantial pen for relatively little money, serving as a good introduction to the joy of writing to a young teenager. Compared to a fountain pen at this cost, the flexibility, durability and value is outstanding. Although I bought it for my daughter, I'm considering purchasing another one for me. I have been a big fan of roller ball pens in the past. However dropping the pen would invariably destroy the writing tip. With disposable refills, this was a minor $3 hassle. Dropping a $15 pen on its tip, on the other hand, may be a larger investment. I'll let you know how long this one lasts.
Edited by ToasterPastry, 26 December 2008 - 09:29.