In 1953, designer Albrecht Graf Goertz opened his design studio, Goertz Industrial Design, Inc. in New York. By that time, he had achieved some design notoriety after he emigrated to the USA in 1936, designing his first car in 1939 and eventually working for Studebaker not long after completing his studies at the Pratt Institute in Brooklyn. But it was at the milestone of starting his own studio, whereby business really took off for Goertz. His most notable achievement was designing the legendary BMW 507, as well as the Datsun 240Z. But what does Goertz have to do with pens?
"If I can touch somebody emotionally with a car, then I can do it with other products as well,"
was Goertz's conviction. His success proved him right, with commissions coming from every sector of industry, including Montblanc. Goertz was responsible for several design elements in Montblanc pens, the more prominent being the triangular nib/section version of the Meisterstück pen line. Unfortunately, Count Goertz passed away in November 2006 at the age of 92. However, his designs continue to inspire and draw admiration.
The pen in this review is the
Meisterstück 82
(Meisterstück means "Masterpiece" in German). It hails from the 1960's era of Montblanc pens. At that time, Montblanc created this secondary Meisterstück series along side the 146/149 models. There was model number designation of 1x, 2x, 3x, 7x, 8x, and 9x (progressively going from all black resin to rolled gold cap, rolled gold body, then finally solid gold). The 'x' would be either a '2' or '4', to indicate a size designation. The 82 is approximately 130mm in length capped, whereby the 84 is 135mm long. The 82 is a little more common, and affordable, so it became my model of choice.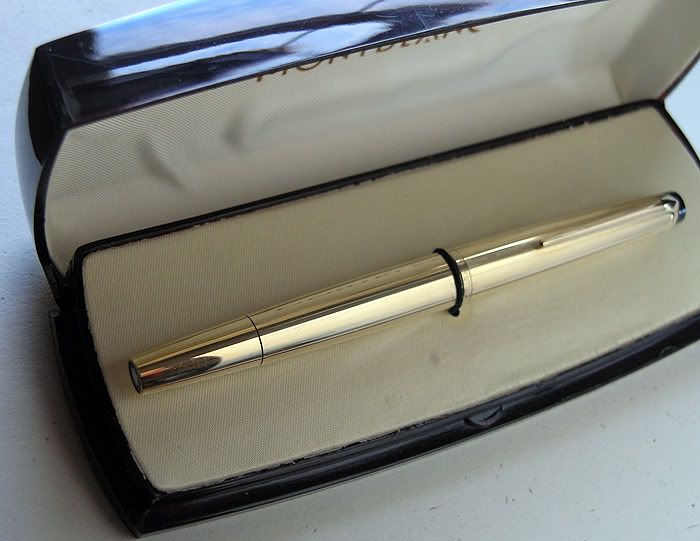 1. First Impressions (9/10)
The three things that visually strike me the most about the 82 is the triangular nib section, butterfly style nib, and faceted ink window. I selected it because I was very taken by the design of the triangular semi-hooded section and faceted ink window, plus the heritage of a famous designer. You can't help but give this pen a second look. I did... and so did my wallet.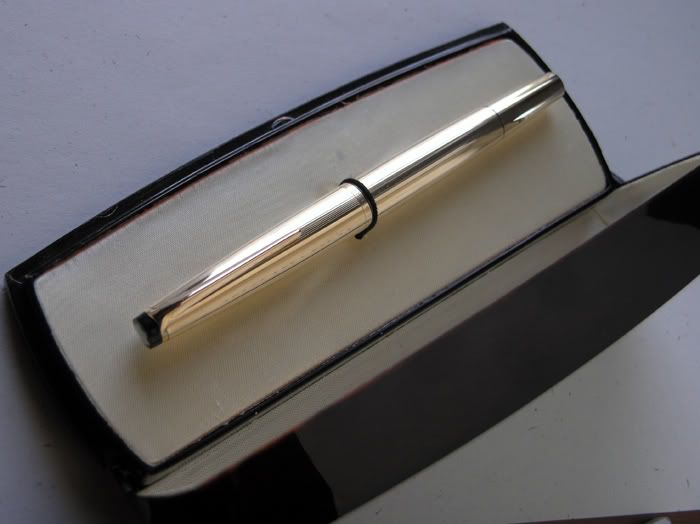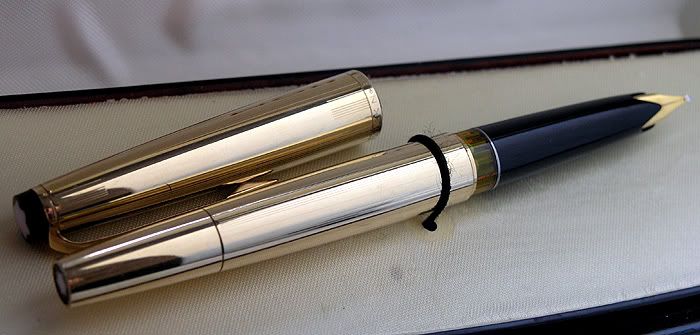 The 82 came in a couple of different box designs, such as a hard case spring snap enclosure, faux wood burl plastic, or simple fabric lined cardboard. This box is made of some kind of wood burl style plastic with a lined interior.
2. Appearance and Design (9/10)
This has very obvious hallmarks of Montblanc heritage, with the prominent black cap top puck featuring inlaid white Montblanc star and echoed yet again in a smaller version at the bottom end. Other design elements are an eye catching faceted ink window (artistic yet usable with a faceted overlay), and the clip with a nice subtle arc. There is also a cartouche section on the cap (a smooth boxed area free of lines, so that it may accept a name or initials imprint). In short, the best attribes of the pen are a piston filler (very smooth and reliable), ink window, and user serviceable nib section. To me, that's the perfect blend of a useful pen. Also, you can take the nib out and exchange it with another, if you so desire.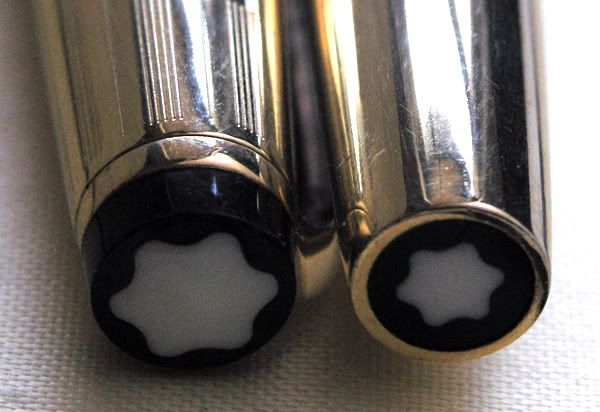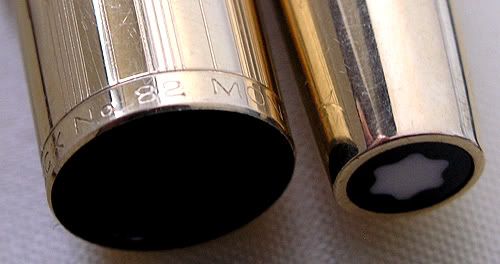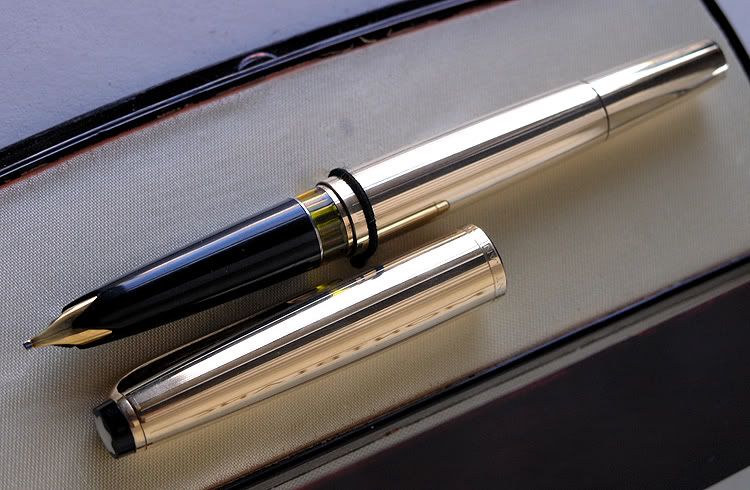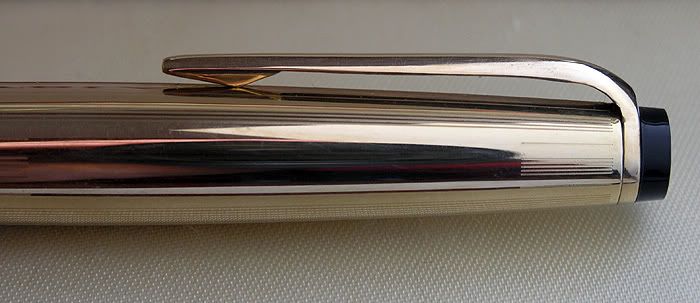 3. Weight and Dimensions (9/10)
I haven't measured the weight of the pen, but I'd say it's about average--right in the sweet spot between heavy and light. You can write for a long while and not feel any cramping. The pen is 130mm long capped and 145mm with gentle posting. I definitely prefer it posted, but I do it very gently to avoid scratches to the barrel.
4. Nib and Performance (10/10)
This pen has a
oblique broad
nib installed and is delightfully smooth with moderate wetness. In my collection, it has been in the top 3 for best nibs. I have to give it a '10'.
And I have to emphasize the ability to easily disassemble and clean it--the section unscrews and the nib unit backs out of it, pretty much the same design employed by Lamy with the 27 and 2000 models.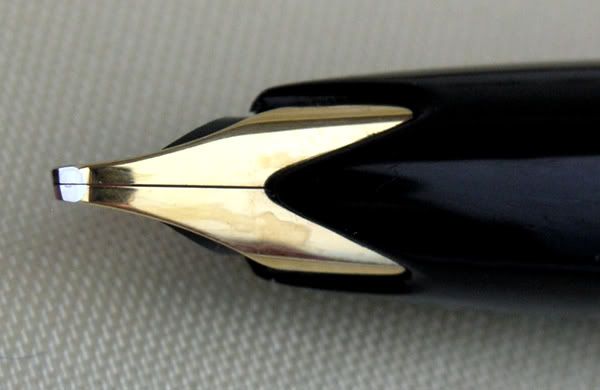 (Note: The discoloration you see is dried water residue that I failed to wipe off before the photo)
5. Filling System (10/10)
IMHO, piston fillers are the best. Yes, they're not the most versatile--you can't use cartridges--but who wants to when ink bottles give you so much diverse ink choice?
This piston works flawlessly. You can fill it completely with ink and leave only the smallest trace of an air bubble. There's a certain smoothness to the mechanism that I rarely find in most piston filler pens.
6. Cost and Value (8/10)
Yes, Montblanc pens carry a price premium. But the good thing is that better deals can be had with vintage pens. Why buy new when you can have a used example for less (generally)? The only thing is that you won't find super deals like you do with other pens... even at a discount Montblanc pens often cost more than their peers. But to me, the Meisterstück pens of the 1960's are well worth it.
Final score: 9.1
An exceptional pen all around. The one you see has been sold to another FPN member... I know, how could I let go of it. Well, I managed to obtain a more user grade version for a decent price. So... I still get the essence of the pen and a little easier time on my wallet.
Edited by MYU, 11 January 2009 - 04:02.