Pilot Custom 823 M
This is a pen that is not as well-known outside of Japan, and I didnít know about it for some time. It seems to be the only Japanese pen available with an integrated filling mechanism (no, I donít consider the Sailor Realo to be ďavailableĒ), and a variety of filling system that has become a rarity at that. Since I really like integrated filling, but also like Japanese pens enough to forgive their c/c filling systems, I was intrigued by this pen. This last summer I went on a homestay trip to Japan, so I decided to try and seek this pen out there.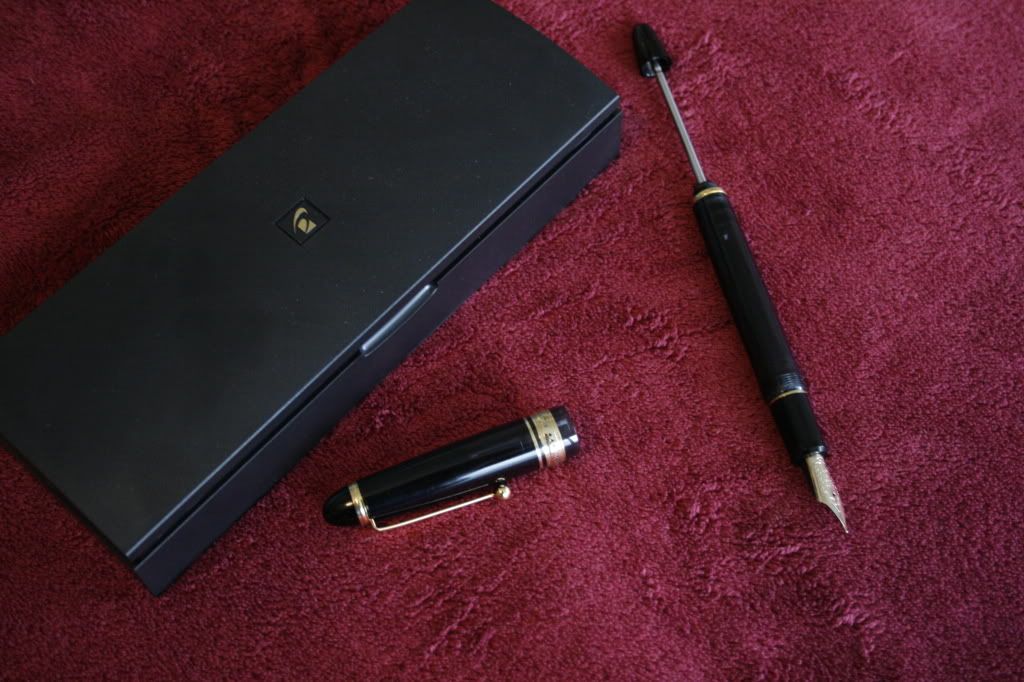 Build Quality: 10/10
The first in-person encounter I had with this pen was in the Mitsukoshi department store (I think.. I could be mistaken about this). Anyway, they had a small pen desk at the lowest floor, and the one pen on display happened to be this very pen. They had one with a cap that had a chain affixed to it for people to try out. After picking up the pen, I was surprised at how heavy it was. Thereís no brass piston on this pen, just a thin metal rod in the middle. Anyway, itís not a bad heaviness, but it certainly does feel more solid than I thought it would. The build quality in this pen is exceedingly good. The parts are all very solidly secured, nothing clatters, and the cap screws on and off without a sound. There has even been some attention to detail in the lettering on the cap band, which appears to have some kind of embedded enamel instead of just being stamped. This pen seems like one of the most solidly built I have.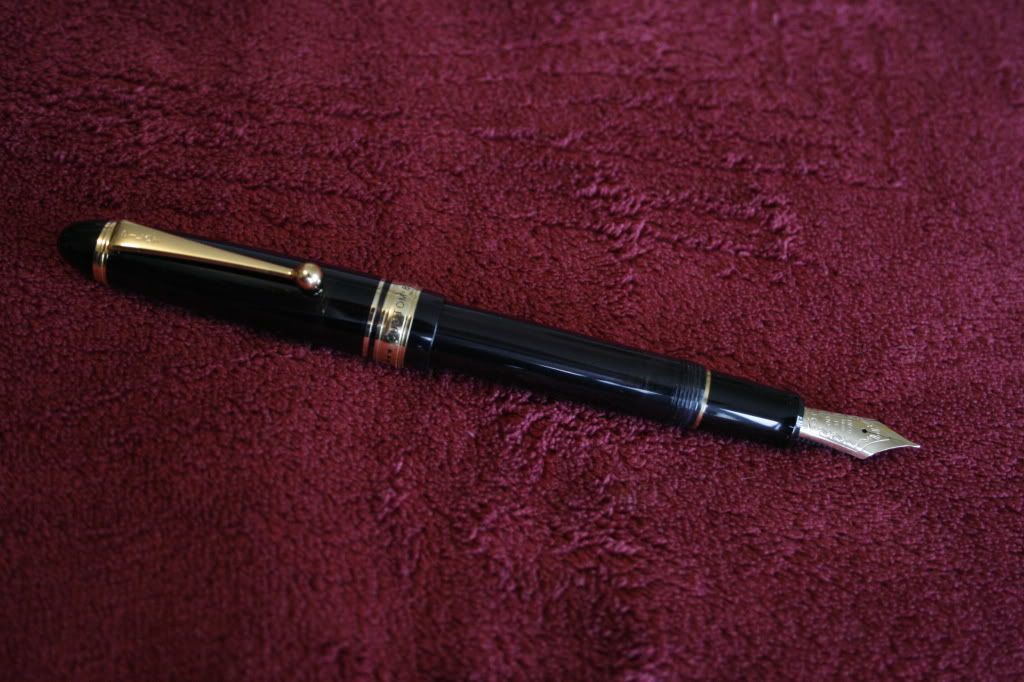 Grip, Balance, and Feel: 9.5/10
The grip doesnít catch any attention as being very small or very big, so itís just about right. They pen balances very well, posted or unposted. There are no problems here, but itís not that exceptional. Also, when it is posted, like most pens, the cap band rubs against the hand webbing between my thumb and forefinger. Itís not too much of a problem, but this band sticks out more than most pensí do.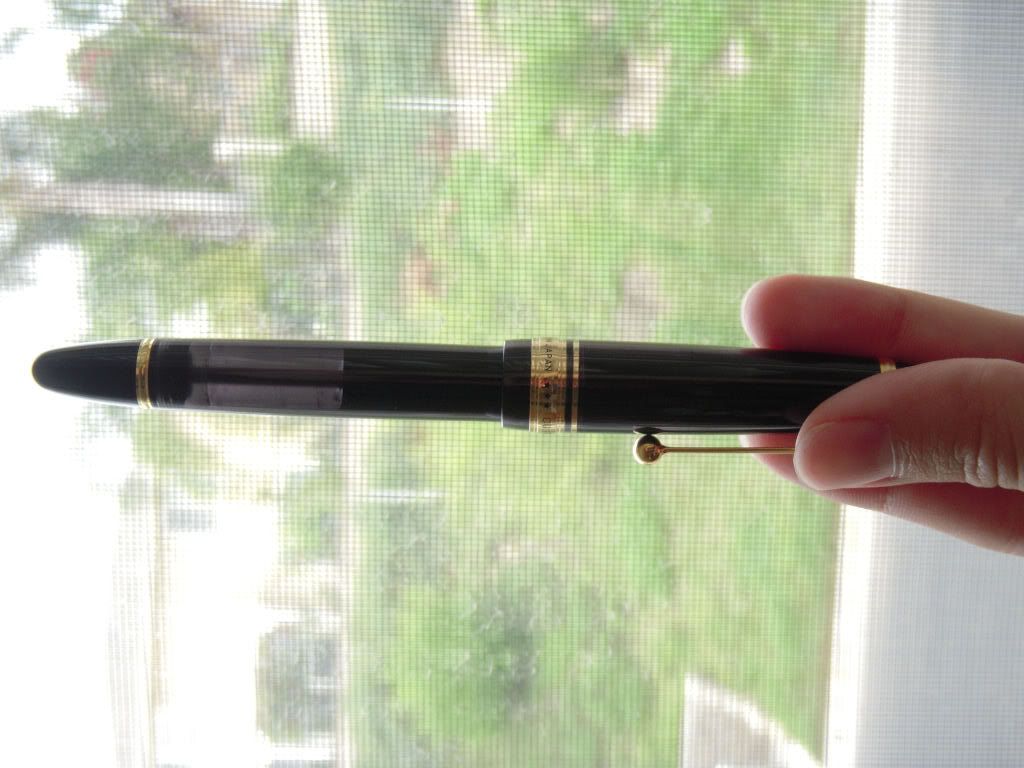 Filling System: 10/10
A big part of why I like this filling system has to do with how unique it is. There are few pens now that use this filling system, although it is a worthy rival to the more popular piston filler. It is similar to the old vacumatic systems by Parker, and consists of a long tube inside the body that widens at the end closest to the nib. Inside is a cone shaped plunger that flaps and allows air and fluid past when it is travelling up the barrel, but holds a seal when it is travelling down the barrel. The back unscrews so the user can pull up the plunger, and then push it down while holding the nib in ink. When the plunger reaches the widened portion of the barrel, the vacuum formed as it was being pushed down is released, and ink quickly flows up into the barrel. I was surprised at how quickly the ink rises up, in a matter of just a few seconds. This method is faster and easier than piston filling to fill, but more difficult to clean out after use. It fills the barrel up about ĺ of the way with ink and a quarter with air, compared to a piston fillerís half-barrel capacity. Also, the blind cap must be unscrewed during use, or the ink will not flow. Iíve found it has to be unscrewed almost all the way, which makes for a slightly annoying gap at the back of the pen. When it is screwed in, however, the seal holds during airline flights (I tested this on the way back). Just donít open the pen up in the middle of the flight to see what happens, or it will spill ink on your fingers, as I found out. The barrel is translucent gray, which is nice because you can see the ink sloshing from one end of the barrel to the other. The dark but clear barrel gives the pen a sophisticated look that most demonstrators lack, but it also gives enough visibility to satisfy the gearhead in you. Itís also available in amber or clear, but I didnít think either looked as nice as this one. When I asked about the joint between the threads and the grip on the pen, the girl at the counter at Itoya said ďakenai,Ē meaning that it doesnít come apart, but I saw a picture on this forum in which someone completely disassembled this pen. If this is possible, the ability to disassemble it is certainly a plus to the mechanism.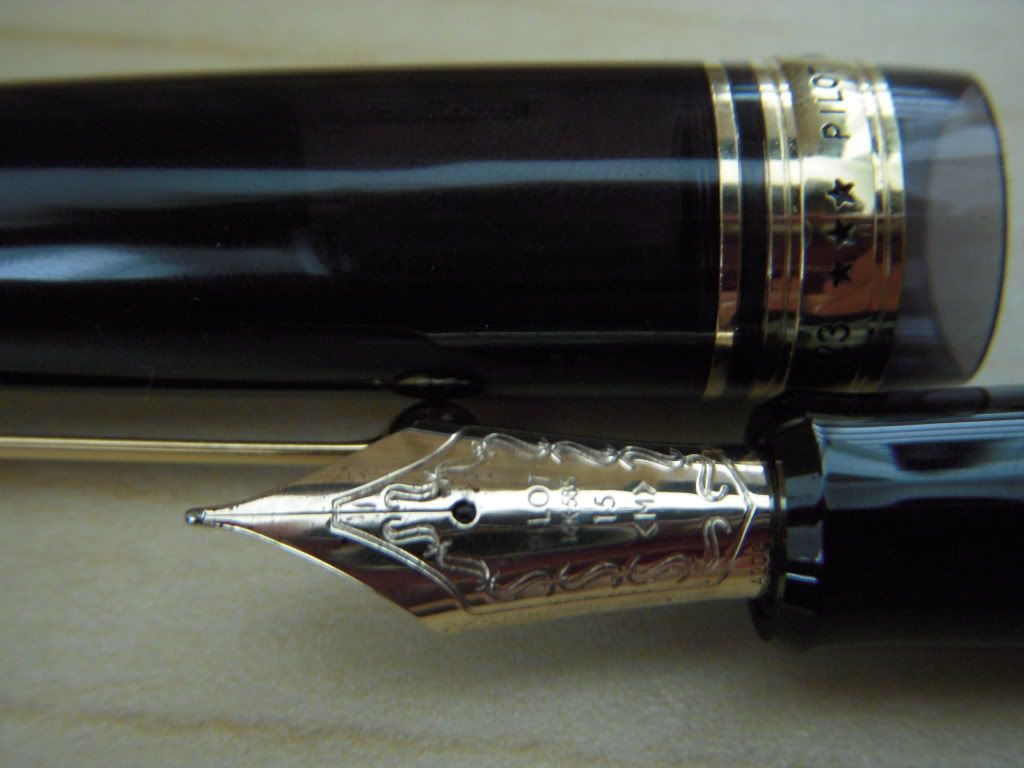 Nib: 7/10
The nib is decent-sized, single-tone 14k. The design on it is simple but elegant. It writes decently well, but Iíve found it to be a little dry. I got a medium-sized nib, since I wanted a fine and Japanese nibs are a size smaller than Western ones. It looks like I should have gotten a broad nib. The pen writes well, but there is not very much ink flow at all next to the MB 149 EF, Pelikan m1000 F, and Sailor 1911 Sterling MF, which are in a category similar to this oneís.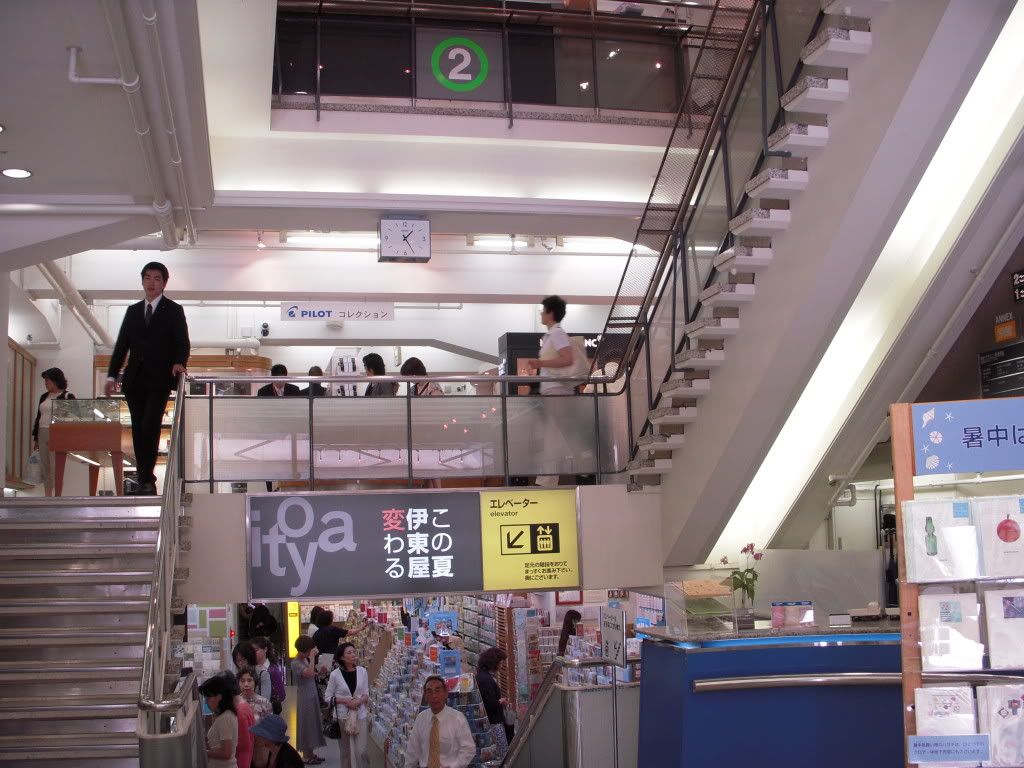 Value: 9/10
The store I first saw this pen in was in the area of Shinjuku where some of the most expensive real estate is, such that a hundred dollar bill cannot pay for the amount of ground it covers. The price at the store was 31,500 yen, about $315. I figured that given the location, I could find it cheaper somewhere else. But from the large department stores to the hole in the wall stationary stores, the price was the same. I finally settled on Itoya, since it looked really cool. Three parts of the stores and 12 stories on the first one, all dedicated to pens, pencils, paper, art supplies, framing, and any other manner of similar items. Again, the prices was 31,500 yen, but Itoya is one of the stores that allows you to redeem the VAT Japanese tax if you are a foreigner and can provide your passport at a desk in the basement. The store also gives you credit for any item you buy in it. Redeeming the tax (which is included in the price) dropped the price to 30,000 yen. They gave me a little over 1,500 yen (about $15) in store credit in addition to the tax back, which I used to buy a Fude brush. So since I was planning on buying some calligraphy brushes while I was in Japan, anyway, the price was effectively 28,500 yen, or about $285. Compared to my Sailor 1911 Sterling at $300 and probably my all-time best buy Pelikan m1000 at $316, this is a reasonably good value. The price range is very reasonable for an integrated fill pen with a gold nib that is built this well. The pen is so unique and interesting that I would consider it an essential pen.
Overall: 91/100
Like many Japanese products, it seems that theyíve saved the best for the domestic market on this one. Itís hard, but not impossible, to find in the US. There are a few on ebay, Iím not sure where else to find them. This pen is an outstanding user pen for its solid build and interesting mechanism. I would recommend this pen to anyone who likes to use a well-engineered writing device.