The focus of my collection has always been Italian pens, and I love them dearly, but in the last year, I have been drawn to Japanese pens.
In fact, I have been on a feeding frenzy during that time, acquiring most of the models that I have been lusting after.
One of my grail pens (I keep a list of the pens I really want, just to stay focused) is the Danitrio Mae West. The second I saw this pen I fell in love with the shape. Unfortunately, there have been very few of these on the market........until this week.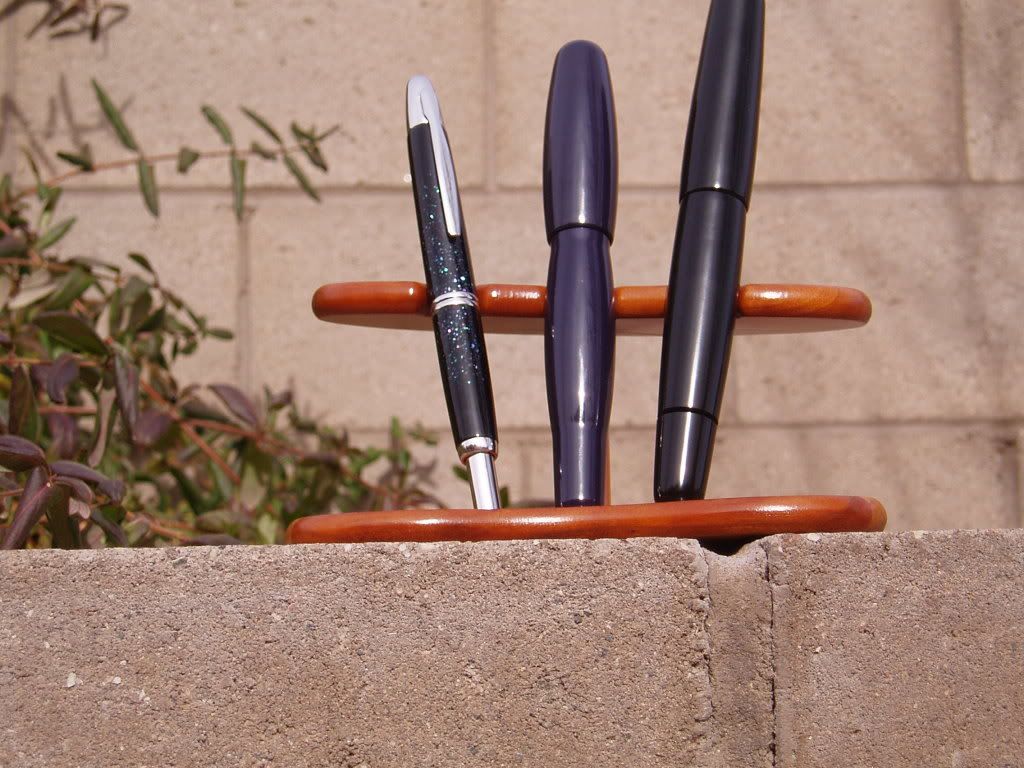 One of our fellow FPN'ers posted a beautiful purple urushi Hana-nuri at a great price, and I snapped it up (one of the few times I actually had the money at the same time one of my prizes went up for sale).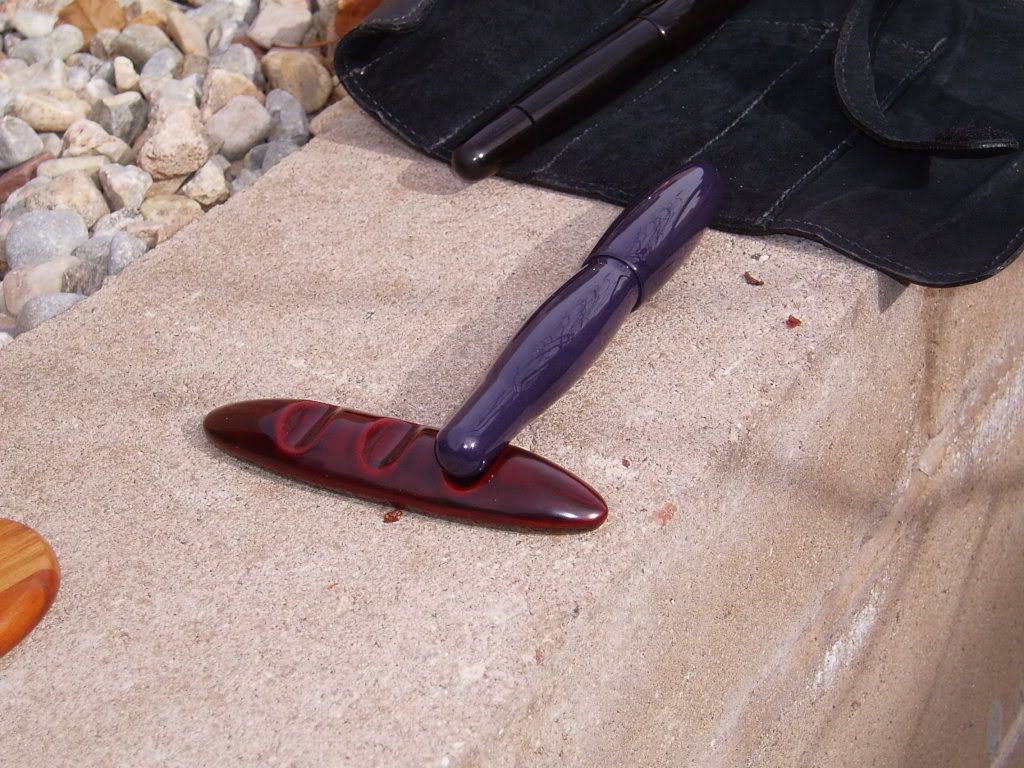 Design
It is an incredibly seductive pen, and it is aptly named. The cap screws on precisely, and there is a ridge at the bottom of the section that fits perfectly into the cap. The section itself seems to be just slightly narrower than it is on my Mikado, but there is a completely different feel when writing.
The pen is shorter than the Mikado, but alternately fatter and slimmer at different spots due to those curves.
Finish
The urushi laquer is perfect, and although it is impossible to capture with my poor photography, is not at all garish. The section has a Kanji with (I assume) the name of the artist
(I've included a close up, just in case there is anyone out there that can tell me his or her name)
, and embossed on the other side is 'Grandtrio Hana-Nuri'. I would also like to know what kind of finish Hana-Nuri is.
Filling System
Cartridge/converter, which is okay since I already have an eye dropper in the Mikado.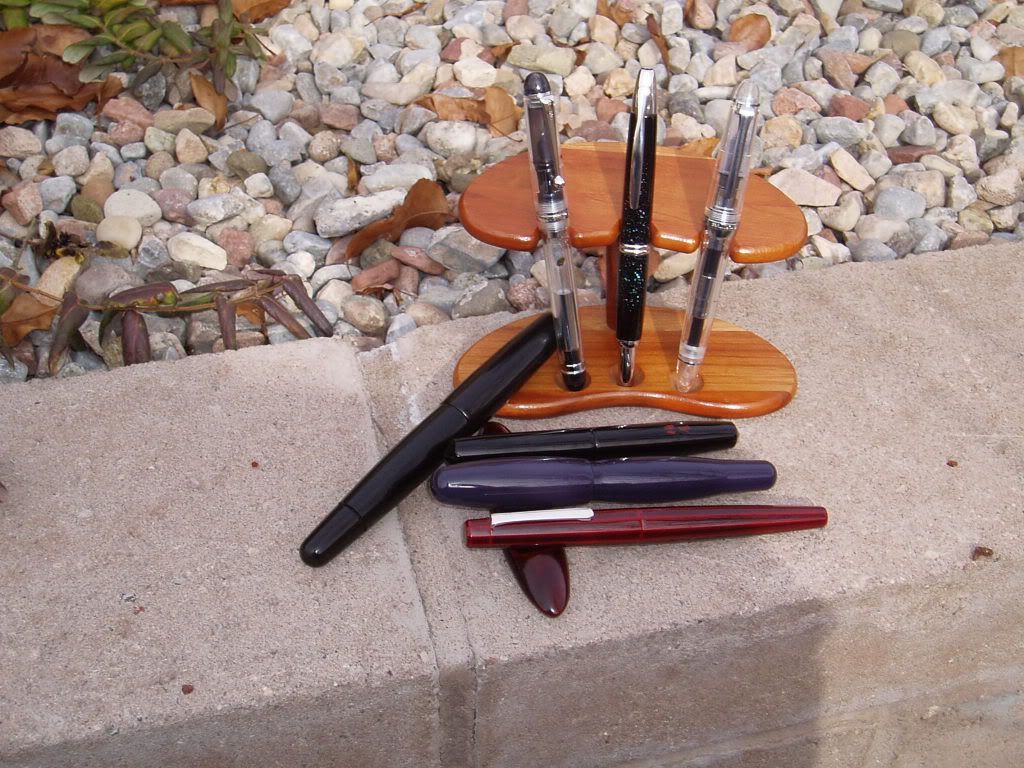 Nib
I believe this is basically the same nib used on the Densho. Both the Mae West and the Mikado have regular fine nibs, but they feel considerably differnt. The Mae West writes a slightly finer line, while the Mikado is wetter (due no doubt to the filling system) and has a little more flex. I would guess this is because of the sheer size and length of the Mikado's enormous nib!
I had hoped for an extra fine flexible, but you can't have everything.
It is a great writer.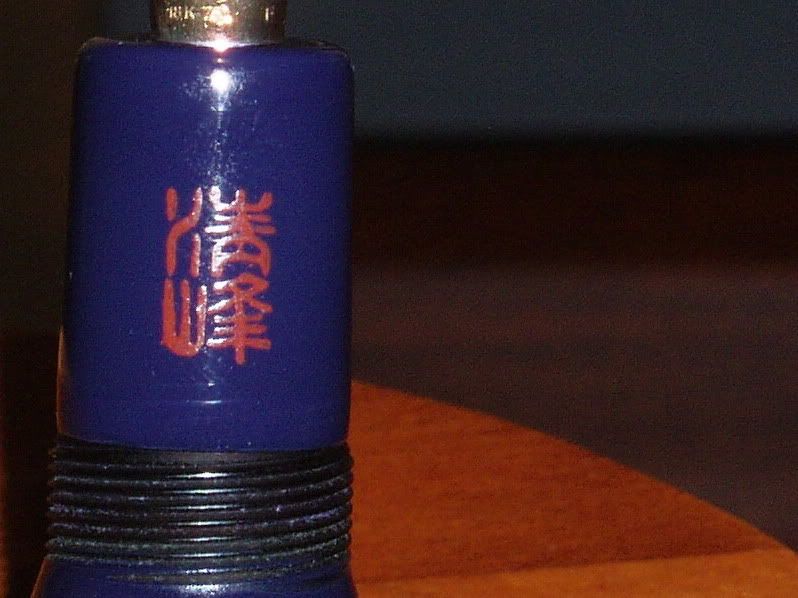 Value/Conclusion
There is no point in my even putting numerical ratings on this review (they would all be 5 out of 5). It is a great feeling to look for a pen for so long and then find that it is everything you thought it would be. I've been on a lucky streak having acquired 2 Nakayas, the Mikado, a Sailor 1911 demo (with Rhodium trim-my personal choice), a Pilot Custom 74, a Namiki Vanishing Point Raden, and now the Mae West.
I'm a lucky guy.
Edited by Doug C, 12 December 2008 - 23:26.