Registration on the Fountain Pen Network
Dearest Visitor of the little Fountain Pen Nut house on the digital prairie,
Due to the enormous influx of spammers, it is no longer possible to handle valditions in the traditional way. For registrations we therefore kindly and respectfully request you to send an email with your request to our especially created email address. This email address is
register at fountainpennetwork dot com
. Please include your desired
user name
, and after validation we will send you a return email containing the validation key, normally wiithin a week.
Thank you very much in advance!
The FPN Admin Team
Noodler's Eternal Fox
Started by Michael R. , Nov 30 2008 15:29
8 replies to this topic
Posted 30 November 2008 - 15:29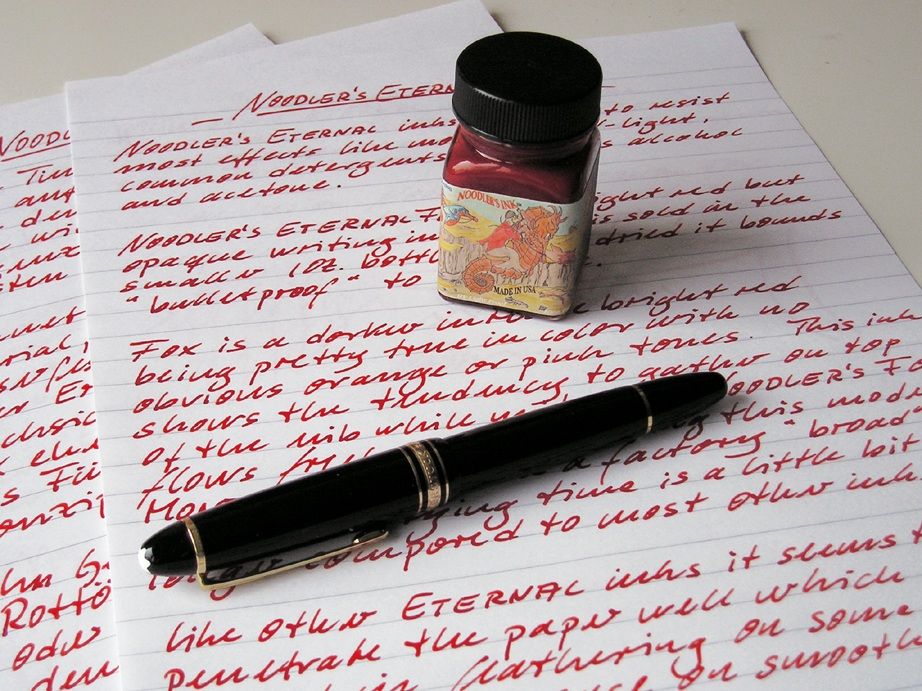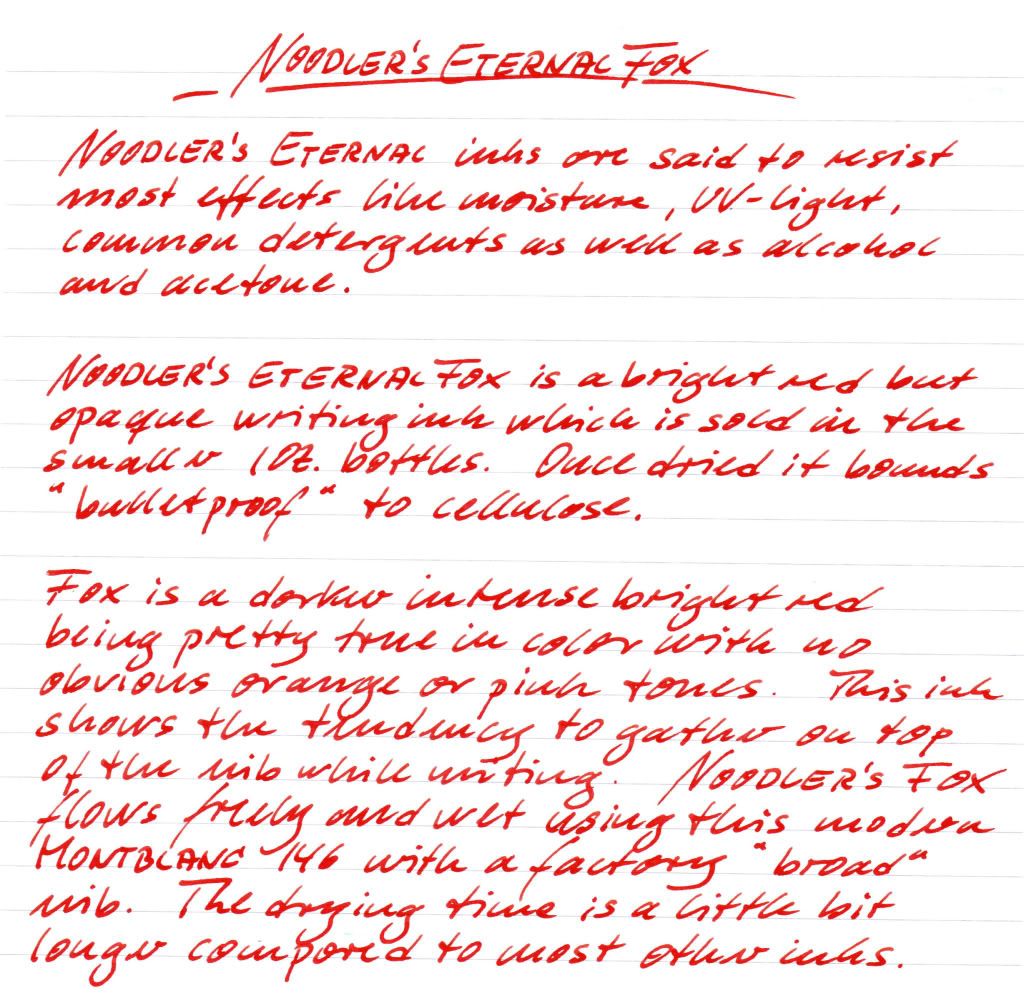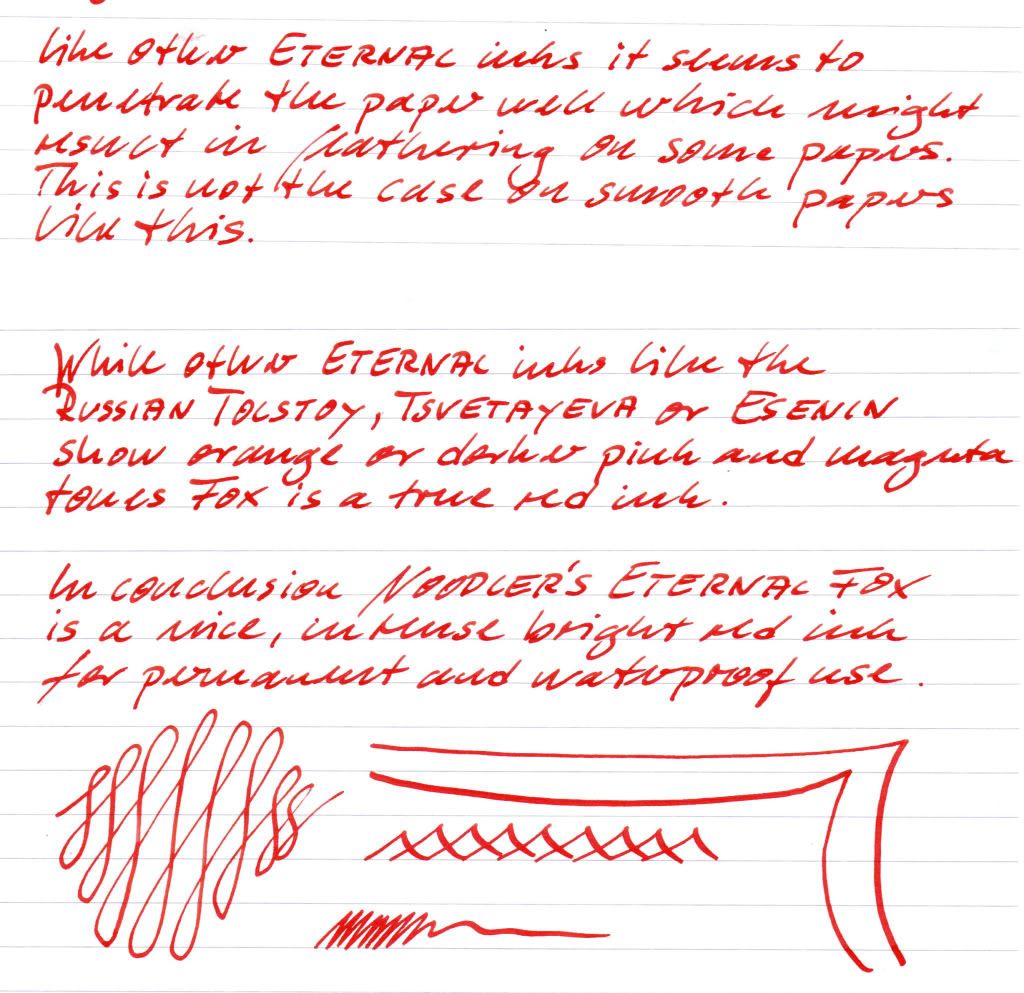 To compare Noodler's Eternal Fox with other red Noodler's inks click
here
.
Enjoy
Michael
---
Posted 30 November 2008 - 16:45
Nice review. I particularly like the comparison picture for the various reds. I do think that I shall get a bottle of the Fox Red.

---
Posted 30 November 2008 - 18:17
Great review, that's another for my list.

It is a truth universally acknowledged, that a single man in possession of a good fortune, must be in want of nothing at all...
---
Posted 30 November 2008 - 18:30
Thanks for your nice comments.
Even
Fox
behaves very nicely (so far); I think the Noodler's opaque Eternal inks will always feel different from the regular Noodler's inks when writing with them
It's hard to describe - it just feels different....
Michael
---
Posted 12 December 2008 - 15:57
Thanks for this review. I actually bought a bottle of this a while ago and completely
forgot
I had it
. After seeing the review I found it and will be using it for writing my Holiday Greeting cards. Gee, wonder what else I have forgotten
---
Posted 12 December 2008 - 20:39
This is the best-looking photo/scan of this ink I've seen here so far. Thanks for the work!

---
Posted 31 May 2010 - 17:58
Great review and awesome photo. I am so ready for this red, now that I'm
going all water-resistant in my ink lineup. I just hope that Noodler's will
sell it in bigger, more economical bottles, like their other inks. Then it would become
my standard everyday red ...

– MJ

---
Posted 31 May 2010 - 22:04
Wow, what a gorgeous, solid looking red -- and an equally great and solid review. The photos were perfect! I'll put this bottle on my 'Wish List" now.

I will be interested in trying a summer-long UV test on it because red is the hardest pigment to "hold" against UV.

- OPG4711
---
Posted 23 July 2011 - 05:33
wrong thread, sorry
Edited by Peninkcillin, 23 July 2011 - 05:36.
peninkcillin.blogspot.com
Pilot Prera M
;
Platinum Preppy F eyedropper
;
Noodler's Creaper eyedropper
;
Noodler's Piston Filler
;
Sailor HighAce Neo F
;
LAMY AL Star EF
;
TWSBI Diamond 530
;
Kaweco Sport B
---
---