I'm posting this review because this pen is an A#1 design in my book, and is highly deserving of praise. I think they got 98% of the design right and the price point is great value.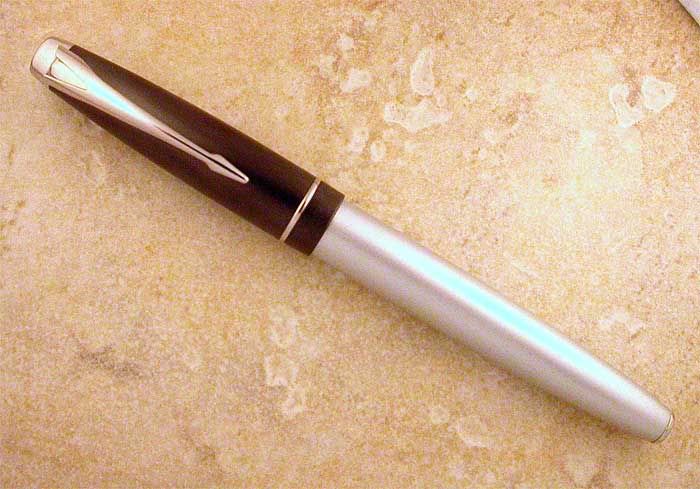 1. Overall design 5*
Here's what I really like about the design concept of this pen. Instead of copying a vintage design, Parker has created in the 100 a pen that makes full use of modern design and mfg methods, but uses classic design elements, in this case, the hooded nibbed pen. The 100 is its own pen, not a redo of the 51 or any other vintage.
Some of the design features I liked:
a.
use of multiple textures / colors
. The pen body is lacquered in a pearlescent finish, while the cap is a brushed metal. Color combinations are striking. In my case: gunmetal cap with silver pearl body. Understated but novel design element.
b.
metallic jewels
at both ends. These are unlike any other jewels I've seen with recessed metallic jewels set in a metalic collar.
c. the modern version of the
Parker Arrow clip
. This is a phenomenal aspect taking a new interpretation of the Parker Arrow.
d. The classic
hooded nib
design. What can you say here. This is a classic element reminiscent of the famous 51, and 61's.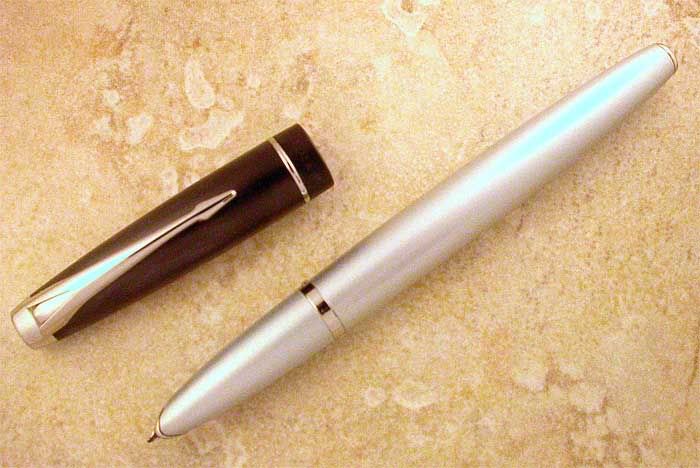 2. Size / Weight 4*
It's a medium weight pen. Although its primarly metal, I expected a heavier pen. It's extremely well balanced unposted, and if you happen to grip your pen a little on the high side, you'll find the balance nice posted as well.
The pen also has some girth to it, coming in at almost exactly the same dimensions as my Sailor 1911. call it a 51 style body "on steroids".
3. Nib 5*
Folks, this is the only nib that I absolutely adored out of the box. Buttery smooth from the first line. Can you believe I dropped it after only a week and had to send it in to Richard Binder for repair!
Cap seals well, and this pen can be counted on to write every time. It's hooded so its stiff. Don't expect flex here folks.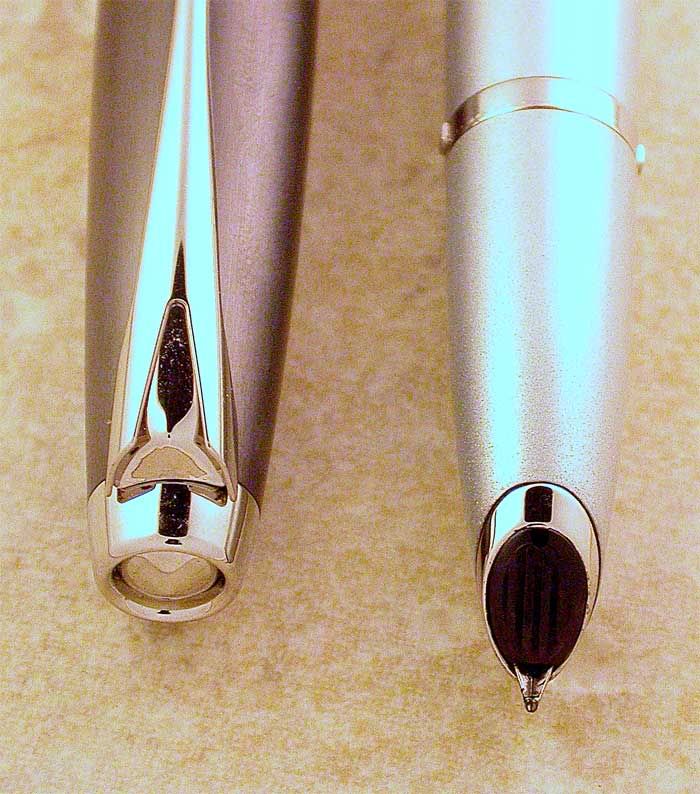 4. Filling Mechanism 4*
C/C filled. Which usually means I give it a 3* rating (since I find C/C's somewhat ordinary). However, in this case I give kudos to the small black plastic insert under the nib. No extra ink stuck under the hood after filling. I have a Hero 100 (P51 knock-off) and this pen usually sneaks a drop or two of ink under the hood ready to drop off onto my desk when i least expect it. Not so with the Parker.
5. Fit / Finish 5*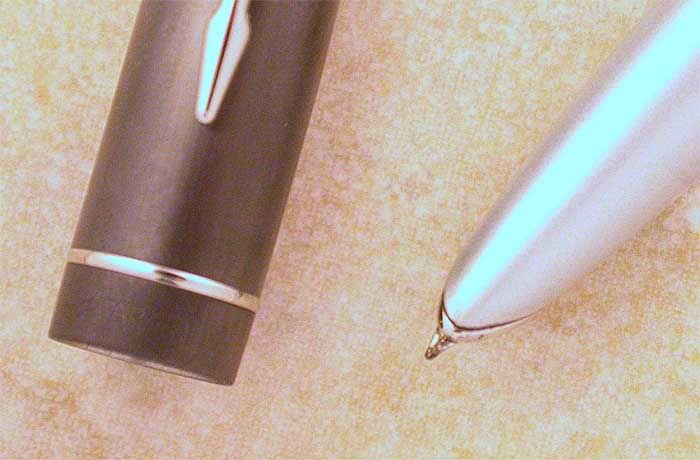 I have to hand it to parker on this one. They really classed this pen out in this department. examples of care spent:
a. the clip is folded plate like most, but you're swear it was solid metal.
b. The threading on the body / section joint is smooth as silk.
c. the cap is snap cap, held on by 2 spring loaded cams. I find this cap to be solid and sure. some have complained of a slight wobble int he pen when capped, but I have only noticed it slightly and not found it to be a hassle.
d. the surface finish of both parts of the pen is extremely well done.
Can I find something to complain about? Very little. Balance when posted, maybe. Also, I find that because of the convex lines and smooth pearl finish, that the pen is sometimes a little slippery, but these are minor items, in what is really a stellar design.
6. Overall value 5*
I'm adding this category to my reviews to reflect some sort of weight toward the price paid for the overal package. I bought the pen at Pam Braun's shop for $140. In my opinion, this is good value for a well made, functional pen, that is also a pretty piece of pocket jewelry. Much higher prices than this and my value scores start to decline, but if you like contemporary styling, and would buy a great pen in the low 100's then this is definitely one to consider. I think because Parker used modern design methods and mfg element that they are probably able to mfg this pen at a reasonable cost, and hopefully will be handsomely rewarded in profit for such a great design.