First Impressions & Design
I did not expect the pen to be quite as small. Its closed length is similar to Pelikan's M215. When posted, it becomes even shorter than the M215 (shorter body, not cap). The profile of a capped Monte Rosa is not a simple cigar shape. For example, if you look at the MB 145, you will notice that the cap closes on the body at its largest diameter. However, on the Monte Rosa, the body diameter peaks before the closure and already begins to decrease, creating a cigar-shaped object before the cap and giving the pen a slightly 'mushroomed' overall profile. The same shape is kept whilst the pen is posted.
However, the most interesting design feature is the unusual gold trim at the end of the cap. Notably, the clip itself follows a wave line and is attached via a ring. The pen immediately resembles a piston due to an obvious rotating section at the rear of the body. On the other hand, it lacks the obvious aesthetics of a contemporary Montblanc (including the now compulsory snow cap), and is plain enough to be used anywhere. Initially, this pen had mild flow problems, which I was able to rectify by slightly adjusting the nib geometry. Now, it is one of my best writers.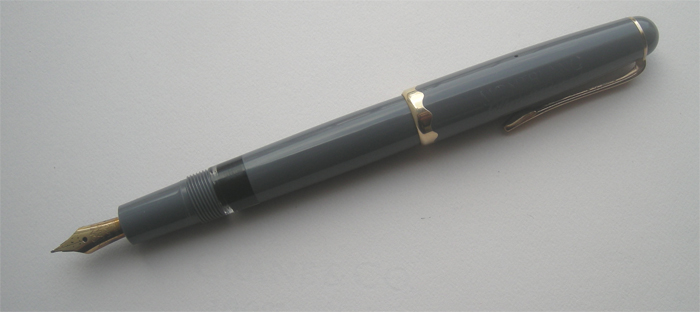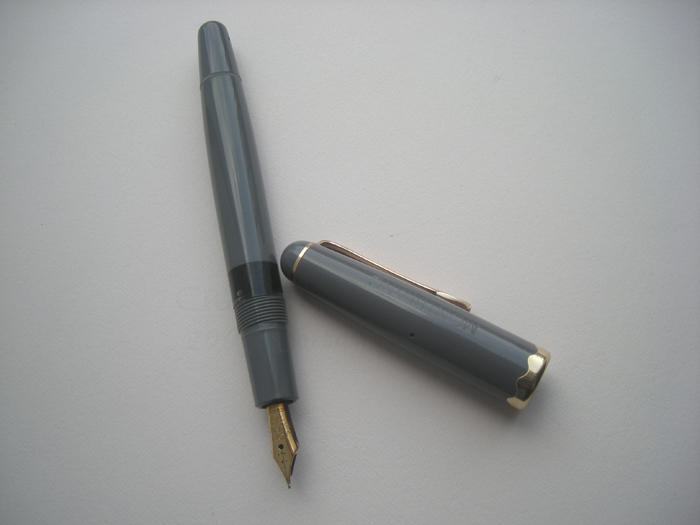 (Images courtesy of QM2)
Physical Characteristics
Length: posted w/ nib, 5 5/8"; capped, 5"; body w/ nib, 4.5"; cap, 2 3/8"; nib, 11/16"; clip: 1 3/8".
Maximum diameter: cap w/o clip: 0.5"; body: 15/32"; section: 6/16".
Weight: very light pen, even lighter cap, most of the weight is inside the body.
Comfort
If you enjoy light pens, you will appreciate the Monte Rosa. It is very light, with most of its weight evenly distributed throughout the body, and fairly little weight in the cap. When posted, it balances right before the cap meets the body. Un-posted, the balance is at the thickest point of the body. In either instance, I believe the pen is properly balanced for long writing sessions. Be aware that the section is fairly thin, as is the entire pen. I cannot decide if it is more comfortable posting this pen, or otherwise, but the working length does become fairly short without its cap, hence it may be uncomfortable in some hands. I do not find myself pressing down when I write with the Monte Rosa, but any amount of pressure will produce a slightly wetter line. Even more pressure will introduce a tiny bit of line variation into your letters.
Filling System
It is a vintage piston. The system works well despite being 50 years old. I have carried this pen in every position and it does not leak from either the nib, the body or the piston knob. I would say that it is a reliable filler. At this point, I cannot comment on the exact ink capacity. The pen has a large transparent ink viewing window. I never took this pen apart, so I cannot comment on the materials or potential durability of the filling system.
Nib
The nib is my favourite part of this pen, and also the reason why it is now one of my best writers. I had to slightly adjust the nib geometry in order to overcome a mild initial flow problem. It was a simple modification (Thank you QM2 for your help). The nib is unusual: it is 14K gold with a pronounced white tip at the end, which must be responsible for the wet line and incredibly smooth feel. It practically glides over the page, yet is controllable and able to do exact work. With no pressure, this pen makes an XXF line. In practice, the writing is XF and has slight wetness and line variation. I would not describe this nib as semi-flex (it does not separate enough!), but there is some softness there that leads to casual tine separation with normal writing pressure. It feels and behaves as a good quality, slightly springy vintage gold nib. The nib and feed are both fairly small, yet the ink does not dry out if the pen is held uncapped for 60 seconds (filled with Montblanc English Racing Green). This may be different for other inks. Once my Monte Rosa was adjusted, it never skipped or disappointed. I cannot stress enough what a good writer this is.
Conclusions
Simple aesthetics, vintage pedigree, gray plastic finish that goes surprisingly well with its festive gold trim. Exceptional writer, yet a very light and delicate pen. Montblanc 14K gold nib. A quality piston filler. Best fitting category: always carried daily writer away from home.
The pen was purchased new-old-stock and comes in a small cardboard box with a one-page set of generic Montblanc instructions.
Acknowledgements
QM2 for help with this review and images.
--
Edited by MDI, 23 November 2008 - 20:15.