I haven't done a review in a while simply because I cannot take pictures of my new acquisitions at the moment. But, some pictures of this pen were available online (I'm actually borrowing them off of Bill Riepl's liquidation sale site (
http://www.runningdo...com/IR/IRCS.htm
)) so I thought I'd do a review of this pen.
The first time I tried a Churchill was at the Fountain Pen Hospital Pen Expo last year, the same one which introduced me to the Michel Perchin MP5. I was surprised by how smooth the Churchill was, reminiscent of the MP5 but for about half the price. Since the MP5 had caught my eye first, I chose to eventually purchase it, but I knew at some point I'd like to own a Churchill as well. Well, Bill's liquidation sale was a dream come true, in more ways than one.
To start, this pen is not small but it isn't huge either. A little longer than the Sailor 1911 and a bit wider, but with the cap off it is quite light in your hand. I was surprised at that, I'm somewhat happy as this means I could probably take quite a few notes with it if I ever take it to school. The presentation box the pen comes with is not the sturdiest, like a Visconti or Aurora box, but it comes with a lot of extras inside! You receive a Cigar, a bottle of ink, a little book on Churchill, and some papers for the pen. I'd have to say one of the reasons I was drawn to this pen is the historical value I associate with it. I am a student of history and specifically WWII. I have Churchill's 6 volume work on WWII and his 5 volume work,
The World Crisis
, on WWI. So owning something named for him is an added bonus.
The design/aesthetics of the pen are also something that caught my eye. These pictures will simply not show you the depth that this demonstrator has, it is absolutely beautiful as you're seeing past the outside and into the inside in bits and pieces, an unexpected surprise when I actually picked up the pen and examined it up close.
The pen is filled with a lever and holds a good amount of ink. Although I'm somewhat impartial to how pens are filled, be it piston filler or C/C, the lever filler is a very quick process, faster than the aforementioned two and doesn't take much work, no twisting back and forth, just pull down the lever, put the nib into the ink, push up the lever, hold for a few seconds, and you're done.
On to the nib, the most important part of any pen. Thanks to a certain member of this forum who shared with me his love for Cursive Italics, I gave them a chance and ordered a VP Cursive Italic Nib from Richard Binder. Today, I wish all of my writers were Cursive Italics! So, I took a chance and ordered this Churchill with an Italic Fine nib, it did not disappoint
.
A close up shot of the nib: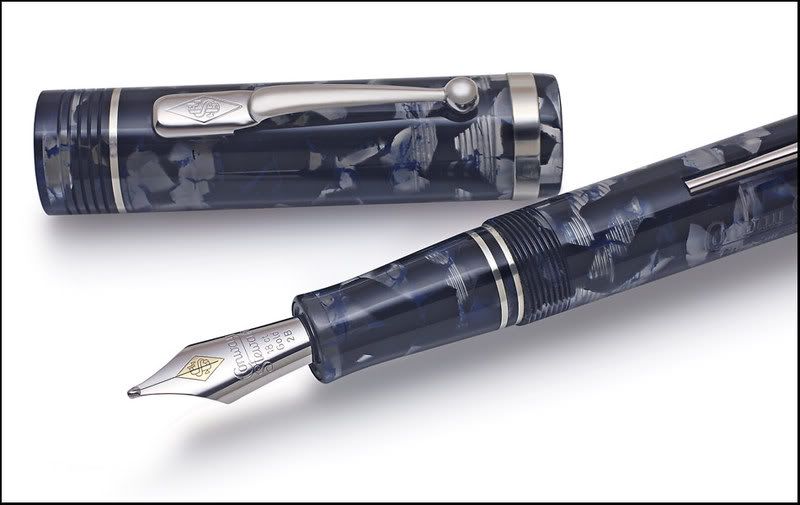 The nib isn't as smooth as I remembered it to be when I tried it at the Pen Expo, but that's probably because it was a regular M or F nib and not an Italic. I somewhat enjoy the ever slight feedback I feel and hear as I write with this pen. It is a wet writer, which is a must for me, and definitely one of my favorites by far.
Some of these are still available from Bill for an excellent price. I hope this review was helpful to at least some, sorry I could not take pictures of a writing sample or the box
but believe me, you won't be disappointed!
Edited by AKAGodSent, 21 November 2008 - 19:54.