Another pen that I happened to have taken pics of recently.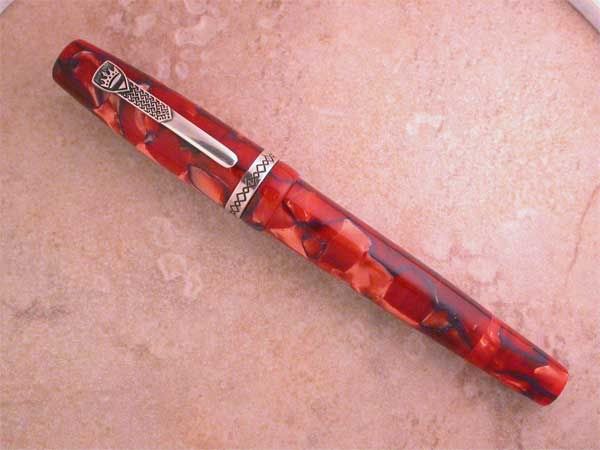 1. Overall design 4*
For those of you who saw my review on the
Krone Geometrik
, the Boulder is another one of Krone's Fashion Pen series. All the pens of this line are bold designs, none similar to any of the others in the line, and all using somewhat eclectic design elements. Here the eclectic design element is color. This series of pens comes in some wild resin colors. My Chinook is salmon colored, with veins of dusty blue. Other combinations include Curacao (amber / teal), Parrot (blue / red), Purple Haze (purple / orange).
The body design echoes their vintage stretch line, with a beefy torpedo shape with tapered ends and big clip and band. If you like big pens, this design gives you the girth you are looking for.
2. Size / Weight 4*
A full resin pen, its light-medium weight, well balanced and comfortable. The deceiving feature here is the section which is smaller in diameter and allows even a small hand a comfortable grip. If you know me, I prefer pens that are functional and good for lots of writing. This one does the trick.
The pen is nicely balance either posted or not. On some pens I prefer one or the other depending on the balance, but here I'm ambivalent.
3. Nib 3*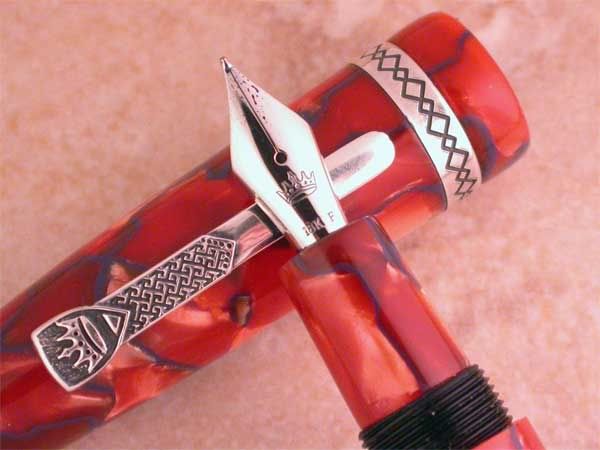 I've spoken before about variability in writing characteristics of Krone nibs, and same was true here. This one was a good writer, but needed a tweak from Richard Binder for full function. Now its a strong starter, and lays down a very wet line. The nib is simple in design being plated in silver (Rhodium? Im' not sure which) - which I prefer to single tone gold. With little ornamentational engraving, the nib is very sleek looking. This one's a Fine, but writes like a medium (or at least a Pelikan Fine)
4. Filling Mechanism 5*
This one is decieving. There's a blind cap on the pen, so I was expecting a button filler. Nope, it's a piston filler. The blind cap reveals the piston turn knob underneath. Smooth action, and plent of capacity. I like the idea of a blind capped piston filler, not sure why tho.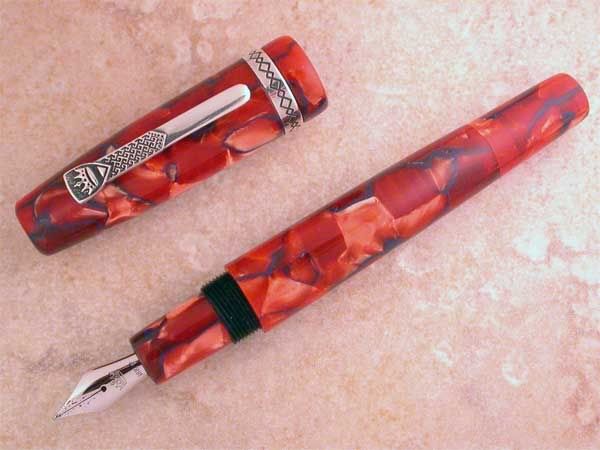 5. Fit / Finish 5*
Here is where Krone excells. Resin is polished beautifully, Clip and band and nicely tooled, and solidly built. This clip is solid metal unlike most which are folded plate. The cap threads on very nicely.
The only esthetic element some might not like is the black plastic used for the threading of the section. I dont' mind it, but I don't find it an issue, as its covered when the pen is capped.
As with all the Krone pens, if you like a nice functional piece of pocket jewelry, the Boulder is a winner. Price is a little hefty at around $300 (I picked mine up on the PT green board at much less than that), but Krone markets to those who are willing to pay.