When I got my Jinhao FP, along with the superb looking pen I was fascinated with the paraphernalia that came with it…and according to me it was not merely packing material, but material that was filled with historical details…all those of you who had checked out the Jinhao post would have seen the photos of the wooden box, the Chinese inscriptions on the outside and inside, the Chinese inscriptions on the scroll, the etched characters and so on…I was intrigued and a few FPNers were kind enough to go through the inscriptions and give me enough leads to understand them…
When I received my first Ratnam FPs…(a GN 302 and a steel nib 32), I was kind of surprised to see the paraphernalia that came with the pens…I had written to Dr K V Ramanamurthy before ordering the pens and he sent me a photograph of the FPs for me to choose from and a kind of flier with the price lists for all the kinds of pens they made…I had sent the photo back to him indicating the model and colour…after I received the pens, I asked him for another photo and he was good enough to send me more…and this actually made me collect FP paraphernalia… when one sees the photos, one can actually see that the focus is on the pens…and the only piece of advertisement is Gandhiji's letter…and since this is the forum where I hang out and post my stuff and I am familiar here, I thought I'd post this one too here…and since this is also about Indian FPs and somehow this forum has become a kind of proxy forum for Indian FPs, I think it is temporarily appropriate…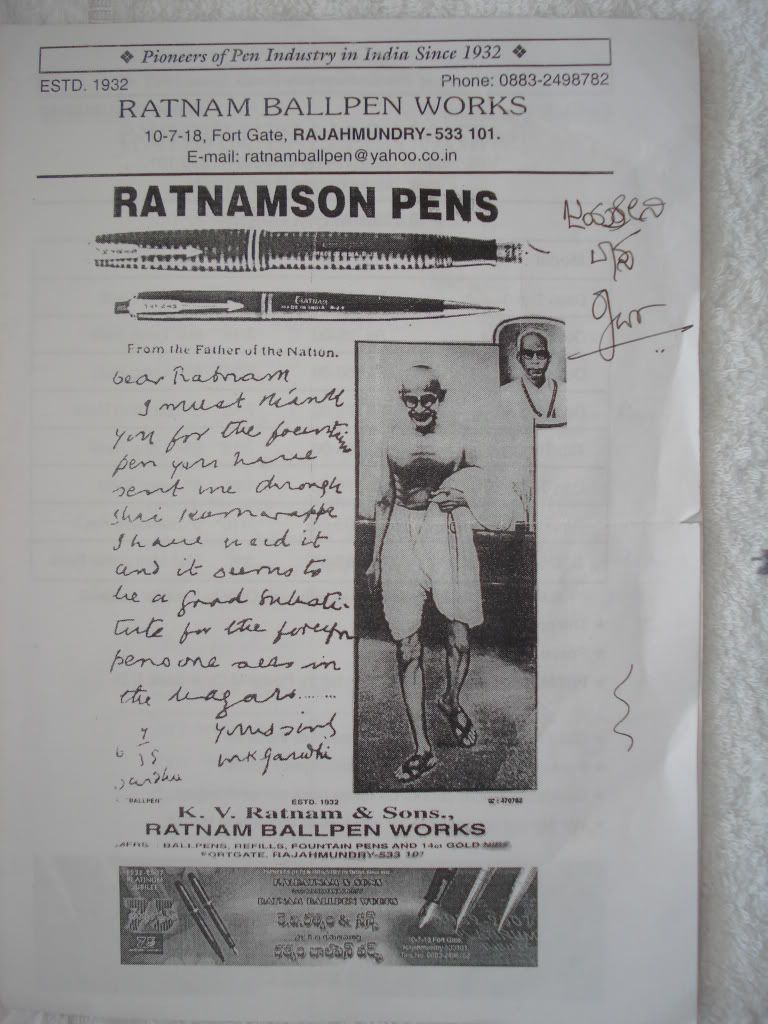 This is the opening page of the price list flier…it has the facsimile of the letter written by 'Mahatma' Gandhi (along with Gandhiji's photo) to Mr K V Ratnam, the founder of Ratnam Pens, and the photo of Mr Ratnam on the top right, just above Gandhiji's photo…and on the top right margin is my name in Kannada, the first thing I wrote after filling my Ratnam 302 gold nib pen...
This is the close up of Gandhiji's letter which goes…
"Dear Ratnam, I must thank you for the fountain pen you have sent me through Shri Kumarappa. I have used it and it seems to be a good substitute for the foreign pens one sees in the bazaars…Yours sincerely, M K Gandhi; 6-7-1935, Wardha"…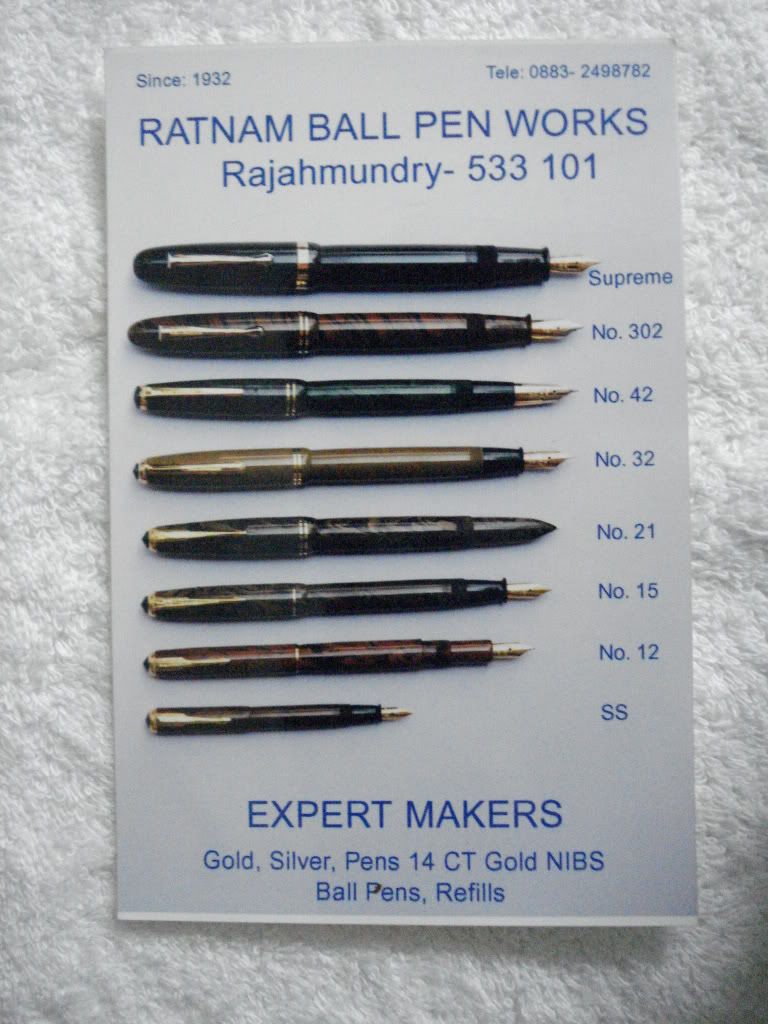 Photo of Ratnam range of fountain pens…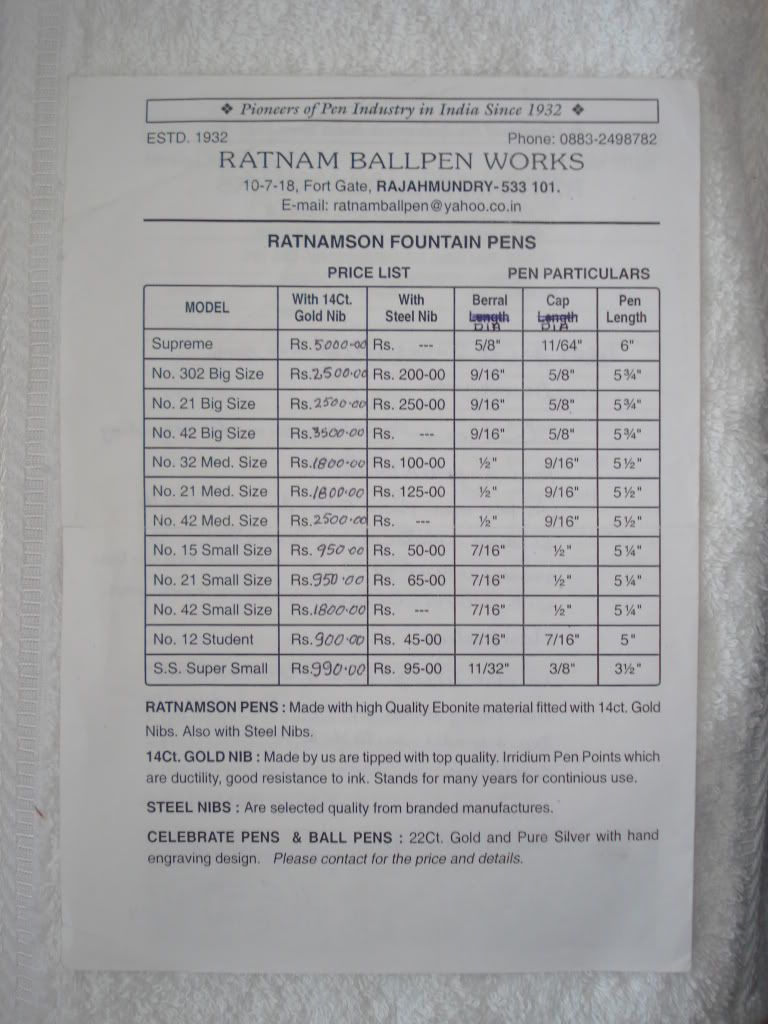 Price list of fountain pens…(the prices have changed now) and specification details for each model...barrel and cap diameters and pen length...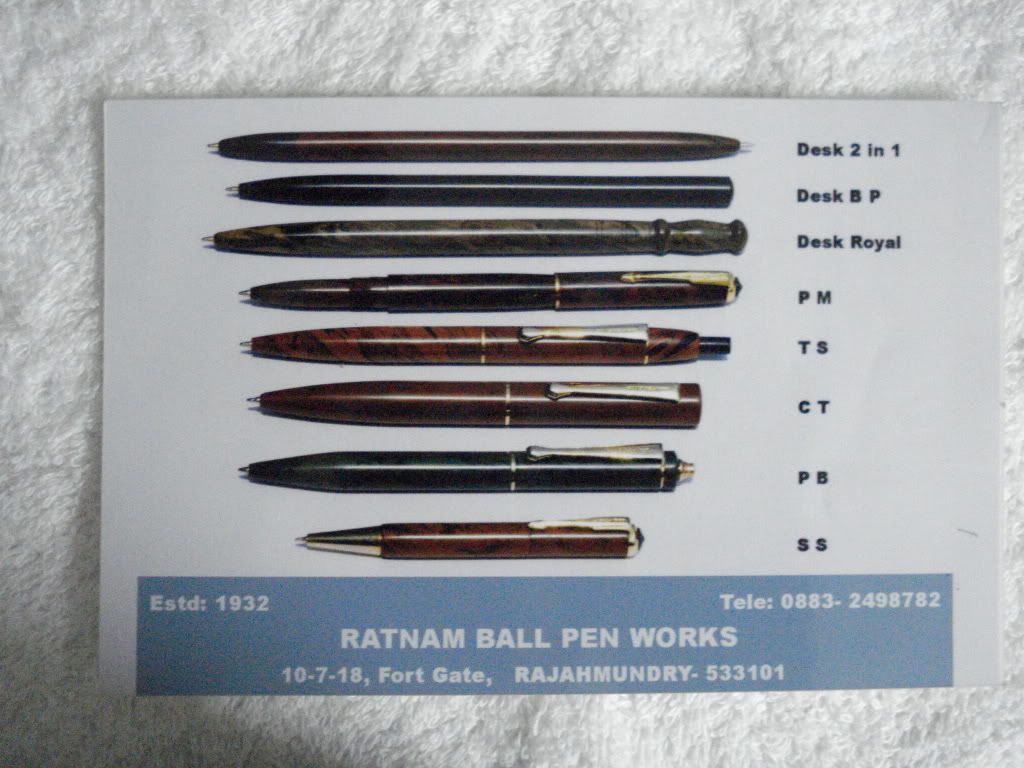 Photo of Ratnam range of ball pens…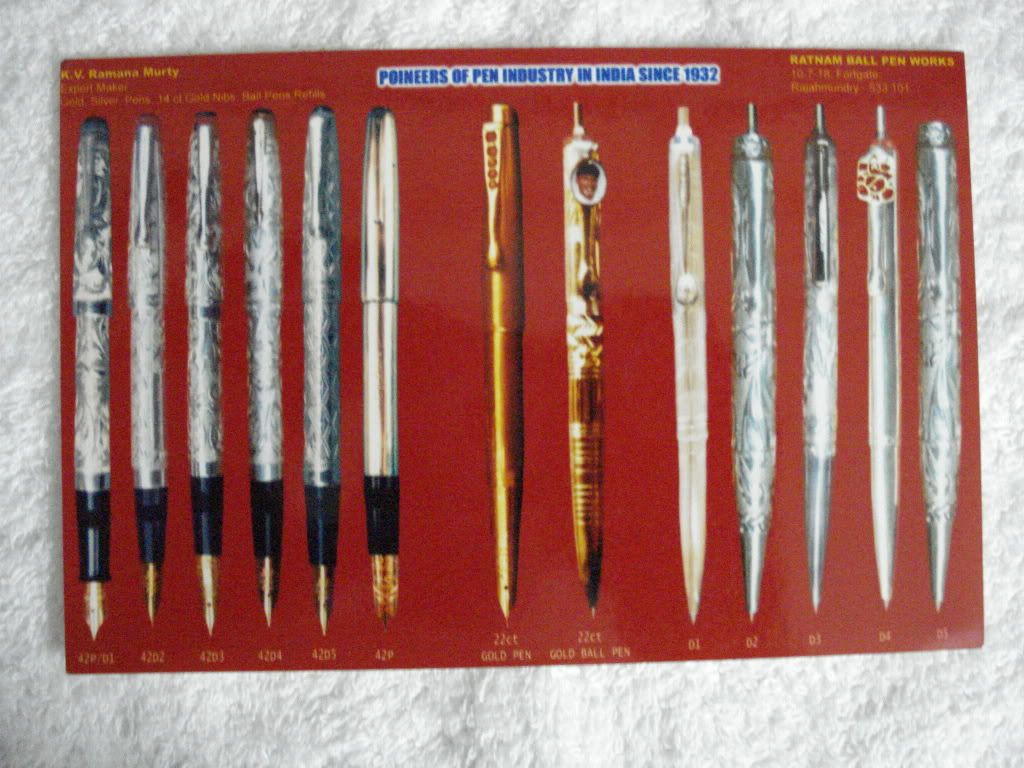 Photo of Ratnam range of silver and gold pens with hand engraved design…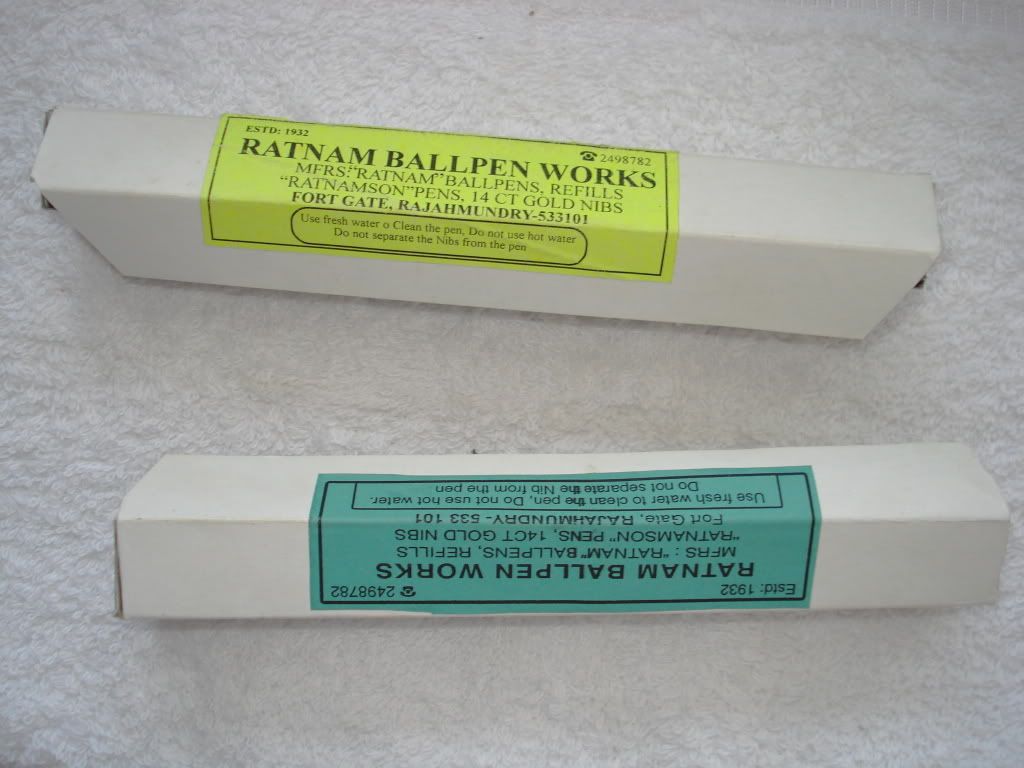 Usually the pens arrive in this thin cardboard case…even my Ratnam GN FP arrived packed in this case…I was surprised…my brother, however, was lucky, his Ratnam GN came packed in a velvet pouch…and the funny part is I had paid and ordered for his Pen…!!!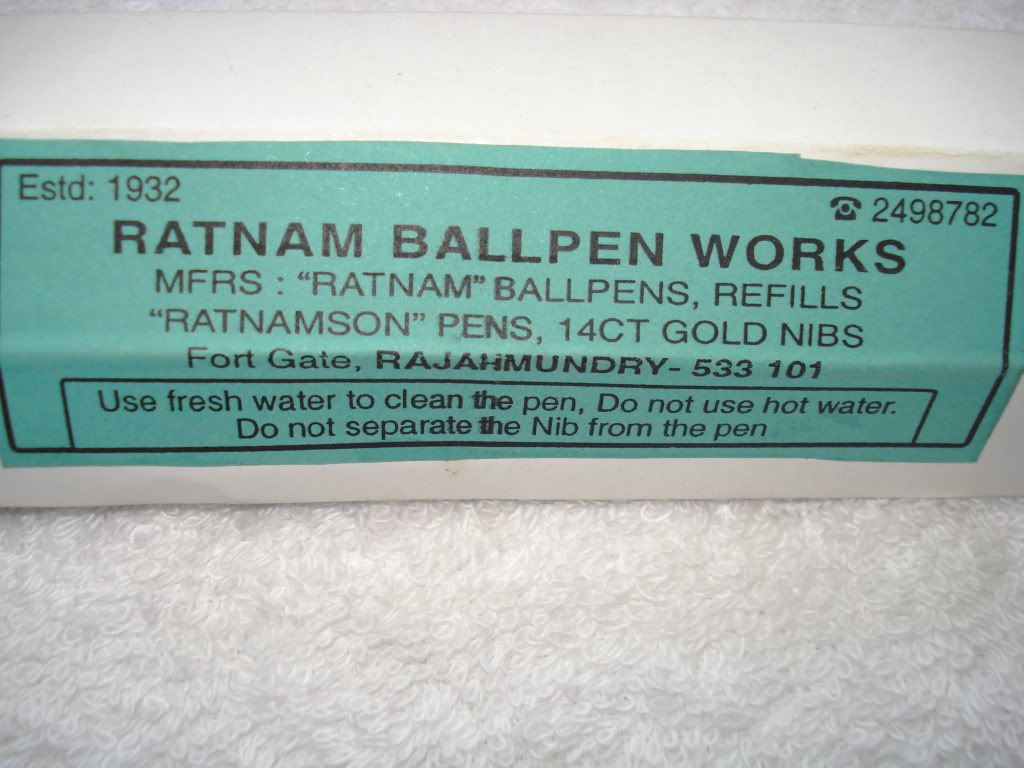 The most interesting part is the 'care note' on the sticker on the case…the tone is finger wagging headmaster-ish and almost admonitory…no frills…no long list of dos and don'ts…straight to the point…
I hope all of you found this interesting…
Regards,
Jai (shrujaya)