I got this beautiful pen at the Dallas Pen Show, but have been slow to get around to reviewing it. It is definitely NOT because I don't like it. It actually is a daily user for me.
Appearance 5/5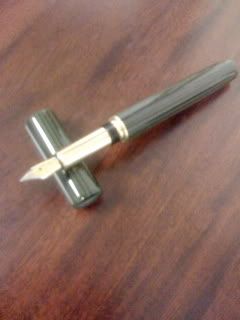 I would normally consider the pen to be a little short for my large hand. Uncapped, it is about 1/8 inch shorter than an uncapped Pelikan M200. The pen does not post. Capped, the pen is about 1/4 inch shorter than the same M200.
Fit & Finish 5/5
The pen is the best built pen I own, in fit and finish. It was hand made by Joe Csokay, who brought a bunch of his pens to the Dallas Pen Show. I was fortunate enough to get this one. It is perfectly smooth, and the ebonite is nicely warm to the touch, as ebonite should be. As it is clipless, there is obviously no issue with the (nonexistent) clip. The cap screws on in less than one full turn. The lack of a clip means that I must put the cap upright on the desk when I write, as it does not post.
Nib 4/5
The only niggle I have about the nib is that it is a touch broad for my taste. It is as fine as my Phileas F, but I really prefer a Pilot F. Other than that, the nib is perfectly smooth, no hint of tooth, and nicely wet, but not a firehose. The nib is two-tone, gold and rhodium colored. Very likely plated, as it is not marked except Iridium Point Germany. Joe told me the kit manufacturer, but I do not recall the name.
Filling system 4/5 Standard Schmidt converter.
This is the most expensive pen I own. It came from a man who has been turning pens for several years, as this is at least his second year a the Dallas Pen Show. He lives in Ohio, so if he is there, he may have another one of these. If he is there and does have one, if you like it, try it out. You might find it addictive, as I have.
Donnie