YARD-O-LED VICEROY VICTORIAN
Standard Size
Acquired in early 2007, this Viceroy Victorian was not only my first Yard-o-Led, but also my first
true "holy grail" pen. I received it as a gift together with the Perfecta Victorian pencil, pictured
here alongside the pen. The main purpose of this review is to address questions about the size,
comfort, and aesthetics of this YOL model, which I am frequently asked.
Presentation and Packaging
Yard-o-Led has great taste in packaging design. The pens come in a black wooden chest that
closes securely with a metal clasp and is lined with black velvet. Having three of these boxes
now, I find that they are very useful for storing jewelry and spare pen parts. Please see my
review of the YOL Corinthian
for an image of the box.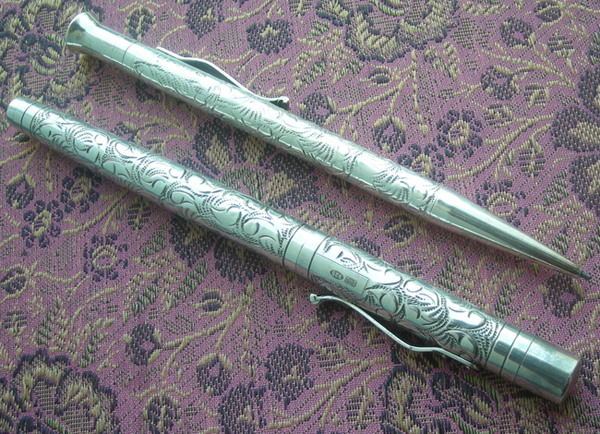 Appearance and Design
The standard size Viceroy looks like a simple, thin silver rod with flat ends. Three different
finishes are offered on this model: Plain (smooth silver with no engraving), Barley, and Victorian.
The Victorian finish is a romantic floral design: a filigree of curling vines and leaf-like forms, as
shown on the closeup below.

The cap and barrel of the pen are hand crafted out of solid silver, then engraved with the
Victorian pattern -- except for the endcaps, cap lip, and gripping section, which are not engraved.
On the cap and barrel, the pattern is interrupted by a blank personalisation plate, which is a narrow,
unobtrusive rectangle, and by a display of hallmarks stamped into the silver. Displaying hallmarks on
English silver pieces seems to be an art of its own, and Yard-o-Led has most definitely done a
wonderful job incorporating this element into the designs of its pens.
The cap of the pen is flush with the barrel, so that the two form an uninterrupted surface line when
the cap is closed.
A key element that contributes to the pen's image is the old fashioned Yard-o-Led clip. It is a fixed
clip, early 1920's style, with two screws on a rectangular plate. The clip itself is gracefully curved,
ending in a curling fold of silver.
"Is This a Ladies' Pen?"
One question I have seen, as well as have been asked directly on several occasions, is whether this
is a "ladies' pen" or a "feminine pen". I will preface my answer by stressing that (1) this is a very
subjective judgment, and (2) that I am all for androgyny. But
my
answer is, yes -- I consider the
standard size Victorian to be a rather feminine pen, due to the combination of its floral design and
diminutive size. The
considerably larger
, Grand Victorian does not create this impression, but the
Standard size does. Keep reading for more on size, including useful size comparison images.

Dimensions and Writing Comfort
The Yard-o-Led Viceroy Victorian Standard is 5.25" capped, 4.75" uncapped, and just under 6.25"
posted. Nib is .70" from the tip to the point where it enters the section.
Another frequently asked question about the Yard-o-Led Viceroy Standard, is just how thin is it?
Well, it is
quite thin
: The widest point of the pen is 0.375" in diameter, which is not much wider
than a standard pencil. The image below compares the Viceroy Victorian Standard to the Faber Castell
Ambition, the Caran D'Ache Ecridor, and to a standard-size common pencil.
Here is another comparison: the Victorian Standard next to the Corinthian, which is a considerably
thicker pen, but oddly, not that much heavier. Unfortunately, I do not own a Grand Viceroy, so cannot
offer direct comparison images of the two pens. But I have seen the models next to each other at the
local B&M shop, and the size of the Grand is
much
more substantial -- the width looks almost
double that of the Standard.
I do not have weight statistics for the Viceroy Victorian Standard, but being solid sterling silver,
naturally the pen is heavy for its size. I prefer heavier pens, but for others this is a characteristic
to be aware of.
The pen posts without problems, and that is how I use my pens. However, the balance feels feels
good both posted and unposted.
The sterling silver gripping section warms up to the touch and is pleasant to grip -- but may be
too narrow for some due to the overall form of the pen.
Personally, I find all aspects of this pen's design comfortable, except for one: I am not entirely
crazy about the snap closure of the cap, which I think could be smoother. I should clarify that
I think the same of the Corinthian and all other YOLs I've tried, so this comment is not unique to
the Viceroy model.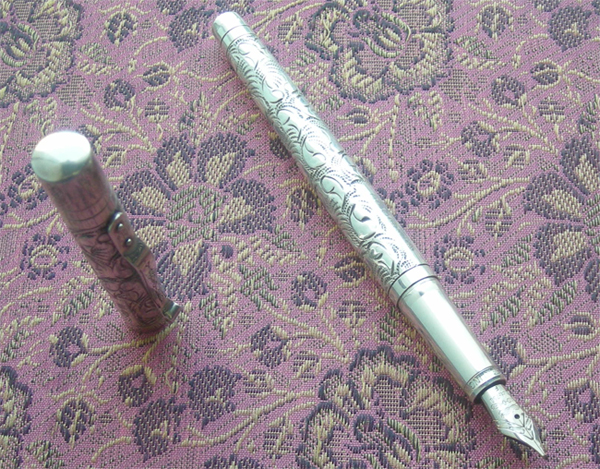 Filling System
The filling system on all Yard-o-Led pens is international Cartridge/Converter.
Nib
The 18K Yard-o-Led nibs are famous for being smooth, wet, reliable writers. They are tolerant of
a wide variety of inks and resistant to clogging. Even infamous problem inks that refuse to write
normally in other pens (think Noodler's El Lawrence and Herbin Bouquet D'Antan), flow with
abandon through YOL's magical nib & feed system. The nibs run wide, and my Fine wrote like a
Medium. As with most of my nibs, I eventually had it customised -- in this case, to a beautiful
.4mm cursive italic.
Value
I will come right out and say that Oscar Braun Pens offers the best prices on YOL. At the time this
pen was given to me, its price was in the $300's (and the Perfecta pencil in the $200's). Considering
that these are solid silver writing instruments, I think this is a superb deal. Retail prices are
significantly higher, and European shop prices even more so.
Conclusions
Leave it to Yard-o-Led to make a solid precious metal pen engraved with a Victorian floral pattern,
that does
not
look over the top! It is utterly beautiful, yet subdued. Add to this the impeccable
craftsmanship and superior nib performance, and the appeal is undeniable. The only aspects to
consider, are: (1) whether the Victorian finish suits your taste, and (2) whether the Standard size is
right for you. Luckily, the pen comes in two other finishes and two additional sizes, to accommodate
different tastes and size preferences. Due to the heavy and monochromatic characteristics of sterling
silver, these YOL pens are not for everyone. But as many have noted, they have a cult following of
ecstatic owners : )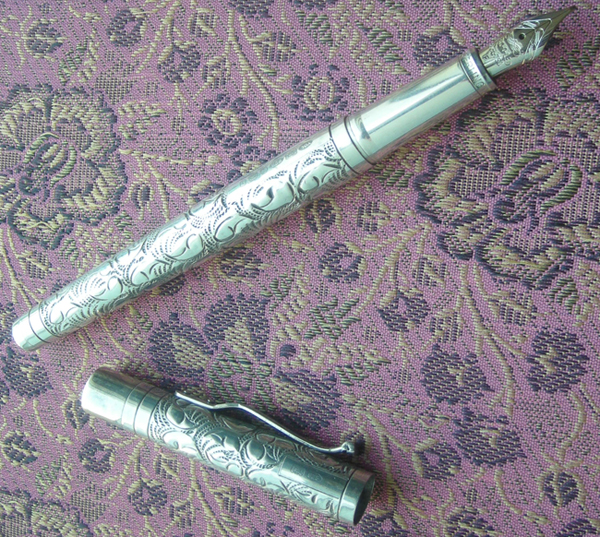 Edited by QM2, 28 October 2008 - 15:05.