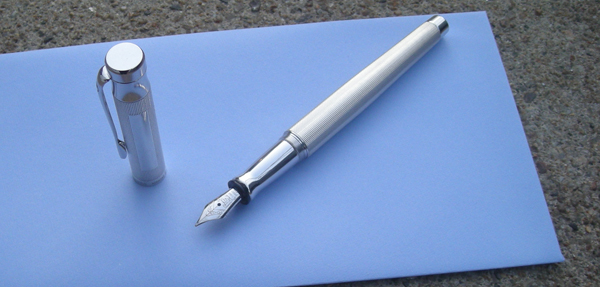 WALDMANN "TANGO"
Solid Sterling Silver
Barley Pattern
This pen now belongs to MDI. But it was mine first and it still lives in our joint household, so
I am posting a review on his behalf.
There are two main reasons I wanted to review this pen. First, Waldmann is a brand that is
common in a number of European countries, but relatively unknown in the US -- which may be
of interest. Second, this pen is an example of an acquisition that has gone from "blah" to "Ahh!"
after an expert nib adjustment, and I thought this would be nice to document.
I bought this pen two years ago, during my initial stage of trying to graduate from using Parker
Vectors and a Sheaffer Prelude, to "nicer" fountain pens." This was before FPN, and my search
process was random and amateur: I googled "sterling silver pens," found the Waldmann sold by
a German online retailer on ebay for a very low price, and decided to give it a try.

Appearance and Design
The Waldmann "Tango" model is a well-crafted, solid sterling silver pen that combines classic and
modern forms to achieve a look that is distinctly its own.
Technically, I suppose the design qualifies it as a flat-top, as the top is indeed flat. However, the tip
of the cap undergoes several undulations before ending in its final platform, making the overall look
difficult to classify. The best I can do, is to say that it manages to have both an old-fashioned
and
a high-tech appearance at the same time.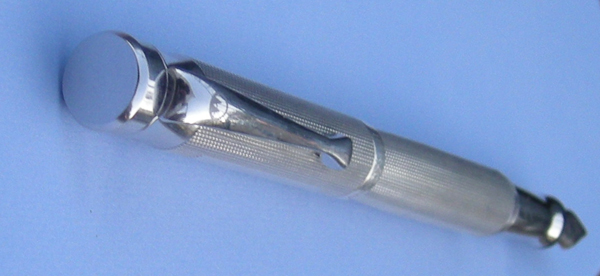 The same can be said of the clip. In one sense, it is a very classic, curved clip that tapers towards
the bottom and ends in a flared tip -- more Art Nouveau than Bauhaus. Nonetheless, something in
the execution suggests a modern "techie-ness," almost giving it the look of a drafting tool. The "W"
imprint the top of the clip, done in a very contemporary typeface, contributes to this impression.
The pen is made entirely of solid silver, much like Yard-o-Led. The only non-silver part is a thin strip
of black resin (or rubber?) below the lip of the gripping section. The body and cap are imprinted with
an attractive striped Barley motif. There is a long rectangular engraving plate on the cap. Overall,
the pen has a very serious and distinctly "masculine" look to it.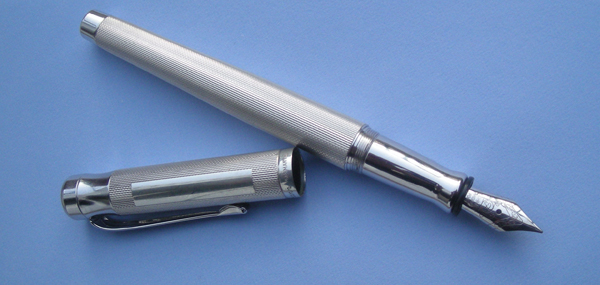 Size, Weight, and Balance
The Waldmann is just under 5.3" capped, 4.75" open, and 6" posted. Despite being solid sterling, it
is not an overly heavy pen. It is wider than the standard size Yard-o-Led Viceroy, but slimmer than
the grand, and it weighs accordingly. The balance is excellent, particularly when posted. The sterling
gripping section is comfortably curved and warms up quickly to the touch.
Filling System
The filling system is international standard cartridge/converter.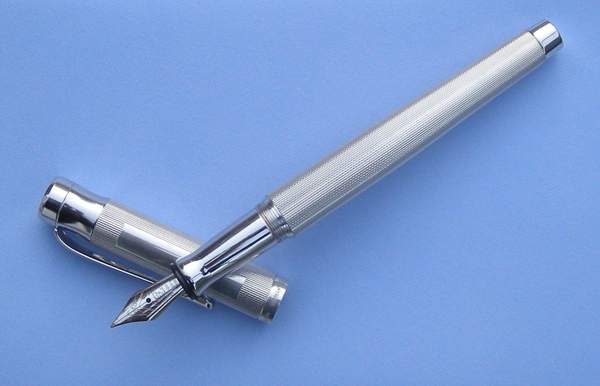 Nib
My pen came with a Medium Schmidt steel nib, though a gold version is also available.
Now here is the disappointing part: Out of the box, the pen performed very poorly. The problem
was flow: The pen would not write unless I exerted quite a lot of pressure on the nib -- to produce
a line, it was necessary to push so hard as to almost spread the tines.
Being new to pens over the fifty dollar mark at the time, this upset me tremendously and ruined
my impression of the pen. I put it away in its box, where it sat for an entire year, quietly getting
on my nerves with its uselessness. Having gradually become more educated about pens and having
by this time accumulated a small collection of great writers, I planned to sell the Waldmann. But at
the last moment I changed my mind, and included it in a batch of pens that I was sending for
regrinding to Richard Binder. Like the other pens, I asked Richard to grind it to a cursive italic.
Happily, this was one of the best pen-decisions I have ever made: Several months later, the
Waldmann was transformed from a non-writer with a boring Medium nib to one of the best cursive
italics I have ever tried.
Apparently, MDI agreed: When the pen returned from Richard during my stay abroad, he
appropriated the Waldmann into his own collection after trying it for me! The drama of this treachery
is documented here:
http://www.fountainp...showtopic=70384
Above is a sample of the Waldmann's italicised nib in its new owner's handwriting. The nib is a .45mm
cursive italic, ground for maximised line variation.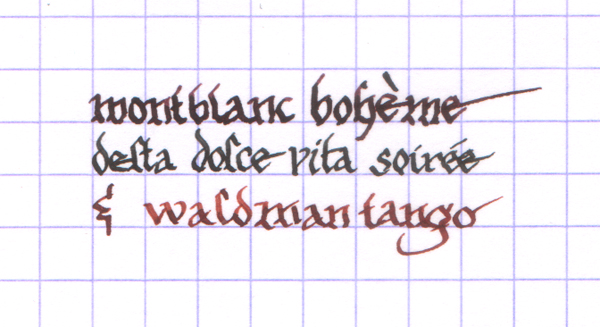 Here is another example of what this nib can do (bottom sample, my writing). It produces almost
as much line variation as a sharp italic yet writes super-smoothly: Using it is quite an experience!
Value
When I bought this pen, it was available for as little as $90. Today, even with the fallen dollar, it
is sold by several online retailers and on ebay for around $100. In the US, the Waldmann is difficult
to find, but in Austria and Germany it is commonly available in any stationary shop that sells fountain
pens. The cost is usually around 100 EUR, so you are better off buying it online.
I think that at this price, the pen is more than worth it. Remember that this is a solid sterling silver
pen, not silver plated, or with a silver sleeve. I have no idea to what extent my nib experience is
representative of Waldmann's QC in general -- but to be fair, even the best, most popular brands
often have flow and nib issues out of the box. And at worst, $100 + nibmeister fee is still very much
worth it for this pen.
Conclusions
If you like silver pens, you are unlikely to find a better deal than the Waldmann Tango. The nibs are
excellent for stub and italic conversion -- and as someone who gets this done to most of my pens,
I know that not all nibs have equal potential in this respect. Waldmann is an 80+ year old German
pen company and I hope that this review will contribute to raising its profile in the US.
Edited by QM2, 20 October 2008 - 02:29.