Announcement: New Privacy Policy


Please note that as of today, May 25, 2018, a new Privacy & Cookie Policy is in force, compliant with the GDPR. By continuing to use FPN, you accept this new policy.
You may find the new policy by clicking the button or link at the bottom of each page called "Privacy Policy", or alternatively by clicking below:


New Privacy Policy
***** The FPN Admin Team *****
Help finding a certain journal...
Started by
Kendra
,
Oct 19 2008 16:39
Posted 19 October 2008 - 16:39
Does anyone know what kind of journal/notebook I'm talking about? I tried finding a photo but its just about impossible!

---
Posted 23 October 2008 - 05:08
I haven't seen the series, but I was curious enough about your question to take a peek at the show's homepage, and I found this in the last seconds of the trailer. Is that what you're looking for? If not, ignore the rest of this post!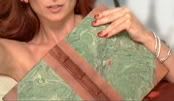 If so, then I suspect you want a hand-made Italian 1/4 bound (though I've also heard them called 1/2 & 3/4 bound - I don't know enough to say which) leather journal with (hand) marbled covers, or a reasonable facsimile thereof.
For the real deal you can look at
Epica in the US
or for the REAL real deal you can look at
shops in Florence
that have been
making paper and books
for a very long time.
These are all astronomically priced, of course. And not all fine handcrafted Italian paper plays well with fountain pens, either.
Anyone know of a journal that
looks
like these ones that is both pen and pocketbook friendly?
Ryan.
---
Posted 23 October 2008 - 10:42
Barnes & Noble has some journals on their web site which look similar to the ones in the photo displayed. I have not seen those journals in their B & M, but I wasn't particularly looking for them, as I prefer all leather.

Donnie

All that is necessary for the triumph of evil is that good men do nothing.
Edmund Burke (1729 - 1797)
 
---
Posted 27 October 2008 - 01:50
That is EXACTLY what I was looking for! Except minus the out of this world pricing...

---
Posted 27 October 2008 - 20:12
If there's a bookbinder's society in your area (call the art department of your local university as a start), you could find someone to make you one.
You might try
Jenni Bick
, but it's pricey. The reason it's pricey is because the paper is often high quality art paper (hot pressed Arches, for example), it's leather bound by hand, and it has Italian marbled paper on the boards.
Beyond that, you might try Etsy. Just search for leather books/journals. That might be the most inexpensive way to go if you'll settle for a smaller book, but you're not going to find something that's 9x11 for $50.
Unless you want to order the marbled paper along with the cords and needles and linen thread for binding and PVA and methyl cellulose from hollanders.com, leather from hidehouse in Napa Valley, go to a paper supplier in your area and buy a ream of quality paper - or Arches to the tune of ~$3.50 per large sheet and tear it yourself, and then learn how to bind signatures on cords, not to mention leatherbinding.
There is a reason books like this are expensive. They are made by hand, in a tradition that goes back hundreds of years.
As for paper that's ink/FP friendly, most binders use watercolor paper, and if it's cold-pressed it is not suitable for FPs. Try hot-pressed watercolor paper, or again, go to a paper warehouse that supplies printers. Ask to see paper suitable for textbook printing and go from there. They have samples available, so you can take sheets of paper home to test them. It's hard to judge paper when you can't play with it first.
The only way I've found to get the book I want to write in is to make the book myself. It's not difficult. It is time consuming. It's not all that expensive if you want to set up a small studio and outlay for the initial supplies. Big cities have bookbinding classes. Baring that, you can go to the library and get books through interlibrary loan. Amazon has an excellent DVD or two on basic bookbinding. And when you get into leather... you need to apprentice with someone who knows what they're doing.
I can't tell if the journal she wants is a book that is fake-sewn on cords or a real one. Sewing on cords is a medieval book form, and the cords are anchored in the boards. I spent days finding the instructions on how to do it. The Italian masters still do it. Barnes & Noble has fakes.
Edited by wednesday_mac, 27 October 2008 - 20:21.
Is there life before death?
---
Posted 27 October 2008 - 21:48
@ wednesday mac - That's very cool. I've always wanted to try bookbinding, but never seem to get around to it. Have you worked with leather yourself?

@ Kendra - Looking at my own shelves I realized I had something that approximates the look at a fraction of the price - a G. Lalo journal (with lined ivory laid paper) with hand marbled covers and bookcloth where the leather is on the ones above (including the corners). I bought mine from Pendemonium years ago, though I don't see it offered anywhere at the moment.

Ryan.


---
Posted 21 October 2009 - 23:53
I know that this is an old thread - the journal pictured is identical to one I purchase from Aspinal of London. For the smaller version (a bit larger than letter size) runs around $100. The larger ones run around $150 for marbelled covers, and $199 for a full leather cover. Heres the good news. Aspinal usually has a summer sale. This year (2009) they were offering the large books for $100, and the small ones for around $50. The books are expensive but well worth the cash outlay! They are a pleasure to work with. If you are just writing, you will be very pleased with the handmade Amalfi paper. It has a slight cream color, and a nice laid texture. Ink stays on the surface, with no crawling and no bleed through unless you work really hard to force a bleed through... The leather bindings are sturdy and beautiful to look at, pleasant to touch. The marbelled covers are brilliantly colored and rich.
I'm a painter, I do elaborate illuminations in my journals, including polished gouache paintings and gold leaf. The cream color of the paper allows nice chiarascuro work. The paper is thin, and works better for dry brush techniques, but washes work too, you just have to be prepared for some buckling. I highly recommend these books to artists who want to produce extraordinary journals.

---
---