DELTA VIA VENETO
Black Dome-top, with White Casein Insets
When I saw this pen advertised for sale by an FPN member, I was taken aback by two things.
First, how beautiful and finely crafted the pen looked in the images. And second, that despite
liking Deltas and already owning two of them, I had never seen or heard of this model before.
Is this an under-the-radar pen? An under-appreciated pen? Or simply a pen that no one but
me finds attractive? Well, no matter: I had to have it.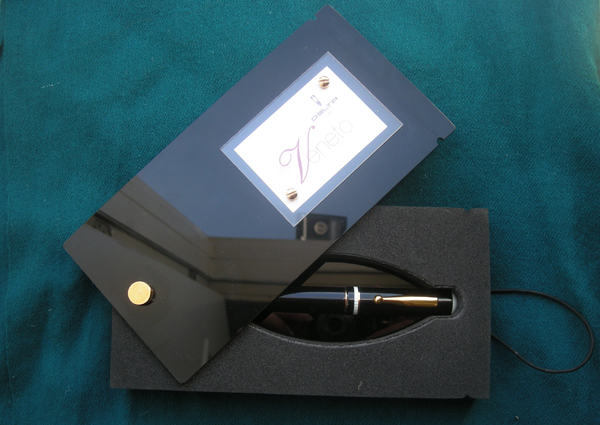 Packaging
The pen comes in an interesting high-gloss black box. The lid is attached with a large gold-colour
hinge and opens via pivoting. It is held in place by a Moleskine-like rubber-band. When the lid is
pivoted open, the pen is revealed nestled inside, as pictured above. This is an interesting and
entertaining design -- though there is something coffin-like about it.

Looks and Design
The pen itself was everything I had hoped for and more -- it almost seems tailor-made for my tastes.
The shape is a "Dome-top": straight-sided like a flat-top, with a dome-like endcap. This design was
popular in the 1920s, especially when you look at early Conway Stewart and Montblanc. But this
form is almost entirely unseen in modern pens.
The material is black resin, with gold trim and -- here is the unbelievable part --
white casein insets
.
Pens made with casein are quite rare and expensive nowadays, and it happens to be one of my favourite
materials. I should note that this pen is also manufactured in a red version with silver trim.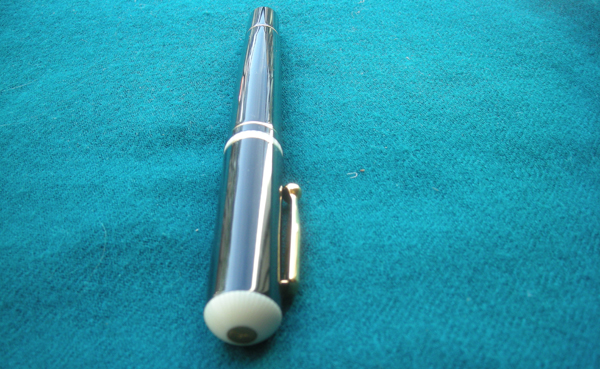 The dome-shaped endcap and the inset over the cap band are made of a beautiful casein that is best
described as white with cream stripes -- giving the illusion of having a ribbed texture.
The gold clip is a vintage-style fixed clip with a ball tip. It is quite wide.
The Delta logo is inset in the center of the casein dome. The overall look is extremely elegant, yet
understated. Here are my attempts at close-ups of the dome and band:


Size, Weight and Feel
The pen is 5 1/4" closed; 4 7/8" uncapped and 6" posted. It is light to medium in weight. I consider
it extremely well-balanced, but keep in mind that I am a flat-top fan.
Nib and Writing Performance
Unlike the other Deltas I own, the Via Veneto has a single-tone gold nib.
Here you can see a comparison
of this nib to other Deltas.
The nib is a Fine, and amazed me by writing true to size. In my experience, Deltas tend to run wide,
but this one is on the narrow side of Fine. This is good news to an XXF-XF user such as myself, as it
means no extra regrinding fees.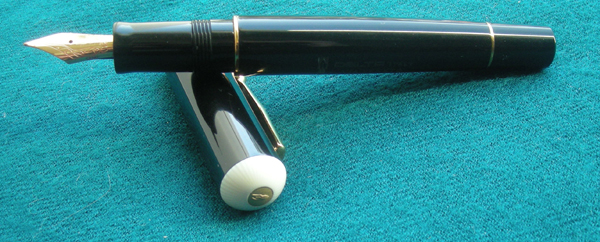 The nib writes smoothly, and the pen has no problems with flow or drying out in between uses. It is
tolerant of saturated inks: I currently have it filled with Noodler's Dragon Napalm, and I have also
tried Hunter's Green. The nib is on the stiffer side and puts down a precise line. I like this feature,
but those who prefer flex -- take note.
Filling System
The filling system is CC. On such an elegant penthat is so evocative of the 1920s, I would really
loved to have seen a lever. But then I have the same complaint with the chased Conway Stewart
Duro Heritage and many other period recreations. I do realise that one can't have everything. The
converter works well, so no complaints there.
Cost and Value
The Delta Via Veneto has an MSRP of $320, but it is available at Fahrneys for $260. I purchased
mine second hand but mint, for a great deal less than that, and consider this a wonderful bargain.
The Fahrney's price I consider well worth it, and would have bought the pen retail had that been
my only option.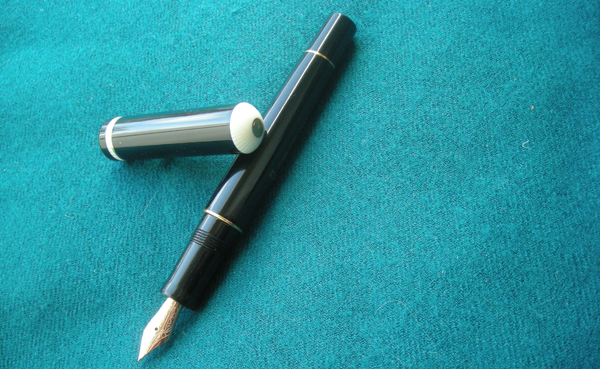 Conclusions
After owning this pen for just under a week, I can't let it out of my hands. I find its looks breath-
taking and its performance superb. For the life of me, I do not know why the Delta Via Veneto
has remained out of the spotlight. If you dislike black pens, take a look at the red one on some
retailers' websites. Highly recommended.
If interested, you can view more photos here, together with other Deltas:
http://www.fountainp...showtopic=78681
Hope this was useful,
QM2
Edited by QM2, 13 October 2008 - 03:49.