Omas Paragon Milord, Old Style
Slate Gray; with .6mm cursive italic nib by John Mottishaw
The old-style Paragon Milord is a remarkable pen. It is a good thing I did not buy it in the early days
of my fountain pen use when I was looking for just one impeccably-styled great writer, because
honestly that may have been the end of it. This is the kind of pen that could serve as your one and
only daily writer and you would not look back.
Sadly, the old style Paragons have been replaced by what I consider to be less appealing models. So
if you are thinking of buying one, act soon: only a few retails still have them on offer.

Others have written pretty good reviews of this pen's charms already, so I will try to add something
new. Here are just some of the features that make it special:
Impeccable Styling:
This pen radiates subdued beauty and good taste. You could say that it is
the "anti-bling" pen. The wow-factor of the Milord's looks is in the details. The faceted edges catch
the light just so.The cap is ever so slightly domed, and there is something extremely pleasing in the
way the edges meet at the top. And, that cute spinning ball at the end of the clip adds an element of
playfulness and gadget-appeal.
Perfect Balance and Feel:
This pen balances so well in the hand, that it feels weightless.
The writing experience is effortless; the hand does not grow tired even after hours of use. I prefer
the Milord model to the larger size Paragon, because the Milord has a resin section. I imagine that the
metal section on the larger model may diminish that experience.
Smoothest Piston Filler Ever:
This is the smoothest piston filler I own. Smoother than my
Montblancs and Pelikans. Just perfect; a pleasure to use.
Flawless Nib Performance:
The nib glides and waltzes along the page and has a light, effortless
feel to it. On a wetness scale of 0-10, it is about a 6.5. And the .6mm cursive italic nib by John
Mottishaw just takes the writing experience over the top.
What more can you ask for in a pen?

Of course to each their own, and not everyone will find this pen as attractive and comfortable as its
fans claim. Some might consider this pen to be too plain and boring; some may dislike the faceted
design; some may think the pen is not heavy enough; and some may even find that the nib is too
smooth, wet and light for their tastes.
But those looking for a subdued, refined, eternally classic pen with the features described here, should
give it a try. For me, the Omas Paragon Milord is a perfect fit. See here for images of it nestled in with
other flat-tops:
http://www.fountainp...showtopic=77477
and here for its frolics with other gray pens:
http://www.fountainp...showtopic=77945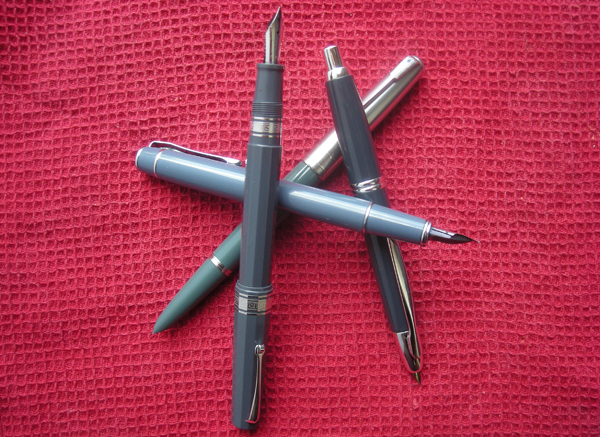 Hope this review was useful,
QM2
Edited by QM2, 03 October 2008 - 04:09.