PARKER DUOFOLD CENTENNIAL
Old Style: 1987 ReleaseFirst Impessions and Presentation
This is a review of the old-style Parker Duofold Centennial, which I believe may be part of the first
batch of these pens to be produced. I bought this pen at the NY/NJ Pen Show NOS. The pen was
laid out on the table without a box or paperwork, lost in a sea of other Parkers. But I spotted its
untapered flat-top form right away and knew it was destined to come home with me. Even though
this is a modern Duofold, the pen was over 20 years old at time of purchase. Its condition was
impeccable: New Old Stock and truly mint.

Design
What appeals to me the most about this pen, is its perfectly straight-sided design. I am in love with this
classic flat-top form and morn the day that pen manufacturers decided to implement the design change
that led to the eventual streamining of all pens. I have been considering purchasing a current production
Duofold for some time, but in the end would always decide against it, because both the Centennial and
International Duofolds now have the slightly tapered shape. I knew that if I wanted a true flat-top, I would
have to hunt down one of the earlier productions of the Centennial -- and lo and behold, there it was at
the NY/NJ Pen Show.
The pen is a full-size model: 5 1/4" closed, 5" uncapped including nib, 6 3/4" posted. It is black, with gold
trim, which to me is the most classic and best looking of the modern Duofolds. Normally, I dislike gold-colour
trim, but on several pens, including this one, it is an appropriate choice because of the historical significance:
The original Duofold came in gold trim only, and I like the continuity. Additionally, the reason I dislike gold
on most pens, is that it has a tendency to look cheap, fake, and/or gaudy. Here this is not the case. The pen
looks classic and well-made.
The filling mechanism is CC, as in all regular production modern Duofolds. The seller gave me a new Parker
converter when I bought the pen. One positive aspect of the CC system, is that there is nothing to break,
nothing to rust: Despite 21 years of storage, the pen filled and worked immediately.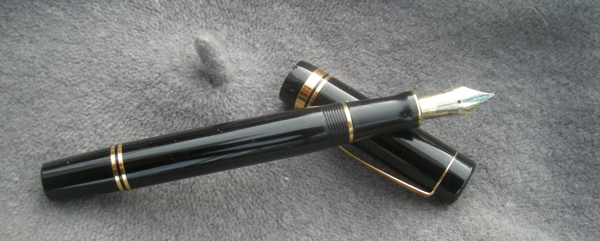 Nib
The nib on this pen is a Fine and writes more like a Medium. I took a chance, because the seller declined to
let me test the pen before buying it, given its NOS value. Happily, the pen wrote with no problems. The nib
is very smooth and is about a 7 on a 0-10 wetness scale. For many people this would in fact be their dream
nib. Unfortunately, I am addicted to XXF nibs and italic nibs, and find round, wet, Medium nibs tediously
boring. So I plan to have this pen reground to something more exciting in the future.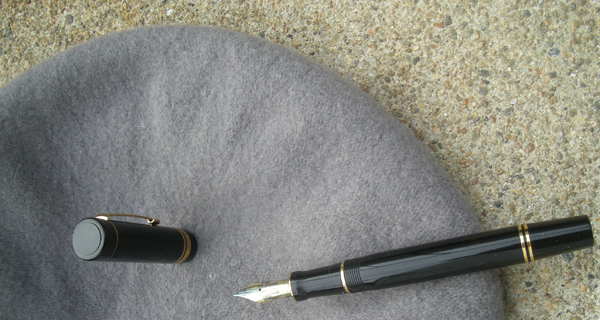 Other Interesting Details
When I bought this pen, I was initially confused about the lack of Parker insignia on the top of the cap
and posted
a thread asking about it, which you can read here
.
I then learned that these pens were made with blank cap-tops, so that they could be personalised using
special decals with the owner's initials.

Here is another image of the logo-less cap-top. The center is raised, rather than indented. I would be
interested to see what the personalised decals look like, if anybody has one of these.

Another interesting thing I learned about this pen, is that it is a very early production Centennial.
The inscription above the cap lip of my pen reads:
PARKER
MADE IN UK
PC
According to
Richard Binder's datecode instructions
, the "PC" indicates that this pen was produced
in the second quarter of 1987 -- while (from what I understand), the Duofold Centennial was officially
launched in 1988.
To me, the conclusion to draw from this seems to be, that the pen is part of the first production run.
If you think I am wrong or have any comments about that, please let me know.
Value
At $200 NOS, I think this was a good deal, even without a box. I do not see the old-style straight-sided
models on the marketplace very often, and the few I do see are usually used and offered at a higher price.
Conclusions
I feel quite lucky to have found this particular model Duofold, and it fits perfectly into my core collection
of modern flat-tops. And if I am correct about the date code, it is especially cool to own one of the first
releases of the classic Duofold remake. If you are not a fan of black pens, you may not see anything special
about this one -- but it is a must for Parker collectors and flat-top lovers alike.
I will end with an image of the Duofold and its new friend -- the Conway Stewart Duro Heritage, which is
almost identical in size and very similar in form.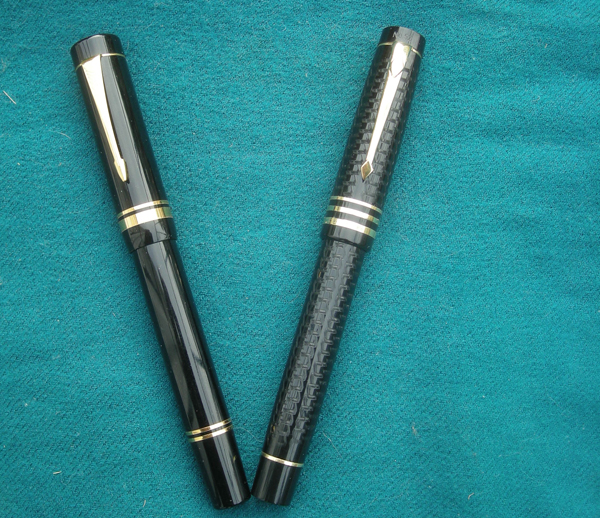 Hope you enjoyed this review,
QM2
Edited by QM2, 26 September 2008 - 18:33.