I just received a Parker 95 that I won on Ebay. It is a slender pen, much like my Falcon 50. The outside is silver with riblets running its length. It is accented with a gold ring and pocket clip on the cap, gold ring on the bottom, and the clutch ring is also gold. Either end of the pen has a black onyx-like recessed jewel. The nib is a plain wrap-around gold affair.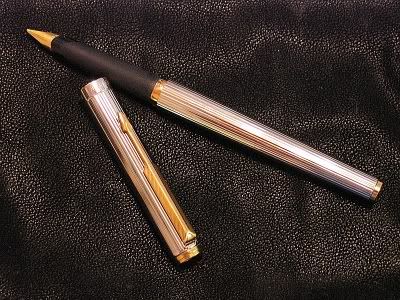 It came with Parker's usual twist converter, which works nicely.
The grip area is textured, which makes the plastic feel softer than it is. With the cap on, it is fairly heavy, but is a nice weight when the cap is off for writing. The cap seats and unseats with a dull snap, which takes a fair amount of pressure.

The length is also nice, I have no problems, even with my large hands. It is 5 3/16" capped and 4 1/16" uncapped.

The only negative is that the back barrel threaded insert is brass, but the threaded section on the pen is plastic. Actually, it looks like polycarbonate. Cross-threading this section is a concern!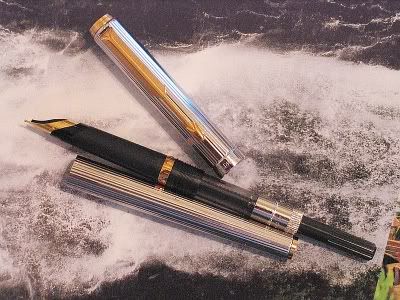 Okay, so how does it write? Very, very nice. This one came with a fine nib and it writes a nice fine line that is close to what the Falcon 50 produces, which is in between the Ellipse and the 100. Some may not like the line consistency, because it does not produce color variations like my Sonnets and 45s do. However, it is a joy to write with.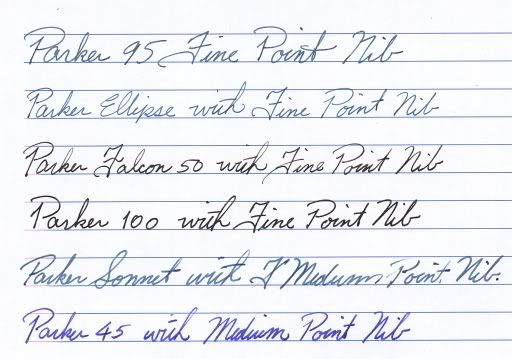 The writing example is on Kodak Inkjet printer paper. Yes, I used that line generator program to create a 3LPI page to write on. These pens have been discontinued, but are still available in various places as "New Old Stock."

-Bruce


(fixed a boo-boo)
Edited by FLZapped, 14 February 2006 - 23:50.