A friend of mine--another fountain pen addict--went to China this summer to adopt a little girl. While there he saw a "Picasso" fountain pen, which he bought for $8.00 U.S. He absolutely loves the pen, and it also has great sentimental value to him because of the circumstances. He did let me try it out, and although it's a finer point than I usually like, it wrote well.
However, he's never been able to find the brand elsewhere.
Recently, while browsing e-bay, I found several Picassos listed by a Japanese seller, win_world_jp. I ordered two, and they arrived in less than five days. Even with overseas shipping, the total cost for the two pens was $40.
I'm not set up for fine photography, so the following image is taken from win_world_jp's e-bay store. This is the Picasso PS-908 in yellow. (The pen my friend bought is the same model, in black). The color on this photo is pretty accurate; it's more of a pumpkin or butternut color than a lemon yellow.

I honestly cannot tell what the nib is made of. The booklet that comes with pen states that Picasso nibs are 12k, 14k or 18k gold. The Japanese seller stated that this pen had a 22k gold-plated nib. For the price, I'm guessing gold-plate. The English translations in the booklet are too eccentric for me to say that the manufacturer has promised that all its nibs are gold.
But whatever the material, the pen writes well. My sample below shows why I don't like fine points for every day writing; they tend to make me cramp my letters. But for note-taking, they're hard to beat.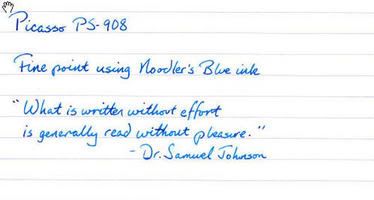 This is an excellent pen for the price. And I would also recommend win_world_jp, who has only been on e-bay since August, but has managed to score 270 positive feedbacks, with no negatives that I could see.
Bear
Edited by Bear, 04 February 2006 - 17:56.