First Impressions
I never really had given too much thought to this pen, to be quite honest. In fact, I never really cared for ebonite pens with the wood grain pattern on it. I was looking at older Conklin pens that had this very odd looking filling mechanism and I was intrigued. I never really gave it a second look before but it may have been the good coffee that I made that day but it really struck me as kind of cool. It is an interesting alternative to a lever filler or what not.
The modern pen that really sparked my interest that has a crescent filler is the Visconti Copernicus. Unfortunately they were way out of my price range but I was still on the lookout for a used one somewhere at a god deal. Well I stumbled on to a few other websites that had this pen, Stipula Saturno with a crescent filler on it and it really called to me!!! I was extremely happy with my Stipula Novecento red/black wood grain ebonite pen and the wood grain was really growing on me. Well there were only a few colors of the Saturno out there and they were the Ivy Green and the olive Green colors. There might be a few other colors out there that I am unaware of but I would be very interested in looking at.
The Pen came in a brown oval wood box with the words "Stipula" on a silver looking raised metal plaque attached to the lid. Inside the box was cream colored satin pillow like material that surrounds the pen and a clip hidden under the satin pillow to hold the pen in place. It really was not a fancy looking box but then again, you are buying the fountain pen not the box!! Since this pen came from Canada, I was expecting it to be here a few weeks but surprisingly it was at my door in about 5 to 6 days. This is super fast considering how long it takes to get mail in from Canada.
Appearance/ Finish
5 out of 5
When I ripped the shipping envelope open, I was really excited to see what the pen looked like. I am not a big fan of green or wood grained pens up until I bought my first one, which is a Novecento red and black wood grain ebonite fountain pen. Since then I really have started to like these kinds of pens, especially with the classic 1920's wood grain ebonite styles. When I first laid eyes on this pen, it was love at first site. The green wood grain ebonite patter really went well with the overall style of this fountain pen.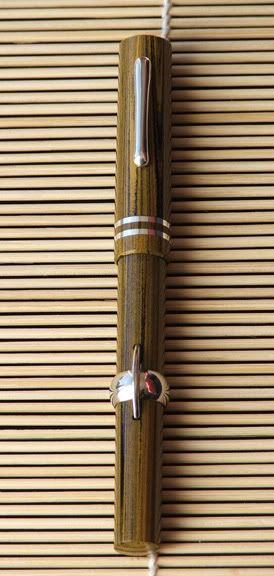 The crescent filler, safety ring, clip and the 2 cap bands are done in what looks like sterling silver. This really gives the pen a classic style with a slightly modern appeal to it. The Barrel, section and cap are shined enough to give the pen a bright appearance without over doing it with the "High Pro Glow". The wood grain is very pronounced but yet looks extremely natural. The Olive color on this pen is not outlandish at all, even though when people first think of a green pen, they think of it with fluorescent colors. This is not true at all; the color is very conservative yet subtle and easy on the eyes. The color reminds me of steamed peas on a dinner plate.
Design/Size/Weight
5 out of 5
The size of this pen is extremely close to that of the Novecento. The Saturno is part of the Novecento line and without the crescent filling system, the pen is almost identical. One of the main differences is the flat cap on the Saturno and the simple design of the clip along with the two smaller and subdue cap bands. While the Novecento has a cap band that on the cap that resembles a silver wedding ring, the Saturno has a lower profile design. The length of the pen is approximately 5 3/8th and the girth is roughly 1 3/4th inches. The length of this pen with the cap posted is around 6.4 inches in length. The weight of this pen is a bit more than the standard Novecento and weighs in at over 1.3 oz due to the extra sterling silver parts contained in the crescent filling unit.
This is a standard sized pen by all accounts and it can fit into most peoples hands without any real issues. I tend to post the cap on this pen but it really is not necessary because the pen can easily sand on its own. The pen is extremely well balanced and writes well with or without the cap posted. One thing that might annoy people is the location of the crescent filling unit. For me, this does not get in the way at all in my style of writing but for others, it will. For instance, my wife cannot write with the Saturno due to the fact that the crescent does not fit well and tends to get in the way while she writes. That can be a good thing because it is one more pen that she doesn't write with in my fountain pen collection!!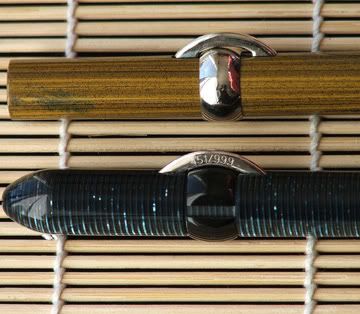 This is a pen that should be tested out at a pen show or a B&M store near you, that's if they carry this pen. If you are used to vintage pens and ones with a crescent filler, then I am sure you can adapt easily to this one!! This is a nice modern touch to an overall classic style fountain pen.
Nib Design and Performance
5 out of 5
Well, with this pen, I was given a few choices of nibs when I bought it. The gentleman who sold me the pen gave me the option of a Fine Medium or 1.3 Stub. I chose the broad 1.3 stub nib. He gave me a guarantee that if I didn't like the 1.3 stub nib, he would gladly send one of the other nibs in its place. So this was an offer that I couldn't refuse!! I used this pen with the 1.3 stub and it really is a nice combination but I decided to swap nibs with my Stipula Etruria Ocean Blue. So I put the 1.3 stub on the Etruria and I put a nice smooth medium nib on the Saturno. It worked out perfectly and that is the combination I am using right now!!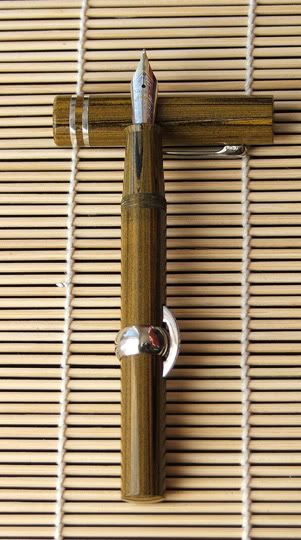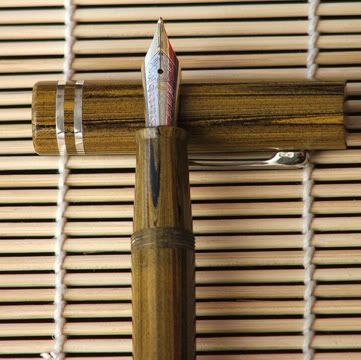 The nib is the standard 18kt gold 2 tone nib unit that screws in like the Pelikan and other nib units from Bock. And yes, this nib is made by Bock and it is wonderfully smooth too!! This has a very nice and heavy ink flow that is a trademark of Stipula's broader nibs. The nib writes more like a broad than a medium and there are absolutely no complaints here!! Stipula did a wonderful job with its communication with the Bock Nib Factory of Germany. So if you like Stipula nibs and the buttery smooth characteristics that this nib is known for, then look no further. There is no change here when it comes to quality and it shows you the consistency of these world class nibs. The choice of nibs for the Stipula Saturno are:
18k Extrafine
18k Fine
18k Medium
18k Broad
18k Oblique Broad
18k Oblique extra broad
18k Italic 0.9
18k Italic 1.1
18k Italic 1.3
18k 52 degrees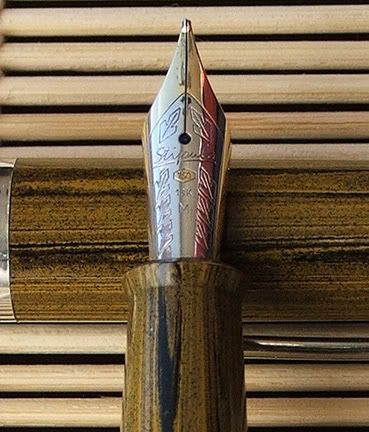 The Filling System
5 out of 5
This is probably the most unique part of this pen and it is the Crescent Filling System!!! The Crescent Filling System has its roots buried deep within the early turn of the century buy Conklin Pen Company. I found some interesting information about the origins of the Crescent Filling System on the internet at:
http://en.wikipedia....ling_Mechanisms
"The Conklin crescent filler, introduced c. 1901, was one of the first mass-produced self-filling pen designs. The crescent filling system employs an arch-shaped crescent attached to a rigid metal pressure bar, with the crescent portion protruding from the pen through a slot and the pressure bar inside the barrel. A second component, a C-shaped hard rubber ring, is located between the crescent and the barrel. Ordinarily, the ring blocks the crescent from pushing down. However, when it comes time to fill the pen, one simply turns the ring around the barrel until the crescent matches up to the hole in the ring, allowing one to push down the crescent and squeeze the internal pen sac."
This is as easy as a lever filling pen and I have to say that in my opinion that the crescent fillers seems to hold a bit more ink than standard lever filling pens. I really like the safety ring feature that prevents accidental ink discharge from the pen. This can save you money when it comes to damaged or soiled shirts, clothes, carpets and yes the unsightly inky fingers syndrome or otherwise known as IFS.
As I stated earlier, I swapped out the 1.3 stub for a medium nib because the 1.3 uses a ton of ink and I have to fill the pen quite often. So I decided to swap with the medium and now the pen uses as much ink as any other pen I have in my collection. Within 4 months of purchasing this pen, I had to send it in to my repair man, Ron Meloche. All it needed was a new sac and that was about it. A very simple procedure that is very quick because there is an O-ring that holds the sac in place, so no shellac is needed to keep the rubber sac in place. Yes, with the older style filling method, you have to be conscience about the sac but repairs are very simple and cheap.
Cost
5 out of 5
Ok, here is an important factor for a lot of people when it comes to buying a new fountain pen or any fountain pen. The retail amount of this pen is roughly around 345.00 Euros or $420.00 USD form Pen Emporium, or $304.00 USD through Giardino and the cheapest I have seen this pen brand new is at Airline International for $285.00. These pens are becoming increasingly more difficult to find and if they are found they are expensive. Thank goodness for the Pentrace Green Board. The gentleman from Canada was selling this pen for $135.00 including shipping costs. I usually refresh the Green Board as I look on there especially when I stay up late on Friday and Saturday nights. As soon as he posted this pen, I bought it within 5 to 10 minutes of him posting. I was so happy to get a reply back from him saying that the pen is available if I wanted it!! That's when he gave me the choice of nibs for this pen.
Would I pay $285.00 for this pen? Probably not!! I would pay the mid to high one hundred for this pen and luckily I didn't have to spend that much. This was not my first choice in color but once I opened up the box, I am glad I took the chance and bought it. For the money, you get a lot of pen, maybe not in size but in use and writing pleasure, you get your moneys worth.
Conclusion
This is a classic looking pen that pays homage to the pen of the turn of the century. The materials are somewhat the same and with a tried and proven filling system, you cannot go wrong. This is a pen for people who like modern pens with the touch of class and style of vintage pens of the past. Since this pen has a unique filling system, I am sure you will have people turning heads to see what you have in your hand. The pen is built solid and it will give you many years of use. Stipula created a classic and conservative line of fountain pens in the Novecento line. Since the Saturno is part of the Novecento line, they decided to create a pen that is a tribute to the roots of the fountain pens of yester year. This may not appeal to everyone but in my opinion, it seems to bridge the gap between the vintage collectors and modern fountain pen collectors. A modern made fountain pen that stays true to its pioneering predecessors and one that pays tribute to the technology of the first few years of the 20th century.
I rate this pen extremely high on the Savage Review and give it 2 thumbs up. Although this is not a pen for everyone, those who buy one will swear by its reliability, modest looks and everyday function. I guess that was on the mind of the first fountain pen makers, make something that works, make it reliable and make it look nice. Well, they achieved all three goals and then some. Stipula gets a round of applause from me!!! Good going Stipula, Bravo!!!