I ordered this vintage Sheaffer Oversized Balance in Black and Pearl from David Isaacson along with another OS Balance – the Marine Green Balance pictured below, which has become my all around favorite pen – while I was in India in 2007. I waited something like 9 months to get to see these pens – it was brutal. I'd have had them sent to me, but I was staying in a place where the success rate of mail delivery was less than 50% … and so I waited … and waited … and waited …
The Balance was introduced in 1929. The streamlined shape is a hallmark of this pen, and I'm a big fan of the lever filling mechanism. The two pictured here are both from the 1930s. (For more reference info, here's a review that compares a vintage and contemporary Balance -
http://www.fountainpennetwork.com/forum/in...howtopic=55429)
. I fell in love with the size and heft of this Pearl and Black Balance (I think this one is the biggest size OS ever made). Now, I like a lot of pens, but I think the only modern pen I enjoy holding as much as a Balance is the Aurora 88 piston filler. I know this is a matter of taste, but these OS Balances feel like they were made for my hand. And that celluloid has a warmth that I think very few modern celluloid pens can rival. The only problem with the Black and Pearl was that the nib was a nail, and I just couldn't get used to it. The pen was in fantastic condition, and it wrote very smoothly … but try as I might, it just wasn't working for me. Nothing wrong with the pen itself, just a matter of individual proclivity.
In any case, because I love the size and weight of this pen, and given its excellent condition, rather than sell it I decided to send it off to Greg Minuskin to see if he could retip it and grind it as a BB stub. I've had him work on two other pens – a Lamy 2000 that I sold because I felt guilty about never using it – and a Pelikan M800. His work on both was absolutely phenomenal, and the turnaround time was less than two weeks for both – in fact, from the time I sent them, I had them back in hand in 10 days! And the Pelikan M800 is hands down my favorite pen for letter writing, and second only to the Marine Green Balance as an all around, everyday writer.
The Lamy and the Pelikan were both reground from BB nibs to stubs. The Balance would require both retipping and regrinding. I was a bit uncertain as to how this would come out considering that the nib was going from a fine to a BB stub. But given my past experience with Greg, I couldn't imagine it would come out bad. Well … when he sent the pictures, I could hardly believe my eyes (I've included two of his great photors from that email at the bottom – and I apologize for my less than stellar photos … I'm using a cheapo digital with no macro function).
I mailed the pen on July 30 (USPS 1st Class) and got it back yesterday, August 9 (USPS Priority – NOTE – that's only 10 days!). I'm simply blown away with Greg's work. Really. The nib looks absolutely incredible. I immediately filled it up with Nooder's Black and it writes astoundingly well – smooth, great ink flow … and look at that hunk of iridium! Is that not amazing? Additionally, Greg fixed a small spot of discoloration on the nib – free of charge. Could you ask for better customer service? To sum it up, I am as happy as can be with this pen. And I'm loving the hybridity of the contemporary craftsmanship with a 70+ year-old writing instrument. Plus, there's something about the pen being a one of a kind that very much appeals to me … and, of course, that it's mine
.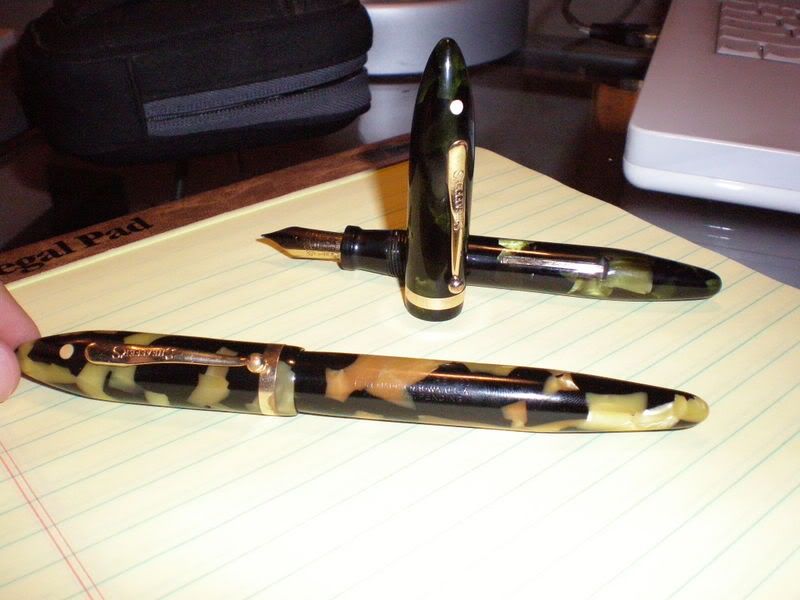 Pics #1 and #2 both the Black & Pearl and Marine Green Balances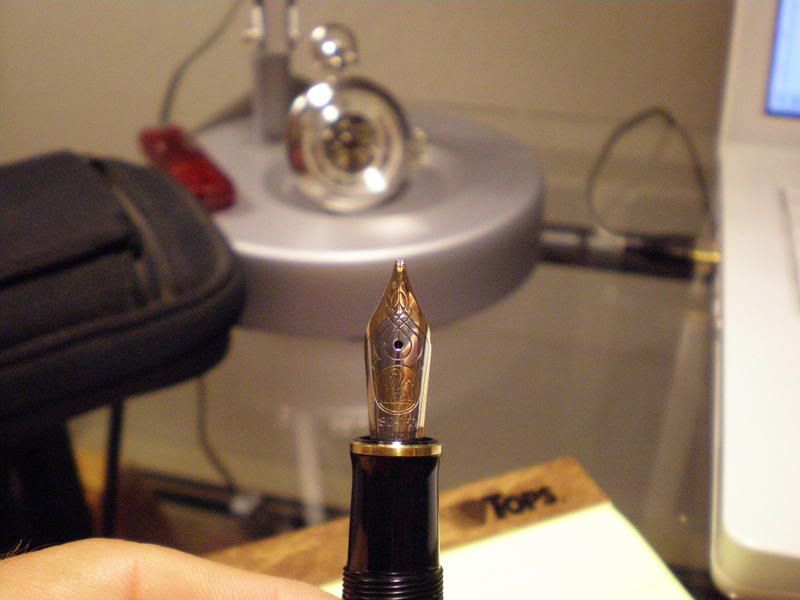 #3 the Pelikan M800 BB Stub by Greg Minuskin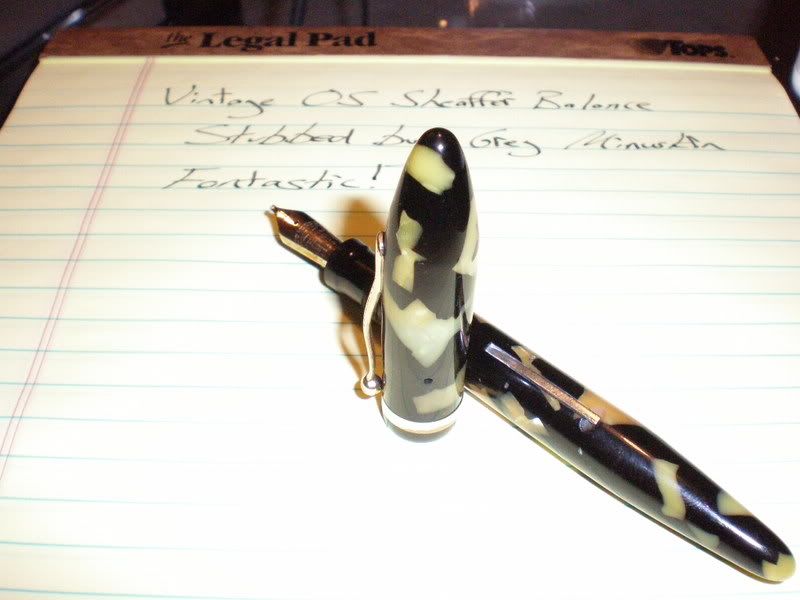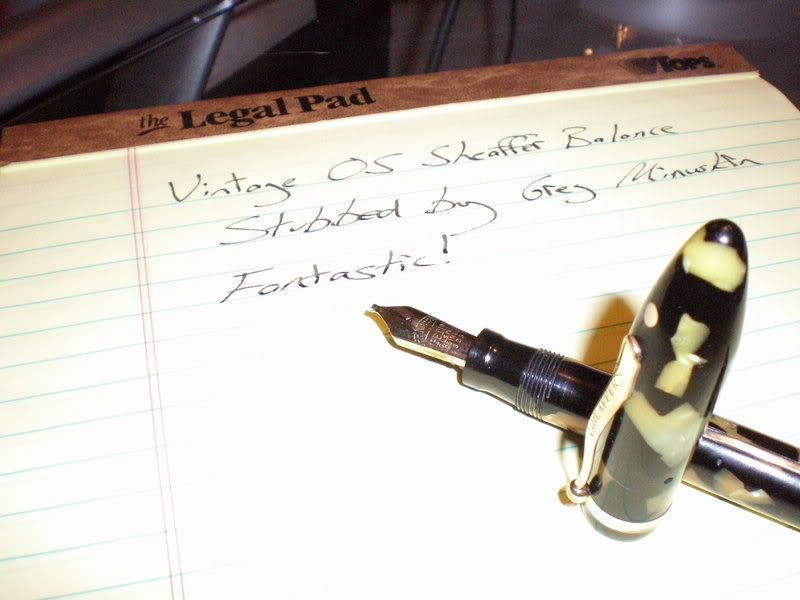 #4 & #5 the Black & Pearl with writing Sample on Rhodia paper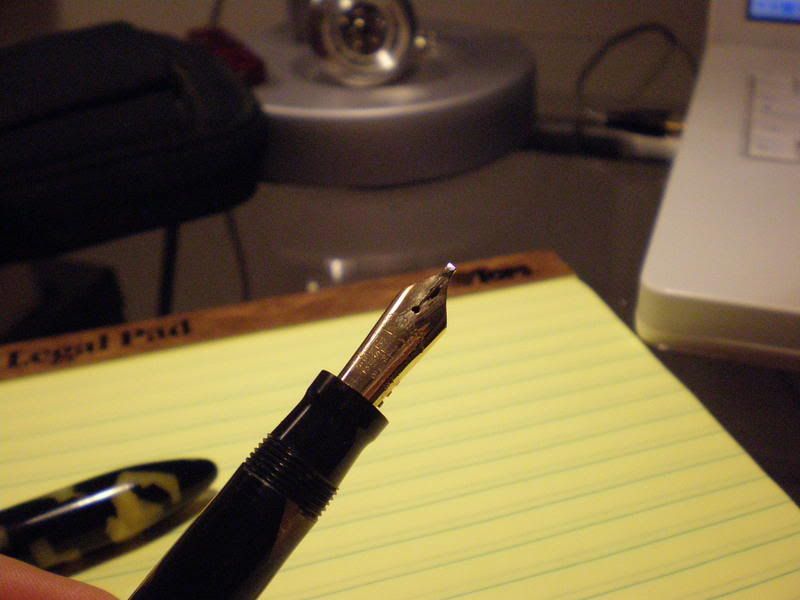 #6 the Black & Pearl Stub by Greg Minuskin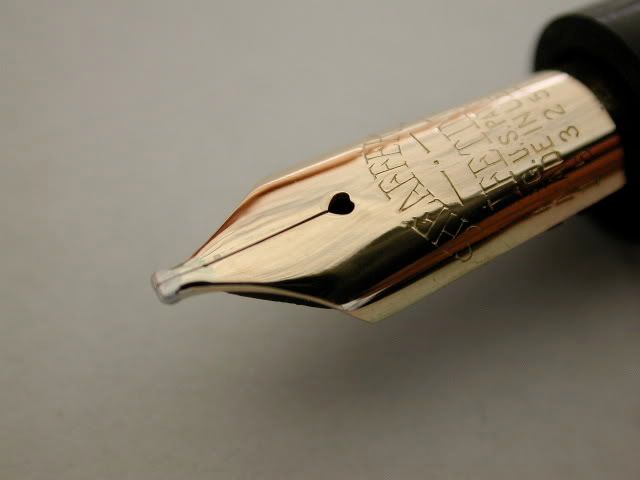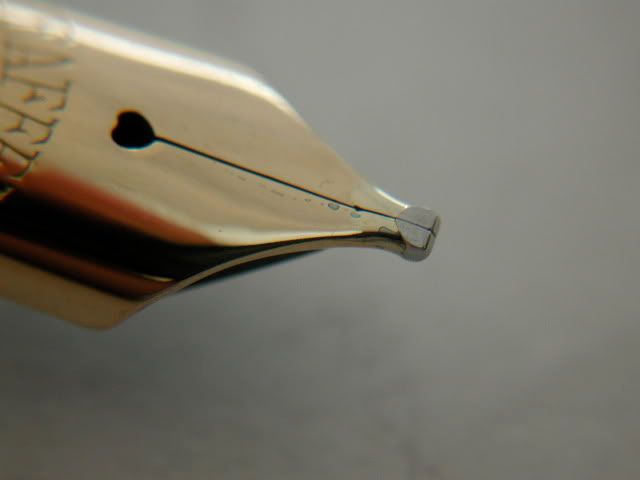 #7 & #8 Pictures of the Black & Pearl Stub from Greg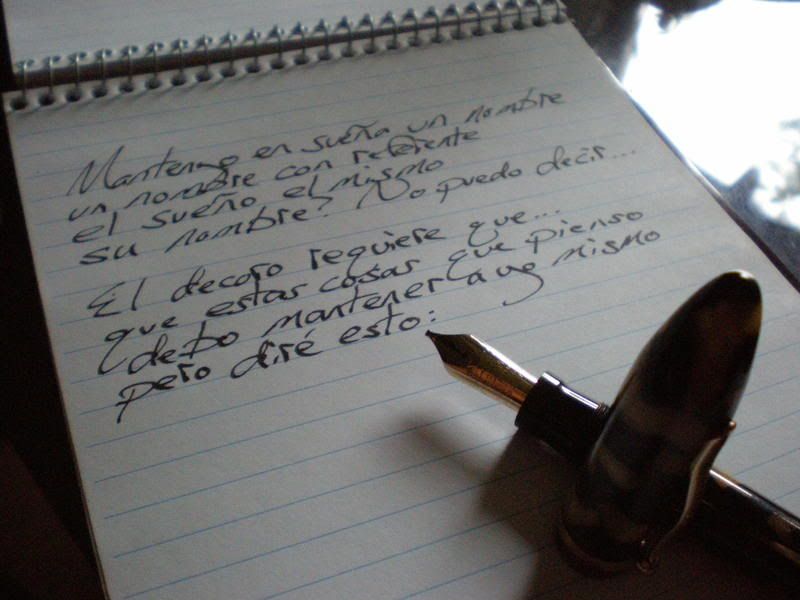 #9 Another writing sample (a tidbit of "Quemo para ti", by yours truly) on 100% Recycled New Leaf paper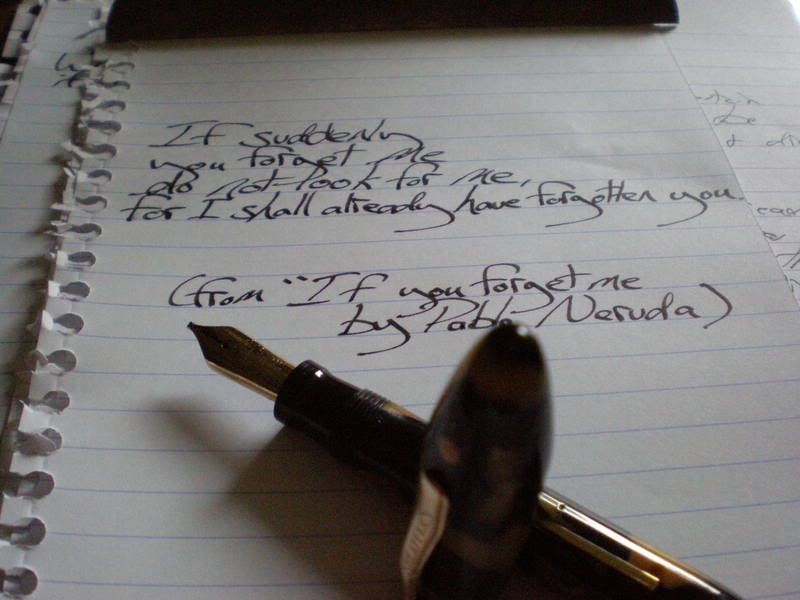 #10 Last writing sample (from Neruda's "If you forget me") on Clairefontaine paper.
Edited by JRodriguez, 12 August 2008 - 02:05.