Initial Impression: 8/10
This pen comes in a very nice shiny box that is covered with a box, then an outer box, that sits in another outer box... Whew! I guess they wanted the box (#1) protected... The most inner box is very nice though, its definitely a display box, sorry about all the lint on it in the pic. So before you read the rest of the this review remember that I just got a Visconti Romanica a day before I got this, and this is a very large pen, so when I first opened the box, it seemed very small. After using the Romanica for a day, then seeing this, it was like a mini pen! But after a few days, I got over that a little bit...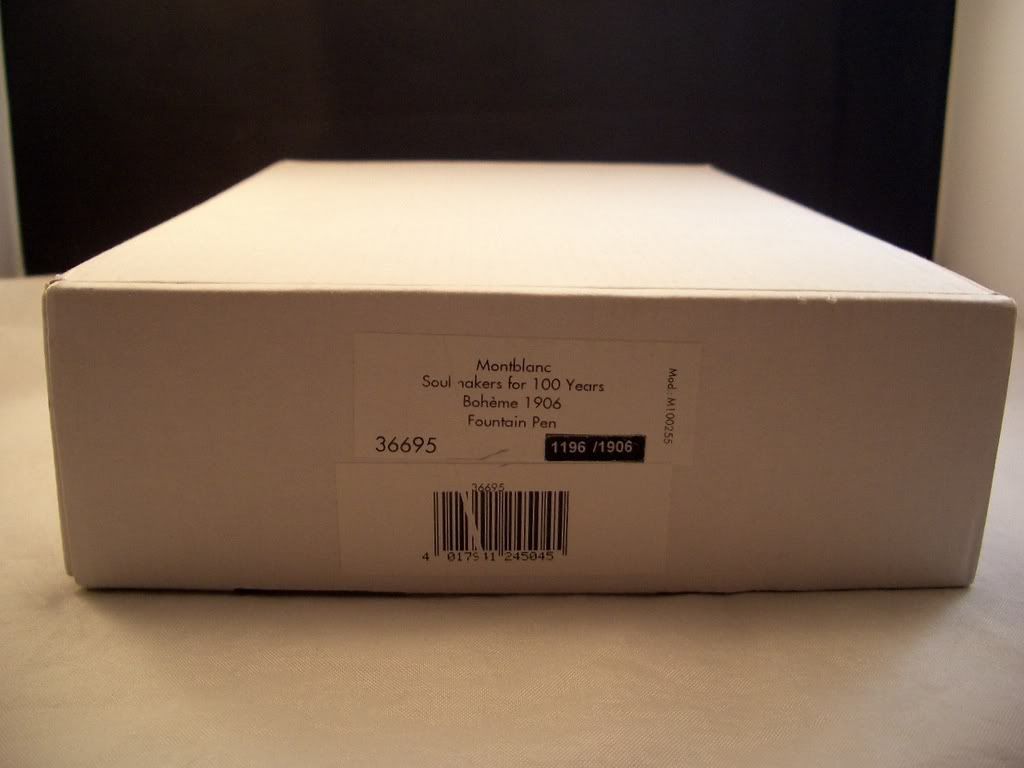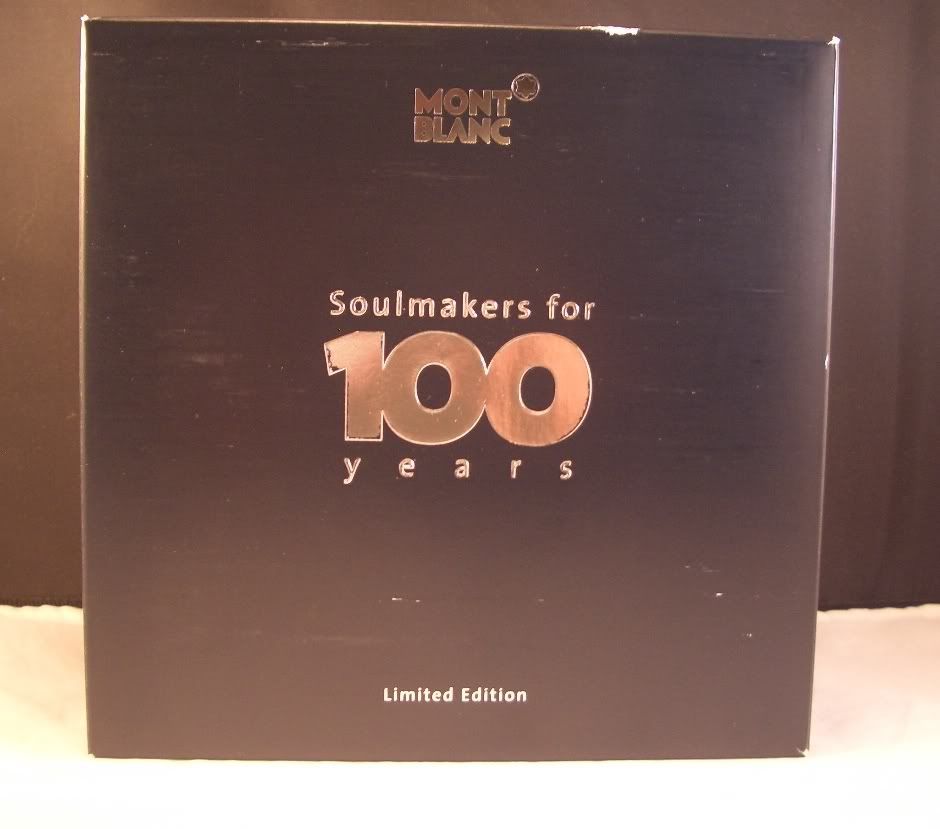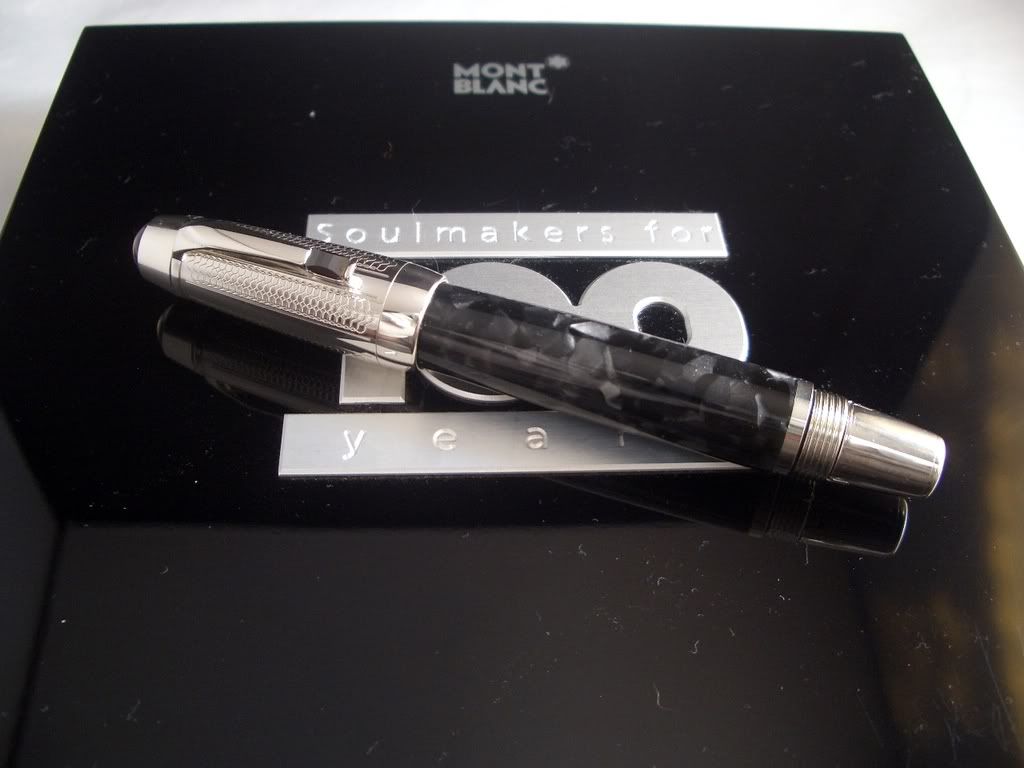 Look/Finish/Hardware: 10/10
Well with out saying this pen is very nice. The body is made from resin and the rest is plated platinum. Also instead of the Montblanc star it has a 43 faceted Diamond in the shape of the star. One thing I like about this, is that the diamond is not right in your face, you really have to look for it. So many MBs with diamonds scream out... Don't get me wrong, I do like some loud pens, (Visconti Ripple, Romanica...) But, this one is done very classy I think. One of the main selling points of this pen was the cap. The overlapping stars is very cool. I first saw this on the 146 size, but after I was told the price on it, I decided that a pen worth more than my car was probably not the way to go
I'm not real sure what the stone is on the clip, butI'm sure its synthetic... I would be very surprised if it was not...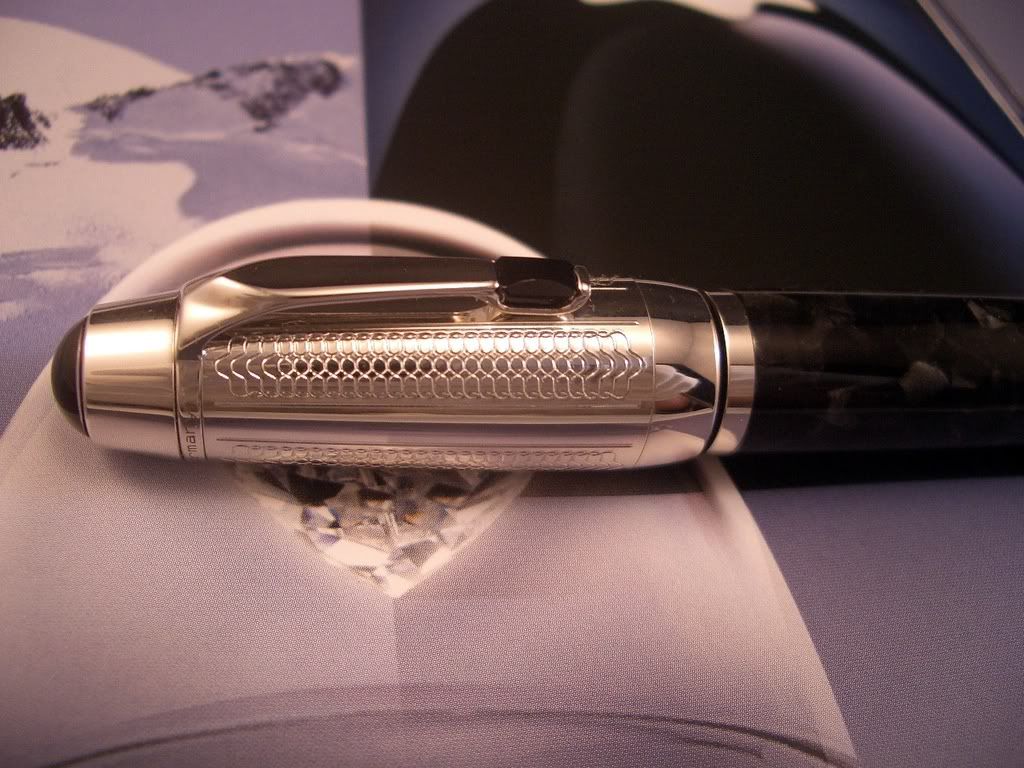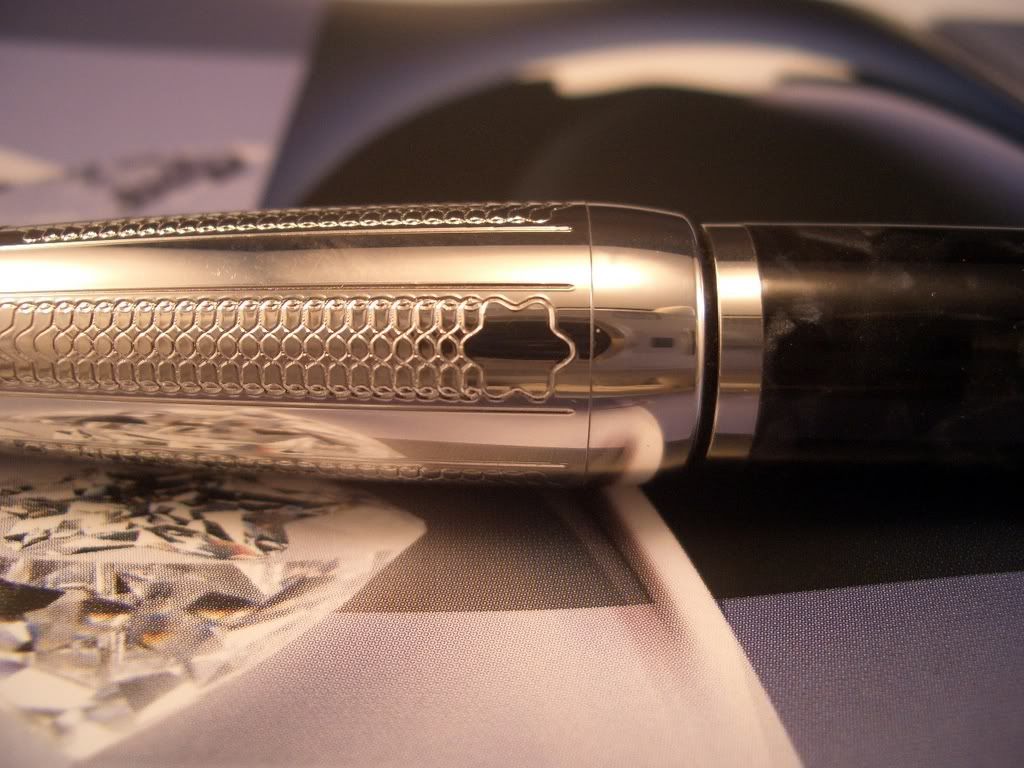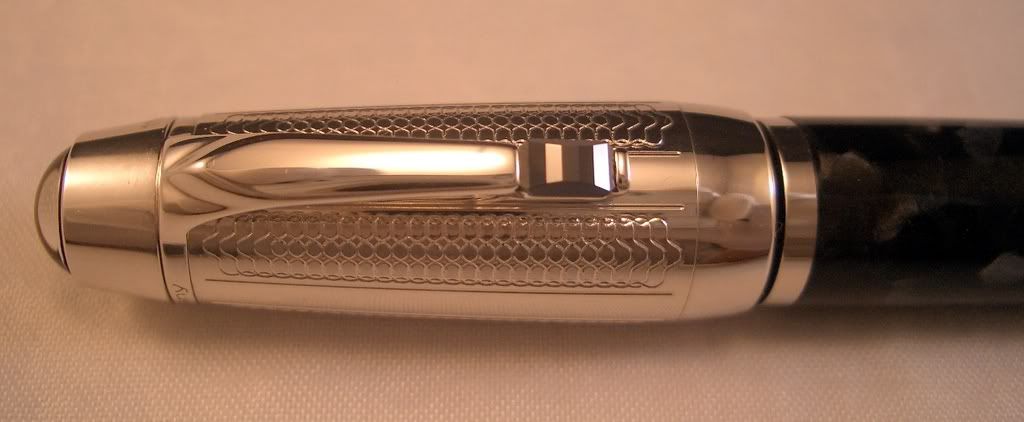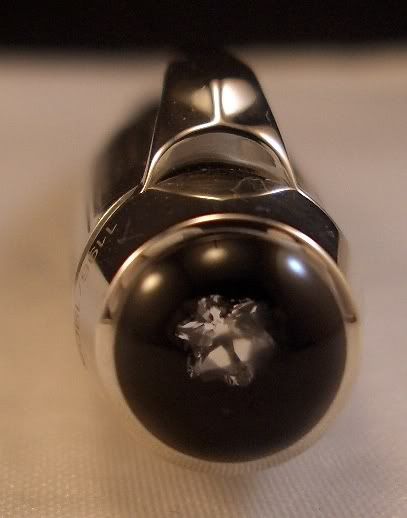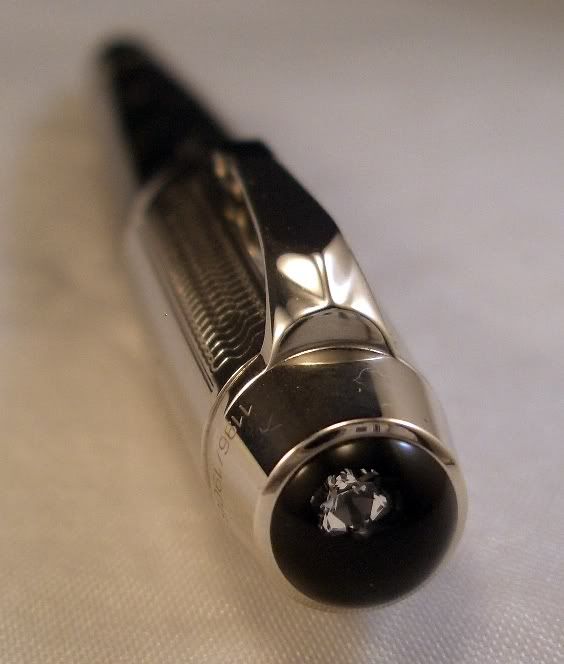 Feel/Balance: 6/10
The body of the pen feels very nice when it comes to its weight. This pen is WAY to small to write with un-posted and with the retractable nib, its meant to written with the cap on. It has great balance, but once again... I like big pens... So, its not that its not a greatly balanced pen, its just a little to small for me. But the weight is good.
Filling System 5/10 Nib: 10/10
The filling system is a Cartridge, with no possibility for a converter... This is one thing that drives me crazy about the Boheme's, I don't like using cartridges... You put one in and your are forced to use the whole thing or throw it out so you can switch up the color. I still have yet to see a converter that works for these pens, and I have tried a few...
The nib was worked on by Mr Binder, Richard Binder
so you know its "money". It at one
point
a medium nib, but was transformed like a beautiful butterfly into a stub. This the first time I have ever used a stub... Now I see the light! Very fun! It has some great variation and is very smooth.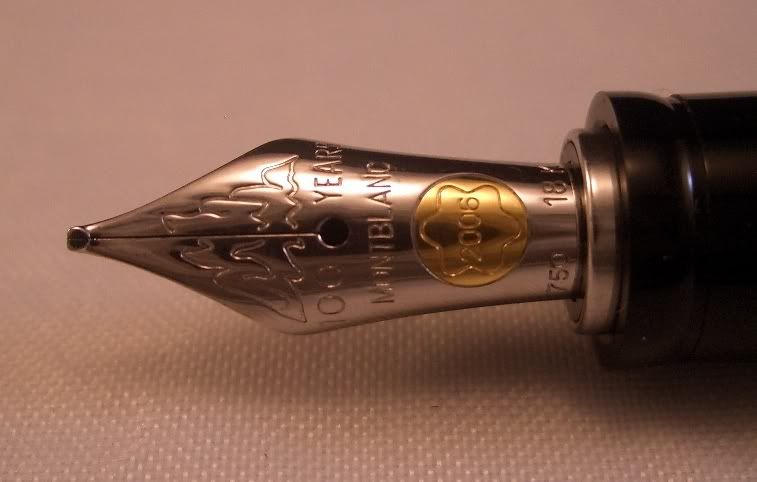 Price/Value: Retail Price 5/10 Price I paid 7/10
I think that the retail price on this is too much, but I understand that diamonds cost... But I would not have bought the retail price for it...(I think it was over 2k
) I paid a much less than that, and if I didn't mind the fact of the size, I would be very happy, but since it is "too small" for me, I am pretty sure this one will go up on the auction block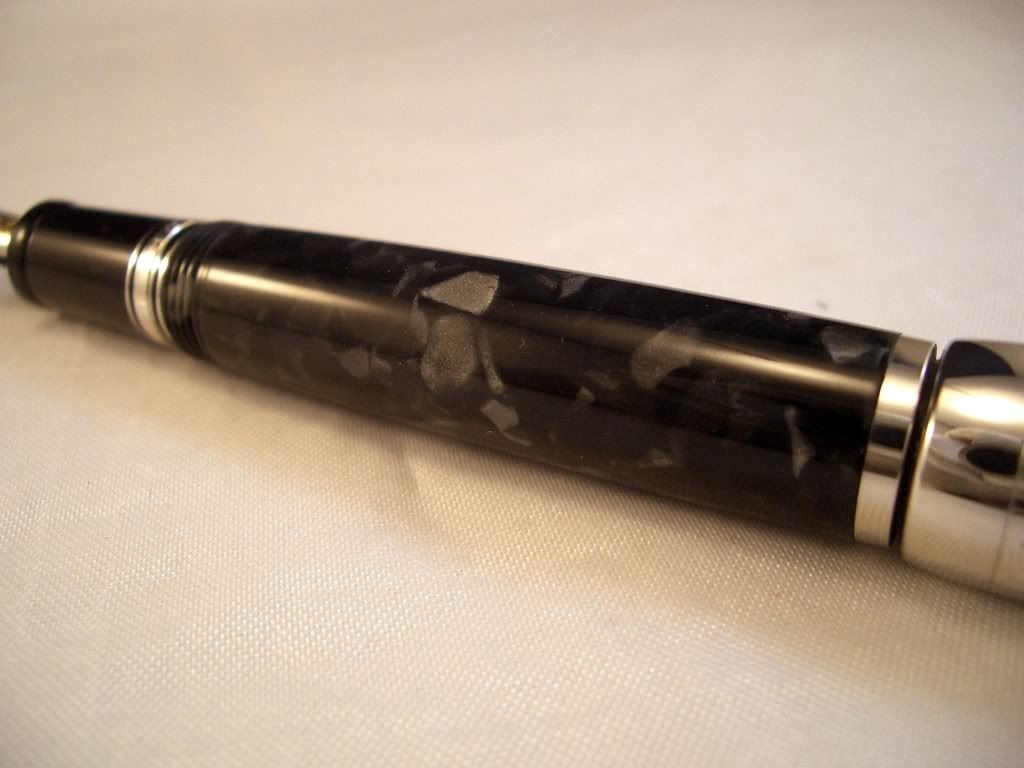 Overall: 7/10
So, if you like smaller or "regular size" pens, and cool gadgets, like retractable nibs, this kind of pen is for you. I would say if the pen was a little bigger, this pen would stay with me forever, but I just don't see it getting used as much as a pen this price should be. Above and beyond the size and cartridge filling system this pen would be 9/10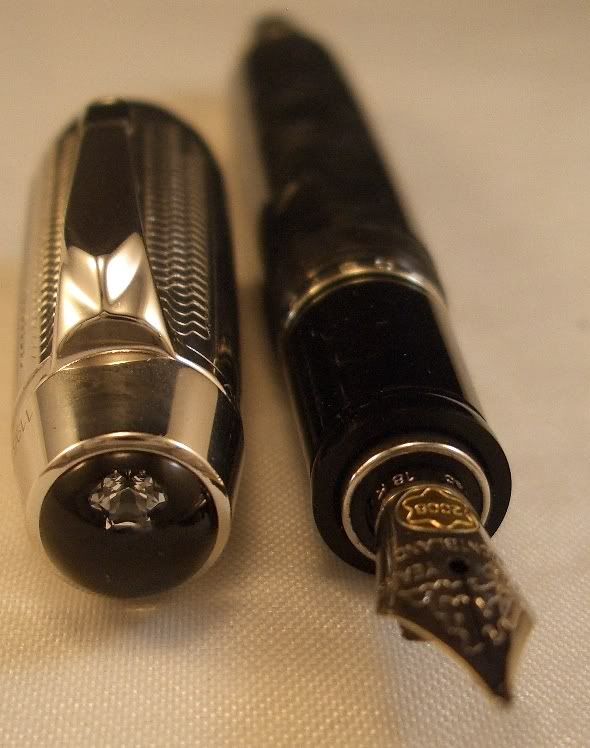 My Visconti Romanica eating my MB... Yummy!
Man I'm a (bleep)...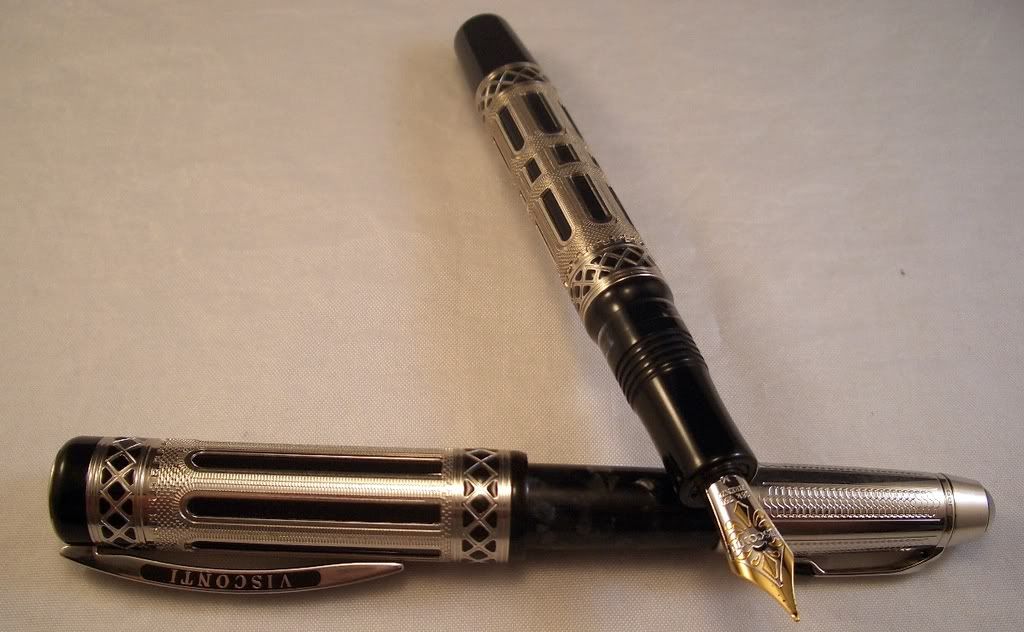 Edited by Bryant, 03 August 2008 - 22:09.