Conway Stewart Scribe 330
Semi-Flex Nib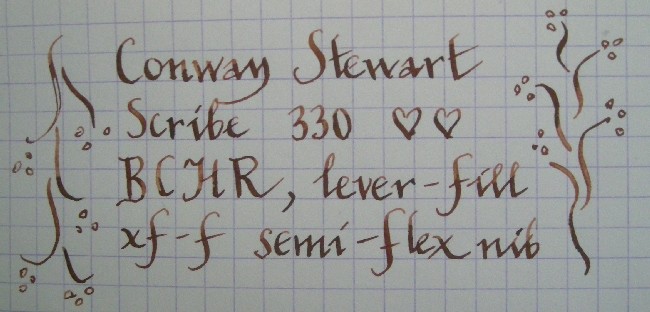 In the realm of vintage Conway Stewart, the Scribe is not a particularly glamorous, remarkable, or rare model.
But it certainly is an excellent fountain pen.
Produced in plentitude between 1931 and 1942, the Scribe No. 330 is a "domed flat-top", made of black
chased vulcanite -- the English term for hard rubber.

It is clipless and has no metal hardware, except for the nickel-plated "lollypop" lever. This, in combination with
the conservative houndstooth pattern chasing, the straight-edged barel, and the domed cap, gives the pen a
clean and elegant appearance.
The barrel imprint (mine is quite crisp) reads:
"SCRIBE" No.330
Conway Stewart London

The Scribe 300 is a comfortable standard size: 5 1/4" closed, 6 5/8" posted.
Here it is closed and posted next to an A5 Clairefontaine pad:


Notice that the 330 model has threads at the bottom of the barrel for posting the cap. This pen is probably the
most comfortable of my BCHRs in terms of size, weight, and grip. The Scribe was marketed as a daily-writer
model, hence the name, and it is certainly perfect for that purpose.

The nib on this Scribe is a Fine semi-flex, marked "Conway Srtewart 14ct gold".
The nice thing about this nib is its versatility. When used with a light touch, it puts down a remarkably
precise XF line. With a moderate touch, it produces a bit of line variation, but remains easy to handle.
And, with pressure, it is quite capable of flex.

Yes, this writing was produced with the same pen. You can use it both as a daily writer, and, if you wish,
for calligraphy, or as a "signature pen". This versatility is characteristic of many CS nibs of this period,
and is only one of the many reasons to appreciate early vintage Conway Stewart fountain pens.
The Scribe 330 can currently be found in excellent restored condition for well under $100 USD.
I purchased this one from Barry Rose at Writetime, who is wonderful to deal with.
Of course, you must like flat top designs and BCHR to appreciate this pen. All the usual HR caveats apply:
do not soak it in water for a prolonged period of time and do not leave it in direct sunlight, as this may cause
the rubber to discolour. And, as usual with vintage pens, condition and restoration quality are key in how
enjoyable your experience will be.
I would recommend the Scribe 330 to anybody looking for a starter vintage Conway Stewart pen,
or for a nice, reliable BCHR. It is an attractive and durable daily writer.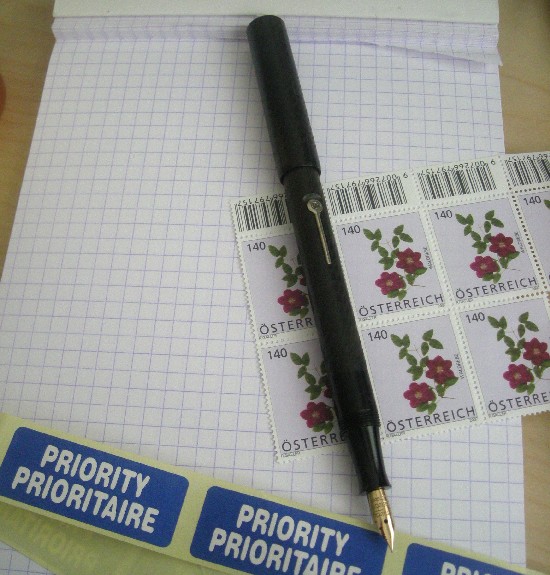 Edited by QM2, 26 July 2008 - 09:01.