There was a request for reviews of Esterbrook renew-point nibs a while back, and now I have access to a scanner I thought I'd oblige with a review of my favouite Estie renew point - the 9128 Extra flexibile extra fine. I won't try to put numbers to it, as I find scoring pens a little worthless, but I will do my best to explain the thing.

First Impressions
Everyone Loves Esterbrooks. I don't think you can see a J series in the flesh without falling in love with their looks and their somewhat dated post-war look - bubbly circles and clean lines make it as distinctive as the Parker 51. The Esterbrook Pen company is a good example of a company which survived the technology leap from dip to fountain, but unfortunately they lost out to the biro. I received this pen uninked as a lucky eBay find, and it felt just like I'd bought it from the shop in a time warp! I have now had two pens New Old Stock, and I find that I have a special affinity to them as their first user.
Appearance and Finish.
What a looker! The marbled finish on the J series is wonderful, but the "Dubonnet Red" must surely be the finest of them all. On top of that, I polished mine up with Renaissance Wax and it's so shiny that the magpies eye it through the window. The smallish 9128 nib suits the SJ, and when I put a 2668 into it once it looked oversized for the pen.
Design/size/weight.
I've tabulated the measurements in the writing sample, below. The pen is small in the hand, and very light - I think these are celluloid rather than plastic. This is the spoon-headed style of lever, and is a double-jewel type body. Even though it's small, I don't find it uncomfortable to use - and I usually shy away from smaller pens.
Nib
The real
point
of the review! (yes, pun intended).
The 9128 is a respectable flexi. It can do copperplate elegantly, and the steel construction means it's virtually indestructable. Mine was a little scratchy out of the box - it is very fine, after all - but soon relaxed after a bit of a flex workout. The line is medium-wet, and it doesn't deposit blobs at the flex, like some pens do. All in all, very satisfactory!
Here, I will post the writing sample to demonstrate performance: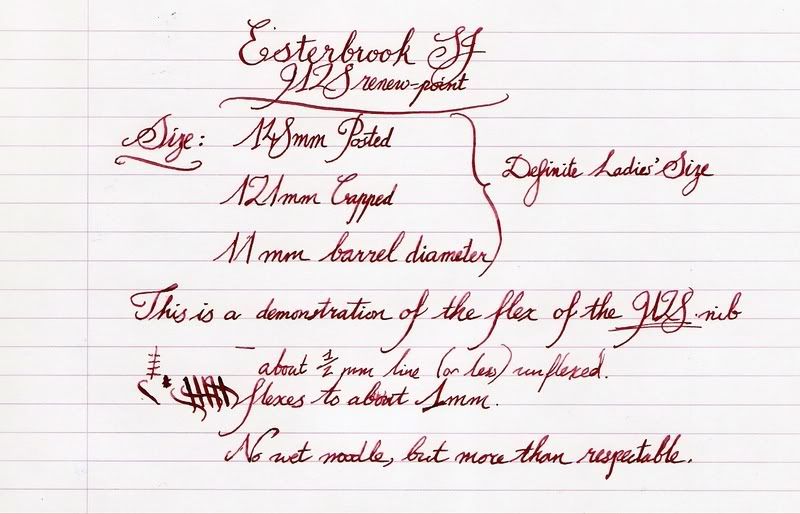 Filling System
A Flawless lever filler. Indeed, these fillers are very robust and rarely do sacs need replacing, in my experience.
Cost/value
These can be had for between £10 and £20 ($20 - $40) depending on condition. I absolutely think that a good condition J series with a 9xxx nib is worth $40, though some might disagree.
Overall - This nib is a lot of fun to use, and was my first proper flex nib. Though I now have several Flexies, this remains one of my favourites. The pen itself is a joy to use.

Thanks for reading - this is my first review, so feedback is appreciated!