Stipula Ventidue (22) - Review
First Impressions
I was always curious as to what it would be like to write with a titanium nib on a fountain pen. I have heard mixed reviews on this pen and I was really unsure if I really wanted to shell out the money to get this pen or not. It really is a nice looking fountain pen with several colors to choose from. So I decided to go against my sound judgment and step out of the box and give this pen a try. I was always intrigued with nib flexibility and I wanted to test drive a flexible nib. So I decided to try this pen out because using an alternative material nib would really be quite interesting.
Appearance/ Finish
4 out of 5
The Stipula 22 came in a rather large box with a bottle of ink. Deep inside the box, I found the pen and an instruction/warranty booklet. There really was not much to look at because the piston filler is universal, at least for the most part. The pen is a nice looking baby blue and white color that is vertically striated. The piston chamber is transparent with what looks like a tinted car window. The pen has a semi to full gloss shine to it with a silver cap band finish to it.

Design/Size/Weight
4 out of 5
This is not a very large pen at all unless the cap is posted. The length of the pen is around 5 inches in length with the pen capped and roughly 6 inches in length with the cap posted. The pen is a bit heavy for its size but it is defiantly not comfortable at all. I find that it fits in my hand quite nice and conforms to my fingers. I find that it is a necessity for me to write with this pen with the cap posted. It is just too short for me to write any other way and the pen seems to be more balanced while the cap is posted. I thought that this pen was going to be much longer than it really was. The width to this pen is perfect, it is not a skinny pen whatsoever. There is a slight taper downwards to where the piston knob is located.
The pen its self is rather interesting when it comes to the design. Above the clip are the numbers 22 in a silver polish finish. 22 represent the metal Titanium in the Periodic Table of Elements. Since they are using a titanium nib for this pen, the whole theme is 22, the metal called Titanium. The clip is not a spring loaded clip and it has a lot of tension to it. I would say that this is a perfect sized pen to put in your agenda. Even though the pen is small in length, once you post the cap, this small pen turns into a nice standard sized pen.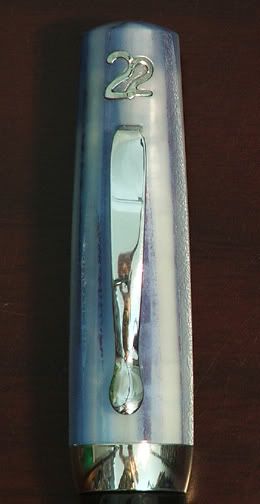 Nib Design and Performance
0 out of 5
Ok, let's get down to business!!! The nib on this pen is made out of Titanium with an interesting design. Titanium has a unique looking grey color that has a matte finish to it, this one is no different. The nib is also engraved with the words "Stipula" in its trademark handwriting script. Below that are the words "Titanio" in Italian which translates to Titanium and right below that is the one letter for nib width. Mine is a medium so the letter is "M". Above all of it is gold lettering for the number "22" and the trademark broken straw. Using the gold on top of the titanium makes a very nice looking nib.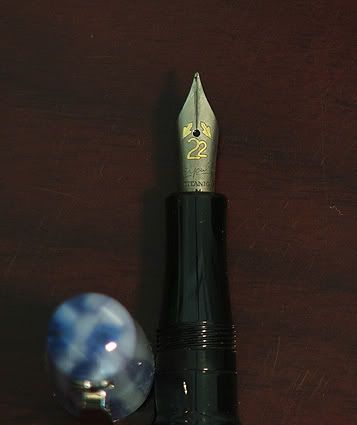 I found that the nib and feed are too small for the design of this pen even before using it for the first time. I was quite disappointed needless to say but if it writes well, then my disappointment will turn to happiness. Somewhere in the back of my mind, I knew I was going to have problems with the ink flow. Not only because this was the largest complaint but by the lack of size of the feed. So I filled the pen up with some Aurora Black ink and went for broke. This is where the rubber meets the road and that's when I hit the gas and peeled out.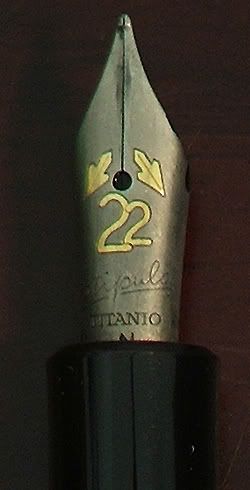 The pen wrote very nice at first. The nib had a very odd feel to it and yes it is flexible. I am not sure if it is to the extent of a vintage flexi nib but this was the most amount of flex I have ever had on a pen up to that point. Nice line variation and the springy/slinky effect really make this nib stand out from the rest of the nibs on my pens. I would apply some pressure and then release while the nib sprung back to its original state. I was really going to like this pen or at least that is what I thought until the pen started to skip all over the place. What in the world is going on here?? I was having the dreaded problem with ink starvation. I would stop for about 25 seconds and then I picked up the pen and tried again. The pen would start up as quick as it stopped. A few lines of writing and again the ink starvation thing started up again. I decided to flush out the ink, and rinse out the pen using a bit of soapy water and then I filled her up again with some Parker Quink Blue/Black.
Same thing happened again and again with the ink starvation. I was very frustrated after that. I knew I was having some issues some serious issues with the feed not providing the nib with enough ink to write. So I tried using the pen for another day to see if the problem subsides but to no avail, the problem gets worse. So I packed up the box and sent it off to Luxury Brands after talking to Michael Masuyama. He told me that when he receives the pen, he will put them in a cue until there are enough pens to send back to Stipula. This is when Luxury Brands was distributing Stipula Pens in North America. 4 months went by before I heard anything. I contacted Michael Masuyama and he was surprised that I have not received my pen back from Stipula. So he told me to hang tight and he will email me back shortly.
I was thinking, "Here we go again, typical lip service"! Well, no more than 20 minutes later, I received an email at work from Julia at Stipula. She told me that I should be receiving my pen in 2 week or so. 2 weeks later, still no pen, so I contacted Julia and let he know that my pen has not arrived yet. She told me that my pen is the next one to be repaired. 3 weeks later, the pen was at my doorstep, I have to admit that I was pretty excited. So I ran to my computer room and opened up the package. They gave me a few Stylus magazines and some advertising postcards for some of their new pens. As I opened up the pen box, there was a sheet of test paper that they used for my pen. I guess they dipped it and then used a machine to do some test writing. Everything looked fine, so I decided to fill the pen up with some Private Reserve Tanzanite ink. This is the laxative of inks and it can get a poor flowing pen flowing correctly.
Unfortunately, this still didn't help, I was having the same problem again and I was getting very upset!!! It seemed like they didn't do a thing to this pen and they just sent it back. I knew that was not true because they gave me a new pen because the serial number was different. There was no way I am going to send this pen back again and wait another 4 or 5 months. It was Time to take matters into my own hands!! I know the problem was the feed not providing enough ink to the nib. There is an article floating out there regarding the problems with his Stipula 22 and the way he got around it to have a wonderful working pen.
http://www.ma.utexas...ain_Pens/fixes/
What I thought was a feed issue was not really the feed causing the problems. The problem was the ink transport. Ill let you read the article but to paraphrase what I did into a few sentences is rather hard but here it goes.
I removed the nib/feed unit because they unscrew out. I removed the section and drilled through the diaphragm and bored it out to allow more ink through the transport to the feed. I sealed the section back together again and then I tried to find a suitable feed from my scrap pen parts in my closet. Believe it or not, Skillcraft, the people who make pens for the federal government, recently made fountain pens for the government. The pens are actually pretty good in comparison to other school pens. Since I practically never use it, I looked at the feed and I was wondering if it would fit in the sleeve along with the nib. Sure enough it did!! The best thing about it is that the feed was hard rubber. Now talk about luck!!! The gods must have blessed me that day!! I fit the nib along with the new feed into the sleeve and then screwed it back into the pen, and that was it!! Pretty simple right??
Well I filled the pen up with some Private Reserve DC Super Show Blue and I crossed my fingers. I picked the pen up and started to write with it and the difference was night and day!!! The flow was incredibly heavy and the ink kept flowing no matter how much I was writing. Problem Solved!!! Thank God!!! Now when I make my ratings, they are done with the pen straight out of the box. The only modifications I make is simple adjustments to my nibs due to the strange way I write with my pens. So I have to smooth out parts of the nib that most people never use for the pen to write the way I like it. What I did here is Omega Super Fountain Pen Surgery, so the ratings will reflect the issues I had prior to the Surgery.
The Filling System
5 out of 5
The Stipula 22 is a piston filler that holds a boat load of ink, in fact the ink capacity of this pen is almost 2 times that of the Pelikan M1000 if not more. This is one of the largest piston chambers that I have seen. The OMAS 360 holds close to be not as much ink as the Stipula 22. 60% of the pen is ink supply which makes this an ink pot that also writes. The most problematic thing is not the piston filler itself but the ink transport. For arguments sake, I will count the ink transport as part of Performance so the rating will reflect that accordingly.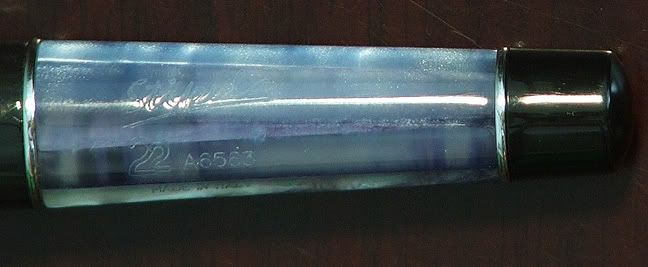 Cost
0 out of 5
I have seen this pen go for around $90.00 USD due to clearance. I paid $120.00 for mine before the price really started to drop. Even $90.00 is still too much for a pen like this with so many problems. In fact I think they should have recalled all of these pens especially with the same common problem. I have seen more people unsatisfied with this pen then people that are happy. I am sure it is more in the range of 50/50 to be fair. Regardless, I think that 30.00 would be a fair price, especially when you take into account all your blood, sweat, tears, cursing, increase of blood pressure and wishing ill will on the manufacturer. If you take that into account, the pen should be free with an additional $50.00 in cash for your trouble.
Conclusion
Ok some of you are going to agree with what I say and others will not, I DON'T CARE!!! I write these reviews to help people and to give them a honest opinion and evaluation on fountain pens that I own so they can be steered into the right direction. Ok lets get down to brass tacks, what are my feelings and general opinion of the Stipula Ventidue (22) Fountain Pen? LEMON!!!! If this was the car industry, there would have been a massive recall to fix all of the problems. California has what they call the Lemon Law, too bad it doesn't apply to shoddy pens that we pay a fortune for. Now the pen works nice for me but only after extensive pen surgery. This pen should have never left the factory as far as I am concerned!!

Unfortunately this left a nasty taste in my mouth for Stipula Pens. The last straw was 3 Stipula/Levenger Verona pens in 3 different colors and 3 different nib widths and every one had the same problem, ink starvation. The pen would go dry and it would take an act of God for it to start working again. I was batting 0-4 on Stipula pens, so that's why I didn't buy another one until almost a year later!!! As for this pen, I would absolutely avoid it like a flaming case of herpes!!! You might throw the dice and get a good one but then again you might get a loser lemon like mine. I would spend your money on a much better pen like a Sailor 1911M for the same price. What a shame because this pen could have been a wonderful writer straight out of the box. Would of, could of, should of, who cares!!! I give this one 2 thumbs down and a raspberry to top it off!!
Edited by The Noble Savage, 19 January 2006 - 00:14.