INTRODUCTION
Lying in the Diverse Marken part of the display case in the Weiner Füllfeder Werkstätte pen shop on Lerchenfeldrstrasse in Vienna, this pen distinguished itself from its neighbors by its blue marbled finish that looked like a 1930's Pelikan Blue Lapis. I was intrigued. But I suspect that my jaw dropped a few centimeters when Georg Grahofer told me in his good English that it had a glass nib. My only experience with glass nibs were the cheap dip versions sold in tourist gift shops. But this nib was in a celluloid and hard rubber button-filler that you could carry in your pocket! Georg let me fondle it, dip it, and write with it at a small antique desk. I soon forgot about the other pens I had tried out. My son, known on FPN as fitypoundpdog, was standing next to me but did not try to talk me out of it. And there was a discount if I used cash. But I did not re-up my Euro supply before leaving our nearby apartment that morning so Georg directed me to an ATM on the corner...which was out of order. I promised to return. He said I could call during off-hours and he would open up the store for me!
Two days later I did return, this time alone as my son and his wife had returned to their home in Hannover. It was a quiet weekday morning and I could have been in and out in two minutes. Instead, I was there over two hours. Georg was a great host, made coffee for me, filled me in on more Pelikan pen history than I can remember, and showed me some rare pens from the family collection. He showed me the first edition of the Pelikan Schreibgerate book which had different photos than the second edition, and which was only distributed to dealers and the contributors. He also spent time showing me how to fill my new purchase and smooth the glass nib to my liking, and gave me a spare fine nib and a small piece of micro-abrasive cloth.
HISTORY
The Goldfüllfederkonig pens were produced in Austria during the 1930's and 1940's. This particular model with glass nib, the Elite, is believed to have been made around 1935.
The name Goldfüllfederkonig is German for Gold Nib King. The pens were manufactured in a small shop in Vienna that did not last much past the end of World War II.
APPEARANCE & FINISH
The blind cap, barrel cap, and section are black hard rubber. The barrel and cap are celluloid in a beautiful blue marble that looks similar to the few 1930's blue Lapis Pelikans I have seen in person or in photos. Considering the geographic closeness and time frame, it may be from the same stock, although I have no evidence of that. Either way, the celluloid has great color and depth.
Engraved on one side of the cap is "Goldfüllfederkonig" and on the other is "Elite" (with the quotation marks). A small "F" is imprinted on the blind cap. I can find no other markings.
The clip and trim rings are gold finished, possibly 14 karat if I had to guess by color. The clip is functional and simple in design.
The fit and finish on this pen are top notch. The section and blind cap fit seemlessly. The threads are even and sharp.
DESIGN
The overall shape is much like that of the classic Parker Duofold; however, compared to modern pens, the Elite is small. It is about the same size as its cousin from the same era, the Pelikan 100. The section is curved very much like a Parker Vacumatic and the overall size is similar to a Vacumatic Junior. In the hand, the pen seems to feel much like the Vacumatic. A modern day comparison would be to imagine a Pelikan M200 shortened to the M150 length. It does seem a bit better balanced when posted, at least in my hands that have been acclimated to larger pens. The Elite is light weight. While I do not have access to an appropriate scale at the moment, I would say it feels about as heavy as an M200.
This is a great pen for short pockets. The pocket depth is about a tenth of an inch shorter than the Bexley Poseidon, my current choice for those stingy summertime shirts.
The cap fits solidly without rattle or movement, and takes one and one-third turns to remove.
Here is a comparison photo showing the Goldfullfederkonig alongside a Pelikan 140.
SPECIFICATIONS
Length, capped: 116mm (4 9/16")
Length, uncapped: 109mm (4 1/4")
Length, posted: 135mm (5 5/16")
Pocket depth: 108mm (4 1/4")
Barrel width: 12mm (1/2")
Cap width: 13mm (1/2")
Section width: 9mm (11/16")
Note: measurements are approximate and were made with a ruler instead of a caliper.
FILLING SYSTEM
The Goldfüllfederkonig is a button filler, accessed by unscrewing the BHR blind cap. The button has a surprisingly short stroke. When I first saw it, I thought it was stuck in the down position! It is quite a departure from the Vacumatics with their long stem-like buttons. There is no apparent play in the button and it takes fewer presses to fill the pen than with a Vac. Flushing the pen is easy and quick compared to the button fillers I have. I do not yet know how much ink it will hold. If I do, I will update this review.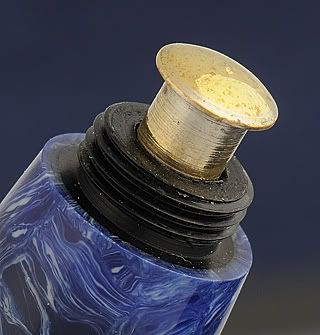 NIB DESIGN AND PERFORMANCE
The amber glass nib uses eight grooves to direct the ink to the tip. During use, the trickle of the ink down each groove is so small that I stopped writing more than once to figure how I could get ink from a clear nib. Touching the side of the nib with a finger did not transfer ink.
The nib is a fine. Apparently, the wider nibs actually had a wider diameter at the feed end of the nib. When Georg searched through a small box of glass nibs looking for another fine, he would pull out a likely candidate and then check its fit in the pen.
When I tested the pen I found varying degrees of smoothness, depending on how I had rotated it. In spots, it was as smooth as any pen I've used. In others, there was some tooth. Unlike a metal nib, there is 360 degrees of writing surface. Georg showed me how to smooth it by gently "writing" on the micro-abrasive cloth. By constantly rotating the pen I was able to get better smoothness in other positions. I did not want to get in a hurry and go overboard and flat-spot the nib, so I've left the rest of the smoothing to a later time. In general, the current nib is comfortable and should not need much work to be ready for prime time.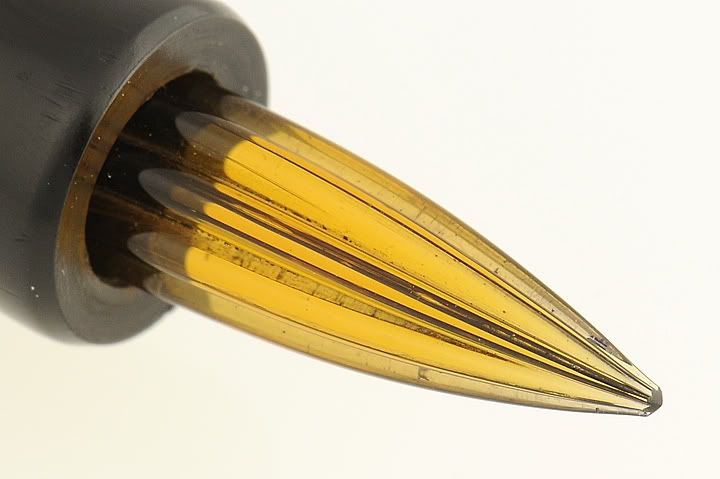 The line width is similar to most western fines. I have included a brief writing sample to compare it with some common metal fine nibs. The paper is from a Red & Black notebook. For you color geeks, I set a white point against the upper left panel of the Gretag MacBeth chart. As I write more with the pen I am finding I get slightly different widths depending on the angle of the nib to the paper. More experimentation is in order, eh? The Florida Blue looks pale on the writing sample because of the higher quality paper. On a cheap legal pad, it gives more of a medium, saturated line. Quite nice, actually.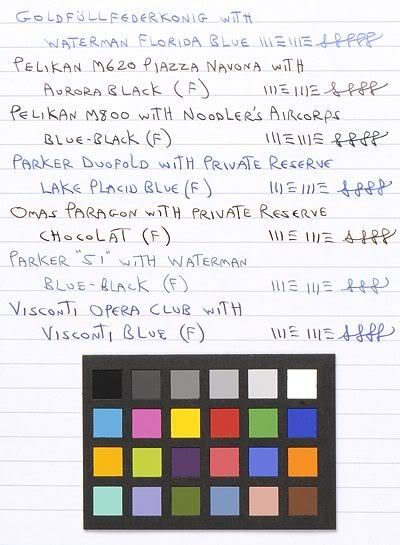 UNINTENTIONAL BONUS: AIR TRAVEL SAFETY
To expect a 70-year old pen to travel well in an airplane is ridiculous. In fact, Georg reminded me to flush the pen before flying back home. And I remembered...after I boarded the plane! I took the pen from the provided felt wrap, placed it in a Zip-Loc bag, and propped it vertically. Later, while 30,000 feet over the Atlantic, I checked my telltale "canary" pen, a Pelikan M205 demonstrator, and it looked fine. Then I was so bold as to start writing with the three other inked FPs. Finally I pulled out the Elite and it performed flawlessly. I wrote a page or two until turbulence got load-shifting heavy. I feared the pilots would change altitude to clear the storm. Which they eventually did. After about a total of ten hours of flight time with takeoffs and landings, the Goldfüllfederkonig worked perfectly. However, if I fly with it again I will make sure it is empty.
CONCLUSION
This pen is one great conversation piece. And writing with it is entertaining. It should be a hit at "show and tells".
I also wish to thank Georg at WFW for his hospitality and assistance. He has no pens made after 1970, but the vintage Pelikans and others were fascinating and his insight into the world of pens made it a high point for me. I look forward to visiting him during my next trip to Vienna in about two years.
I believe all travel, for work or pleasure, is enriching and educational. Occasionally, I find an interesting souvenir that I can actually use, which is representative of the location, and is a reminder of enjoyable time spent with fascinating people. The now-framed receipt for the 120 Euro fine for a border control violation I received might not fully meet that criteria. But this pen certainly does. Watch for it in my pocket at the next pen show and I will gladly let you put glass to paper.
Edited by Bill, 02 July 2008 - 15:13.