I. Appearance: 9.5/10
Here we have an all-time classic: the Sheaffer Balance. This particular model is the standard length, standard girth variant with the 1929-30 era "long clip. This clip features the Sheaffer's logo prominently on it. The White Dot appears above the clip. The Balance is a classic piece of "streamlined" design from the 1930s. This is one sharp looking pen. If you like classic and you liked a clean, streamlined design. The nib is simple, but elegant with its two tone coloration and nice engraving.
The black and pearl Balance here has a more standard, rounded shape. The all-black Balance is a "long" Balance- it has a longer profile and a sharper barrel end. This gives is a noticeably longer look and a different sort of feel. When they say "long", they mean it. The section is short and made from hard rubber.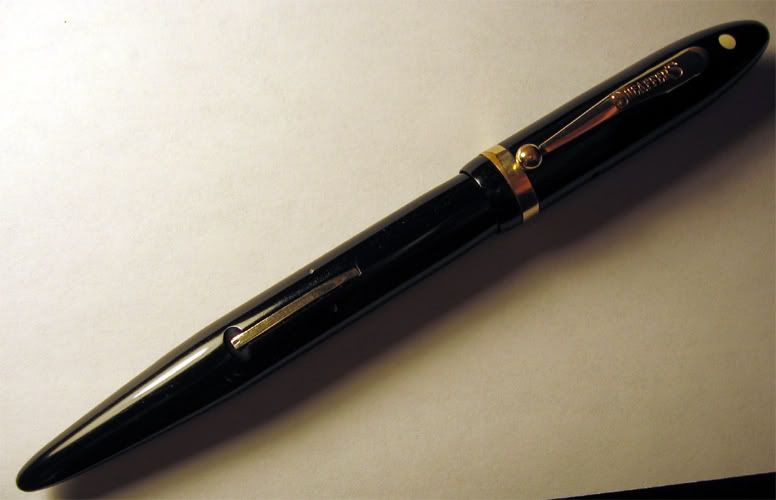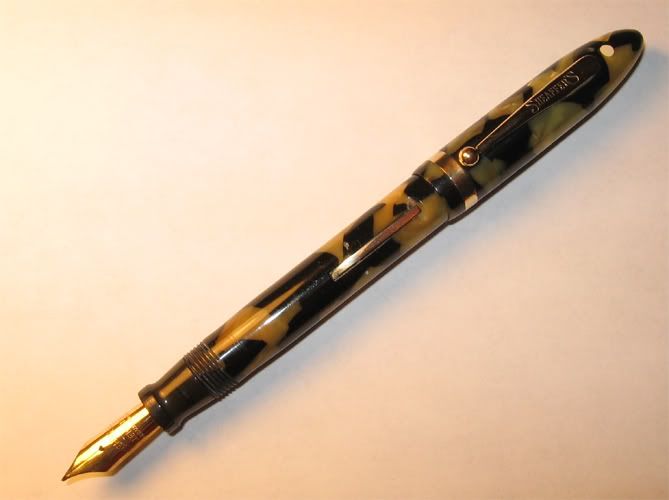 II. Feel In Hand: 9/10
The Balance standard Balance is fairly light in-hand. Posting adds some weight, but unposted the pen is moderately light. Posted the pen feels to be of moderately light weight still. The "long" Balance feels a bit heavier than the rounded black and pearl one. The Balance series offered different girths so there's something for everyone. If you like the feel of, say a TM Touchdown or Snorkel's girth- then consider the slim Balance. If you like a big fat pen- try an oversized. No matter what your preference, you can find something in the ballpark by choosing your model. While the pen is pretty light weight, you get the added benefit of nice variety in feel. The pen, true to its name, remains fairly balance posted or not. It isn't perfect, but nothing is. I'll give it a nice 9. I think the standard girth is just right. However if you have big hands, then an oversized may be worth a look. The only drawback I can find is that the hard rubber section is quite short and doesn't leave much extra room.

III. Filling: 9/10
As mundane as a lever action is- it's common for a reason: it's reliable and simple. The lever fill system fills simply and once you're familiar with the process you really can't go wrong. The down side, of course, is that you need to make sure your sac is pliable and the press bar is working correctly, but beyond that there isn't too much to it. I actually go higher in this category for the lever than for the Touchdown model. I know some people will certainly disagree- but the lever fills simply and reliable without the use of air seals (which often require fixing for restorers in addition to the sac). The lever is timeless. DISCLAIMER: This review does NOT cover Sheaffer Vacuum Fills. These are totally different than levers. I am NOT a vacuum fill expert, and you will not find a 1929-30 in Vacuum fill.
IV. Writing: 9/10
The nibs on these pens are monotone gold fine-mediums. They are both very firm. These nibs write in a fine line, but it is not scratchy because the flow is quite generous with most inks I've tried. These nibs are quite smooth, and they're both pretty big and flashy. These nibs are friendly to the modern hand- rigid and pretty smooth. They're not as smooth as many modern nibs like Pelikans, but they're still great writers.
V. Durability: 8.5/10
These original Balance pens are now quite old and many are made from Celluloid. Care must be taken to ensure they are not left in extreme environments. This is true of almost all fountain pens though. It's not as durable as modern plastics or metal pens, but it's nothing fragile to hide away either. It gets a decent score. Watch out for cracks, especially in the cap lips.
What to look for:
-WATCH FOR WHETHER IT'S A VACUUM FILL or a LEVER FILL!!! (this review covers ONLY LEVER fill). You will not find a 1929-30 Vacuum fill, but do be aware that later Balances can be Vacuums.
-new sac and a functioning lever that moves without a struggle, and doesn't flap around freely
-nibs of this vintage can vary in terms of flex- take your pick of them. Most I've encountered tend to be more rigid, especially compared to the Mabie Todds and Watermans of old. The nib, as always, should be free of defects and should write fairly smoothly, though a bit of tooth is often present. This is normal, and you will find a different effect on different papers and with different inks.
-these pens have HARD RUBBER sections, and must be kept away from UV light. They will discolor like any hard rubber will. Also avoid exposing for long periods to ammonia-water mixture.
-beware of corrosion on the lever as it means you could have corrosion on the pressure bar as well. Replace badly damaged parts as always.
-the section should fit snugly and tightly to the barrel
-check the cap lip for cracks- the threads are usually plastic or celluloid on the same, so cracks may be present sometimes
-you will need bottled ink as the pen doesn't take a modern cartridge
-with celluloid models beware of celluloid damage like cracks or celluloid shrinkage. A little shrinkage may be present, but heavy-duty shrinkage could cause problems
-as always with a lever fill- watch out for cracks around the lever slot
-don't necessarily be put off by non-lifetime models, a good non White dot instrument is often a great pen still
The Final Word
The Balance is a classic, plain and simple. You can get a nice writing classic from the 20s, 30s, or 40s that also has the period "streamlined look". These early Balance pens are wonderful and somewhat unique, since they only used this long clip on the Balance for a short time. These early Balances offer something unique- you don't see the early ones as much as the later ones it seems. Just remember to out for LEVER VERSUS VACUUM FILL. The Balance is a hardcore collector's dream- there are quite a lot of different finishes, sizes, and vintages. I recommend them highly for those looking for a basic, classic user, or for hardcore collectors.