I. Appearance: 9/10
The Pelikan 140 is a medium-small pen that has a pleasant, round shape. Though these pens date to the 1950s and 60s, their design is more contemporary to the 1930s style of pens. In many ways they look like a cross between a Sheaffer Balance and a modern Pelikan. The cap is black and the body is green-striped- classic Pelikan features present on many of their pens to this day. On the top of the cap dome is a stamped Pelikan logo. The clip is the classic Pelikan's bill design. The black knob on the bottom compliments the black cap. The stock 140 nib is gold with "arrow" type designs on them (see nib parts picture). The striped body is transparent between the green stripes. Overall the pen is nice looking and well-designed. I prefer its appearance somewhat even to the 400 and Souveran pens.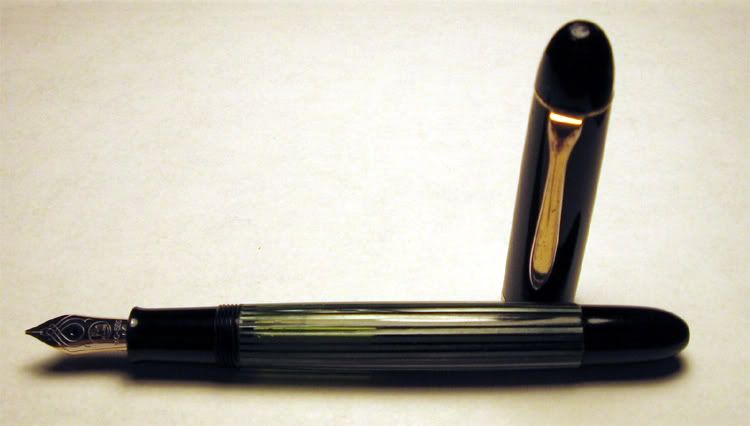 II. Feel In Hand: 8.75/10
This pen is on the small side of the spectrum for most pens. It's fairly short and has a somewhat slender profile. That said, it is VERY light weight in hand and comfortable to use. For larger hands this pen will be a problem, but for smaller hands this pen would be wonderful. If you like light weight pens or have physical issues with holding heavier pens for long periods, this pen is a great option (especially unposted). Posted, the pen is still light weight. The section is streamlined and comfortable, but it is a bit on the small side. It loses a few marks for the small size not being friendly to many writers. But it still gets good marks because it is a comfortable pen in my hands. Beware if you like larger or heavier pens though- this may not be the pen for you.
III. Filling: 9.5/10
The piston fill system in this pen is wonderful. Like the modern Pelikans, this pen offers a simple and reliable filling method that creates a minimum of mess. What's more, it allows you to do a partial fill if you'd like- just crank the piston however much you want. You won't get a better filling mechanism than this. The only reason it doesn't get a 10 is the fact that it CAN develop leaks, bad seals, and can become stuck. It isn't perfect, but it's damned close.
IV. Writing: stock 140 nib: 8.5, M150 nib: 8, M400 custom nib- 9.5
The interesting thing about Pelikans is that you can swap nibs pretty easily. The 140 takes either true 140 nib+feed combos, and it can also take modern M150 nib+feed combos. I also had an M400 nib modified to fit into an M150 unit (and therefore fit into this 140). They can be seen below [M150 nib alone at left, vintage 140 unit at center, M150 unit at right]: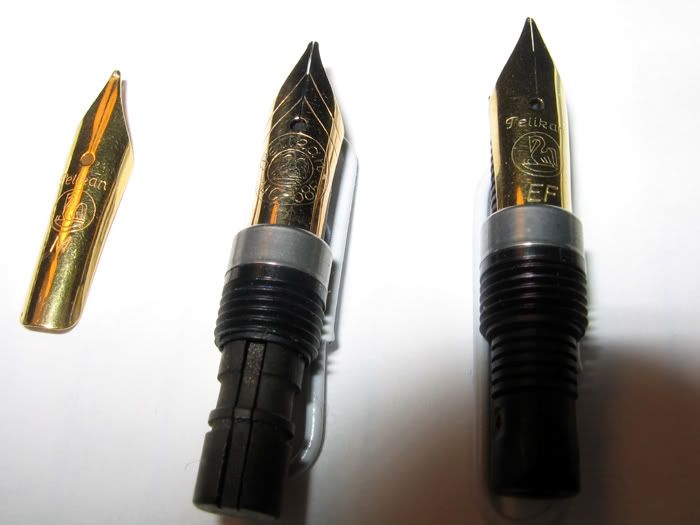 The stock 140 unit has, what I would call, a "soft" point. This nib is a medium and is fairly smooth, though it does have a semi-flexible feel. The result is a semi-smooth nib- it is smooth until you bear down a bit, then you get some flex and accompanying feedback. I wouldn't call it truly "toothy", but I would say that it exhibits feedback common among semi-flex nibs. This 140 unit was very generous in flow, which is quite nice I think. I give the 140 nib unit an 8.5- it's good, but not spectacular for regular writing. If you generally use flex or semi-flex in your daily writing this is a great nib. For me, it was nice, but not perfect certainly. The feed has grooves that run parallel to the pen. The nib has a vintage-style medium point. I would call it a very generous medium. These seem to run a bit on the big side of their line marking.
The M150 unit features a modern comb feed and a plated steel nib. The nib has a ball tip. This one also is on the generous side of its marking. This nib was okay- it was functional, but nothing great. I'd call it "above average" for a steel point, but it doesn't come close to a 14k M400 nib, and it certainly had less character than the vintage 140 nib. The beauty though is that these basic M150 points are cheap (less than $20) and are a direct swap into the 140. They're good if you're looking for something cheap and functional to put into a 140 pen.
The standard M400 unit DOES NOT fit the 140. However, you can have a nib craftsman modify an M400 nib to fit an M150 or 140 feed unit. The result is that you can have a modern, smooth M400 nib in a vintage 140 pen. I tend to think this is the best of both worlds for everyday writing- the smoothness and reliability of a high performance M400 nib, but with the classic style of the 140 pen. These nibs are very smooth and write wonderfully. I did a more complete review of them when I did the M400 review awhile back (it is in this forum). Suffice to say though that this is a nice nib. If you like rigid and smooth, this is a great combination. This particular fit was done by Dillon Ang of Dillo Pen and Ink Shop in Rhode Island, and he did a nice job. I'm happy with the work and the finished product. It gets high marks from me.
V. Durability: 8.5/10
These pens are old and somewhat fragile. Forcing the knob and piston can lead to breakage. On the other hand all old pens can break. The plating on the furniture does seem to wear a bit with use. However, I have no complaints beyond the normal "old pen" issues and the somewhat fragile piston mechanism.

What to look for:
-piston should move smoothly and suck water/ink; water/ink should not seep past the seal
-nibs vary on these- many will have "soft" points. Some, however, are quite rigid. Be on the look out for what you like. Even if you do not 100% like the nib on your pen, you can buy other units and swap them in. In fact you can have a single 140 that can do many jobs, just swap in a different nib.
-check the cap for cracks, as well as the rest of pen, but especially check the barrel for cracks- there is no sac, so you don't want it leaking.
-be sure the nib unit is snugly screwed in when making swaps
-NEVER force a stuck piston or nib unit. The threading is plastic, so it will break if you force it
Edited by Ray-Vigo, 02 July 2008 - 05:24.