OMAS Paragon Full Size- Review
First Impressions
This is the 3rd OMAS review so far and they have been unusual looking pens to say the least!!! I have to admit that I never really cared for the Omas Paragon and 360 pens. I thought that the shapes would make for a very uncomfortable writing experience. With the Paragon, it is faceted shaped like the Eversharp Doric or the columns of Rome!! Finger placement seemed rather odd and I was not too sure that I was going to like this pen. I guess that's why this pen never appealed to me at all, I usually prefer the standard round barrels of fountain pens, I guess I am what you call a traditionalist. Well, for some odd reason this pen really appealed to me when I was browsing around on EBay right around Christmas. This pen stood out especially with the lowest price I have ever seen on a Full Sized OMAS Paragon. I like the blue color with the gold trim, piston filler oh, and did I mention that the price was right? I knew if I absolutely hated this pen, I could recoup my money especially for what I paid for and the pen was BRAND NEW!!!
The Pen comes in the typical OMAS box and for those who do not know what the box looks like, Ill clue you in!! There is the black outer sleeve with grey "Greek Key" design band around the box. There is the OMAS trademark picture of the dude and chick on the face of the box. Inside the sleeve box contains the main box!! It is a Black hard case "Clam Shell" style box that is hinged. It probably can be thrown off a building and still survive. Inside the "Clam Shell" box contains the pearl, the OMAS pen!! The pen rests on the secret "trap door" tray that is removable. Under that tray is the owner's manual/warranty card. There is no real information in this manual other than the warranty card that gives you a limited 24 month warranty. Believe it or not, there are no instructions on how to fill this pen up!! 99% of us know how to fill a pen but there is the 1% who has no idea that they purchased a piston filling pen. I guess it pays to do some research before you buy this pen!!!
Appearance/ Finish
5 out of 5
I have to admit that this pen was really cool looking straight out of the box. It had a deep blue color called the 2003 Blu Venezia and it had a wonderful looking gold trim to it. The pen came in a nice high gloss shine with a faceted surface. It really is a sharp looking pen as far as I am concerned. The pen is super smooth to the touch and there are no rough spots or anything considered aesthetically unappealing.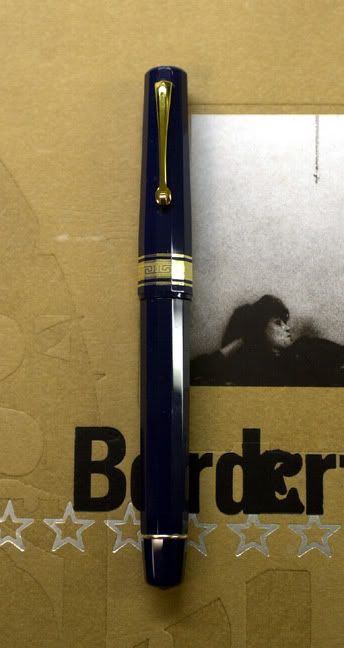 Design/Size/Weight
5 out of 5
The design of this pen is the classic Paragon shape which is the 12 faceted barrel and cap. The OMAS Paragon is 5 ½ inches in length capped and with the cap posted, the pen is a tad shy of 7 inches in length. The diameter of this pen is 1 5/8 inches, so this is no slouch of a pen. I only wish is was a bit larger, but people in hell want ice water too!!! Surprisingly, this pen is very comfortable even though this pen is faceted. The section where you have your fingers are rounded, so that really makes things even more easier to write. So for the most part the faceted edges are nothing more than cosmetic, they do not affect the ability of the writer.
The pen has a gold trim with the "Greek Key" band design on the cap and at the section close to where your fingers are placed. The clip is also a gold trim with the little wheel thingy at the start of the clip. This makes slipping the pen on or off shirt pocket a breeze. It is very fluid and I see this a lot with Italian pens. It really gives it that feeling of "WOW, they really sat down and thought about the consumer"!! The cap is rather difficult to post; it is a tight feeling that I see loosening up over time. As far as I am concerned, it writes fine with or without it. The pen is rather light and looks can be deceiving but I really thought that this pen would be heavy like a sledge hammer!!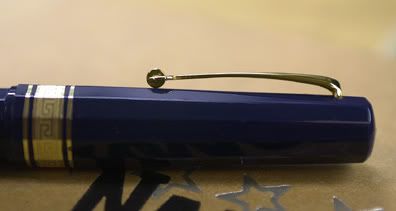 As for posting or not, I tend to like a pen posted because it fits better into my hand due to the added weight. The pen has wonderful balance and the weight of the cap is very surprisingly, super light to say the least. The cap secures to the pen by threads instead of a snap cap. I tend to prefer screw on caps rather than snap caps but that is a personal preference. The material of the pen is either a cotton resin or vegetable resin or made out of asparagus. I don't think that it is all that important at all, even though I am partial to Celluloid (Nitrate or Acetate) this material seems a tad bit softer than your typical resin but much more pliable. I categorize pen material into a few classes Wood, Metal, Celluloid, Resin (acrylic, cotton, plastic) or Combo Hybrids.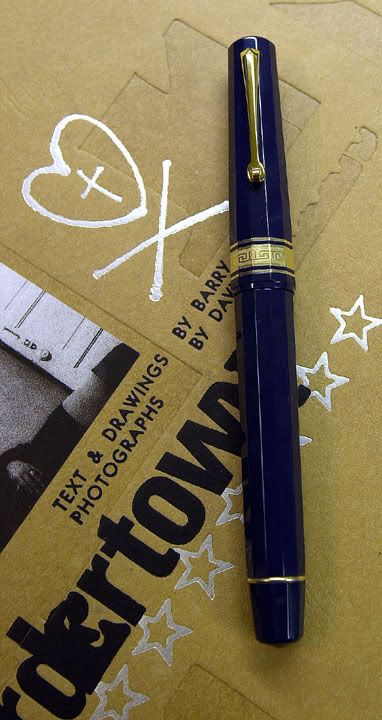 Nib Design and Performance
5 out of 5
As Flavor Flav says "YEEEAAAHHH BOOOYYY. This nib is an 18 KT gold monotone medium nib. This is a screw in nib unit like a Pelikan, Stipula and Bexley to name a few. I am sure the Bock Nib Works of Germany makes these nibs for OMAS but not for certain. This nib is a medium width with about the same size as the OMAS 360 Fountain Pen. I really wish that they would have used a 2 tone nib like they used to for the older Paragons and the later limited edition OMAS pens. The 2 tone nibs are really sharp looking and I wish they would have kept it going. This gives the pen a really modern and classy look to it. The nib design has the OMAS trademark arrow inscribed in the nib. The left side portion of the nib has the width inscribed. This nib is a medium width nib so on the side there is an "M" inscribed. This is a fairly good sized nib and it fits the size and shape of this pen like a hand in glove but not O.J.'s glove though!!! It seems that OMAS likes to use Ebonite feeds rather than the typical injection mold plastic feeds. Creating Ebonite feeds are more time consuming and painstaking than producing plastic feeds. Ebonite feeds cannot not be mass produced like the plastic feeds because ebonite requires a completely different technique to machine them into what we call feeds. There are more steps involved and some of them include having to make cuts, shapes and channels by hand. For many companies, making ebonite feeds are not very cost effective and they usually reserve that for limited edition pens. Plastic does the job satisfactorily but Ebonite is the superior material to use when it comes to feeds. Rather than repelling the ink as plastic does, Ebonite draws the ink naturally. In my very limited experience, pens with ebonite feeds usually have fewer problems when it comes to ink flow and skipping than the pens that have plastic feeds. Not to say that all ebonite feeds flow perfect and plastic feeds do not but I have seen them perform better in the pens that I do own.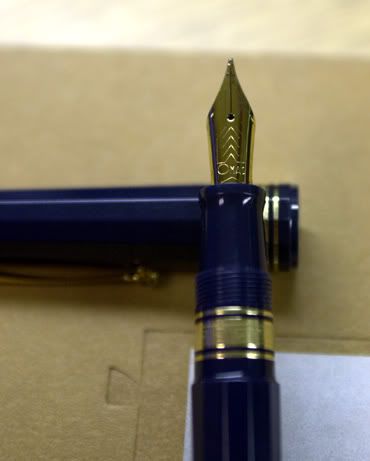 Will this nib stack up well with the other 2 OMAS pens that I reviewed? Pretty darn close!!! The nib was a bit toothy but it was easily remedied with a ultra fine Mylar smoothing disc. 5 minutes of work and this pen wrote like a heavyweight champ VS a glass jaw scrub!! This pen started from start to finish with a super heavy line of ink that resembled a light broad nib rather than a medium. I have absolutely zero complaints regarding the flow of this pen. Too bad a lot of my other pens don't write this well. Nib is as smooth as butter and is consistent with my other OMAS pens in terms of flow, smoothness and overall experience. As far as I am concerned, the nibs OMAS uses on its pens are among the best in the world. The nib starts every time regardless if I leave the cap off for an extended period of time or not!!!
The Filling System
5 out of 5
Guess what?? This pen is a piston filler and it holds a ton of ink!! I have wrote numerous pages of journal entries, work orders and reports to test this pen out and the pen still kept writing. OMAS has some of the largest capacity piston filler pens on the market IMHO. The piston action is very smooth and works rather effortlessly when it comes to filling the pen with its fuel, ink!! For this pen, OMAS could of gotten away with a cartridge/converter filling mechanism but they did right by taking advantage of the barrel size and adding in a huge capacity piston filling system.
Cost
4 out of 5
The MSRP is around $425.00 or so but I wouldn't pay MSRP on any pen, PERIOD!!! Since I was doing my Ebaying on Christmas Eve, I got some outstanding deals on pens. I picked this one up for right around $200.00 delivered to my doorstep!! This is a perfect deal on a brand new pen that should be going for twice what I paid for or at least $150.00 more than what I paid. It is a tremendous deal on a top notch fountain pen that has so much to offer. Is it worth the $200.00 I paid? You better believe it buddy!!!
Conclusion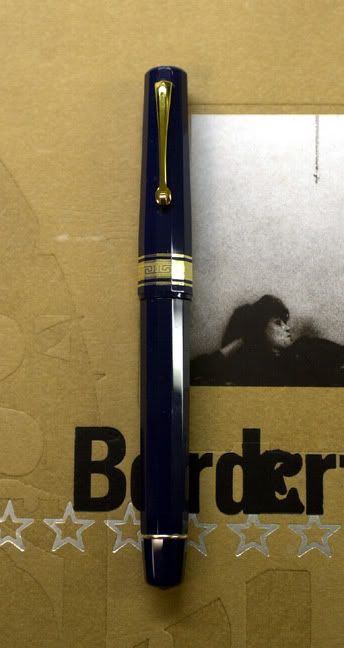 This pen is on my current and past 2 pen rotations. This is a superb writing instrument that has little to no faults. The pen seems to have been made extremely well and really with zero blemishes. OMAS did a fantastic job on the Paragon and has been doing a wonderful job for a very long time. Unfortunately the new Arte Italiana Collection is really a regression on these Paragons. They are now using a metal section on the Paragons or at least in this new collection. I hope that they decided to keep the classic line in addition to this new line. I really think the new collection is like trying to reinvent the wheel. It is not necessary and really a waste of money and resources!!
Regardless, OMAS did wonders with this pen and its design and I am so glad I decided to try something new. I finally stepped out of the box and bought a Paragon and a 360 and I have been extremely happy with these pens. Now I know what the rave is all about!! Some like OMAS and some hate OMAS but the experience I have been having with 3 of them has been nothing short of spectacular. I would love to buy the full size OMAS Paragon in the ARCO celluloid, its all about the Benjamin's and a stroke of good luck to find one used or new at a killer price. Until then, I will wait patiently, eventually it will pay off!! I highly recommend the OMAS full size Paragon, this pen has just about everything I want in a fountain pen and then some!!!