OMAS 360 Grey High Tech- Review
First Impressions
Ok, this has got to be the strangest shape for a pen!!! I have to admit that I never really cared for the Omas Paragon and 360 pens. I thought that the shapes would make for a very uncomfortable writing experience. With the 360, there is very little room for finger placement, so you either take to it right away or you pitch it on the Pentrace Green Board!! Well, I never really cared for this pen but for some odd reason it really appealed to me when I was browsing around on EBay. This pen stood out especially when the price was right, I like the grey color with the silver finish, piston filler oh, and did I mention that the price was right? I knew if I absolutely hated this pen, I could recoup my money especially for what I paid for and the pen was BRAND NEW!!!
The Pen comes in the typical OMAS box and for those who do not know what the box looks like, Ill clue you in!! There is the black outer sleeve with grey "Greek Key" design band around the box. There is the OMAS trademark picture of the dude and chick on the face of the box. Inside the sleeve box contains the main box!! It is a Black hard case "Clam Shell" style box that is hinged. It probably can be thrown off a building and still survive. Inside the "Clam Shell" box contains the pearl, the OMAS pen!! The pen rests on the secret "trap door" tray that is removable. Under that tray is the owner's manual/warranty card. There is no real information in this manual other than the warranty card that gives you a limited 24 month warranty. Believe it or not, there are no instructions on how to fill this pen up!! 99% of us know how to fill a pen but there is the 1% who has no idea that they purchased a piston filling pen. I guess it pays to do some research before you buy this pen!!!
Appearance/ Finish
5 out of 5
Well, I was very surprised when I open the box to pull this gem out and hold it in my hands. This is the odd triangular shaped pen called the OMAS 360, very unique and is either loved or hated!! The pen is a wonderful "Dove Grey" color with a silver trim. The pen is a tad on the semi gloss side rather than a "high pro glow" (woof woof) I do believe that there is a time and a place for pens to be highly polished and this pen is not one of them. I think that this pen looks fantastic with a semi gloss finish because the silver "Greek Key" trim really stands out. If the pen was a high gloss shine, I think it would take away the emphasis of the highly shined Greek Key trim pattern. The OMAS 360 looks like an art masterpiece with the simple design that says so much without it having to say a word. That didn't make a lick of sense, did it? Oh well!!!
Design/Size/Weight
5 out of 5
It is a Triangle, it is long and it is not very heavy!!! The OMAS 360 is roughly 6 inches in length with the cap closed and the width is 1 7/8. With the cap posted on the rear of the pen, it is a tad over 7 inches in length. This is the full size 360, not the smaller 360 Mezzo fountain pen. The triangular shape is not a true triangle per se. The design is slightly bowed out a bit around the edges of the pen. This makes for easy grip and comfortable writing.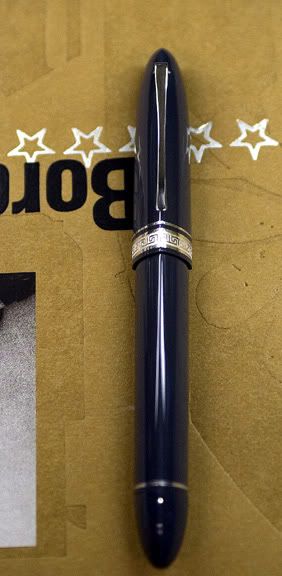 The cap on this pen is not the usual threaded screw cap. This cap is a snap cap method of securing the cap to the pen. The cap has plenty of tension and it will not come off very easy at all. I am not normally very crazy about snap cap pens but with this unique style of this pen, I really do not think there is much of a choice. I find the posting of the cap a bit difficult. You have to apply a lot of tension to post this cap to the rear of this pen. I normally post all of my caps but on this pen I do not. It feels like I might split the cap by adding too much pressure so I just hold the pen in one hand and write while I use my other hand to hold the cap. Pretty much the standard operating procedure!! The balance of the pen is quite nice with or without the cap posted. I have to admit that the pen is not heavy at all even though this pen is really huge. You would think that this pen would be weighed down due to the piston mechanism but surprisingly it is not.
The trim style on this pen is called HT or High Tech. Basically it is a rhodium trim all the way around the pen. The nib, the clip, cap bands, the rear band below the piston filling knob and the trim bands on the grip/section area where your fingers are at. They are all trimmed with rhodium. The rhodium trim and the classic "Dove Grey" color of the pen goes really well with each, it looks very classy. Speaking of the color, I like to call it "Dove Grey" because it reminds me of the old Parker 51 Vacumatic fountain pens of the 1940's. The Grey color is very soft on my eyes and it is a very gentle and gender neutral color. This will appeal to both Men and Women alike!! I think it leans more to the men more than the women due to the size of the pen.
Nib Design and Performance
5 out of 5
This is one of my favorite parts of the review. The nib is entirely a rhodium plated monotone 18kt gold nib. This gives the pen a really modern and classy look to it. The nib design has the OMAS trademark arrow inscribed in the nib. The left side portion of the nib has the width inscribed. This nib is a medium width nib so on the side there is an "M" inscribed. This is a fairly good sized nib and it is roughly the same size as the Stipula Etruria Nib and the Pelikan M800 nib. For this being an oversize pen the nib is a bit smaller than what you would think. It is not as unsymmetrical as the nib on the Cross Apogee so it is not odd looking at all.
It seems that OMAS likes to use Ebonite feeds rather than the typical injection mold plastic feeds. Creating Ebonite feeds are more time consuming and painstaking than producing plastic feeds. Ebonite feeds cannot not be mass produced like the plastic feeds because ebonite requires a completely different technique to machine them into what we call feeds. There are more steps involved and some of them include having to make cuts, shapes and channels by hand. For many companies, making ebonite feeds are not very cost effective and they usually reserve that for limited edition pens. Plastic does the job satisfactorily but Ebonite is the superior material to use when it comes to feeds. Rather than repelling the ink as plastic does, Ebonite draws the ink naturally. In my very limited experience, pens with ebonite feeds usually have fewer problems when it comes to ink flow and skipping than the pens that have plastic feeds. Not to say that all ebonite feeds flow perfect and plastic feeds do not but I have seen them perform better in the pens that I do own.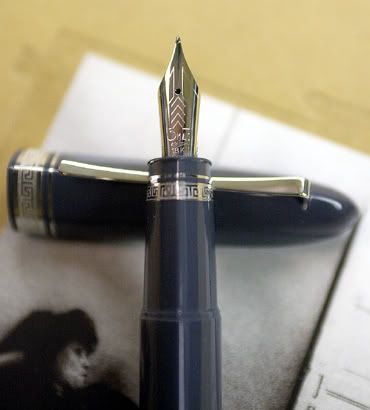 Ok, how does it write? Absolutely fantastic!!! The nib has a nice spring to it. The nib looks like it would be very rigid but looks can fool ya!! This is a Medium width nib and it writes like a true medium!! The nib is extremely smooth and it needed no extra smoothing out for my particular style of writing. This is a very Juicy writer like all of the OMAS pens I own. I had ZERO issues with skipping or ink flow problems. This pen wrote like a champ from start to finish. The performance of this nib exceeds all of my expectations and the OMAS 360 is truly a wonderful writer that is a pleasure to use.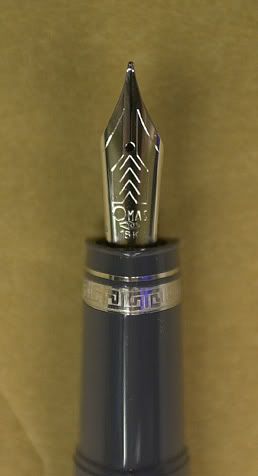 The Filling System
5 out of 5
Guess what?? This pen is a piston filler and it holds a ton of ink!! One issue is that the pen is rather awkward to fill because of the unusual shape of this pen. Normally I use my Visconti Ink pot to fill my pens and I feel that this is the best way to fill this pen especially with the odd shape of this pen. Using the Visconti Inkpot allows for a more advantageous hand placement on the pen so it reduces the chance of your hands slipping and throwing ink all over your white carpet. One filling of this pen can go a very long way. I have to say that the ink capacity of the OMAS 360 is superior to any of my piston filling fountain pens in my personal collection. The OMAS Company used the size of the 360 fountain pen to their advantage when engineering this piston fillers ink capacity.
Cost
5 out of 4.5
The MSRP of the OMAS 360 Fountain Pen is around $450.00 USD. As I stated earlier, I had no intentions in buying this pen at all and I thought the pen was rather ugly, well until I saw the price. It is amazing how quickly you start to like things when the price is right!!! Well, I was able to scam this pen off of EBay on Christmas Eve around 1:00am for $180.00 right to my doorstep. As far as I am concerned this is the best price I have seen on an unused and non dipped OMAS 360 fountain pen. I have seen other OMAS 360 fountain pens on EBAY for well under $200.00 and I am sure you can score one at that price!!! Would I pay $450.00? HECK NO!!! Would I pay $300.00? Are you smoking weed? If so pass me some!!! Just kidding!!! Would I pay $200.00? You are getting warmer!!! For what I paid, this is a top notch pen at a rock bottom price and yes I would of paid $200.00 for it!!! Great deal on a great pen!!
Conclusion
This pen has become a regular in my rotations and it is a fantastic writer too!! The shape of the OMAS 360 might not be the right pen for everyone due to the fact that your fingers have to be in a particular placement. As for my writing style, I write straight on at a 45 degree angle. I do not rotate the pen in either direction while I write, like most other people do. That is the reason why most of my fountain pens need a bit of nib adjustment by smoothing them out just a tad.
Anyways, this pen is one of the few pens that you can say you either love it or you absolutely hate it!!! It all depends on how you write and where you put your fingers on the pen when your write. As for me, this pen fits me like a glove and I find it very comfortable for my hand and fingers, almost ergonomic, if you know what I mean. The nibs on the OMAS pens are fantastic, I don't know if they contracted out their nib manufacturing to BOCK Nib Works of Germany but regardless, the nibs are topnotch. The filling method is piston and it holds a (Potty Mouth) load of ink and you can write for days using this pen on one filling. The price is right especially if you decide to do a bit of bargain hunting on EBay, I am sure you can find one at a very attractive price for a new pen or an even better price for a used one on the Pentrace Green Board.
I highly recommend this pen but under one condition, go to a "Brick and Mortar" Fountain Pen store to try one out. Hold the pen and see if the triangular shape of the 360 is to your liking and see if it conforms to your fingers and style of writing. If so, I think you have found yourself a fountain pen that will bring you years of enjoyment while you write. If the shape is to your liking but the pen is too big, you can always try the smaller brother called the Mezzo 360. Unfortunately this pen is a cartridge only but it would be an alternative to the Oversize big brother. With the odd shape of the OMAS 360, I am sure you will have lots of comments regarding the unusual shape and design of this pen, both good and bad.