1. First Impressions 5 / 5
I bought this pen on impulse from an eBay seller. It looked ridiculously cheap for such a beautiful pen and the low price was as a result of it being ex display. It came without the original box but in an Aurora box nonetheless and it came with an instruction manual. Postage took 12 days from Switzerland and as it is not an EU country, there was a customs and handling charge of nearly $75! Luckily I was not charged this fee, probably because I had nagged the postman to look out for this and with him being keen to get it to me, made this oversight.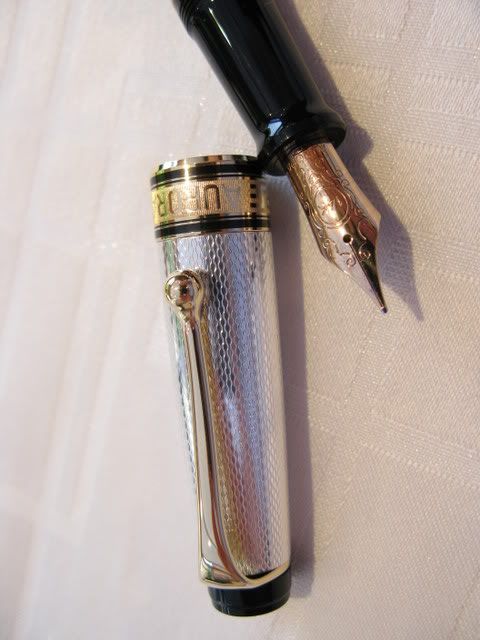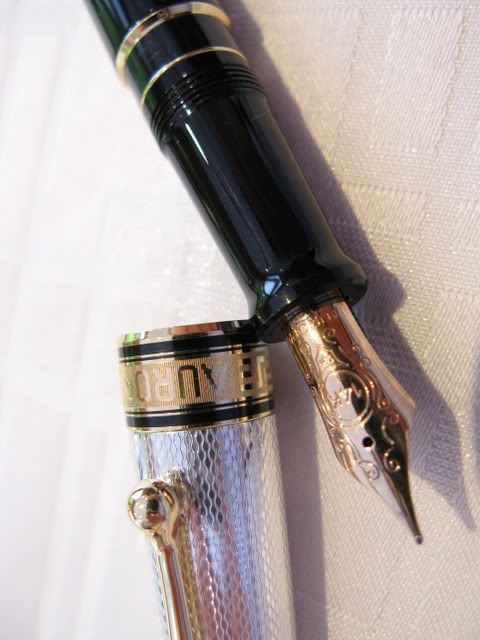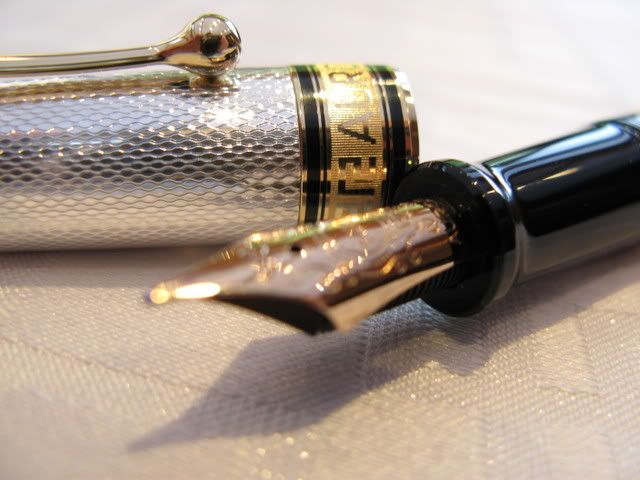 2. Appearance & Finish 5 / 5
The pen strikes you instantly as being quite short, it has a black resin barrel with a transparent section to check on ink capacity, Sterling Silver cap with guilloche design and the rings and clip are gold plated. It has a solid 14K gold nib that is long and tapered much like a sailor or namiki nib. The barrel is glossy in appearance with the usual Italian engraving that makes it interesting, the cap has a shiny section for engraving otherwise it has that incredibly smooth and delightful guilloche pattern. The cap needs a full turn to remove which I find a slight nuisance, Pelikans need ¼ - ¾ 's of a turn and this is quicker and easier. It feels a very solid pen indeed, it is reasonably lightweight yet somehow feels solid and gives you the impression that it will easily cope with the rigours of daily use. The clip is very tight if a little uninteresting but the band at the edge of the cap with the engraved 'Aurora' is a work of art. This pen has exceeded my expectations and overall after less than a day with the pen it has become my firm favourite.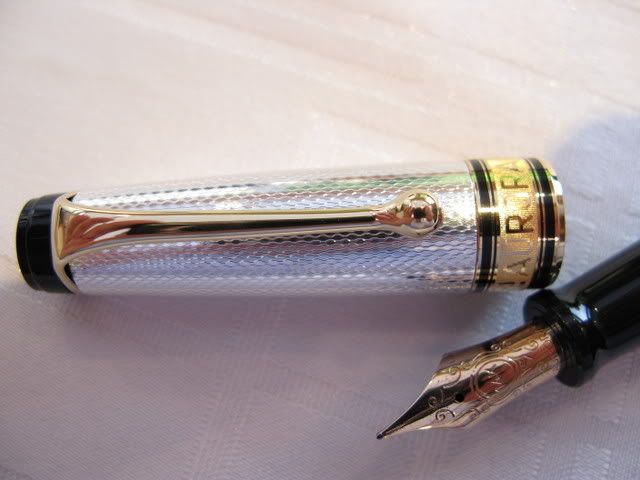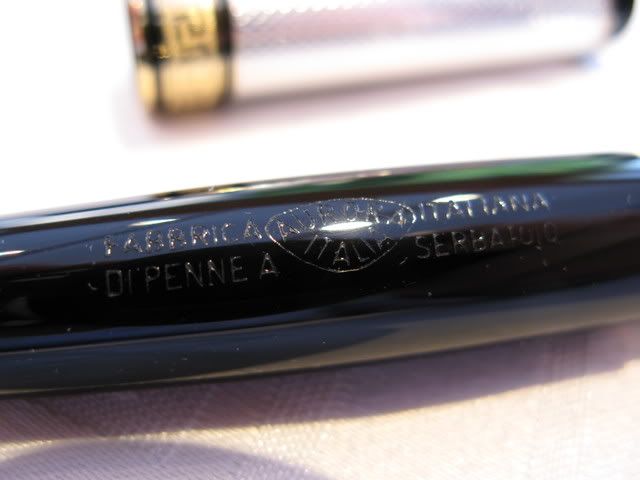 3. Design/ Size/Weight 5 / 5
This Aurora Optima is 5" in length and tapers from its widest point in the centre (13mm) towards each end (10mm). Capped it is a substantial 6" although uncapped it is still a reasonable size at 5 7/8". It has a flat top and blind cap with just a small rebate at the edge to soften the look. The pen weighs 27g of which 12g is the cap. The pen is a little top heavy when capped, this is not serious and could easily be got used to but I write entirely with caps un-posted so it is not an issue for me. It feels great in the hand even un-posted (I have average sized hands) and as the grip flares substantially just prior to the nib it gives a great grip and confidence when writing. My Pelikan has a weak excuse for flair and I find myself sliding all over the grip, My Dunhill AD2000 and Aurora have lovely flared grips which make for a far better overall writing experience.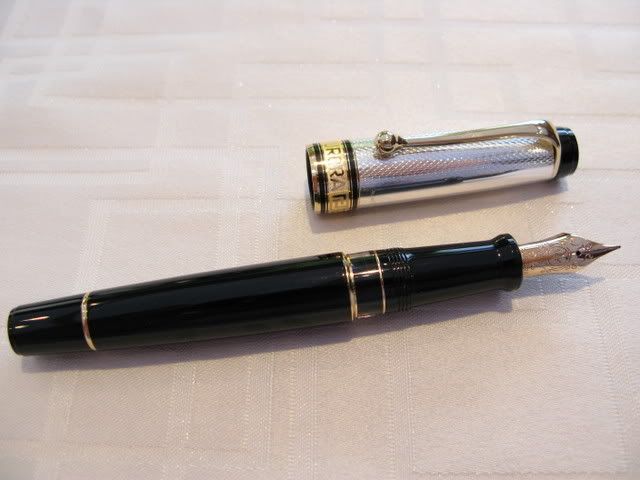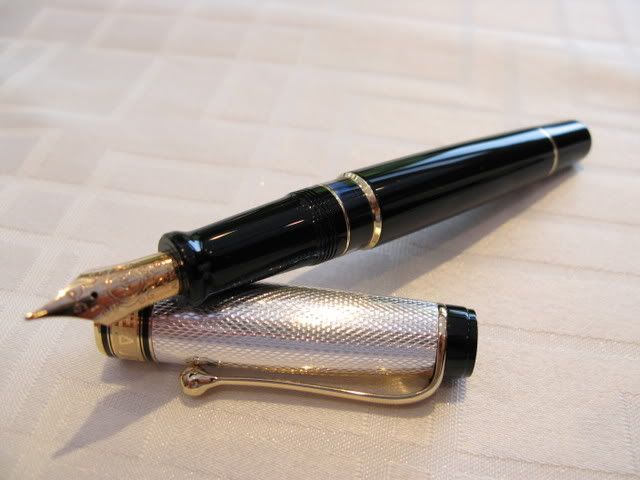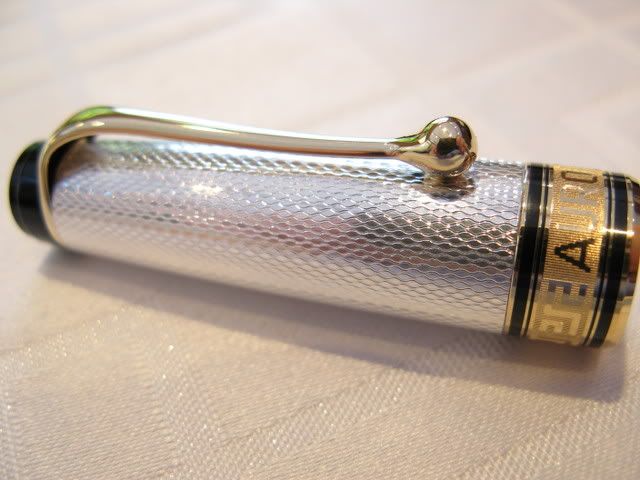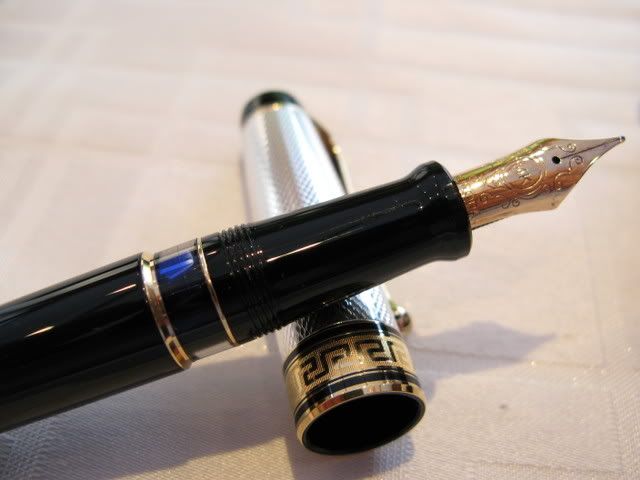 4. Nib Design & Performance 4 / 5
The pen came with a size M nib. This writes nice and wet with watery Waterman ink. The nib writes a good medium, narrower than Pelikan but wider than Japanese Mediums. I was a little worried about the renowned Aurora tooth and initially my fears were realised. Waterman inks aren't the most lubricated I find, but even so it took me a very short while to get used to the tooth and my handwriting does improve with a little feedback. Soon enough my Pelikan felt too smooth and needed getting used to. I usually fuss over the smoothness of nibs and fret if the nib isn't sweet enough, however I have realised that inconsistency is what really annoys me and this pen is delightfully consistent with its feedback. The nib is long and slender and has a little flex to it. The nib is screw in just like a Pelikans and it is quite a substantial item. It seems the feed extends far up into the barrel so that it can be seen through the ink reservoir window, not sure why this is though. Overall it is quite a toothy nib but I still enjoy writing with it immensely, a lighter pressure brings much smoothness and overall I have to say I prefer this to the Pelikan on account of its consistent feel.

5. The Filling System 5 / 5
This is a Piston filler again just like Pelikan's. It has a relatively small blind cap but the piston action is nice and smooth with just the right amount of resistance. I would say it surpasses Pelikan for feel although I cannot comment on ink capacity as I have not had it long enough although it does seem substantial. This is all relative however as a nib that gushes will run through the reservoir double as quick as a drier nib. I love the piston method of filling and my only gripe with piston fillers in not knowing the amount of ink remaining. My Pelikan Sahara has this problem though the Aurora has a lovely window.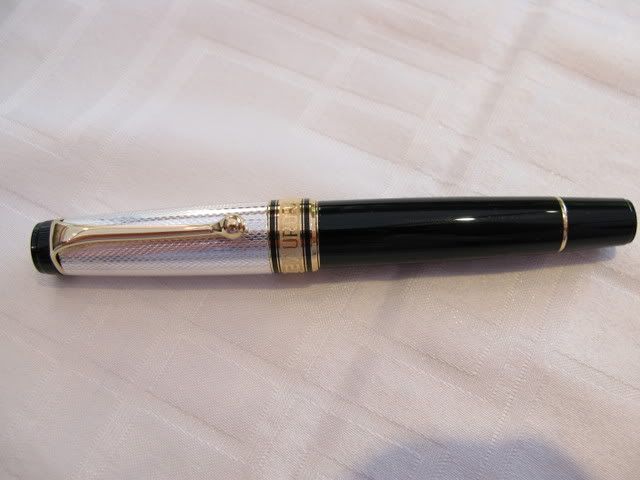 6. Cost/Value 3 / 5
This is a difficult one to comment on. In the UK this pen retails for £360 or approximately $730 which is a huge amount of money. Online this can be had for as low as $470 but frequently is it between $550 and $600 which is better but is still a huge expense for a this pen. I paid significantly less than even this and I would have to say that at the price I paid it represents superb value for money. The pen was ex display but had clearly been dipped. It cleaned up nicely however and was in overall excellent condition.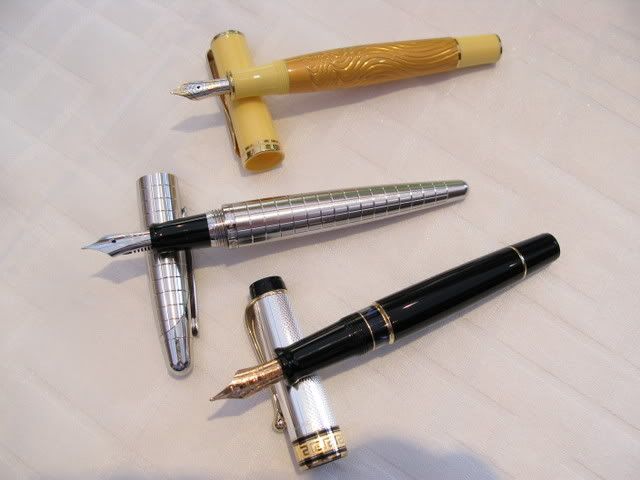 7. Overall Opinion/Conclusion 27 / 30
Overall I am very impressed with this pen; it is smaller than anticipated yet still extremely comfortable to write with. Quality is superb and the finish is excellent. It writes beautifully and performs flawlessly. At the price I paid it represents incredible value for money and I feel that it will certainly be my most popular pen hence forth. I would certainly consider another Aurora on account of my experiences with this pen and would wholeheartedly recommend this pen as long as your preferences are similar to mine (obviously). Enjoy the pictures and feel free to ask questions should the need arise.
Regards to all,
Jacob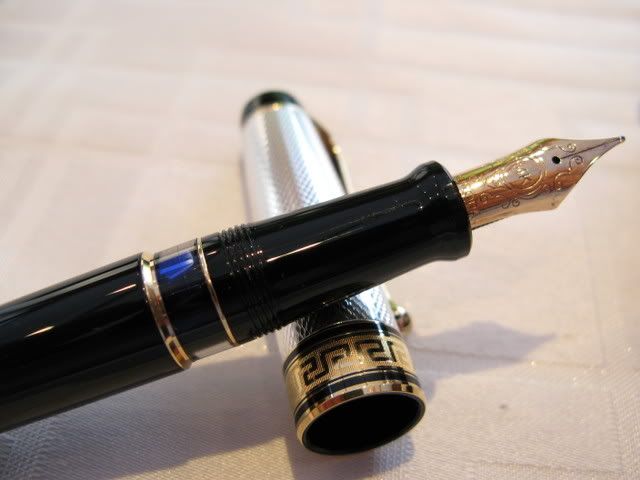 Edited by JC180, 16 June 2008 - 20:11.