I purchased this pen from Swisher Pens
about three months ago after hearing a fellow forumite mention that it was actually a good writing pen.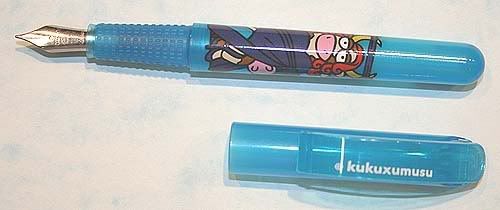 (Image harvested from the Swisher Pens website. This is the model I got.)
Face it, that image of a cow in an evening gown, flashing her udder at us (Cows Gone Wild!) is one of the most wonderfully silly things,
ever
.
First Impressions
It arrived in a ziploc baggie and had one small international ink cartridge.
This is a cheap pen, very light weight, almost all plastic, and does not have the bulletproof feel of a Pelikano Jr. The cap snaps on with a loud click, and the pen has never come uncapped at an inopportune moment, but there's a certain amount of play in it; I was worried that this pen would be cheap and bad.
Writing and Nib
The featherweight Kukuxumusu is very well balanced and the medium wide girthed section has a pleasantly textured rubbery grip. This is not a pen that will easily slip and slide in a writer's hand on a hot and sticky day.
The pen comes with one nib size -- medium. The iridium tipped nib lays down a nice, wet,
medium-fine
line and is a
silky smooth
writer. Really, the line width is much more like an asian medium as opposed to, say, "Lamy medium".
I can write for pages with this pen and my hand will not cramp or grow tired.
And, if nothing else, that cow in a dress never fails to make me smile.
Care and Feeding
There is no converter for this pen, it is cartridge only. To my knowledge, Inoxcrom does not offer a piston or aerometric filler for this pen. (I suppose that one could fit a Pelikan or international piston converter to the pen and use it that way.) After finishing off the ink in the tiny cartridge that came with it, I snapped on a Pelikan large cartridge and wrote it empty and then used a syringe to fill the cartridge with Platinum blue black ink and have scriffled along for the last month, problem free.
(I have not yet tried Noodlers in this pen.)
Final Verdict
The price renders it perfect for youngsters just starting out. The design renders it perfect for anybody young at heart.
If you pay more than $10 for this pen, that's too much, it's that obviously cheap. (Really, I doubt this pen cost more than a Pilot Petit to make, but Inoxcrom doesn't quite have the exonomy of scale that Pilot does.)
But, at the end of the day, I want my pens to write well and let me go for extended periods of time without fatigue, and the Kukuxumusu, with its light weight, comfortable grippy section, and smooth nib does just that.
This pen is both sublime
and
ridiculous! I love it!