I have been waiting for 3 months, 1 week, and 2 days for my second Nakaya to arrive. Now that it is here, I will give you my impressions of the one I just received, a Decapod, and its little brother, the Piccolo.
Ordering process: 4/5
I ordered the Decapod from John Mottishaw in February, and a few weeks later, I ordered the Piccolo directly from Nakaya. The primary motivation for the second order was that the price for the plain black Piccolo was going to undergo a dramatic price jump April 1st (from $250 to $385).
The ordering process for both pens was relatively straightforward, but I think I enjoyed the Nakaya process a little more. Their order form contains a few different questions regarding writing style from the ones I was asked by NIBS.com (Mottishaw's company), but I suspect this is because NIBS.COM will test write with the pen and make adjustments based on your comments.
With the Piccolo, I received paperwork that was specific to my order, and it had information on the people that had done the work (i.e. Mr Maruyama did the nib work, another man did the lathe work, etc), along with inked stamps below their names. I don't know if this is the same information for all of the pens that they produce, or if it varies, but it is a charming touch.
One of the things I did get from NIBS.com is a Nakaya catalog, something I didn't know existed.
Both companies did a great job. In the case of the order from Nakaya, I placed the order in March, and had mentioned that I was hoping it would be here in time for my 55th birthday (yep, I'm an old codger). She replied back, asking what the date was. I told her it was May 3rd. The day after my birthday-a Sunday, my wife called me to tell me a old woman in a beat up old truck came to the door with a package. It was the Piccolo. I don't have a clue who it was that delivered it, but Nakaya missed my birthday by one day. Coincidence?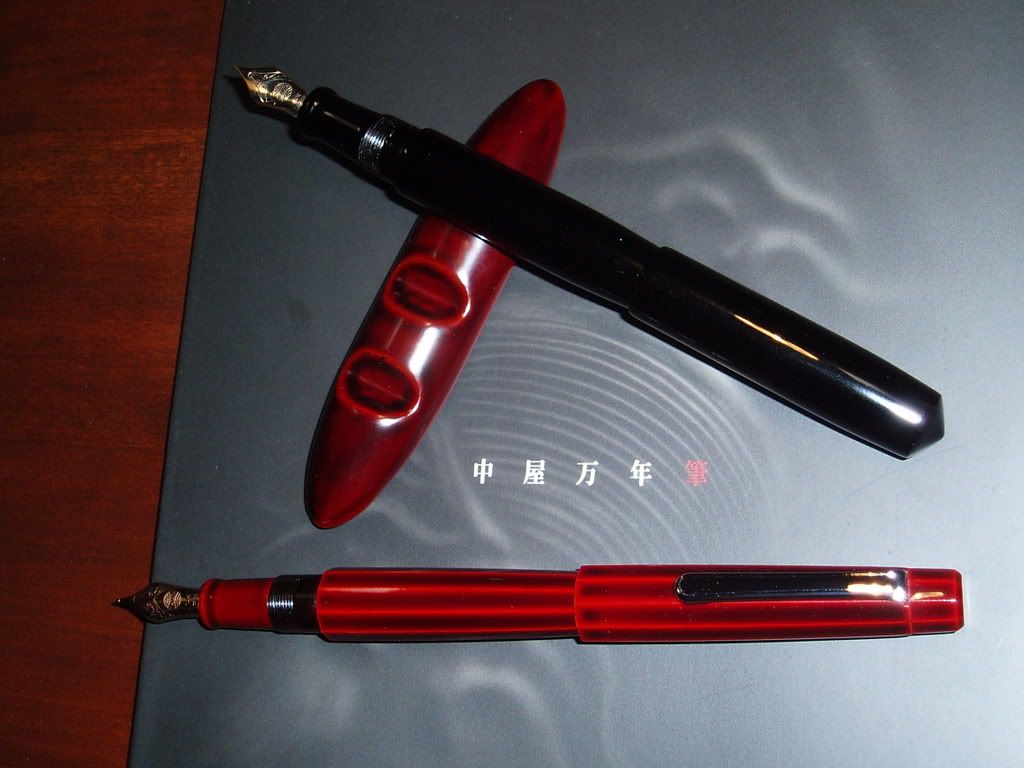 Appearance: 5/5
When I got the Piccolo, my expectations had been set so high by some of the comments on FPN, I have to admit that I was a little nonplused by seeing the pen in the flesh. It was so perfect that it really just looked like a little black plastic pen. I have other ebonite pens, and I actually had to stick my finger in cap, and rub it around a little to be sure I got a whiff of the rubber smell.
My slight disappointment turned to admiration after I really started to look at the pen under a magnifying glass. It is so perfectly made that it really doesn't look hand made at all. The one extra I got on the Piccolo was a hand painted Kanji name in red, and it looks like it was molded into the body. Sheer perfection.
I also got 2 of the Maki-e converters which have hand painted goldfish and seaweed on the surface. I can barely tell what they are without a magnifier, but again, they are remarkable in their flawlessness.
My Decapod (which interestingly enough, is called the Decagon in the Nakaya catalog) shows a little more variation. With all of the sharp angles, it really shows off the Ake-Tamenuri finish. You can also see some tiny bubbles in the Urushi finish. I have a thing about not liking gold trim, so I chose the rhodium finish clip, which I think is a good contrast to the reddish red finish (even with the monotone gold nib).
One thing to note for anyone that might be considering a Decapod: they use a four start thread, so only one of the four threads will align the facets. There is an easy solution for this. If you have the top of the nib lined up with the clip, it will sync up every time. You're on your own if you choose the clipless version.
I've included pictures of both pens posted, but in use I have found that it makes me nervous doing this, and I like the feel of them without posting. This is especially true of the Decapod since it is very long, and a little top heavy with the clip.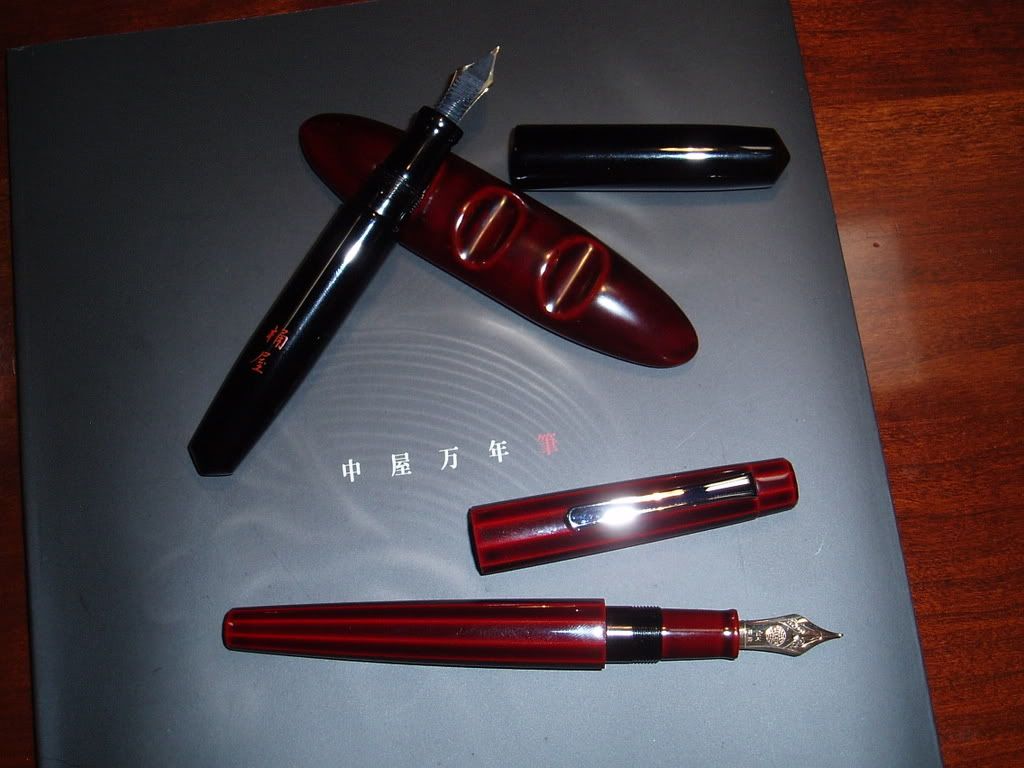 Nibs/Performance: 5/5
Both pens are remarkable in that they started up with the very first touch to paper, and have never skipped. I ordered a flexible fine for the Piccolo, and a flexible medium on the Decapod. Good thing I know which is which, since there doesn't appear to be any size indication on the nib, at least not in English.
The fine is actually just a little too fine for me. It is somewhat scratchy, but it is also the finest nib I have in my collection by far. I've gotten to where I like it, using it for the second layer of notes I take during long meetings.
The medium is closer to what I would normally use. John Mottishaw recommended it after I said that I liked Bexley fines. Smooth, with just a bit of tooth, and a little on the dry side. This concerned me a little bit when I first started to use it in that normally when I have a dry nib, it is sign of flow problems, and it will start to skip. This nib is perfectly regulated, and it flows in an absolutely even fashion.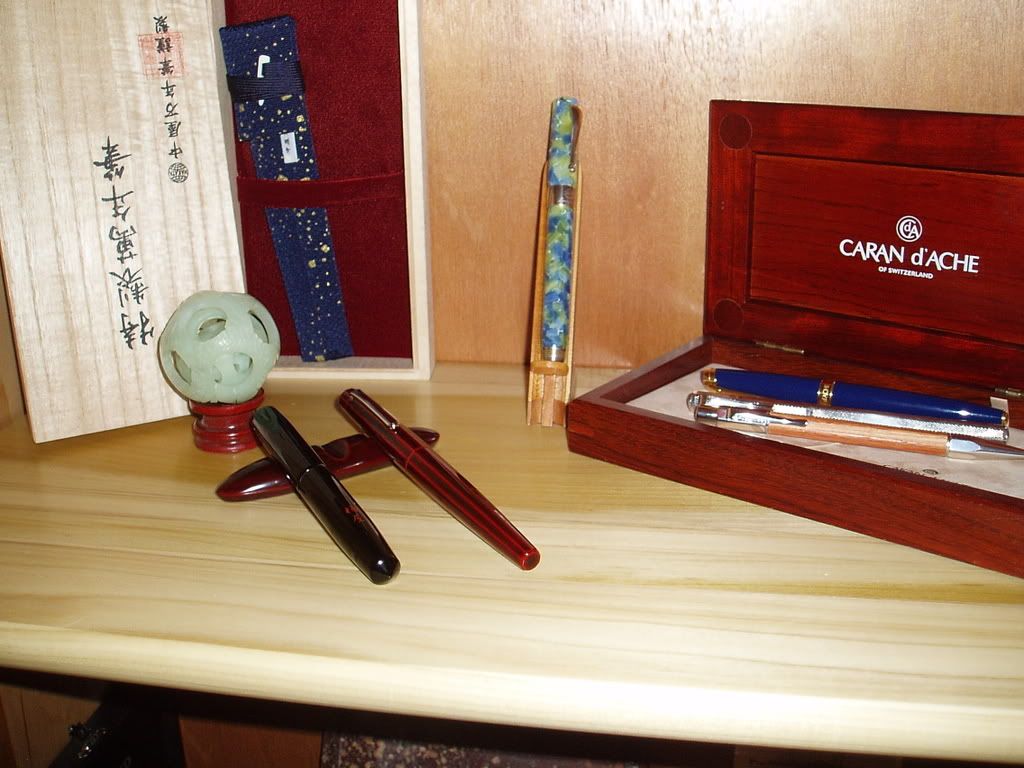 Value: 5/5
These pens are not inexpensive, but even so, I think they are great values. They are unique, and can be past down to future generations. In fact since the family name is on the Piccolo, one of my daughters has already laid claim to them.