So I went to this little stationary store in an older part of town. The shop was there in the early 50's and has tons of old supplies (mostly paper). I once found a vintage bottle of Skrip sitting on the shelf next to the new bottles of Skrip and Quink, just like regular stock merchandise. So, once in a while I stop by just to see if anything else makes it's way onto the shelves.
Yesterday I walk in and am looking in some cases and I see some little tubes in a tray. I think they're tubes of lead, so I ask to see them. They turn out to be replacement nibs! I've attached pictures for you to see, but I'll explain first. The brown tubes read: "Sengbusch Nibin #87 Fine 75 Cents". The green tubes read: "Morris Fountain Pen Replacement Section" and I got Medium, Fine and Extra Fine nibs. The nibs read "Morriset" and "Irridium Tip". The great thing is that the lady sold them to me at the price on the tube! Of course I bought them all and ran home to see if they fit in Esterbrook pens.
The Morris don't, but the Sengbusch do. They also write very nicely. Has anyone else seen or used these nibs before? Also, anyone know what pens the Morris nibs will fit?
Comparison to 1551 nib. They're pretty big nibs!
Here's what I picked up. All of the nibs are flat bottom feeds.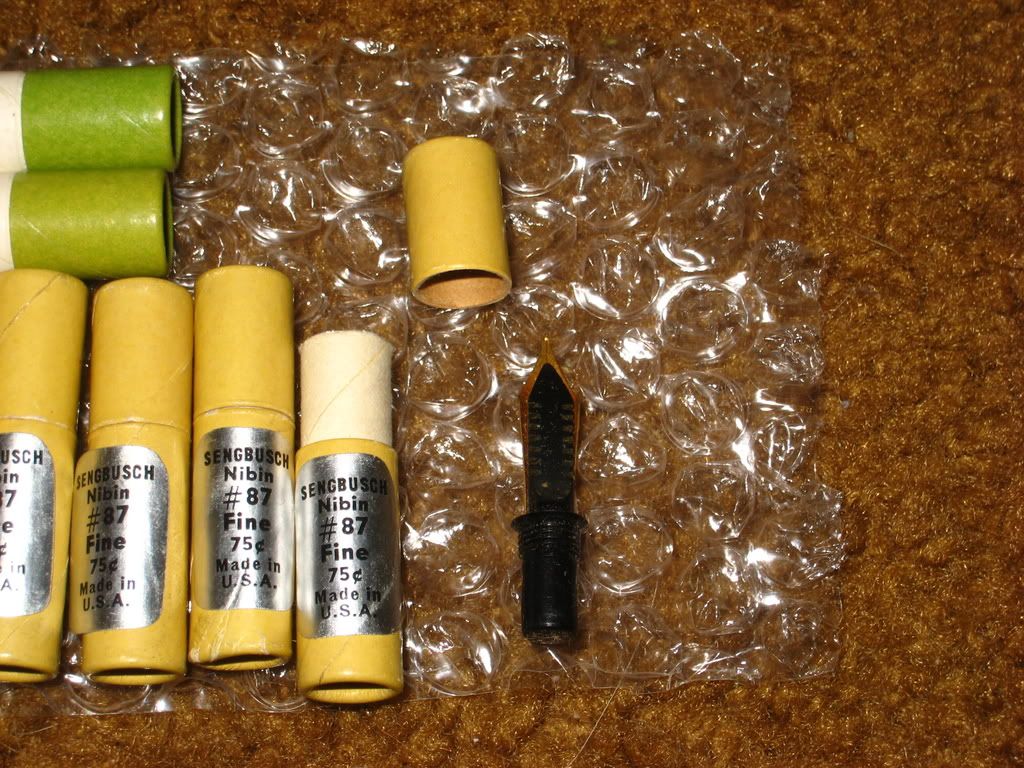 Here's one of the Morris nibs out of it's tube: