---------------------------------------------------------------
CHERRY BLOSSOM GIRLS...
Fahrney's Retro 51 Cherry Blossoms
2007 & 2008 Limited Editions
---------------------------------------------------------------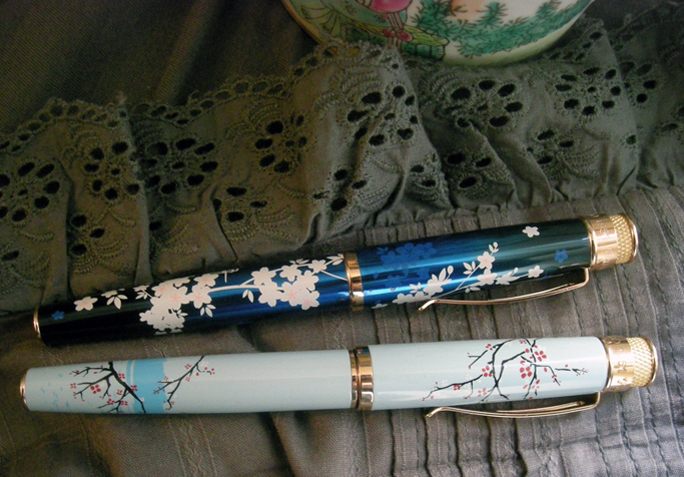 First Impression and Appearance
From Fahrney's Pens: "As a continuing sponsor of the National Cherry Blossom Festival in Washington, DC, it has become our custom to partner with one of our esteemed manufacturers to produce an annual Special Edition pen commemorating the event."
When a year ago, I received a Fahrney's catalogue that unveiled the "2007 Retro 51 Fahrney's Limited Edition Washington DC Cherry Blossoms" fountain pen, I could not rest until the pen had arrived at my door. I collect Maki-e pens of all calibers, love lacquer and enamel, and love cherry blossoms. So when I saw the picture of the Retro 51 take on it – the exquisite Robin Egg blue background, the delicately painted black branches, the tiny blossoms, and .. the White House in the distance – I knew I had to have it. What a unique way to maintain a connection to the US when I travel abroad.
This year I am in Vienna and neither receive Fahrney's catalogs nor really look on their website, so it did not even occur to me that a 2008 edition has now come out. But it did! My husband back in the US was aware of this because the Fahrney's catalogues still come there. So – and yes, this story illustrates pretty accurately the kind of man my husband is – he bought the 2008 version without telling me, and I received it here in Vienna last week!
The 2008 Retro 51/ Fahrney's Cherry Blossoms is an electric navy-blue that fades to black, with large white blossoms that have just a touch of pale pink towards the center, intriguing shadows, and an outline of the Capitol Building.
According to Fahrney's, the images in the enamel of both pens are "meticulously created with five separate layers of color, each printed on and baked to a hard enamel finish with a clear varnish coating."
The photos do not quite do these pens justice, because the blues on each are not standard light-blue and dark-blue, but really rather unique and with a distinct Japanese colour-scheme feel to them. The hardware is rose gold and goes quite well with the colour-scheme of the pen. This is one pen were I make an aesthetic exception to the "no gold trim!" preference. For some reason, it looks really good here. The cap band is engraved with the words " Fahrney's by Retro 1951"
These pens strike me as incredibly "pretty" and appeal to my girly side. They are fun to play with, visually rich in their colour combinations, and tactilely rich in the feel of the lacquer. I am not sure which I like better. The 2007 version is delicate and pale, whereas the 2008 version has a high-contrast colour scheme and a more graphic quality to it. I love them both.
Design
These pens are based on the Retro 51 Tornado body, but they are not quite the same. The barrels on these are slightly smaller and more delicate than the standard Tornado. The nib, however, is the same size as the regular Tornado nibs. From what I can tell, the 2007 version and the 2008 version of the Cherry Blossoms are identical except for the lacquer imagery. I understand that the 2006 version was quite different though. Unfortunately I do not own that one, and so cannot compare.
The size of these editions is 5" capped, just under 4 1/2" uncapped, and just over 6" posted. The enamel is very durable and there is no damage from posting. The pens are metal under the enamel, but they are not heavy. The black plastic section is comfortable to grip.
A very nice touch design-wise, is the top of the cap: The cap is metal, but the flat top has an insert, done in the same colour enamel as the barrel of the pen: for the 2007, it is robin's egg blue and for the 2008 it is a dark navy. This gives the pens a luxurious look, and lends a sense of harmony to the overall design, ensuring that the rose-gold-colour trim does not dominate the enamel.
The only design element of these pens I do not like (and this applies to all Tornado models), is that the gripping section is made of a specific kind of slightly-textured plastic that feels very cheap to me. It's comfortable to hold, just feels cheap. And since you are holding it the entire time, you are aware of it.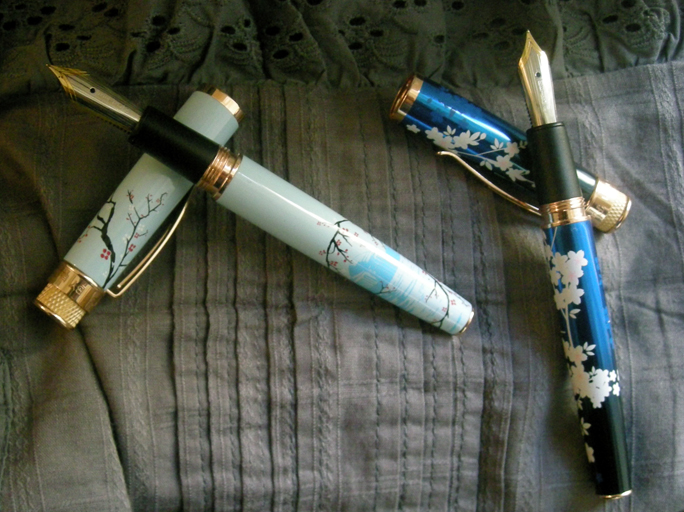 Nib
The steel nib on the Retro 51 Tornado is probably its coolest feature. The nib is huge: it measures one whole inch. On my photos, you can see that proportionally, it is more than a quarter of the total size of the pen's barrel. This is not a distortion, the nib really is quite impressive. It is elegantly curved, two-tone steel: mostly chrome-coloured, with copper-colored edging. The chrome part is embellished with vertical stripes. "Retro 51" is spelled out in a column down the middle, under the breather hole.
Not only does the nib look good, but it is a smooth, reliable, problem-free writer. I own four Retro 51s, and have tested several others for people to whom I've given them as gifts. Each wrote flawlessly out of the box, was a true "Fine" writer as labeled with minimal pen-to-pen variation, had no flow problems, scratchiness problems, skipping problems, or any other problems what so ever. What's more, is that out of all cartridge pens I've ever tried, it takes the least amount of time for the ink to travel from cartridge to paper (when you initially put the cartridge in) in a Retro 51 Tornado. In my experience, these pens have been more reliable out-of-the box than Lamy Safaris or any other lower-end pens, if you are looking for an inexpensive starter pen for a friend or younger family member.
Filling System
It is too bad that these pens are cartridge-only. But they do take the mini-converters, both plunge and squeeze.

Cost and Value
The standard Retro 51Tornado is a great value. I believe it can be had for $28USD at FPH. The price of the 2007 Cherry Blossoms LE was $49 USD. That was a reasonable price, I thought, for a Tornado LE. The 2008 Cherry Blossoms LE currently costs $75. To me, that crosses into the unreasonable territory for a Retro 51 Tornado model, especially if they do nothing to address the "cheap section" issue. Most likely, I would not have bought this year's pen for myself; I would have felt guilty spending $75 on it. For a couple of dollars more, if that, you can get a Pelikan M215 or a gold-nibbed Sailor Sapporo from Pam Braun. Both are better quality and higher-end pens than the Retro 51 Tornado model. True that the Cherry Blossoms are limited editions, but how much can you really charge for that factor alone if the LE is based on a $28 pen?.. One thing I would like to know, is whether the sales of these pens actually go directly towards supporting the Cherry Blossoms Festival. If yes, then I am quite happy paying the price. But Fahrney's is not clear about this.
Conclusion
The Retro 51 Cherry Blossoms Fahrney's Limited Edition combines beauty, functionality, reliability, collectability, and retro-chic. It also combines East and West aesthetics, culture and traditions. If these things sound appealing to you, if you are a fan of cherry blossom designs, or if you have a personal connexion to the National Cherry Blossom Festival in Washington, DC, you will take great pleasure in owning these pens. They are certainly excellent and reliable writers.
Hope this was enjoyable for Retro 51 fans, and everybody else who finds these pens appealing!
QM2
Edited by QM2, 18 May 2008 - 09:16.