I continue in this posting my ramblings on the pens of Eversharp of the 50s and the Eversharp-Parker of the early 60s that led to the Parker 45. The earlier postings are in these links (
Eversharp I (deja-vue)
and
Evesharp-Parker II: 10,000 words pen
).
The pen that I want to discuss today is an Eversharp pen which was made in UK.
Initially I thought that the name was viking The only reason that I know the name is that the name was Viking because my first sample had the chaulk marks on it.
Later I found one with Vanguard in the chalk marks and another with the name V.10. All of them have the v-shaped top on the cap which is identical to the
Evesharp-Parker II: 10,000 words pen
. The plastics are also of the same color and quality that one can see in the Big Es. Both bear the Eversharp name inscribed at the bottom of the cap and behind it clearly marked Made in UK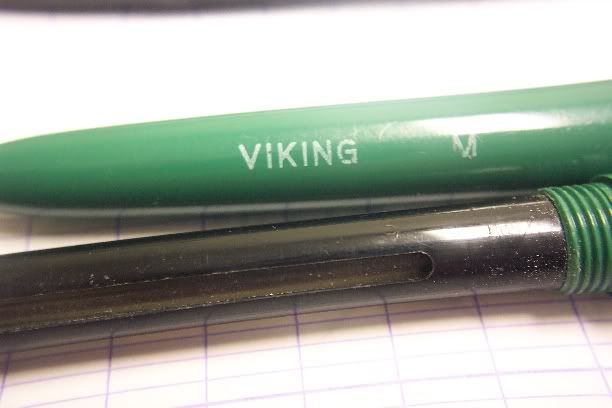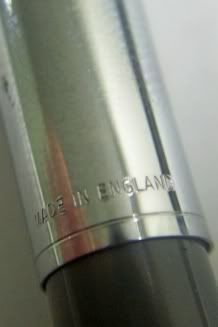 The clips bear the familiar E symbol of Eversharp.
I have two of them one with a strainless and 14K nibs. The 14K has remarkable flex.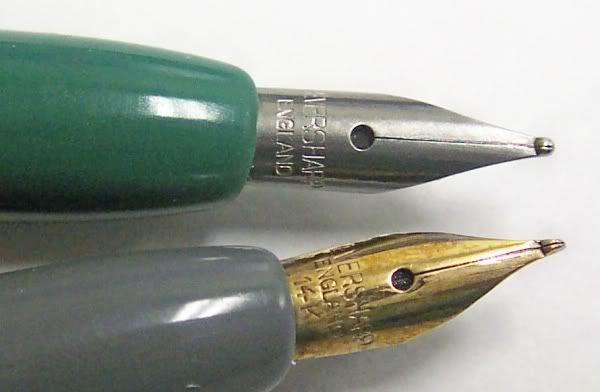 The nibs appear very similar to those of the english Parker Slimfolds. In fact the feeds are also similar, as seen below (the black one is the Slimfold).
the filler is also interesting. It is an aerometric filler with an all plastic cage. Clearly the sign of a cost cutting times. The breather tube is visible.
I do not know whether this is a post 1958 or pre-1958 pen. The connections with the 10,000 words pen and other Parker - Eversharp pens is clear. If you have any information about this pen I would appreciate receiving it.
Edited by antoniosz, 19 February 2007 - 01:17.