Delta pens of Italy created a limited edition series to commemorate Indigenous Peoples, starting in 2003 and continuing up to 2008.
2003 - Maasai, Native American, Inuit
2004 - Tuareg, Maori, Cossacks
2005 - Ainu
2006 - Indios
2008 - Sami
This brief review is about the fountain pen. There's not much to say about the capless rollerball (and I doubt many people would be interested anyway), other than it works extremely well, feels good in my hand, and it makes a great companion to the fountain pen.
UPDATE
: Darn it... well, I discovered that I spent more time on this than I should have. Jose from the Canary Islands wrote a very
extensive review
, much more exploratory with great photos than what I provided.
About the only thing I contributed here without redundancy is showing the rollerball and some writing samples. Anyway, it's a short read.
First Impressions (Fountain Pen)
The Maasai edition really captured my eye. The resin is rich with beautiful marbled colorations that show nice depth. And the accents are tastefully done, non-intrusive to holding the pen comfortably. There are a lot of multi-colored resin and celluloid pens on the market, but there's just something so compelling (to me anyway) about the Maasai design.
The special vermeil model of the Maasai edition is currently going for over 500 EUR. When I first saw it, I balked at a purchase due to the price. At first, I satisfied my desire to have that beautiful resin in my hand with a capless rollerball version for much less. And it confirmed for me that this is as wonderful to look at as it is to write with. The rollerball uses the new wet refills (Schmidt type) that write very smoothly, like a fountain pen (nice smooth line, no blobbing, and little pressure). What looks like a cap is fixed--you turn it to extend/retract the rollerball tip (hence "capless", like rear-click ballpoints). Although I was pleased with it, I still kept my eye out for a used example of the Maasai fountain pen, in hopes of getting one at a good percentage off of MSRP. And finally, that day came. The seller didn't have a box for it, which was fine with me--and apparently that turned off enough buyers for me to snag it for a very reasonable price.
Design / Construction
The pen is crafted from turned resin, measuring 14.2cm capped. It is high quality and polished to a beautiful sheen. The clip appears to be permanently attached to the cap, because attempts to unscrew the top with a rubber grip failed to budge it. The clip does protrude a bit at the top, but it doesn't get in the way--it actually works well, holding the pen to fabric without slipping. The cap lip is encircled by a weathered looking "MAASAI" metal band, the smooth lettering raised against a textured background. Overall, the weight of the pen is great--light enough to go for long periods, but heavy enough not to feel like it is cheap.
Each of the Indigenous People pens incorporates aspects of the people that they commemorate. For the Maasai, it reflects in its colors and styling the high plains of Tanganyika, the strong colors of Lake Victoria, and the sparkling waters of the Indian Ocean. The Maasai, a population of cattle herders, are also warriors who arm themselves with long spears, short swords, and oval shields made of colored hides. The colors they often utilize are shown in the bands. They also have a distinctive walking staff, the design of which is suggested in the clip. Lastly, the nib has a Maasai warrior line portrait imprinted upon it.
There are 3 editions available: Limited, Special, and Celebration. The limited edition is made with sterling silver accents and has an ink converter/cartridge filling mechanism, with the serial number imprinted along the clip ring. The special edition has gold vermeil accents and is equipped with a lever filling mechanism (the lever squeezes an internal bladder), with the serial number imprinted on a gold disk on the bottom end of the barrel. The Celebration edition is equipped with solid gold accents and diamond inlays, being priced about 3 times that of the vermeil edition--haven't seen one first hand, so I don't know where the serial number is placed.
Nib / The business end
The nice thing about this series is that there is a wide range of nib choices: EEF, EF, F, M, B, BB, OM, OB, OBB and STUB. The nibs simply unscrew from the body, making them as easy to change as an Esterbrook nib. I don't know if Delta makes additional nibs readily available--I'm going to inquire and hopefully they won't be extravagant in cost. My particular pen is equipped with a flexible F nib. It writes a little wet for my tastes but I'm getting used to it.
Filling Mechanism
My Maasai pen has the lever filler. It works just fine. Capacity seems decent. It is a simple proven design that has been around for nearly a century. I haven't unscrewed the section to examine the bladder, but I expect for the going price it is a very high quality one that has better disintegration resistance than your vintage rubber bladders.
Overall Impression
GREAT! I really do like this pen. The nib is a bit more wet than I'm accustomed to. It will definitely not be used for note taking at work. I'm wondering if the EEF nib might be worth trying out. In any case, I'm much more likely to put the rollerball to use for note taking... I hate to admit it, but these new wet rollerball refills may cut a bit into to the fountain pen industry. Ignoring line variation, you can't help but appreciate the writing quality--far better than any other rollerball I've seen. As for endurance, I hope they do last at least as long as usual rollerballs. Otherwise, fountain pens are still more economical on ink.
So, without further delay, here are some photos of the pens, including some writing samples. Enjoy!
Maasai pens capped -- rollerball and fountain pen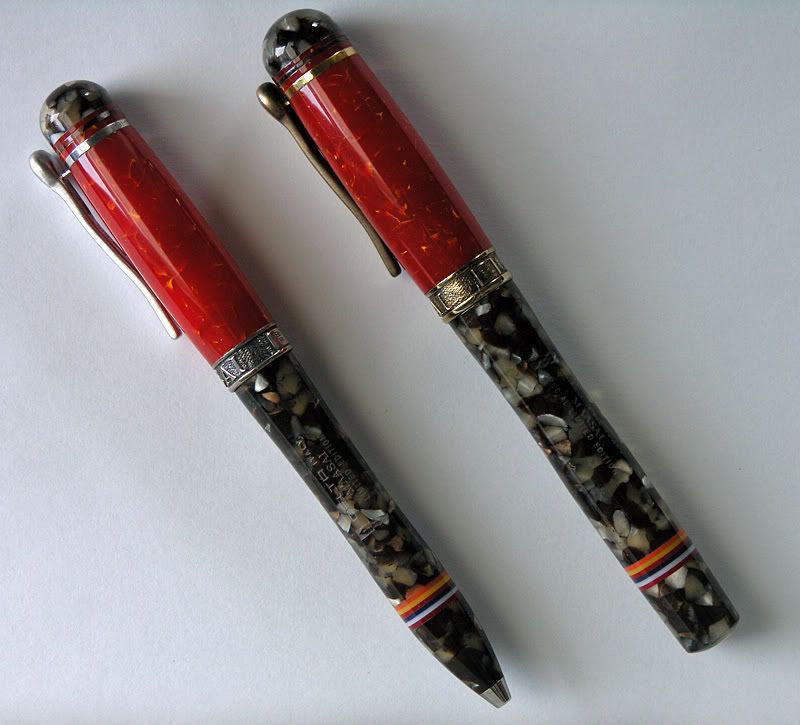 Maasai pens uncapped -- fountain pen and rollerball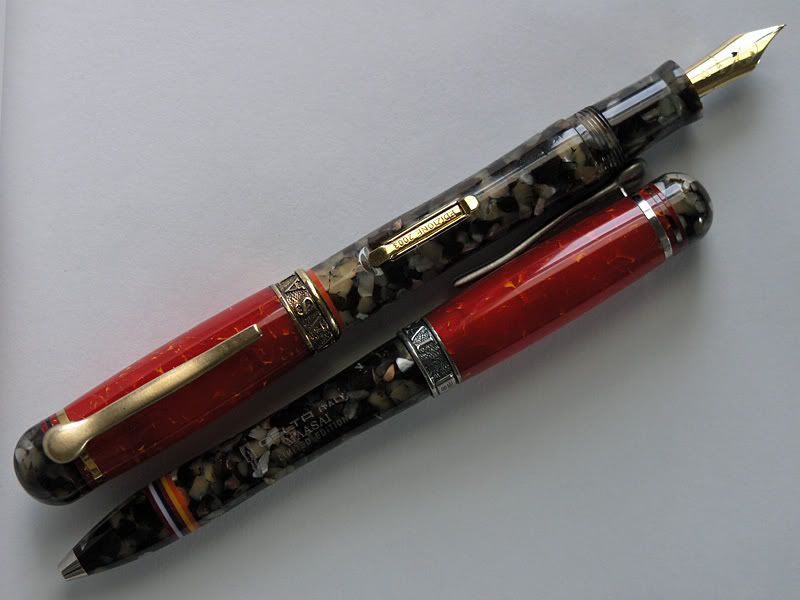 Maasai fountain pen barrel inscription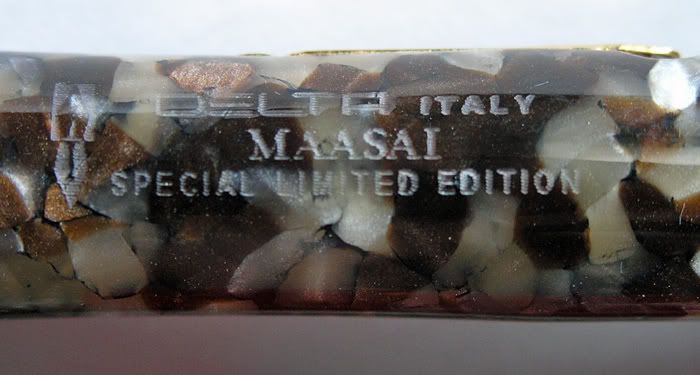 Maasai fountain pen nib - F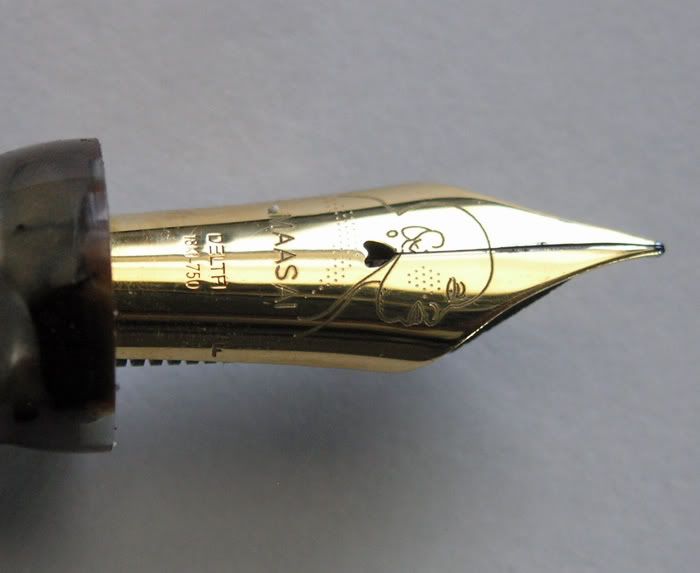 Writing samples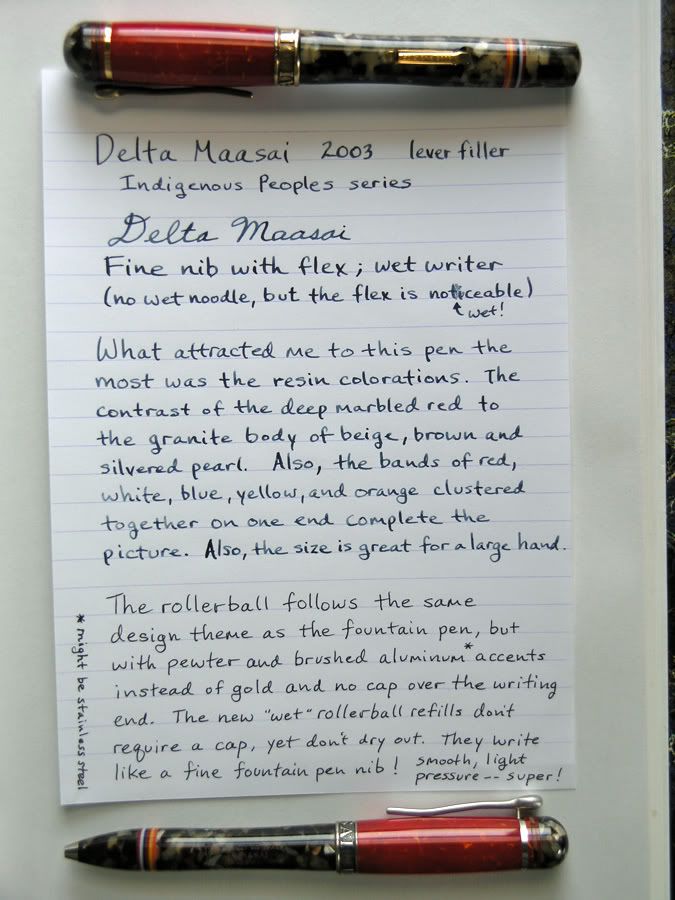 [Correction: The trim is made of sterling silver, not pewter or aluminum.]
Edited by MYU, 21 April 2008 - 04:16.