First Impressions -
This is a simple, inexpensive pen in no-frills packaging.
Appearance & Finish -
This pen is cheap and mass produced, exactly what one would expect from a $3-4 fountain pen.
That said, the cap snaps on securely and has the nice touch of having an inner spring liner, a feature usually found on other, more expensive pens. (It's certainly not found on the Pilot Varsity or Petit 1.)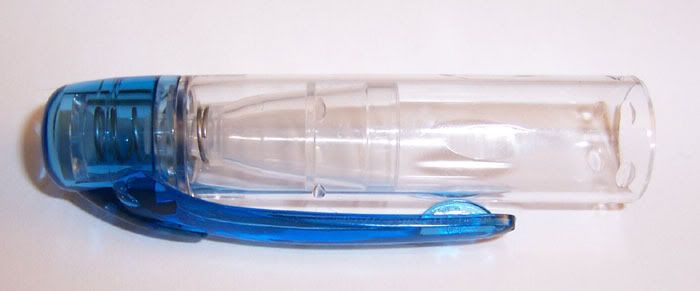 I gurantee you, though, that that clip will snap off if stressed.
However, while expense has been spared, the quality is not shoddy. Everything snaps or screws together as it should.
Also I'm not too fond of the writing and logo on the shaft, because they obscure what makes this pen so gosh darn neat -- it's the cheapest demonstrator FP on the market.
Design/ Size/Weight-
A Pelikan Pelikano this is not. While this pen doesn't feel fragile or delicate, it doesn't have the same "bulletproof" feeling of ruggedness that one gets from the $8 Pelikano jr.
Then again, it wasn't engineered to that level.
Capped, its just under 5.5 inches/13.5cm
Uncapped, it's 4.75 inches/12cm
Weight? Blessedly lightweight, but not so much that it feels flimsy. The balence is surpisingly good (I write unposted), only slightly bottom heavy. It's a pen that I can write for hours with before my hand starts feeling fatigued. The section is not too narrow nor too fat. It makes no pretense at having any kind of ergonomic design. I find the girth just right.
Nib Design & Performance-
The neat-o thing about Preppys is that the nib is the color of the ink in the pen. A gimmick, but fun none the less. This is a Blue Black color nib.
Performance wise, this $3 pen is the smooth and effortless performer that I wish my $38 Pilot Prera were. Smooth, with just a hint of tooth due to the fineness of the nib, which is noticibly narrower than my Lamy Safari F. I also get a bit of line weight variation, depending on the angle at which I hold the pen.
However, I hear that there is a great deal of variation in Preppy nib quality. I've luckily gotten a good one. YMMV.
The Filling System-
A very generous sized cartridge is the standard filling system. Some people have converted their Preppys into eyedropper fill. I'll shell out the $1.50 for two nice, big cartridges and/or use my syringe to refill the current cartridge.
Oh, a word if I may about Platinum's Blue-Black ink, while not advertised as such, this stuff is extremely water resistant, in fact it performs as well as Lamy Blue-Black (iron-gall) when subjected to 60 seconds of running water. It's faded,
but still there
.
Cost/Value-
In some ways, I feel I've gotten a $3 pen. In other ways, I feel I've gotten an $ 36 pen.
If you've gotten a good Preppy, you'll think you've gotten a steal. But, from what I hear, when these pens are bad, they are horrid.
Overall Opinion/Conclusion-
I'm very happy with my Preppy and will certainly invest in buying refills.
Edited by kadymae, 07 April 2008 - 04:14.