This pen is often recommended on FPN as a form follows function type of pen. I had overlooked it in all the pen catalogues and websites because of its subdued appearance. For $150, I wanted something that looked a lot nicer. But after seeing all the praise for it on FPN, I was convinced to give it a try.
Build Quality: 9/10
Itís a simple design, so thereís not that much that can go wrong. Iíve heard that Lamyís quality control is slipping, but this particular specimen was flawless. The seams are minimized, the parts fit together well, the lines are smooth and confident. The clip is a solid piece of metal that is spring loaded, and opens if pressure is applied to the top. The cap clicks on firmly and comes off easily, held in place by a small springy ring in the body. There are no indications that this pen is anything other than solidly built. The box is also nice, a small, hinged, aluminum container with some cardboard lining inside. The outside features the Lamy logo imprinted in the metal, and the warranty is contained inside, claiming ďKein Design schreibt besser,Ē or ďno design writes better.Ē A simple, utilitarian statement.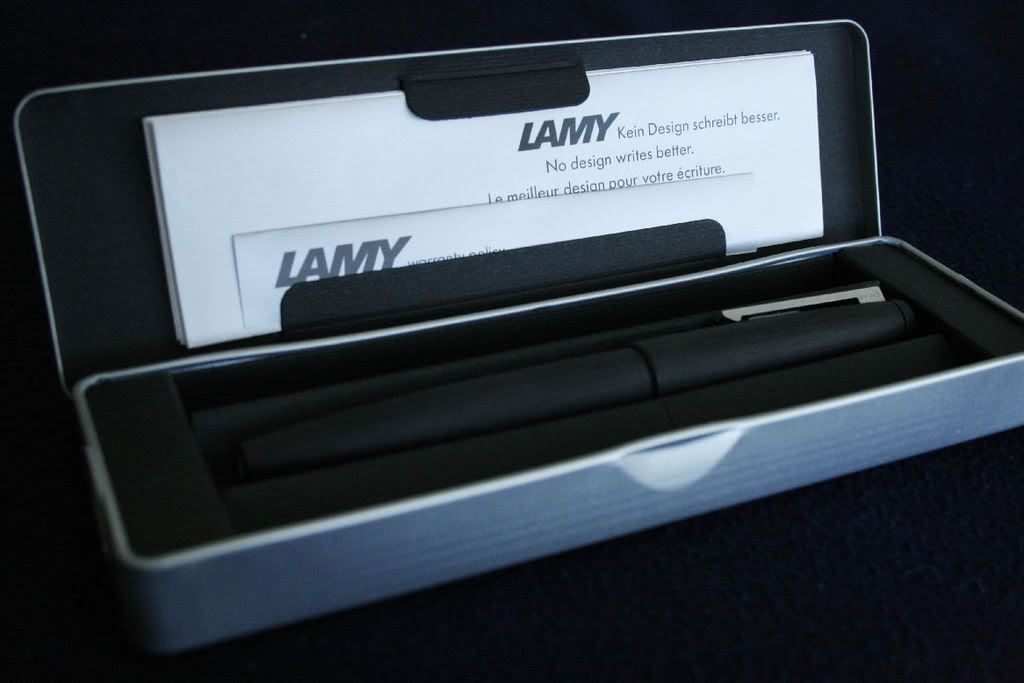 Grip, Balance, and Feel: 8/10
The width is good, and the matte finish makes the pen feel very comfortable and smooth in the hand, unlike gloss finishes that stick to skin. The finish does not get slippery as easily, does not pick up fingerprints, and feels very natural. The taper of the pen at the grip is also nice, and the balance is perfect posted or unposted. Some have complained that they cannot post their 2000, but this one seems to be able to, even if not as easily as it could. This would be just about the perfect feel in the handÖ. If it werenít for those clips that everyone complains about. These complaints are certainly justified, those little metal pieces that hold the cap on are uncomfortable to have under your fingers. Itís not the worst grip there is, but it is extremely annoying that Lamy build the positioned the clips in the worst possible manner (no exaggeration), right where youíre most likely to have your fingers. To avoid them, you have to either resort to holding the pen unusually far back, or cramping your fingers up at the tip of the grip. This is a major design flaw in the pen; there are so many better ways to keep the cap on. If Lamy had even rotated the clips so that they were vertical instead of on the sides, they wouldnít interfere with the fingers. But alas, they cut notches into the sides so that they always end up horizontally arrangedÖ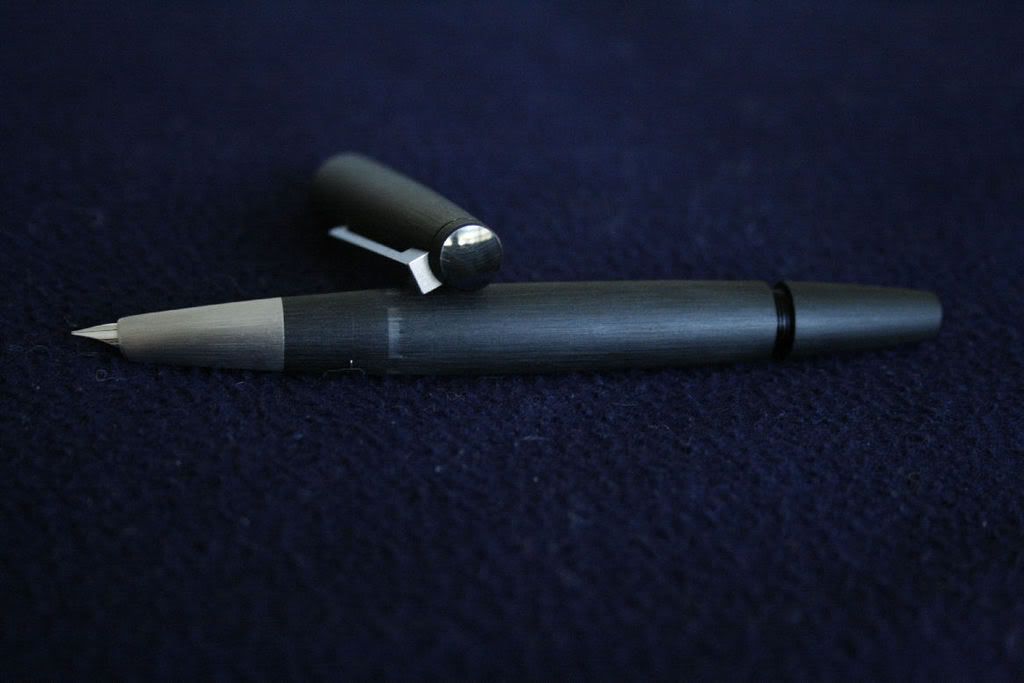 Filling System: 7/10
Piston filling, nice. This type of filling is becoming scarce as pen companies strive to build fountain pens for people who hate fountain pens and canít be bothered to do anything beyond popping a cartridge in, so itís nice to see a piston fill on this pen. The knob is big enough for a good grip, and the mechanism seems well-built enough. Many people complain of stiffness, but I didnít feel that it was inordinately so. My Montblanc 149 is stiffer. The nib is hooded, so thereís a minimal amount of wiping after filling. But hereís the other common major complaint about this pen: the ink windows. The ink level is very hard to read because the ink windows are too small, the finish is matte, and the ink sticks to the inside of the barrel. The matte finish is an understandable sacrifice, but the size of the ink windows is inexcusable. For some reason, when I look at the ink windows, the ink chamber appears as a thin tube inside a clear sleeve, which means that itís even harder to see how much ink there is in that thin tube. To check the ink is a long process of waiting for it to settle and holding it up to a very bright light, so I donít do it very often. Then, by the time I notice that the ink window is looking lighter, itís too late.
Nib: 9/10
This is a smooth nib that writes very well. Itís understated, and doesnít look like much, but itís a 14k platinum-plated hooded affair that is best appreciated when it is in use. A few sources have mentioned interchangeability, but I have never seen Lamy 2000 nib units for sale, so donít count on it. Also, since there are no size indications on the nib (or any markings), changing nibs might be more trouble than itís worth. I have also heard that Lamy 2000 nibs run a size wide, but this has not been true in my case; my fine is about the size of a Sailor MF, or most Western fines.
[
Value: 8/10
Itís a well-built piston filler with a 14k gold nib, so the $150 list price seems reasonable. It can usually be found for around $100 from cheaper sources. Even with that, I donít get the feeling that the 2000 is a steal, or a remarkable value. It is stripped of all extras, and the gold nib is small due to its hooded nature. Itís priced in the range of the Sailor 1911m, which feels like a nicer pen, has a far superior nib, and some more trim details. I do like Lamyís functional approach with the pen, but it seems like it should be a little cheaper. Itís a pen that doesnít leave me feeling strongly either way about its value, so itís a reasonable buy.
Conclusion:
I canít help but wonder, is this really a form follows function pen, or is it just intended to evoke that impression through a minimalist style? It certainly is utilitarian to some extent, but if it was a true utilitarian pen, it seems that they would have made more functional ink windows, a more comfortable grip, and a more populous-minded price. Second to my considerations: what is the intrinsic value of a minimalistic fountain pen? When I use this pen, it seems like a novel and fun departure from the typical old-fashioned pens I use, but the excitement of this pen wears off faster than it does for the others. And isnít the purpose of a fountain pen rather than a ballpoint to add character to writing, to make it more than just a necessary function or daily chore? This pen doesnít even look like very much like a fountain pen. But despite that, I like the pen, and find it an interesting and unique writing instrument.